Trail cameras are the perfect tool for all sorts of situations. Although mainly targeted towards hunters, conservationists and wildlife photographers, these compact yet powerful devices allow for easy footage of fauna in a covert and non disruptive fashion.
Trail cameras can be easily set up in most natural spaces, as well as buildings and other structures. They can also be used as a part of a security system, especially in more rural and isolated areas that normally can't be covered.
So what are cellular trail cameras? Well, working with the trail cameras greatest strength—recording in harder-to-reach and isolated places—cellular cameras add the extra benefit of accessing any captured photographs and video via network transmission.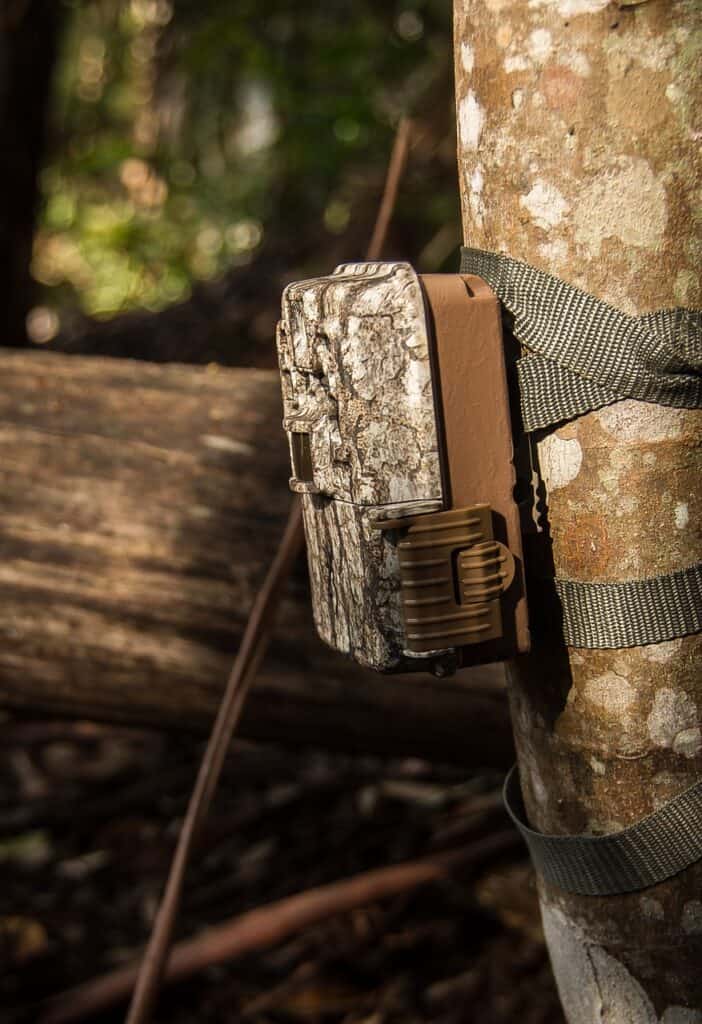 Being able to view and download your footage is an incredibly useful feature to have in a trail camera.
For those using trail cams in remote or potentially dangerous locales, network connectivity means the camera's storage can be checked from a different location, saving time and adding a lot of convenience.
But what exactly makes a good trail cellular trail camera? Is it the same as your regular kind of trail cam? Do you really need one?
Well, with our handy breakdown of this year's best cellular choices, you'll have no trouble deciding which brand and model will meet your exact needs.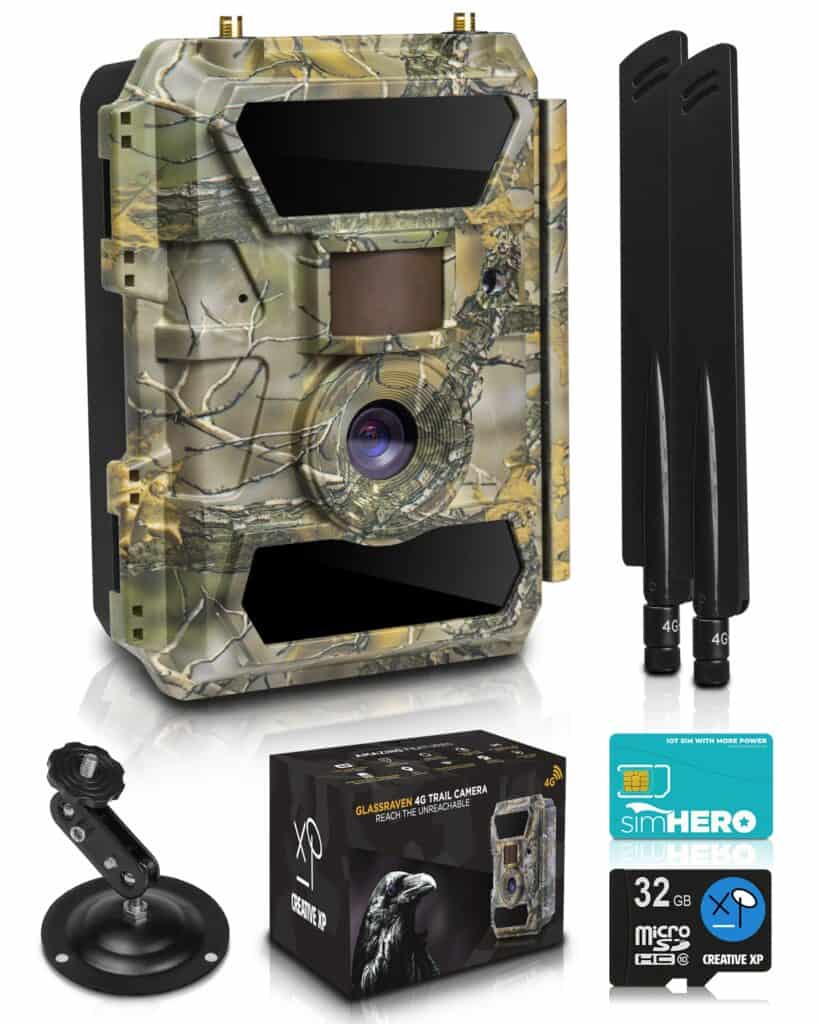 1080p Video Recording
High-Definition Night Vision
IP66 Weatherproofing
Making the most out of its 56 LEDs with no glow technology, the GlassRaven LTE Cellular camera is one that boasts to get you some of the best night shots on the market.
Not only is it sold as a hunting and animal monitoring tool, but Creative XP also proudly states that the camera is a viable security option as well, cemented by its 110° PIR angle and 0.35 second trigger time.

The cellular wifi connection means that you can take a look at your videos and photos any time you like, as well as the option to send any media stored on the inclusive SD card to any United States email or phone number.

The battery life is as standard as any other cellular trail camera, however there is an optional Creative XP Solar Panel which can be bought separately and also used to charge the camera during the day for a constant supply of power.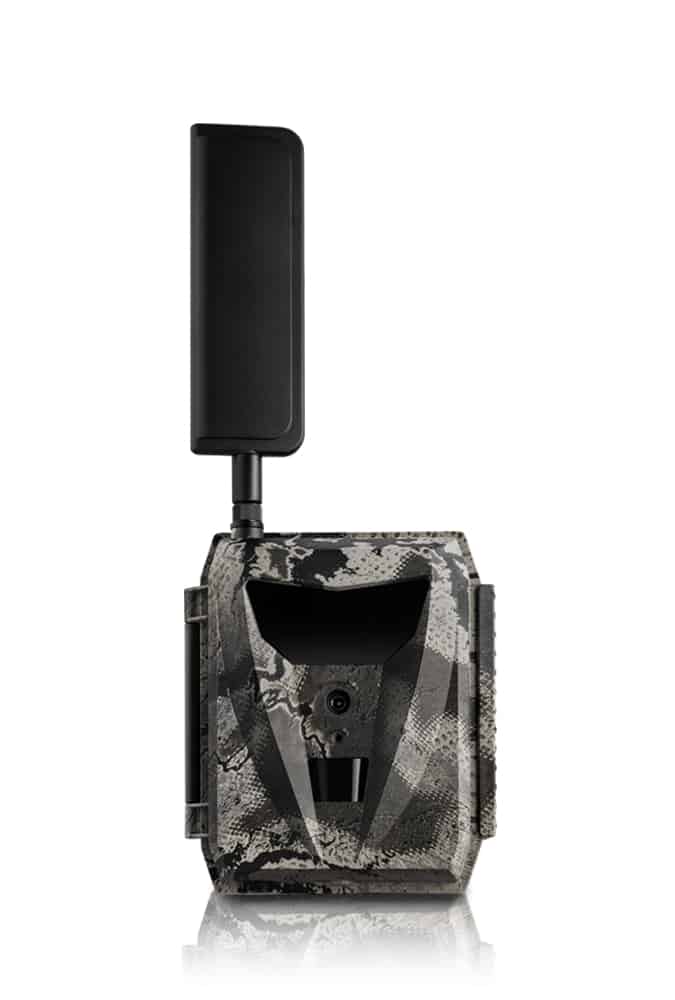 80 Foot Blackout Flash Range
Anti-theft GPS
Lithium battery
Can connect to 15W solar panel
Looking just as futuristic and envelope-pushing as its many features, the Cellcom Spartan Camera is the ultimate invisible cellular trail camera that hunters can add to their toolkit.

Making use of Spartan's dedicated cellular network service with a preinstalled SIM, owners can easily download the Spartan mobile app to view the camera's storage at any time.
Another key feature is its built-in anti-theft GPS, which allows it to be tracked remotely—even if its external lithium battery is removed.
Speaking of which, the Cellcom Ghost is also capable of taking some very impressive shots thanks to a reliable motion sensor and lightning-fast 0.4 second trigger time.

The camera is advertised as one that will withstand anything that nature might throw at it. This is useful of course for a trail camera, especially one that's setup in rural areas that might be at the full mercy of the elements or game.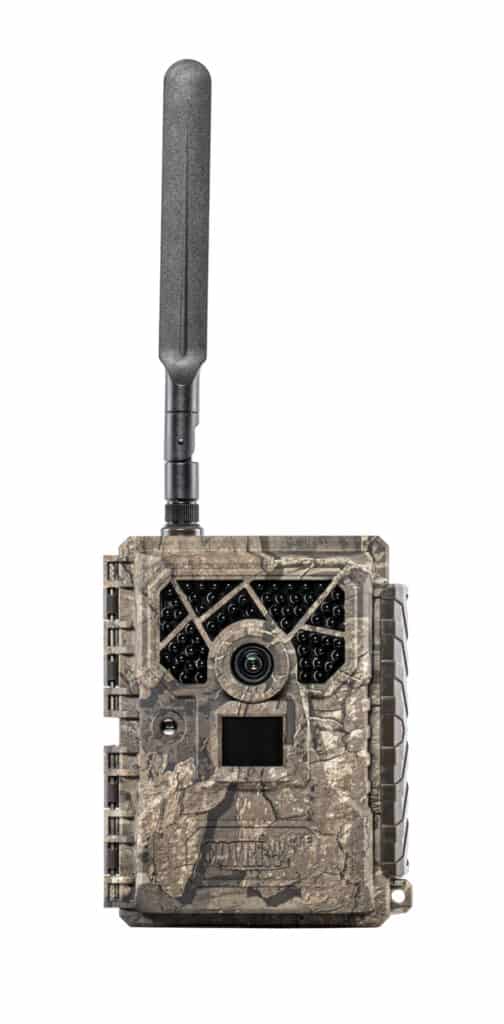 20 Megapixels
GPS Functionality
0.4 Second Trigger Speed
Practical, reliable and feature-packed, the Blackhawk 20 LTE is a cellular trail camera that you can depend on. With 20 megapixels photography, 100 foot flash range, and a lightning-fast 0.4 second trigger speed, this camera can get the job done.

Access your photos easily via the Covert Scouting's dedicated web portal and phone app. Through these channels you'll be able to quickly and easily view pictures, access real-time information and adjust settings—all totally remotely.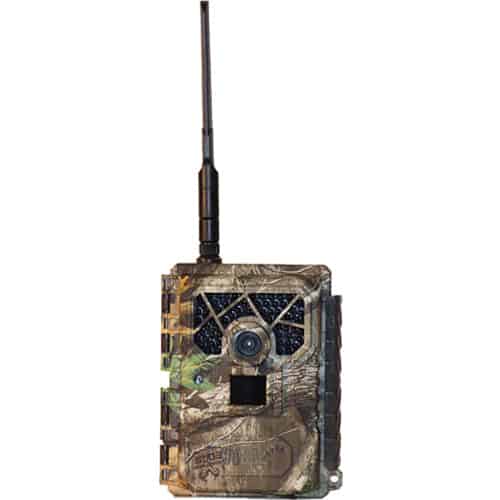 100 Foot Flash
Web Portal and App for Remote Access
Real-time Feed
This entry is cheating a little bit, as it's exactly the same as the previous camera, but this one is specifically for AT&T. The CODE BLACK is just such a reliable camera that we had to show off some of the other available versions. With this model, you'll still get all the features and high quality photos, but you'll be able to choose a network that works better for you.
Solar Panel Charging
Trigger Speed of 0.07 Seconds
12 Megapixels
HD Video Recording
Combining the convenience of remote storage access, this titan offering from Spypoint adds the extra layer of solar power charging, giving the camera even more ways to improve your outdoor photography experience.

Some will know that cellular trail cams can be drained of their battery relatively faster than standard trail cams. This is typically after spotty connection or network issues meaning the camera needs to be operational for longer. Well, with the LINK-S SOLAR, that worry is a thing of the past.

Not only that, this LINK-S model also comes with HD video recording, the fastest trigger speed currently available (0.07 seconds), as well as a 100-foot flash and a 12 megapixel camera. All of this makes the LINK-S capable of taking some truly breath-taking natural footage, and also means the camera is reliable rain or shine, day or night.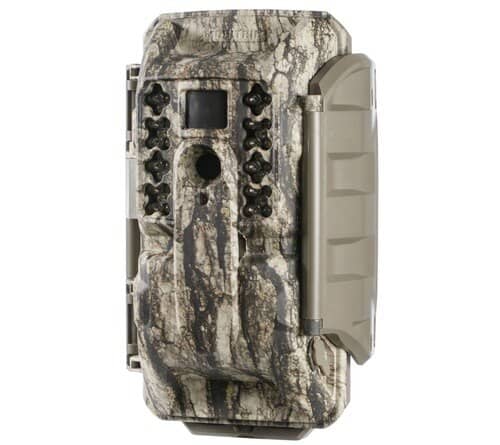 20 Megapixel Photos
Dedicated Moultrie Mobile App
Realistic Hard Camo Casing
Moultrie are well known for their affordable yet reliable line of trail cameras, and the Mobile 7000i is no different.

What makes the Moultrie cellular cameras so different is the brand's dedicated 'Moultrie Mobile' service to provide access to the cameras' storage from a remote location. Using the app on your computer, tablet or smartphone, you can quickly and easily access the 7000i whenever you want.

Thankfully, the camera itself is great too. Capable of 20 MP photos and full-HD 1080p video, the results are something to behold, especially in the day time. Furthermore, the 7000i also has an incredibly quick trigger speed of 0.03 seconds, meaning you'll never have to worry about missing that all important shot ever again.

The camera works on your standard 4G network, and comes in two separate network models, specifically the XV-7000i (Verizon) and the XA-7000i (AT&T).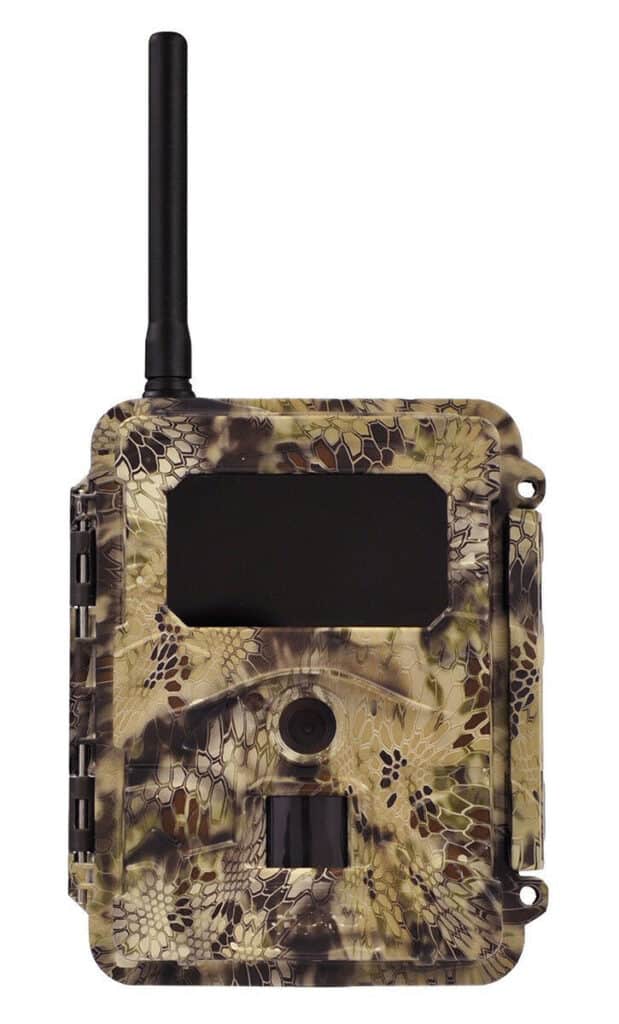 Pay As You Go Service
Below 1 Second Trigger Speed
720p HD Video Recording
Certified IP65 waterproof
2 Year Warranty
Marketed and designed as a solid mid-range camera, the Spartan HD GoCam is a nice balance of performance as well as budget. Offering clear picture and video, this Spartan model's main selling point is its cellular connectivity.

With this camera you can easily set up any new footage to be sent directly to your email or messenger app. You can even involve other contacts such as friends or colleagues, allowing for easy sharing to other parties.

Using an LED array, the HD GoCam has a flash range reaching up to 70 feet, allowing for well-lit and clear imagery whether it is day or night.
Combine that with the camera's trigger speed quicker than a second, as well as the convenient pay as you go broadband service, this camera is a fantastic all-rounder.
Heck, there's even a 2 year warranty thrown in too.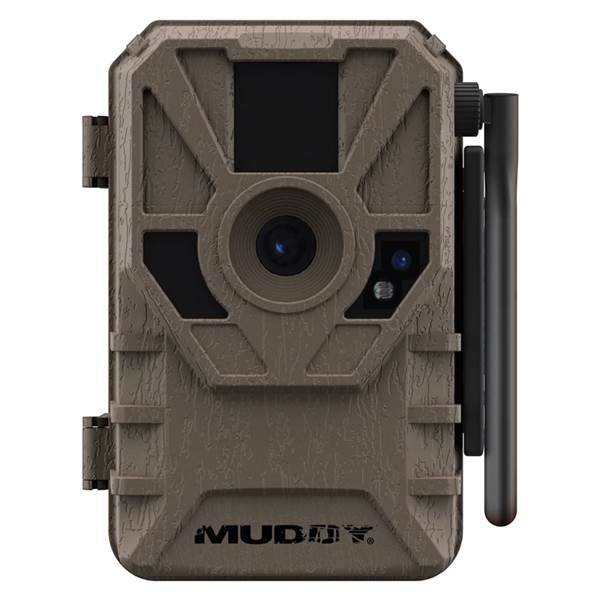 Budget-friendly Pricing
App For Remote Camera Access
Photographs at 16 Megapixel Resolution
One of the more affordable options on this list, the Muddy Cellular Camera with Verizon network contract is a humble trail camera that can go against the best of them.

Sporting a somewhat modest 16 megapixel photo resolution, the Muddy Cellular Camera still manages to take great quality photos that are clear as well as well-lit. This is combined with a trigger speed of less than a second, along with a detection and flash range of 70ft, giving you excellent results even on a budget.

Making sure that you're always a couple of seconds from accessing your footage, the MUD-VRZ pairs with an easy-to-use app that can be downloaded on any modern device.
With just a few taps, you'll be able to go through anything captured by the MUD-VRZ, as well as check on the camera's battery and overall network signal.
If you're an outdoors person with a budget as well as a need for something fuss-free, then you really can't go wrong with the Muddy MUD-VRZ.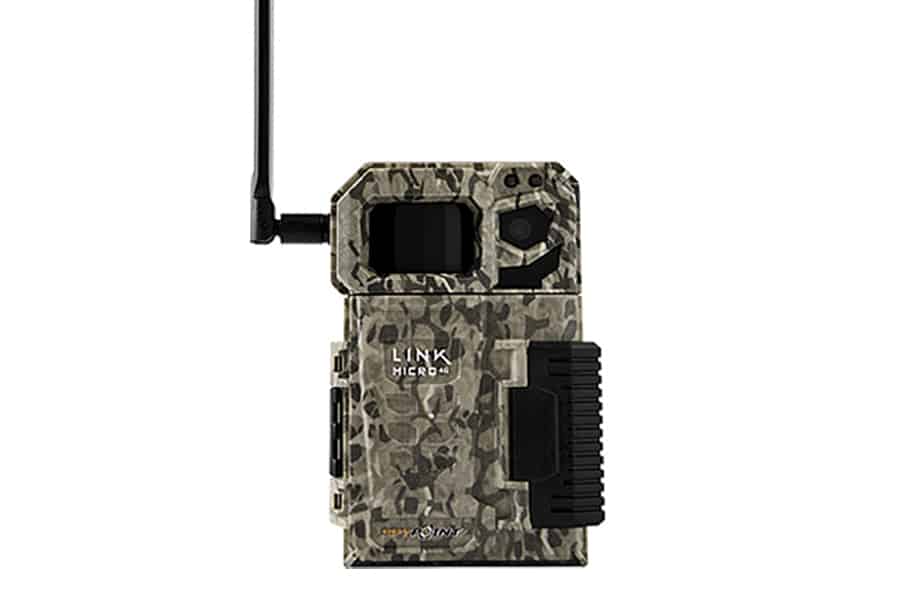 Small & Compact Design
80 Foot Detection Range
10 MP Camera
Sold as not just a trail camera, but a viable addition to your security system, the Spypoint Link Micro is a cellular cam that's very deserving of its name.
While all trail cameras add a sense of convenience, not all of them focus their specifications towards minimizing size, except for the Link Micro.

Labelled as the smallest on the market, this camera is a tiny powerhouse capable of capturing movement up to a distance of 80ft in less than a second.
Although the picture quality only reaches 10MP, the beauty of this camera lies in the near endless amount of applications and variety of compatible environments, making that slight dip in quality compared to its contemporaries a worthy trade off.

Got an awkward corner of a farm that needs surveillance? Other cameras just too big and clunky for reliable outdoor use? Then the Link Micro is the cellular trail camera for you, since its convenient size and inconspicuous nature make it the perfect option for awkward spaces.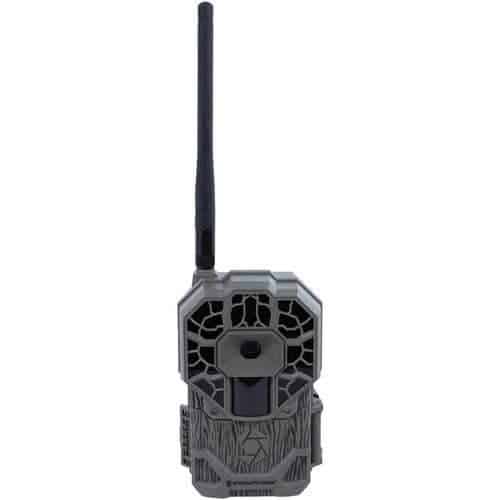 No Glow LEDs
22 Megapixel Photo Camera
1080p Video Footage
With the only Stealth Cam entry on this list, we made sure to include one that really takes the cake. Coming with an inclusive AT&T sim card, the GXATW is capable of taking photos at a 22 megapixel resolution as well as video in full-HD 1080p.

Also boxed with an additional remote viewing app, users can quickly consolidate anything stored on the device at a moment's notice. No more heading off into remote areas to check footage, thanks to the camera's network connection, data transfers can be done faster than ever.

The GXATW is also equipped with a respectable amount of 42 LEDS that utilize no glow technology to allow for inconspicuous filming of animals as well as covert surveillance for trespassers.
Cellular Trail Cameras: Common Questions Answered
What are cellular trail cameras?
Cellular trail cameras are very similar to standard trail cameras, but have one major difference. The key distinction is that cellular models make use of wireless networks to transmit data and information from the camera. This is very useful for spots that are hard to access or those that have strict rules on human contact. Most cellular trail cameras can be accessed through a majority of modern devices such as computers, smartphones and tablets.
Do I need to use the same network provider as my cell phone?
This question is a very common one surrounding cellular trail cameras. Contrary to popular belief, you do not need to be on the same network provider as your cell phone to use a particular cell camera. Although you may wish to use the same network if you have loyalties to a favourite provider, there is no restriction between which camera and providers you can use together.
Where can I use cellular trail cams?
Cellular trail cameras have the benefit of basically being usable anywhere that has a reliable network connection. Because of the way these types of cameras are designed, they need a network in order to transmit data. Therefore, no connection means no remote access. Conversely, if the location allows for a strong signal, the trail camera will work much more efficiently.
Do Cellular trail cameras have worse battery life?
These types of cameras can see excess battery drain if connection is slow and the unit is operational for longer periods, there is not significant difference between battery life between cellular and regular trail cameras. Likewise, some cameras have the option for solar power for uninterrupted power.
What else do I need to buy?
To start using a trail camera, you'll want an SD card to store photo and video on the device and a batteries to power it on. AA cells are standard, though some also feature a 6 or 12-volt power socket which can let you hook up a lithium battery pack.
To unlock the cellular capabilities, you'll also need an activated sim card with a data plan or preloaded data allowance. Some packages include a sim card in the bundle.
What is the difference between wireless and cellular trail cams?
Some trail cameras feature 'wireless connectivity', which usually refers to having Wi-Fi or Bluetooth capabilities.
These technologies are primarily there to help you pair your phone to the device without using a cable. You can then perform actions like configuring the camera configuration and transferring media to your phone.
However, the range is much more limited over Wi-Fi and Bluetooth. True cellular game cameras link up via the same broadband network technology used by your 4G smartphone. This enables almost unlimited range for communication with your trail camera.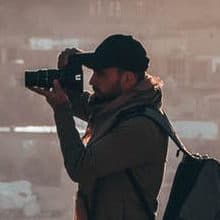 I'm a photographer and the chief editor of Capture Guide. After spending several years in parts of South America with my trusty old Nikon D7100, I'm now back home patiently waiting for borders to re-open.