Trail cameras are the perfect tool for all sorts of situations. Although mainly targeted towards hunters, conservationists and wildlife photographers, these compact yet powerful devices allow for easy footage of fauna in a covert and non-disruptive fashion.
Trail cameras can be easily set up in most natural spaces, as well as buildings and other structures. They can also be used as a part of a security system, especially in more rural and isolated areas that normally can't be covered.
So what are cellular trail cameras? Well, working with the trail cameras greatest strength—recording in harder-to-reach and isolated places—cellular cameras add the extra benefit of accessing any captured photographs via network transmission remote viewing.
Note: Some cameras also allow you to download recorded videos over cellular technology, but not all. If you can't download videos over 4G LTE, just download photos remotely and make a visit to the camera when you know you've got footage worth watching.
Included In This Guide
Why Go Cellular?
Being able to view and download your photos or video footage is an incredibly useful feature to have in a trail camera.
For those using trail cams in remote or potentially dangerous locales, network connectivity means the camera's storage can be checked from a different location, saving time by reducing the need for constant visits.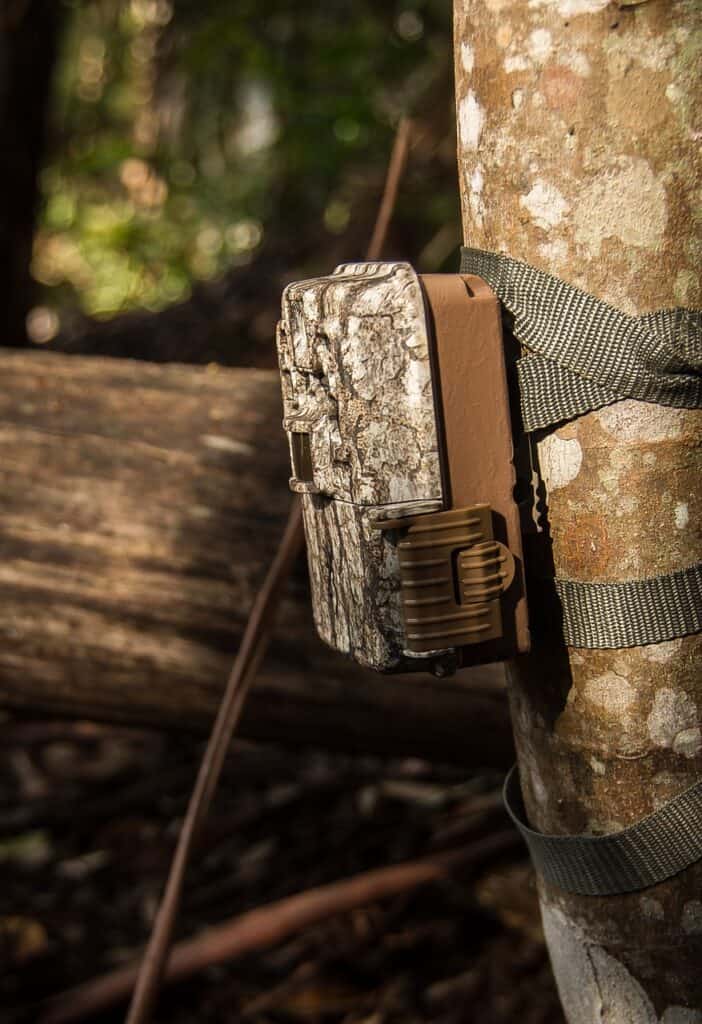 But what exactly makes a good trail cellular trail camera? Which one should you get?
Well, here's our handy breakdown of this year's best cellular trail cams, and hopefully it will help you in deciding which brand and model will meet your exact needs.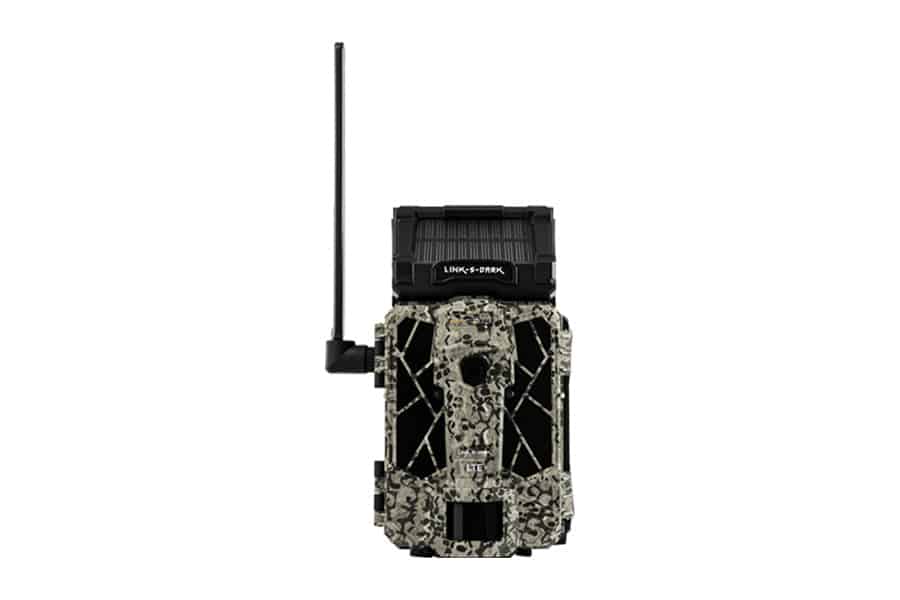 Best overall
The Spypoint Link-S-Dark is a great all-around trail cam that features a built-in solar panel and industry-leading trigger speed. Its companion mobile app is slick and packed with advanced features most other apps lack.
Power:
Solar Panel, 8 AA batteries/Rechargeable lithium power pack
Network Provider:
AT&T, Verizon
Fast trigger speed
Solar panel included
Free plan with 100 image downloads a month
Average build quality
No video downloads over cellular
It might not be the cheapest cellular trail cam around, but the Spypoint Link-S-Dark is an all-rounder that gets everything right.
Image quality is good across the whole spectrum of lighting conditions, and since this isn't a photo-only trail camera it can also take video clips. Compared to non-cellular trail cams, cellular ones tend to have reduced video quality because big video files simply can't be transferred over 4G. However, the Link-S-Dark comfortably manages up to 1080p full HD video.
Its industry-leading 0.07-second trigger speed and Hybrid Illumination Technology flash system which reduces infrared flash to no-glow are two standout features that give hunters a small but significant edge. The lightning-fast trigger speed especially could be the difference between a glimpse of a buck and a completely empty shot.
The software makes it especially good as a deer camera because of its Buck Tracker Antler Recognition Technology that makes it possible to quickly get to the photos containing bucks.
On top of all of that, this model also benefits from an onboard solar charging system which means it can be powered for months on end without the need to make visits to replace the AA batteries.
Overall, it's hard to find many faults with the Spypoint Link-S-Dark which excels across multiple aspects.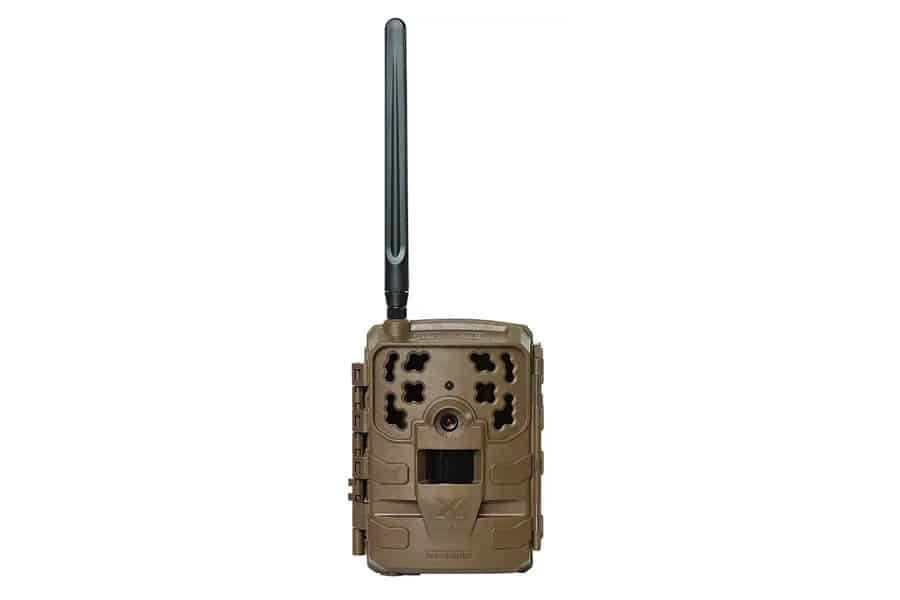 Budget Pick
This new trail cam from Moultrie manages to pack all the features you need from a trail camera at an incredible price. Great if you want to buy multiple cameras (to cover more property) without breaking the bank.
Network Provider:
AT&T, Verizon
Great photo and video quality for the price
Powerful antenna
Economical for a big camera network
Below average trigger speed
No video downloads over cellular
Moultrie has always been a strong contender in the trail camera market, especially when it comes to the cellular variety. They've always been relatively easy to use compared to others and the Moultrie Mobile platform is one of the best plans around – both in terms of functionality and pricing.
The Delta Base Cam is new for 2022, and it's a dramatic improvement over the previous Delta cam, with improvements in image quality, night vision, trigger speed, and improved wireless signal strength with the new External Cellboost™ antenna.
The fact that it retails for less than $100 and has a 24MP resolution, full HD video recording with audio, and an 80-foot invisible LED flash range is kind of unbelievable. It just goes to show that cellular game cameras are becoming more affordable than ever.
Another interesting thing to note is that the Delta Base cellular game camera is good for those who want to set up multiple cams on their property. Not just because each individual camera is cheap, but because Moultrie offers a $34.99p/m "Pro Series Unlimited Plan" which allows you to transmit unlimited images across unlimited Moultrie wireless trail cameras.
Overall, this easily the best value cellular trail camera around right now. The Spypoint Link-S-Dark is still a slightly superior camera overall because of its ridiculously fast 0.07s trigger speed (an advantage of almost 0.7 seconds), but for many, it will be difficult to justify the extra cost when the new Moultrie Mobile Delta Base is this good.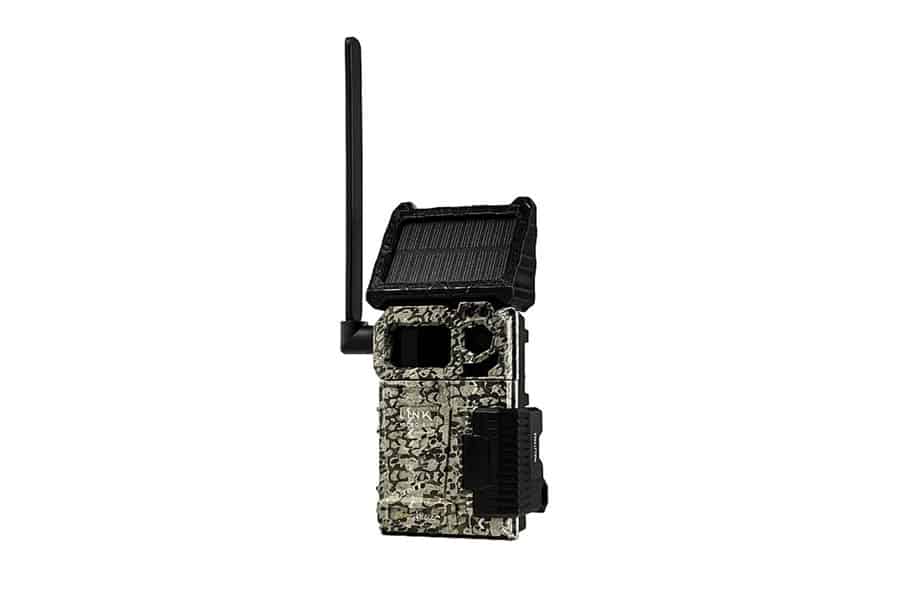 Notable Mention
The Spypoint Link-Micro-S-LTE is a relatively affordable and compact cellular trail cam that gets most things right. But as a photo-mode-only camera, it doesn't record video.
Power:
Solar Panel, lithium ion battery pack
Network Provider:
AT&T, Verizon
Affordable
Solar panel included
Free plan with 100 image downloads a month
Average build quality
Can't record video
Before the release of the Moultrie Mobile Delta Base Cam, this affordable 4G wireless trail camera from Spypoint was the go-to budget recommendation. Now it's a closer call and a bit of a toss-up.
The Link-Micro-S-LTE still has an advantage over the Moultrie in the form of an integrated solar panel that charges the included LIT-10 rechargeable lithium battery pack using solar power. This means fewer trips to your hunting grounds, though to be fair to the Delta Base Cam you can purchase a solar accessory. It's also got a quicker 0.4-second trigger speed, which is roughly 0.3 seconds faster than the Moultrie.
However, this is a photo-mode only trail camera, meaning you can't record videos. The multi-shot capabilities mean you can track movements, and for tracking purposes, high quality images are all you really need. But there is something special about being able to watch actual video footage, and the Link-Micro-S can't shoot video.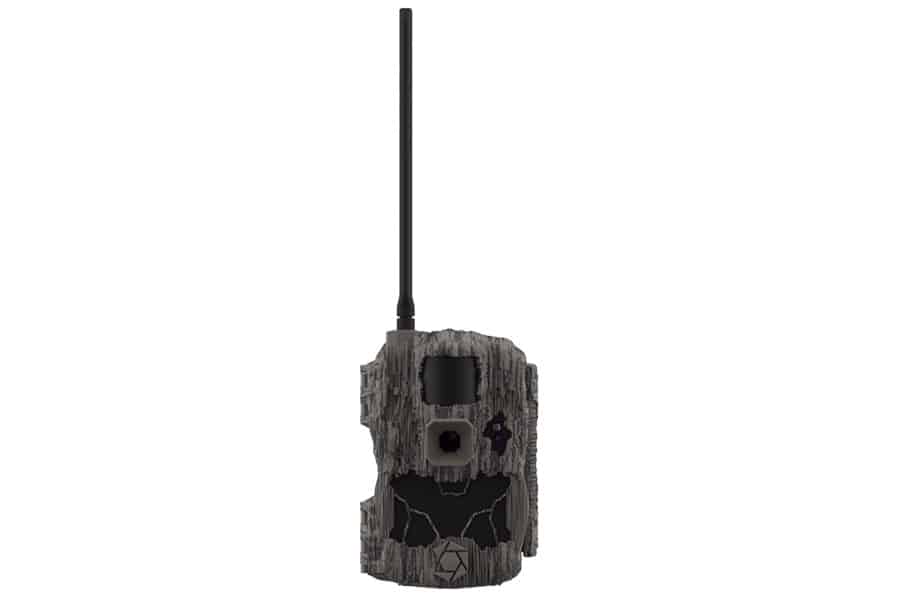 With 4K Video
The only cellular trail camera capable of recording super-detailed 4K footage, but it's difficult to take advantage of that extra definition.
Network Provider:
AT&T, Verizon
4K video and decent overall specs
Transmit video over LTE 4G
Expensive
4K is kind of pointless
It's unusual to find trail cameras with cellular capabilities that are capable of recording 4K video. The reason is pretty simple: uploads would use too much, and they'd be painfully slow. Furthermore, you don't use a trail camera to make a film, you just need the intel.
Nevertheless, the Stealthcam DS4K Transmit is a cellular trail camera that is capable of recording at 4K. On top of that, it produces clear images with its 32 megapixel camera sensor. Unfortunately, and perhaps unsurprisingly, uploads are limited to 720p or 1080p resolutions, so its killer feature does feel a bit pointless.
Beyond the excellent image and video quality, the Stealth Cam DS4K has high specs all-around: a 0.2-second trigger speed, 100-feet detection range, No Glare Matte PIR and IR array for invisible flash, and 1-9 images per triggering burst mode.
Its data plan is quite flexible, starting as low as $5p/m for 600 photos and rising to $20p/m ($15p/m if paid annually) for unlimited photo downloads. But what's interesting is that you can also download videos at $0.25 per video, a luxury not offered by most data plans in other game cameras.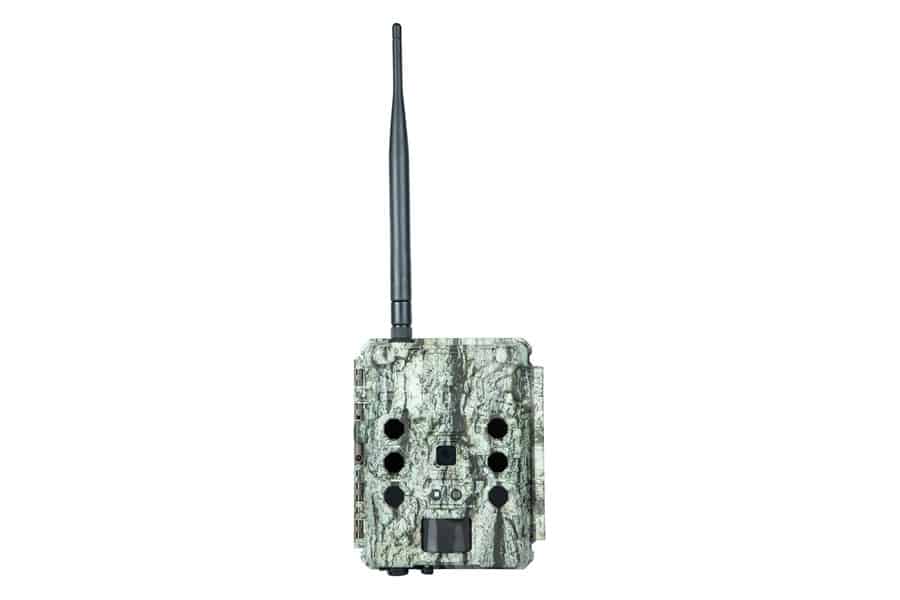 Notable mention
The Bushnell CelluCORE 30 is a solid premium offering that is a good option for those who want to download lots of video footage remotely. Unfortunately, you'll need to change batteries quite often.
Network Provider:
AT&T, Verizon
Great photo and video quality
100ft No-Glow LED
Transmit video over LTE 4G
High power consumption
Cheapest data plan is $10p/m
Capable of capturing highly detailed 30 megapixel photos, the Bushnell Cellucore 30 is unbeaten as a cellular camera for picture quality. That's not a huge surprise, since the company was also one of the first to introduce a 4K video traditional (non-cellular) trail cam (Bushnell 4K CORE™ DS-4K No Glow).
Video quality is also ahead of the competition, because it takes 1080p video at 60fps, compared to other wireless trail cameras which are typically limited to shooting 30fps at 1080p. While you won't look at it very often, the 3″ in-camera color viewing screen is also one of the nicest around.
It's strong in other important aspects too, with an extremely fast 0.2-second trigger speed and 100-foot night vision No-Glow LED flash. The monthly data plans are pretty good too, with the top $14.99 per month plan offering unlimited photo and video downloads.
This is a great all-around trail cam, but it is quite expensive and the solar panel accessory costs over a hundred bucks, which is pretty steep. While the cheapest data plan starts high at $10p/m, the $15p/m plan generously gives you unlimited remote access to photos and videos.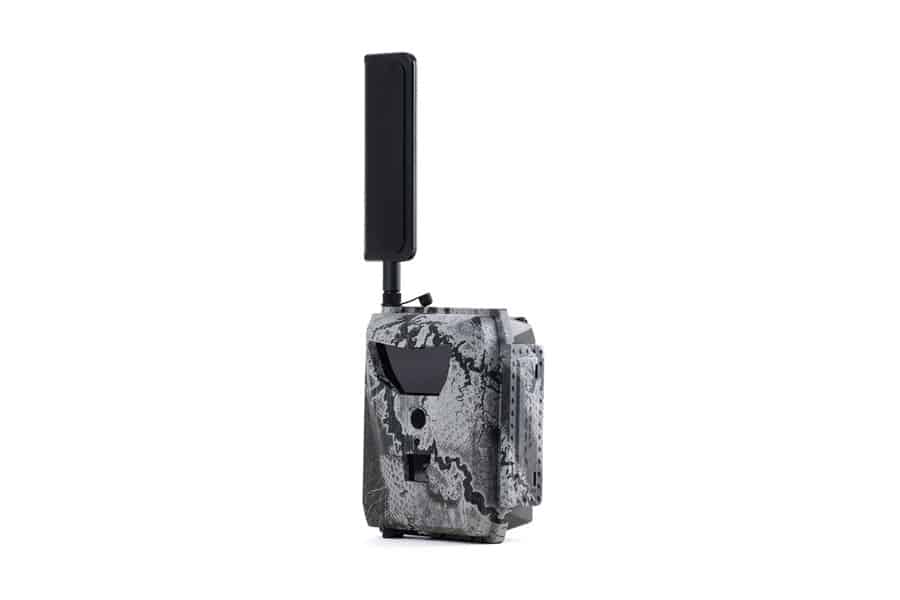 With Live Streaming
A first of its kind, the Spartan GoLive 4G/LTE is a well-built trail camera that is capable of live streaming footage over LTE. However, it's significantly more expensive than other cellular trail cams.
Power:
Built-in lithium ion, 12 AA batteries
Network Provider:
AT&T, Verizon
Live stream feature
Excellent image and video quality
Low power consumption
The GoLive 4G/LTE from Spartan is one of the most advanced cellular scouting cameras around, and its killer feature is its ability to live stream at the touch of a button.
How important the live streaming feature is will depend on your needs. Some users will really appreciate the ability to watch live footage without delay, but for general scouting purposes, it's not really an essential feature. So you'll need to consider whether this expensive trail camera is worth it for your use case.
Now, you might think the price is outrageous, but don't forget streaming adds a whole layer of complexity because processing power is needed to compress a video stream on the fly.
While its megapixel count doesn't look great on paper, keep in mind that megapixel count is a very poor measure of image quality. For example, the iPhone 13 Pro Max 'only' uses a 12MP sensor, but it destroys cheaper phones which boast 50 or 100-megapixel sensors. The Spartan GoLive 4G/LTE is like that, the image quality is actually at the very top end despite the relatively low MP figure.
Spartan has also done a good job delivering solid battery life, even when you consider the device is constantly transmitting a signal when live streaming.
If you want the same Spartan game camera but don't want to spend a premium for live streaming, check out the Spartan Ghost Blackout (mentioned below) which is precisely that.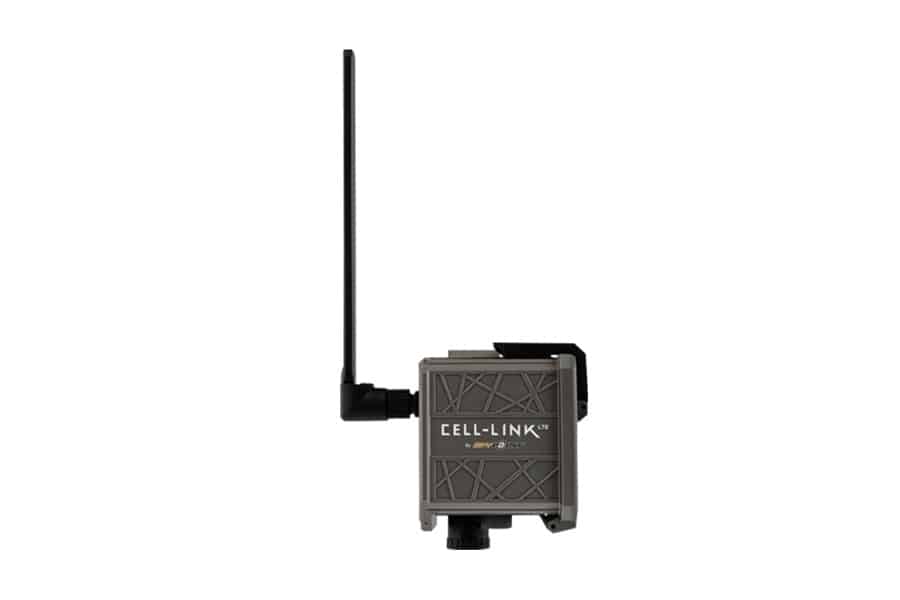 Notable Mention
Hook this up to your existing trail camera and give it cellular capabilities.
Power:
8 AA batteries, lithium battery pack
Network Provider:
AT&T, Verizon
Works with nearly all trail cameras
Cheap to replace
Complicates things slightly
For those who have already established a network of standard trail cameras that lack LTE transmission, the Spypoint CELL-LINK is a universal cellular adapter that will save you from having to buy a whole new set of cellular trail cameras from scratch.
This can give virtually any non-cellular cellular connectivity, allowing you to transmit images wirelessly. All you need to do is plug the SD card cable into the SD card slot of your standard trail camera, route the cable down to the bottom of the camera housing, and close the camera door on the cable.
Another cool thing is that using the CELL-LINK will also mean you can use various scouting tools offered by Spypoint, including AI species filters, advanced weather, and mapping functions.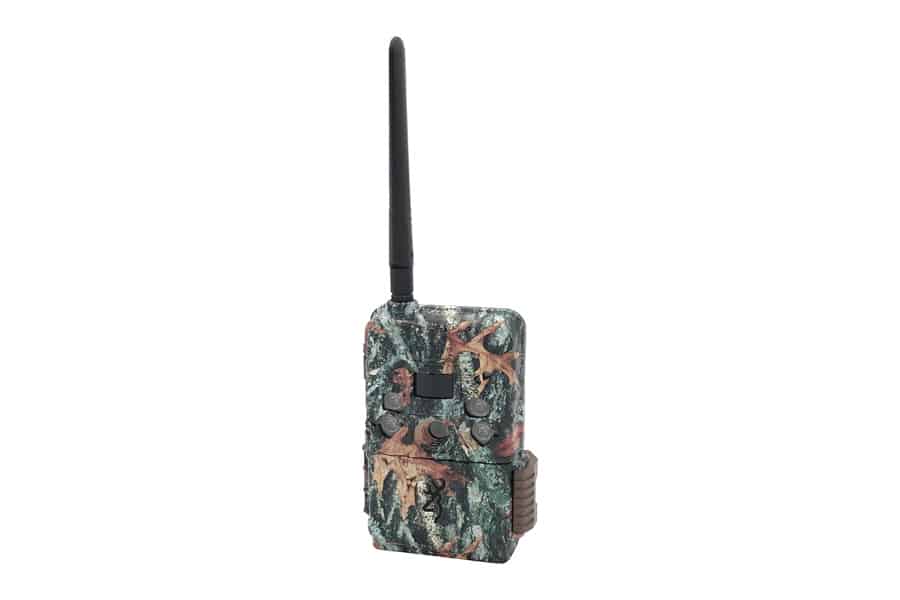 Notable Mention
The Browning Defender Wireless cellular trail cam is a solid offering packed with features, but there are better options on the market.
Night Range:
120ft low-glow, 80ft invisible
Network Provider:
AT&T, Verizon
Robust casing
Good picture quality
Transmit video over LTE 4G
Overly sensitive motion detection
Average battery life
Those just getting started with trail cameras probably won't have heard of all the different trail camera manufacturers, but will most likely have heard about Browning, a huge name in firearms and outdoor gear.
With the same MSRP, the Browning Defender is a strong alternative to the Spypoint Link-S-Dark. Its rugged construction, 2-inch color LCD and intuitive back-lit 4-way menu button controls are especially nice, as well as its ability to capture high resolution 20MP GPS tagged images.
With an 0.3-0.7 second trigger speed (adjustable in camera settings) and 120 ft. Long-Range Infrared Illumination at Night, its specs are about as good as any. The camera is good at detecting motion, although it is quite sensitive and picks up a lot of false alarms.
It also supports up to 512GB SDXC memory cards, a capacity much bigger than cards accepted by rival cams. But realistically, there's no benefit to being able to amass half a terabyte of footage on the card.
The reason we prefer the Spypoint Link-S-Dark is down to its superior trigger speed and inclusion of a solar panel, as well as a considerably more generous monthly plan. A solar panel for the Browning Defender is a $69.99 accessory, and to transfer videos over cellular you'll need Browning's $29.99 a month "Hunter Plus" monthly plan (or higher) which is significantly more expensive than the competition.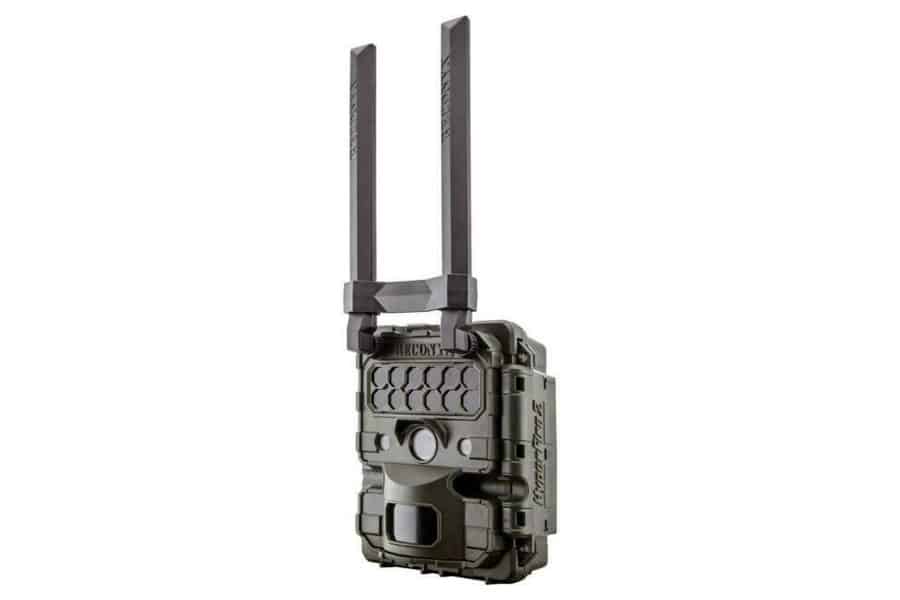 Made In USA
This reliable workhorse from Reconyx is built like a tank and nails the basics, but lacks some features you might expect for its price.
Network Provider:
AT&T, Verizon
Build quality
5-year warranty
Low power consumption
Very expensive
No video downloads over cellular
Reconyx is an American brand that manufactures equipment used in professional research and law enforcement. The brand has come to be associated with reliability and performance. The Reconyx HF2XC HyperFire 2 Cellular Covert IR Camera is no exception.
On paper, its specs aren't particularly special, with a 3MP camera sensor and 720p video recording. It does do well in the stuff that matters, with a 0.2-second trigger speed, 100-foot detection range, and up to 150-foot illumination range.
It's let down slightly by its companion app, Reconyx Connect, which lacks the polish or advanced features found in other cameras. It still gets the job done, though, allowing you to download photos and adjust the camera's settings without having to physically touch it.
But where it shines is in its tank-like construction and generous 5-year product warranty, should anything go wrong.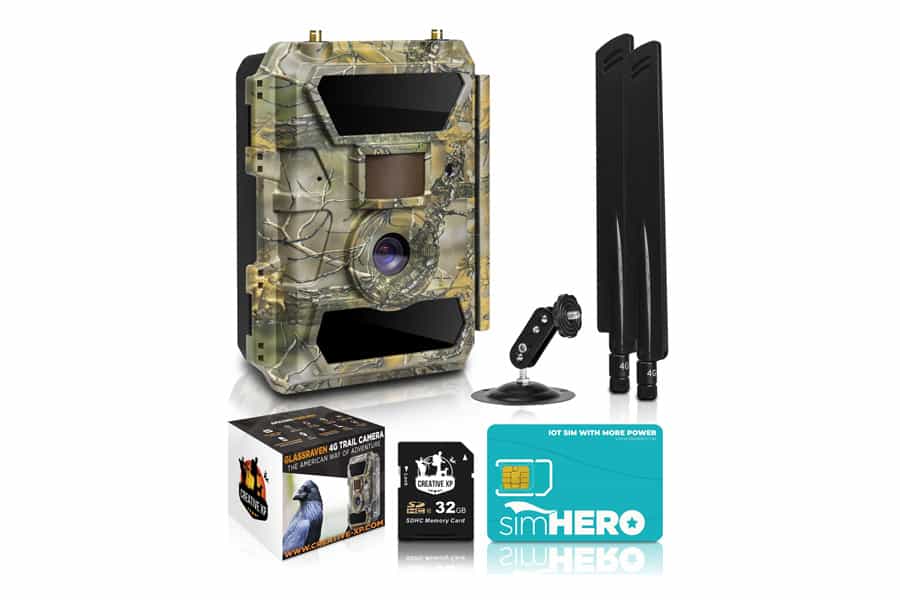 Notable Mention
If you're looking at different provider options, the Creative XP GlassRaven is the only trail cam that uses a SimHero sim.
Network Provider:
SimHero (AT&T & T-Mobile cell towers)
Transmit video over LTE 4G
Wide-angle lens captures more
Making the most out of its 56 LEDs with no glow technology, the GlassRaven LTE Cellular camera is one that boasts to get you some of the best night shots on the market.
Not only is it sold as a hunting and animal monitoring tool, but Creative XP also proudly states that the camera is a viable security option as well, cemented by its 110° PIR angle and 0.35 second trigger time.
The cellular wifi connection means that you can take a look at your videos and photos any time you like, as well as the option to send any media stored on the inclusive SD card to any United States email or phone number.
The battery life is as standard as any other cellular trail camera, however, there is an optional Creative XP Solar Panel which can be bought separately and also used to charge the camera during the day for a constant supply of power.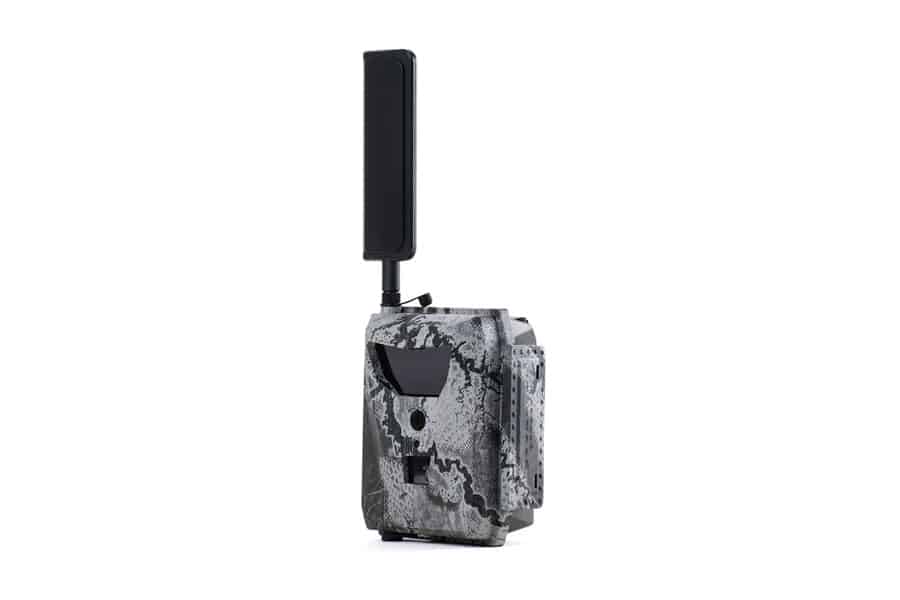 Notable Mention
The Spartan Ghost 4G/LTE is built well and lasts for months without needing to replace batteries, but it's worth paying extra for the newer Spartan GoLive.
Power:
Built-in lithium ion, 12 AA batteries
Network Provider:
AT&T, Verizon
Low power consumption
Transmit video over LTE 4G
Looking just as futuristic and envelope-pushing as its many features, the Cellcom Spartan Camera is the ultimate invisible cellular trail camera that hunters can add to their toolkit.
Making use of Spartan's dedicated cellular network service with a preinstalled SIM card, owners can easily download the Spartan mobile app to view the camera's storage at any time.
Another key feature is its built-in anti-theft GPS, which allows it to be tracked remotely—even if its external lithium battery is removed.
Speaking of which, the Cellcom Ghost is also capable of taking some very impressive shots thanks to a reliable motion sensor and fast 0.4 second trigger time.
The camera's rugged housing will withstand just about anything that nature might throw at it. This is useful of course for a trail camera, especially one that's set up in rural areas that might be at the full mercy of the elements or game.
Cellular Trail Cameras: Common Questions Answered
How are they different from regular trail cameras?
Cellular trail cameras are very similar to standard trail cameras, but have one major difference. The key distinction is that cellular models make use of wireless networks to transmit data and information from the camera.
This is very useful for spots that are hard to access or those that have strict rules on human contact. Most of these devices can be accessed through a majority of modern devices such as computers, smartphones and tablets.
Do I need to use the same network provider as my cell phone?
This question is a very common one surrounding cellular cameras. Contrary to popular belief, you do not need to be on the same network provider as your cell phone to use a particular cell camera. Although you may wish to use the same network if you have loyalties to a favorite provider, there is absolutely no restriction between which camera and providers you can use together.
Where can I use cellular trail cams?
Cellular game cameras have the benefit of basically being usable anywhere that has a reliable network connection. Because of the way these types of cameras are designed, they need a network in order to transmit data. Therefore, no connection means no remote access. Conversely, if the location allows for a strong signal, the trail camera will work much more efficiently.
Do cellular trail cameras have worse battery life?
These types of cameras can see excess battery drain if the connection is slow and the unit is operational for longer periods, but under most circumstances, there is no significant difference between battery life between cellular and regular trail cameras. Likewise, some cameras have the option for solar power for uninterrupted power.
What else do I need to buy?
To start using a trail camera, you'll need an SD card to give the cellular cam a place to store photo and video data. It helps to have at least two SD cards, so that each time you make the trip to the camera you can switch out the SD card and go through all the captured pics and videos at home.
You'll also need batteries to power it on. AA cells are standard, though some also feature a 6 or 12-volt power socket which can let you hook up a lithium battery pack, normally purchased separately.
To unlock the cellular capabilities, you'll also need an activated sim card with a data plan or preloaded data allowance. Some packages include a sim card in the bundle.
What is the difference between wireless and cellular trail cams?
Some trail cameras advertise "wireless connectivity", which usually refers to having Wi-Fi or Bluetooth capabilities.
These technologies are primarily there to help you pair your phone to the device without using a cable. You can then perform actions like configuring the camera configuration and transferring media to your phone.
However, the range is much more limited over Wi-Fi and Bluetooth. True cellular game cameras link up via the same broadband network technology used by your 4G smartphone. This enables practically unlimited range for communication with your trail camera.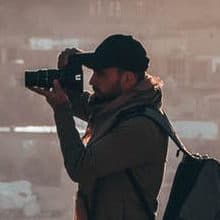 I'm a photographer and the chief editor of Capture Guide. After spending several years in parts of South America with my trusty old Nikon D7100, I'm now back home patiently waiting for borders to re-open.