Whether you're a life-long fan of hunting or have just managed to catch a case of wildlife fever in the past year, this breakdown of 2023's best trail cameras will give you all the information you need to purchase exactly the right camera for you.
For those new to trail cameras, (often called remote, game or hunting cameras) this specific type of camera is used in a plethora of outdoors situations to allow for easier photography of wildlife.
Trail cameras are great photographic tools, as they allow users to take snaps when they otherwise couldn't. Trail cams are also very popular with hunters and groundskeepers, as they allow for easy observation of animals without needing to disturb the environment.
Observing fauna in its natural habitat is a tough gig. Bad weather, long hours and absent animals are only a few reasons why you might avoid doing things manually.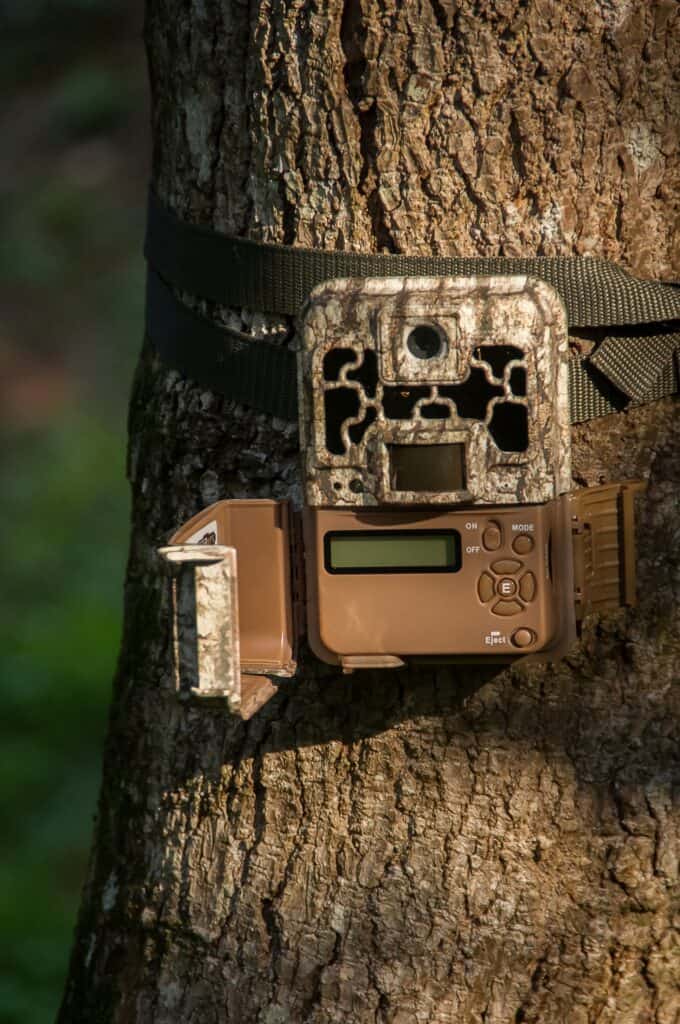 Luckily, trail cameras mean you can create a single or multi camera setup and leave them to do their thing. Simply come back later and review the footage and still images for a convenient method of tracking game.
Another use for a trail cam is security. These small, mountable cameras make a great deterrent as well as safety measure, especially in areas that are more rural or are not able to accommodate closed-circuit television.
While any of these cameras would be worthwhile pieces of kit to own, we've included a detailed breakdown of each one so you'll know exactly which camera will fit your needs best. Check them out below and you'll be snapping pics in no time.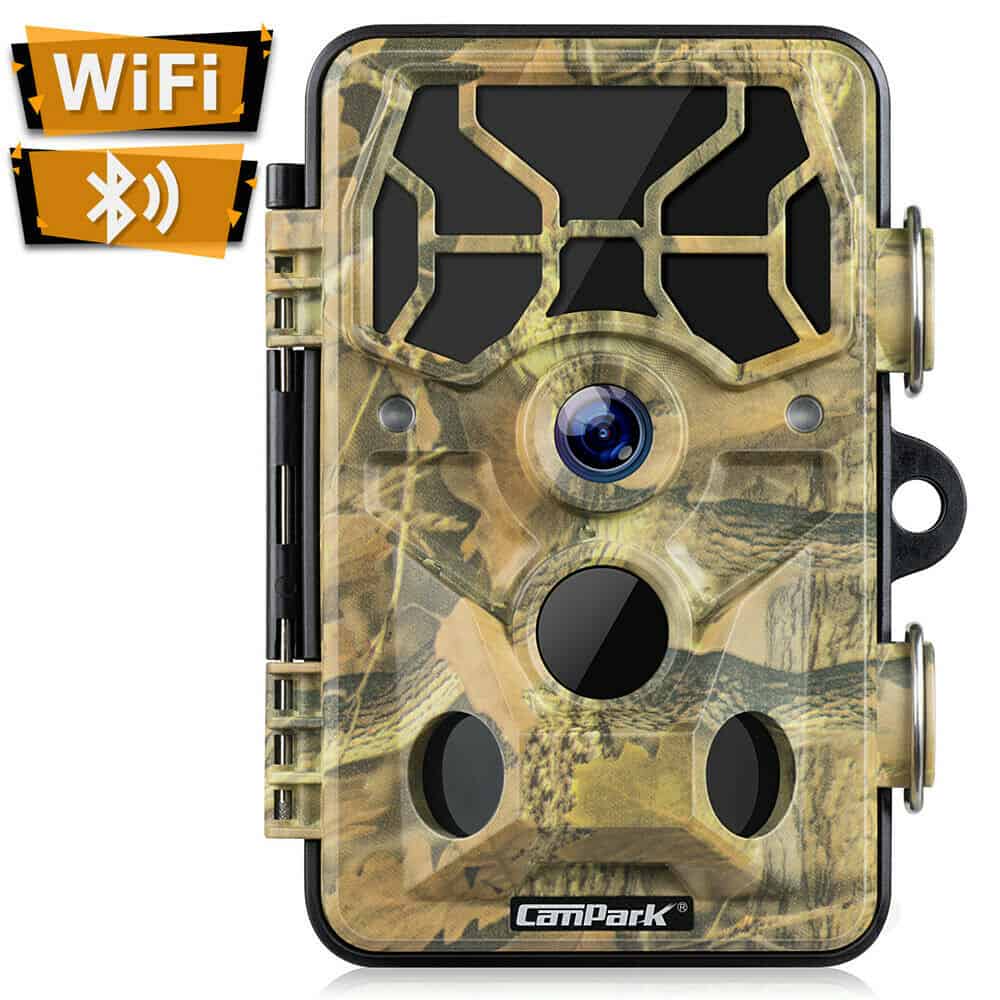 1.
No products found.
20 Megapixel
Fast 0.3 second trigger speed
IP66 Waterproof
Wi-fi & App Functionality
The Campark T80 has a lot of useful features that make it worth the original $159.99 price point. The T80 proudly advertises everything from IP66 Waterproofing, Wi-Fi connectivity, a 2.3-inch color LCD screen and even Advanced Night Vision, all meaning that you really get bang for your buck with this game camera.

This Campark model has a 20 megapixel camera and shoots video at a maximum 1296p resolution, giving you the absolute best chance of capturing quality snaps. At day the picture is bright and clear, with very little in terms of artifacts. It also has a night vision range of 65 feet (20 metres), meaning that you'll be able to monitor wildlife from quite a distance away from where you've mounted the camera.
Being a wireless trail camera, one of the best features of the T80 is the aforementioned ability to view the camera's feed from your phone. Using the dedicated app, you can stream the view from the camera. Since the T80 uses a Wi-Fi network to stream, you won't be able to watch from miles away, but you will be able to tweak settings and check the stream remotely from a useful distance.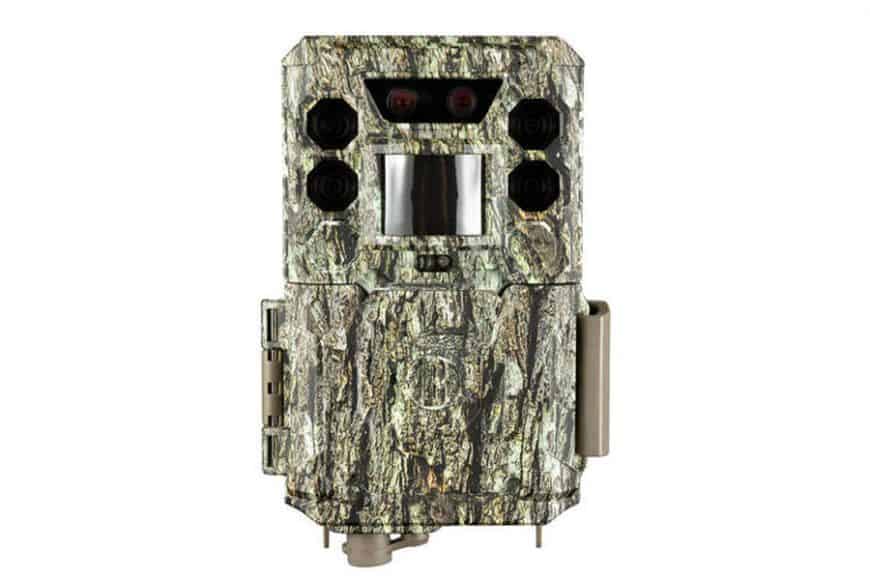 1080p Video Resolution
Lightning fast 0.2s trigger speed
60 Frames per Second Footage
30MP Image Resolution
Full-colour Preview

Sporting a realistic, practical, bark camouflage skin, this Bushnell trail camera is both robust and hardy, fitting right into any natural surroundings you might need to use it in.

Highlighted by the camera's name, the 30MP CORE boasts a 30 megapixel still image resolution, and also features full HD, 1080p video shot at 60 frames per second. Thanks to the unit's dual dedicated image sensors, the image quality and dynamic range on this Bushnell are great. Switching to either the optimized day or night sensor, the 30MP guarantees clarity no matter the circumstance.

Being a little over $200, the 30MP CORE comes with a couple of some handy features to make it worth being one of the more expensive models on this list. Utilizing an incredibly useful LCD screen with a full colour display, you can easily review footage on-site without the need of your laptop or computer.
Like all trail cameras, this bushnell requires a couple pairs of AA batteries to power up. However, this model features solar panel functionality, meaning you can leave the 30MP CORE to charge in the daytime, leaving for longer periods of recording. This is especially helpful for hunting, where you should avoid trips to the game cam location as much as possible.
There are four versions of the Bushnell CORE, but each does more than enough to get the job done. While the 'no glow' versions are the right choice if you want to hook one up for security around your home, the 'low glow' variety are still perfect for capturing natural footage.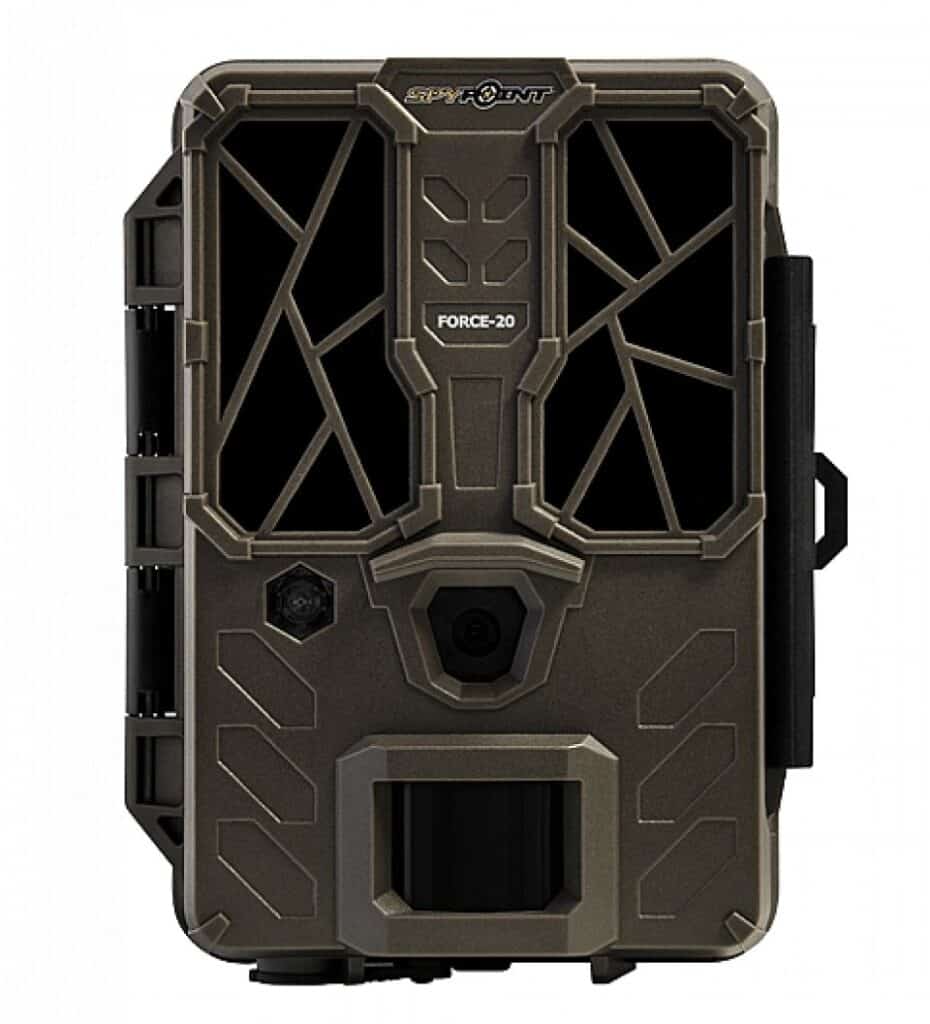 720p Video Resolution
0.7s trigger speed
$99 Budget Price Point
20 Megapixel Imagery
Coming in at only $99, the SPYPOINT FORCE-20 is the best trail camera for the budget-conscious outdoorsman. With it being cheaper than other entries on this list, you can expect fewer features than some of its contemporaries, as well as some relatively lower specifications. However, don't let the specs put you off, as this camera is the perfect balance of value and performance.
Given the name, it's unsurprising to find that the FORCE-20 has a max capability of 20 megapixels for still images. Similarly, the maximum resolution for video is 720p, while technically high definition, is lower than the standard 1080p found on many trail cameras.

That said, the 20 megapixel camera is far from the lowest spec on the market, and with a price point that is lower than a large chunk of other available trail cameras, this is a must-have bargain.

For simplicity's sake, the SPYPOINT FORCE-20 is an excellent trail/game camera for those who need something cheaper and more practical.
It won't bog you down with any superfluous features or gimmicks, and will give you just what you need to record quality wildlife footage. If you're hunting and need a big network of cameras, this is the most cost-effective option.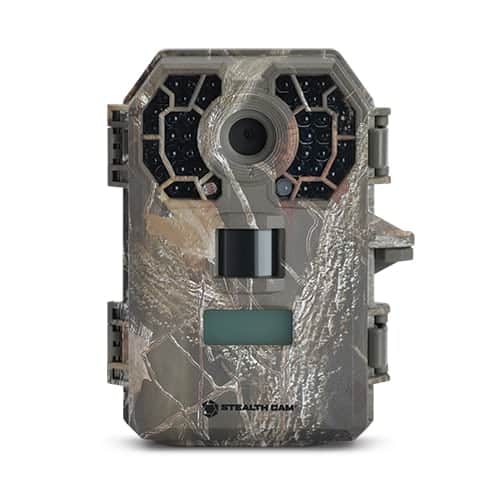 10 Megapixel Image Capture
Fast .5s trigger speed
High-definition Video
No-Glo Technology
16:9 aspect ratio
Designed specifically to eliminate any performance glow during night time use, the G42NG No-Glo is the best choice if you want to keep your camera as inconspicuous as possible.

The camera uses what it calls 'BLACK' infrared emitters (as opposed to LED flash or red light illumination) that have a range of 100 feet to capture footage/images in less than half a second. Housed in a water and weatherproof casing, this Stealth Cam is also decorated in a practical bark camo, making it an excellent choice for woodland observation.

The G42NG also comes with several additional features including support for timelapse video, 9 burst mode photography, as well as information storage for moon phase, temperature readings, time, date and naming. An LCD screen is present, though it can only be used for configuration and not for viewing image previews.

Specs are modest with the G42NG, with the image resolution maxing out at 10 megapixels. However, the video mode does support filming in HD. Blurring technology ensures that fast moving game are captured with clarity and even lighting.
It supports SD cards up to 32GB and takes 8 AA batteries, both of which must be purchased separately.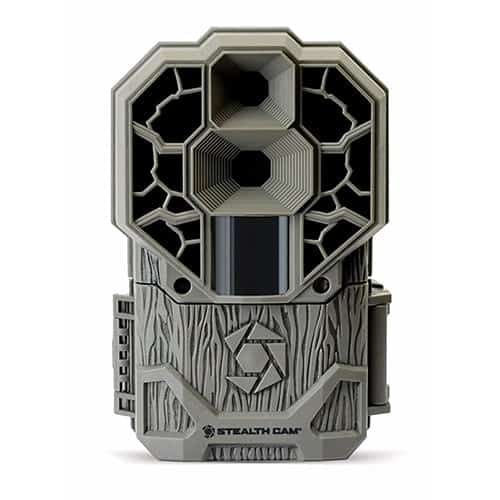 4K Video
<0.4s trigger speed
Dual Day & Night Sensors
30 MP Image Resolution
Support for 512GB SD cards
No Glo flash
Another offering from Stealth Cam here, but with what has been labelled as the debut of the first ever 4K resolution digital trail cam. With a not-to-scoff-at 30 megapixel photo resolution, as well as high quality video quality and audio recording, this camera is perhaps targeted more towards the wildlife photographer than your average hunter. Still, if quality is the aim of the game, you won't find anything better than the DS4K.
Making use of two optimized sensors, you'll never have to worry about dodgy results at day or night. As expected, light hours are the day are extremely clear and high resolution, while dark environments, while not as high quality as day shots, are very effective thanks to the camera's 'No glo' infrared flash range that reaches up to 100ft.
Awe-inspiring photography. Lightning fast shutter speed.
If you're someone who doesn't blink at a higher-end price point, then the DS4K is the crème de la crème of mounted trail cameras.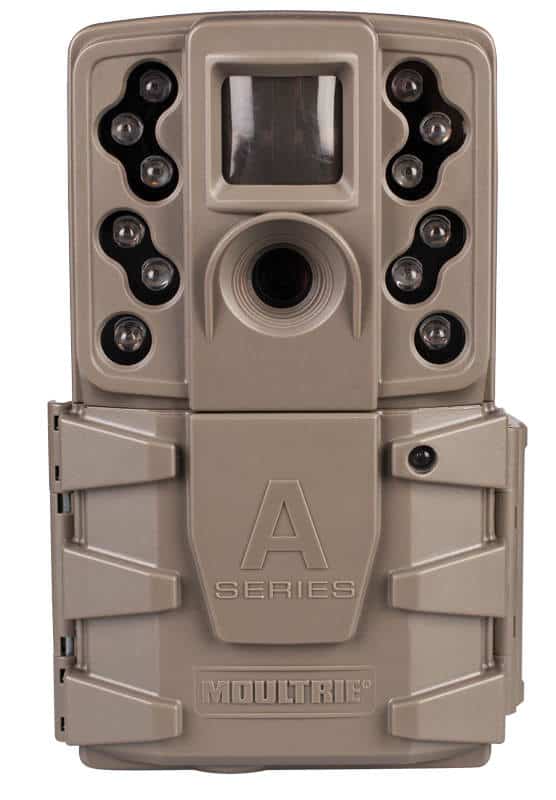 Beginner Level Camera
Fast 0.7s trigger speed
720p Video Capability
12 MP Imagery
Great battery life (17,000 images with 8 AA batteries)
Affordable and incredibly easy to use, the Moultrie A-25 is highly recommended for newcomers to the world of hunting with game cameras. Coming with a modest 12 megapixel camera and maximum 720p video capability, the A-25 is ideal for those who want to dip their toes into buying a hunting camera, without splashing out too much cash.

The Moultrie A-25 comes with everything you could ever want out of a game cam, a 60ft range infrared flash to capture game at a distance, a trigger speed of 0.9 seconds to take shots as soon as you need them, and a weatherproof casing to protect it from the elements.

While the A-25 is certainly not recommended as a deluxe camera, it certainly isn't marketed as one either. It suits its purpose as an entry level trail cam that will satisfy any beginner needs. Plus, it also includes a small 8GB SD card to get you started.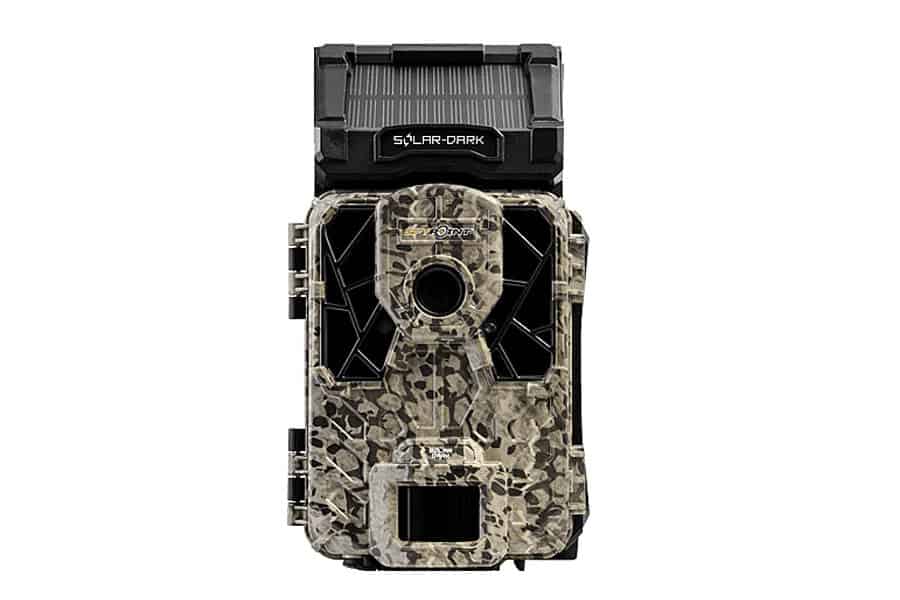 Solar Panel Recharging
0.07s trigger speed (market-leading)
110 Foot Detection Range
12 MP Photos
Full HD 1080p Video
SPYPOINT's Solar Dark model prides itself on offering a ton of features and tools to make your trail camera experience as effortless as possible. Boasting a 'potentially unlimited' battery life thanks to the solar panel connectivity (see the name), the SPYPOINT Solar Dark is breaking the mould of AA battery powered trail cameras and leading the way to a more pragmatic means of power.
The picture quality is high on the Solar Dark, with full HD video recording in beautiful 1080p, as well as a 12 megapixel camera for detailed wildlife photography.
What's more is that the unit comes with flash settings that can be adjusted to suit your specific needs. Want to make extra sure that the flash won't scare off a deer at close range? The Solar Dark has you covered with its Hybrid Illumination technology. Likewise, its various modes of shooting such as time-lapse and multi-shot mean that whatever the situation, you'll be ready.

With its 90 foot flash, 110 detection range and 0.07 second trigger (supposedly the fastest on the market), the Solar Dark is capable of taking some breathtaking wildlife shots. This is compounded by extra photography modes such as multi-shot and timelapse, giving you a wide array of tools to capture just about anything nature throws at you.
It's far from the cheapest option, but if you're in the market for something with the most bells and whistles, this offering from Spypoint is the best trail camera you'll find.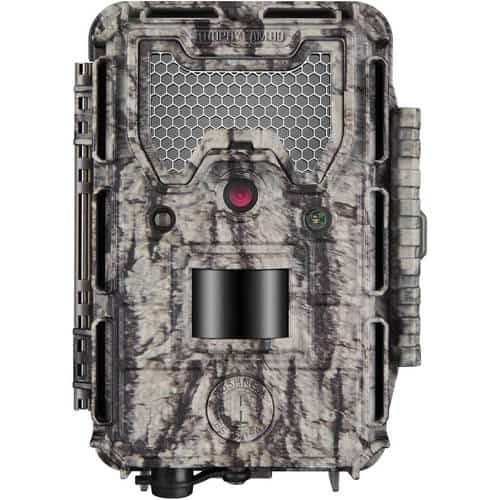 Sturdy & Well Protected
Fast 0.2s trigger speed
24 Megapixel Camera
Multiple Versions
The 'aggressor' description on this model may conjure up certain images of power and strength in your mind. Not only a bit of clever marketing, the Trophy Camera Aggressor is specifically designed to withstand more than your average amount of woodland trauma, be it weather or animal related.

If your hunting is focused on bigger game and larger animals such as bucks and bears, you may want to invest in something that can take a bit more physical damage, just in case. The Trophy Camera Aggressor is perfectly suited for such a task with an upgraded latch design over previous Bushnell models, as well as an improved cable lock channel.

Of course, the camera is also adept at taking high quality shots with its 0.2 second shutter speed and 100ft motion detection range. You can set the motion trigger sensitivity to high, medium or low to ensure you only capture the things you want.
A standout feature is its exceptional 'hyper night vision', though worth mentioning the low-glow LED lights do leave a slightly bigger footprint than 'no-glow' or invisible LED variant that Bushnell also offer. If you don't mind sacrificing some image quality for complete stealth, go for the 'no-glo' Aggressor instead.
This Bushnell is also available in 24 and 20 MP flavors, giving you a little bit of leeway on price if you're willing to lose some image quality.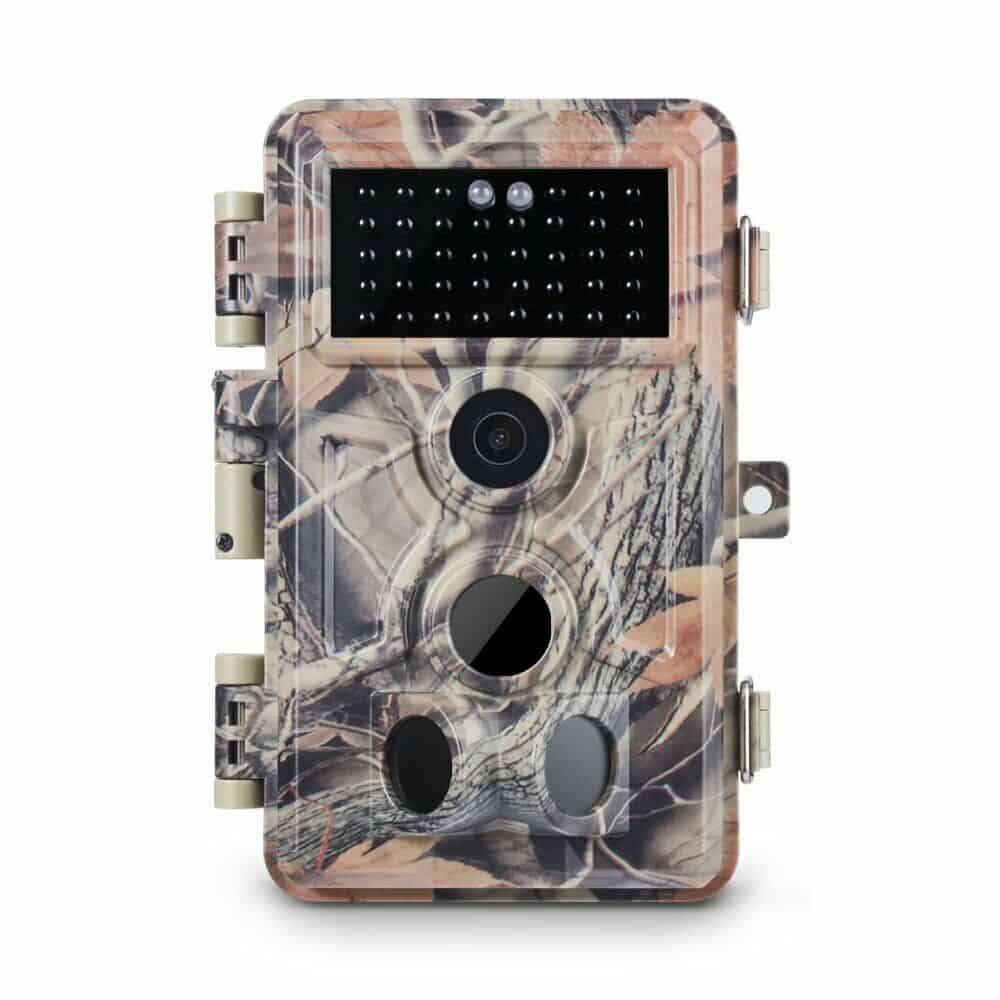 Full HD 1080p Video
Fast 0.2s trigger speed
Simple Design and Easy-to-use
16 Megapixel Resolution
Coming in at the cheapest on this list, the Meidase Trail Camera is the best option if your budget won't stretch to the mid-range options on the market. Obviously, this camera won't offer you the extra bonuses and features of more expensive units, but it will let you get quality footage regardless.

Featuring all the fundamental parts of a quality trail cam, this Meidase model offers 16 MP image taking, while not as high as other cameras, still looks great. It offers an impressive 0.2 second trigger time and 120-degree detection angle as well as 65-feet night vision that's backed up by an invisible infrared flash for shots.

Another benefit of the Meidase being an entry level trail camera is that it's very easy to use. Even total newbies won't struggle to handle the camera's simple interface and minimal design. With only a handful of buttons to press, you won't need to pull out the manual just to get some quick shots.

Impressively, the camera records at full HD 1080p video at a solid 30 frames per second, which is fantastic considering the highly affordable price. It also shoots with a trigger of 0.2 seconds and can pick up movement up to 82 feet away.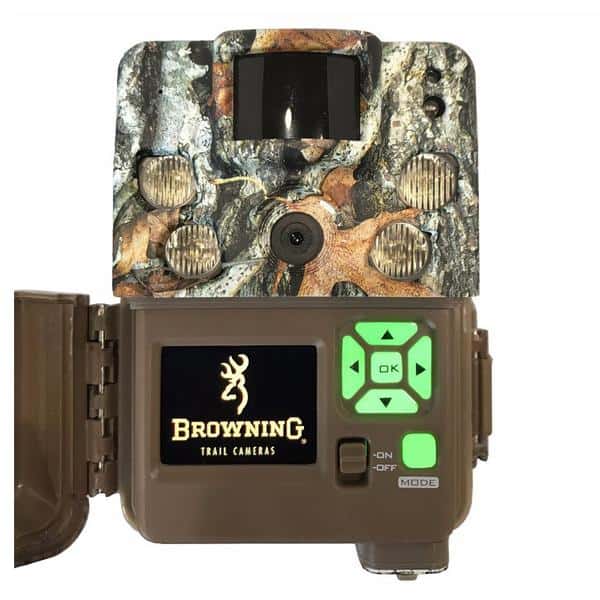 16 Megapixel Photos
0.4s trigger speed
Hard Camo Casing
720p HD Video Recording
Compatible with up to 512 GB SDXC memory cards
Marketed with one of the best names that we've seen, the Strike Force HD Extreme is a high-end Browning trail camera that is guaranteed to get you the results you need.
With a fast 0.4 second trigger speed and a 0.6 second recovery between photos, the camera can track every movement made by its target.
The HD Extreme takes clear, 16 megapixel photographs as well as HD, 720p video recordings. The unit holds a flash range of 100 feet, allowing for long distance footage at both day and night, even when the animals aren't up close and personal.

The unit is also capable of multiple different shooting modes including burst modes for rapid fire photography, letting you get the perfect shot every time. The camera also records information such as date, temperature and moon phase, and also supports SD cards up to 512GB.
What's more is that it's also housed in a sturdy camouflage casing, protecting it from damage and obscuring it from the view of game.
Trail Cameras: Common Questions Answered
What are trail cameras?
As mentioned above, trail cameras are specialist photography equipment used in a range of natural settings. Working via sensors, trail cameras activate when movement is picked up within the infrared range.
Equipped to shoot both day and night, trail cameras are ideal for hunters, conservationists, groundskeepers, and a plethora of other positions that involve wild animals.
Flash Types
Nighttime photography requires an artificial source of light.
Some trail cameras feature incandescent white flash, which is the type of flash you see on a standard digital camera or cell phone.
This has the advantage of being able to take color photos at night, but the big disadvantage of potentially spooking and scaring away the animal.
Most trail cameras therefore feature infrared flash, commonly referred to as 'invisible' flash.
These can be further categorized into low-glow/red and no-glow/black infrared. The latter offers complete stealth, but the resulting image quality is slightly reduced. Both options produce black-and-white images.
SD Card and Battery Compatibility
Trail cameras typically take standard SD cards, which means you can also fit Micro SD cards using an SD card adapter. The maximum supported SD card size is normally around 32GB, but some of the more expensive models support up to 512GB.
AA cells are the standard for trail cams, with 6 or 8 being the typical number that need to be inserted. Many trail cameras also feature an auxiliary power socket which let you extend the battery life with a separate 6 or 12-volt lithium battery pack.
Mounting Procedure
Game cams include a strap or bracket which makes it easy to mount to trees or other objects. They also often have a 1/4″ tripod thread which opens up more mounting possibilities.
Most cams come with a strap or a bracket for mounting on a tree, and some also have 1/4″-20 threaded tripod-style sockets for additional options. For theft-prevention and extra peace of mind, cameras normally have holes that allow you to secure the device using a python cable lock.
Can you use trail cameras as security cameras?
Trail cameras may seem appealing as an alternative to standard security cameras due to their mountability and ease of use in more rural environments.
And it's true, standard features like night vision and motion detection make them very comparable to home security cameras.
But while in certain contexts a trail camera may complement an existing security system—especially one that is solar powered—we don't recommend relying on trail cameras to handle all of your security measures. There are better tools for the job.
What range do trail cameras have?
Each and every range camera has its own unique specifications and capabilities. Most will at least have an 80 foot range, with others reaching over 100. It's always best to check each model to see if it meets your exact requirements.
How can I have the camera send pictures to my phone?
Cellular trail cameras are able to connect to a mobile network and transfer images to your phone or similar device. They are more expensive than the standard game cams listed here but add an extra layer of convenience for hunting. Check out our best cellular trail camera recommendations.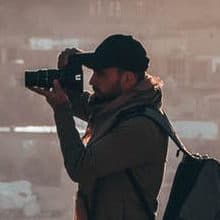 I'm a photographer and the chief editor of Capture Guide. After spending several years in parts of South America with my trusty old Nikon D7100, I'm now back home patiently waiting for borders to re-open.