Given how far the latest phone cameras have come, it's definitely possible to film sports with your phone. But if you're looking to capture more professional-looking footage that can be published online, you'll definitely want to explore other options.
Now for most of us common folk, buying a $50,000 Sony HDC-4300 camcorder and $25,000 broadcast zoom lens is simply out of the question. But then again, most of us aren't responsible for broadcasting the next NFL Super Bowl or MLB World Series to millions of viewers.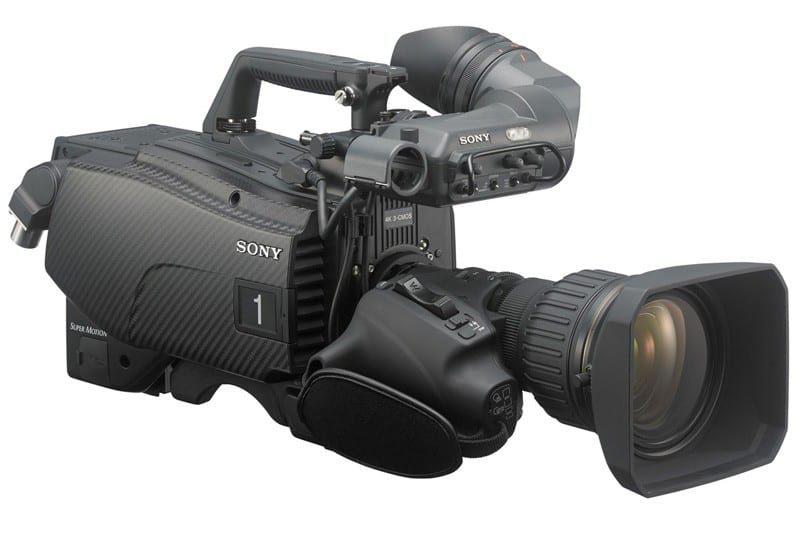 So where does that leave us?
Thanks to huge developments in camera technology as well as the explosion in amateur filmmaking and vlogging space, we're actually very spoiled for choice. There are plenty of video cameras at every budget that can be used to record fast-paced sports scenes.
To help you find your perfect sports video camera, I'll first take you through the various types of cameras to consider and then list my respective favorites. At the end I'll equip you with some extra buying tips to make sure you get the most out of your new camera.

Types of Video Camera
Video cameras come in all shapes and forms. Here are the most common ones that you'll want to consider:
Your Smartphone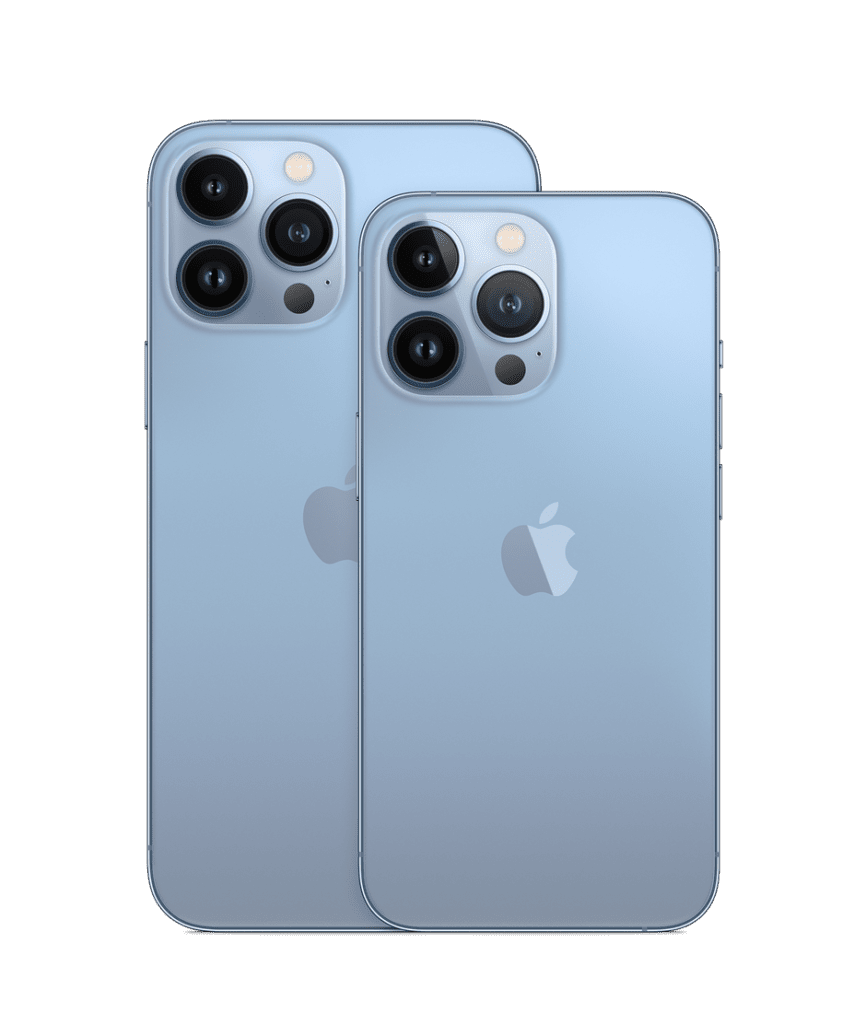 Flagship smartphones like the iPhone 13 Pro Max, Google Pixel 6, and Samsung S21 Ultra all boast incredible cameras which are really their main selling point these days. Photos and videos look brilliant meaning you don't have to worry about bringing along all your camera gear.
Consumer Camcorder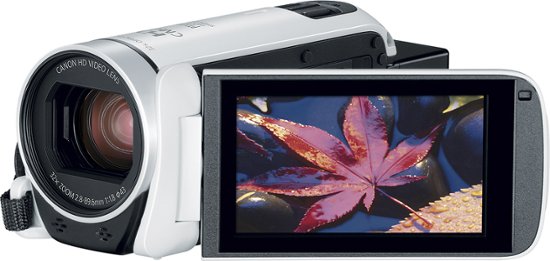 In its heyday, the camcorder was the camera of choice for recording key family moments and your kids batting in their little league games. With the advent of digital cameras and iPhones, budget camcorders are nowhere near as widespread as they once were. But they still have their strengths: they're lightweight, easy to use and have extremely high optical zoom capabilities for the price.
Action Camera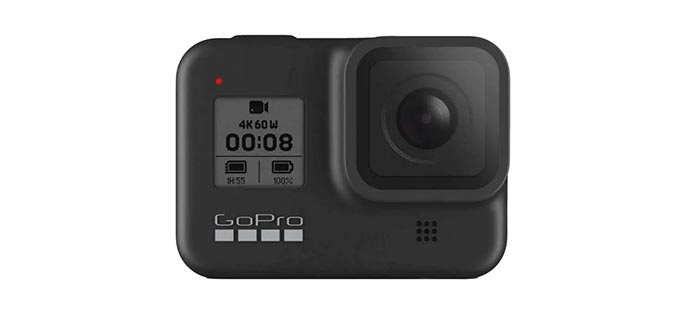 The action camera is synonymous with the GoPro, something which needs no introduction. Tiny, robust, and ready to be used with all kinds of accessories, they're perfectly suited for recording extreme sports like wakeboarding, mountain biking and rock climbing.
Mirrorless Cameras

Mirrorless cameras are taking over the world. They're slowly replacing DSLRs for photography and when it comes to video, they're simply better. Because they have larger sensors than compact cameras and consumer camcorders, their image quality is noticeably better and they fare better in low-light conditions. They can also be paired with different interchangeable lenses to deal with every kind of situation, making them the most versatile kind of video recording equipment.
DSLRs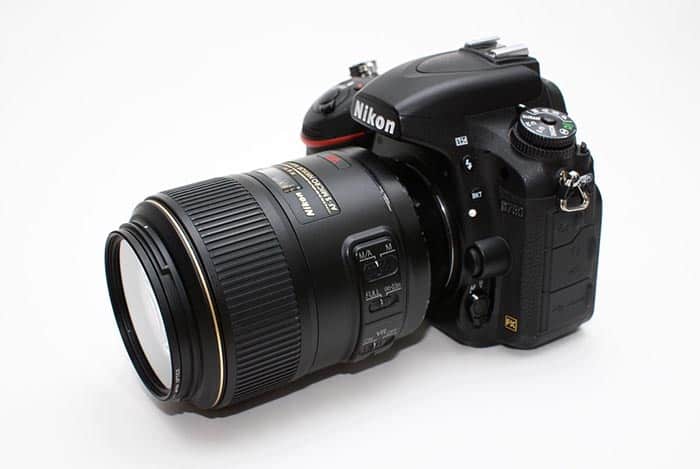 DSLRs are fantastic for taking photos but for technical reasons don't perform as well as mirrorless cameras when it comes to shooting video. Cheaper DSLRs are usually limited to [email protected] and their viewfinders get blocked by their mirror when recording. High-end ones like the Canon EOS 1D can take [email protected] footage, but you end up paying an unnecessary premium for the luxury. Lastly, they're heavy and cumbersome compared to mirrorless options.
Professional Camcorders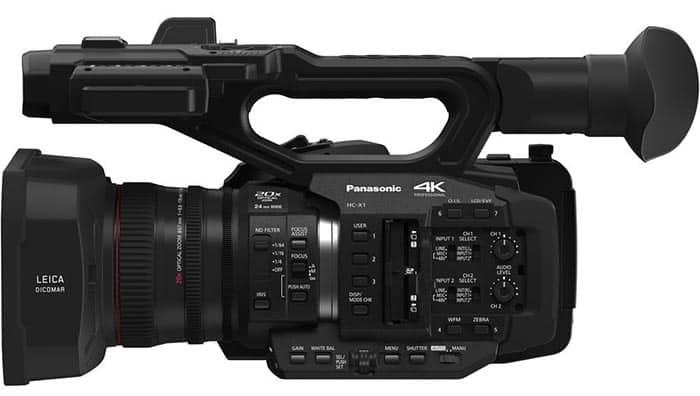 These are the best in the business but will cost you in the tens of thousands of dollars unless you're okay with renting them. They are used by film crews and TV broadcasting studios and are by no means practical for the average home user. If you came looking for a professional camcorder comparison, this list isn't for you!
---
Now that I've covered the various types of camera you can take to your next sporting event, here is my list of recommendations:
The original DJI Osmo Pocket revolutionized cameras when it was released by being the first all-in-one camera-and-gimbal solution. The DJI Pocket 2 features several improvements, which make it an even more perfect companion for filming sports.
The core selling point is obviously the fact it puts a dedicated camera on a gimbal stabilizer, which counteracts camera shake to produce silky smooth footage. DJI is simply the best in the business when it comes to gimbal stabilization, and the upgraded 64MP, 1/1.7-inch sensor (compared to the 1.2/3-inch sensor on the original Osmo Pocket) is larger and superior to the vast majority of smartphone cameras sensors.
The fact that it can record at 4K resolution at up to 60fps makes it a great option for taking fast-paced sports videos. While 1080p is perfectly acceptable, 4K video is slowly but surely becoming the new standard and it also gives you more freedom in post-processing.
The camera has a 1-inch touchscreen to make sure you can frame your shot and preview the action you're filming. You can also directly attach it to your iPhone or Android (using a Lightning/USB-C adapter) and use your smartphone's screen as a viewfinder.
Aside from the improved sensor, the DJI Pocket 2 improves over its predecessor by featuring an improved microphone and a wider field of view. The improved mic is especially welcome, as the Osmo Pocket's audio quality was perhaps its greatest shortcoming. Battery life remains the same as before, with the DJI Pocket 2 good for 140 minutes of continuous shooting at 1080p.
Unfortunately, the Pocket 2 is substantially more expensive than the original DJI Osmo Pocket, which is still available on the market. If you're strapped for cash, the original model is still a great offer.
Overall, the Pocket 2 is the most convenient means to record high-quality and fully gimbal-stabilized footage. This makes it especially great if you're filming while running up and down the sidelines or are constantly panning from side to side.
By definition, action cameras are designed to withstand rougher conditions and film fast-paced action making them perfect for filming any sport.
Despite the action camera market being flooded with cheap knock-offs and some serious competition from the likes of the DJI Osmo Action 2, the new GoPro HERO 10 is the ultimate action camera. You simply won't find the same image quality and electronic image stabilization (EIS) performance offered by GoPro's proprietory Hypersmooth 4.0 technology in any other action camera.
You can shoot all the way from [email protected] through to [email protected], with [email protected] being perhaps the best video resolution and frame rate combination for your next highlight reel. In order to achieve these incredible figures, GoPro developed the all-new GP2 processor, which means the tenth model of the GoPro series is truly a step up from the rest.
Whether it's filming underwater, attaching it to your helmet, or filming in the dark with the brand new GoPro Light Mod—the GoPro Hero10 has a huge ecosystem of accessories that makes it possible to film in every possible situation you can think of.
GoPro also makes it incredibly easy to livestream directly at 1080p, which is especially great if you want a convenient way to stream your children's next sporting event to your family and friends.
With all that said, the GoPro Hero10 Black isn't for everyone. If you want to capture POV recordings of yourself mountain biking downhill or going underwater it's a no-brainer.
But if you're simply looking to record a soccer game from the sidelines, then all that ruggedness and all those accessories are going to waste. While it is capable of producing stunning footage, the Pocket 2 does a better job in low light conditions thanks to its larger sensor and also offers better stabilization thanks to the fact it is mechanically stabilized and not just stabilized through software. Here's a comparison video that shows the difference:
While there are plenty of amazing mirrorless cameras on the market, the Fujifilm X-T4 is one of the standout winners when it comes to shooting video.
With the ability to shoot 4K60p 10-bit video with minimal rolling shutter and superb in-body image stabilization (IBIS), this APS-C camera is simply excellent for shooting video. While there are plenty of amazing mirrorless cameras on the market, the Fujifilm X-T4 is one of the standout winners as a stills-and-video camera.
The camera is also one of the best for capturing slow motion footage thanks to its high speed recording mode which can record full HD video at a whopping 240 frames per second. This enables you to slow footage by 10x, which is double that of the Fujifilm X-T3 and Sony A6600. This is especially useful if you're creating instructional videos or you're a coach and want to record your subject and review their physical motion.
Along with the excellent APS-C sensor, you have access to a mature range of lens options, including plenty of great telephoto and wide-angle lenses, meaning you can find the perfect filming solution for every type of occasion. Unlike camcorders, which are really designed to simply record clear footage, switching between lenses gives you the option to switch up the styles of your shots.
Of course, the lenses themselves aren't cheap, so that's something to keep in mind.
Finally, the camera has great ergonomics, weather sealing and an intuitive menu system that makes it a joy to record with, sports or otherwise. It does face competition from the likes of the full-frame Sony Alpha 7 III and Panasonic GH5, but I can say with confidence that this is the one to pick unless you are already deep into another brand's ecosystem.
Although smartphones, GoPros and mirrorless cameras have taken over, the good old cheap camcorder still has its place in the market. They're simple to operate and substantial optical zoom capabilities make them a great option to take to your next football or basketball game.
The Canon Vixia HF R800 is a very traditional digital camcorder with a 3.28 Megapixel Full HD CMOS sensor and 32x optical zoom. While it won't film in 4K, the 1080p image quality is good with little to no noise distortion. Phone cameras and action cameras have very limited optical zooms, but with this Vixia HF R800 you'll have no problems zooming in on that special dribble or layup.
This is truly a set and forget type of camera that doesn't require playing around with your smartphone or switching out lenses. The only thing you might want to bring is a tripod to keep things steady when you're zooming in—the built in image stabilization is good but gets begins to get shaky upwards of 8x. You might want to consider getting the bundled version which includes the likes of a tripod, spare battery and 64GB SD card to make sure you have everything you need.
If you like the idea of going with a more traditional camcorder but want something at the prosumer level, look no further than this Sony offering.
It has a 1/2.5 Exmor R CMOS sensor that is capable of recording at 4K, with bigger pixels that mean far superior image quality and low-light sensitivity compared to cheaper 4K cameras. The ZEISS Vario-Sonnar T* wide angle lens can fit more things in frame and can zoom up to 20x.
The premium pricing doesn't just improve the picture quality, but gives you a solid built-in mic that captures all-surrounding ambience and reduces noise. Perfect for when you want to record all the cheers as the ball hits the back of the net.
It's worth adding that this camcorder has a lower spec counterpart, the Sony AX33. The AX33 is the best-selling semi-pro camcorder, but for shooting sports I believe paying extra for the AX53 is worth it. You get 20x optical zoom instead of 10x and 1.6x bigger pixels for big improvements when recording at night.
Sticking with traditional camcorders but looking at the ultra budget range, this generic brand camcorder gets the job done at minimum cost.
The resulting output video footage is very respectable and even comparable to the Canon Vixia HF R800, especially when filming under optimal conditions.
The cheap package includes a generous number of features. A built-in flashlight, a large 3-inch screen that can tilt back and forth and a hotshoe which you can mount accessories onto—including the external microphone that it comes bundled with.
It's a decent camcorder for filming sports and the external mic can be attached to better capture the ambient noises at sports events.
However, the lower price tag does mean you'll miss out on some of the luxuries offered by the Canon Vixia. It doesn't have optical zoom, only 16x digital zoom. It also has no auto focus or manual focus, it is fixed and therefore won't work for filming things that are up close. For the purposes of recording sports however, this likely won't present any issues.
Another mirrorless camera to make the list, the Panasonic G85 is one of the cheaper mirrorless bodies capable of capturing 4K/30p, 100 Mbps footage. Being a mirrorless camera, its Four Thirds sensor provides superior image quality and low-light shooting performance compared to something you'd find on a camcorder, smartphone or action camera.
The G85 is considered one of the best budget mirrorless cameras for video among amateur filmmakers. It won't make much financial sense to purchase one for the sake of recording sports clips to share on your Facebook feed, but those filming sports events or aspiring YouTubers will appreciate the leap in video quality.
Two things that make the G85 particularly stand out as a sports video camera is its stabilization and rugged enclosure. Panasonic added an in-body gyro sensor to provide 5-axis body stabilization that reduces camera shake. The weather sealed splashproof and dustproof body mean it can withstand the elements when filming outdoors.
Overall, this is a great choice if the aforementioned Fujifilm XT-4 is outside your budget. The Fujifilm has a larger APS-C type sensor, which does give it a slight edge, but the G85 is still a very capable piece of equipment with arguably more refined image stabilization–something Panasonic have really perfected over their long history as a mirrorless camera technology pioneer.
Sony has been quite dominant in the mirrorless camera market for years and it is only recently that DSLR giants Canon and Nikon have entered the market to try and get a tasty slice of the market share.
The Sony A6600 is one of their best-selling APS-C sensor mirrorless cameras, meaning the sensor is the same size as that of the Fujifilm XT-4. It's probably the best Sony offering in this category (although it is also worth considering the lower end A6400 model). To reiterate, the APS-C sensor is bigger than the micro four thirds standard adopted by Panasonic and Olympus, which yields various advantages when it comes to image quality.
Like the Panasonic G85, the A6600 is also capable of filming crisp 4K/30p footage. However, where the A6600 really shines is its ultra-fast autofocus capability. This makes it especially adept at filming fast moving scenes where the primary subject is constantly changing. Think about when you're switching to a different soccer player who just received the ball—the last thing you want is a blurry figure until the camera correctly autofocuses. The A6600 will make sure that doesn't happen.
For those serious about buying a mirrorless camera for recording sports and also fancy themselves as a sports photographer, this is definitely a fantastic choice. This was my go-to mirrorless recommendation a couple of years ago, but the newer Fujifilm XT-4 has taken its place now, which I attribute mainly to the XT-4's superior ergonomics and 10-bit capability. However, the A6600 does have some advantages (longer battery life, slightly better autofocus system) so it's not a black and white situation.
It might seem strange to see a smartphone make the list but the reality is smartphone cameras have become truly viable pieces of recording equipment. The iPhone hasn't changed that much over the years, but with each iteration, you can count on the camera being better than ever.
While Android manufacturers like Samsung and Huawei boast impressive camera specs on paper, in practice the iPhone cameras have consistently produced the best results, with natural colors and superior depth of field.
The iPhone 13 Pro Max costs an arm and a leg, but it is easily the best phone for recording video on the market right now. The fact that it has an ultra-wide angle lens (13mm, f/1.8), standard lens (26mm, f/1.5) and 2x telephoto lens (77mm, max aperture of f/2.8) is pretty crazy, but will surely set the trend for upcoming flagship phones. It also features sensor-shift stabilization technology, which means it produces impressively smooth video without the need for a gimbal.
It's capable of shooting [email protected] footage with video quality that is superior to the likes of the GoPro Hero10 and can shoot using the all-new [email protected] Apple ProRes footage.
Sports Video Camera Buying Tips
Frames Per Second VS 4K Resolution
When it comes to recording sports, 60fps better captures the motion and makes everything appear more fluid. 30fps is perfectly acceptable (it is what you see when you watch live sporting broadcasts on TV) but 60 fps also has the advantage of allowing you to produce slicker slow-motion effects in post-processing.
Right now, even high end cameras and camcorders do not offer 4K at 60fps. The latest GoPros and iPhone can do it but no one is claiming they are better cameras than the Sony FDR-AX53 4K camcorder, for example.
So given that, in most cases you're going to end up choosing between [email protected] or [email protected] I'd recommend [email protected] for shooting sports, because a higher frame rate is more important than image quality. If you're planning to publish video to video platforms like YouTube or Vimeo, you should upscale the 1080p source to 4K beforehand as it provides numerous image quality benefits.
How Can I Livestream The Action?
These days it's becoming quite popular to live stream events. This could be to your family who couldn't make that unmissable little league game or your audience who want to watch you play a pick-up game of basketball.
Unfortunately, trying to live stream the action will add a new layer of complexity. Not only do you have to worry about the internet bandwidth and the battery drain, but also the fact that you need to process the camera feed into a compressed, streamable format.
An iPhone or Android, as well as GoPro action cam, can do this natively – just don't expect amazing footage. This is because they feature a lot of processing power inside that can be used to convert footage to a streamable format such as the RMTP format.
The DJI Pocket 2 can live stream, but you'll need to purchase the Pocket 2 Do-It-All handle to unlock this feature.
With other systems it's a bit more hit and miss. High-end cameras usually require another piece of expensive equipment to make it all possible.
Do I Need An Action Camera?
By design, action cameras like the GoPro are perfect when the cameraperson isn't simply filming from the sidelines. They can be worn or be attached to the end of a monopod, be controlled using voice controls and take a good beating.
Standard cameras simply don't offer that flexibility. If the GoPro is out of your budget, check out my recommended under $100 action cameras.
However, if you are filming from the sidelines, a GoPro or similar action camera is a needlessly expensive option. A good phone camera will do the job just as well, while a mirrorless camera or quality camcorder will produce better looking videos.
Sport-specific Tips
Basketball/Volleyball/Hockey – Indoor sports all have one thing in common: low-light. The larger sensor found in a mirrorless camera or DSLR camera delivers better low light performance and will help when filming in those often dimly-lit sports halls.
Swimming/Water Polo – In addition to being indoors, there is a small risk of getting equipment wet if you're near the action. Keep a lookout for 'splashproof' or 'weather-sealed' cameras (most cameras are).
Golf – This isn't any different to filming any other sport, but if you want to follow the ball fly across the sky like they do on TV, you'll need some special equipment and camera operating skills.
Baseball/Football/Soccer – These outdoor sports present optimal recording conditions, but if you're recording from the stands you'll want a camcorder with a high optical zoom or a mirrorless camera with a zoom lens.
Recommended Accessories
A lightweight tripod should be used if you plan to film from a set spot
If you filming on the move, a gimbal stabilizer can drastically reduce unwanted shake
An external microphone can dramatically improve audio quality
Extra memory cards (if your camera uses external memory) and spare batteries or a powerbank
A Pop up LCD hood to block out the light and see the display under the sun
A good camera/camcorder case, screen protector and rain cover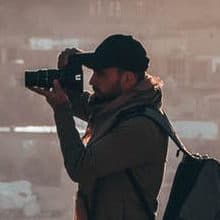 I'm a photographer and the chief editor of Capture Guide. After spending several years in parts of South America with my trusty old Nikon D7100, I'm now back home patiently waiting for borders to re-open.