Vlogging cameras have changed considerably over the last few years. As the number of content creators and consumers across various platforms continues to rise, viewers are expecting better quality video and audio.
There's no escaping from the fact that creating engaging and entertaining content is the only way to grow your channel and become a successful vlogger. But upgrading your camera and improving production quality is still important and your audience will love you for it.
There are literally hundreds of recording hardware options out there, but not all of them are ideal for vlogging.
Some cameras may be too large or too heavy for your requirements, while others lack the features that you're looking for.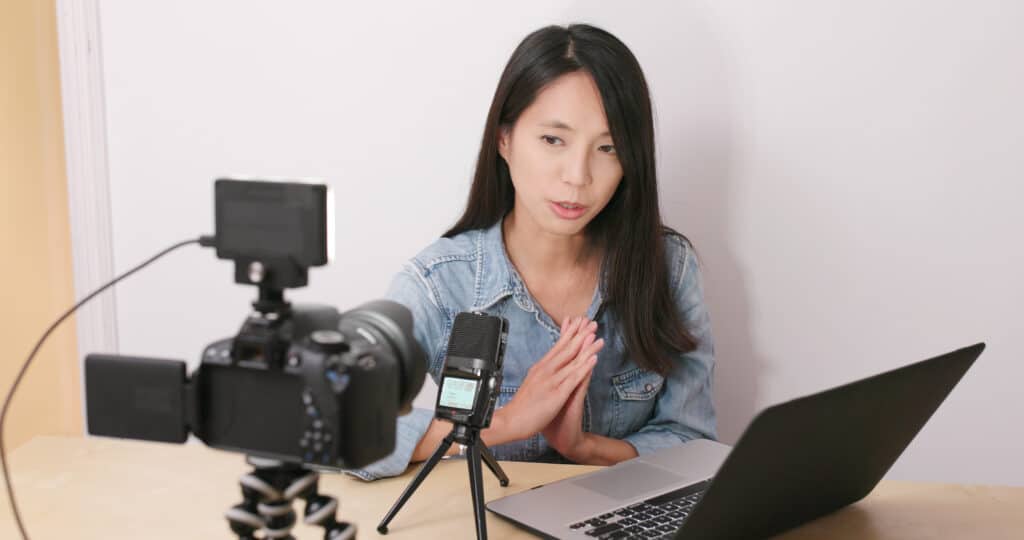 We've researched and tested dozens of vlogging cameras and compiled the best ones to come up with this list.
And these cameras have one thing in common – they all have a flip screen, or some way for you to see what you're shooting as you film. We've found that these types of camera can especially help beginner vloggers with framing, setting the right exposure, and making sure the shot looks okay before they start rolling.
Before we check out the list, let's discuss the most important considerations first.
What to look for in a vlogging camera?
Several factors will come into play when deciding which flip screen vlogging camera is best for you. We've considered these while compiling this list, and you can decide which of these are important to you to help you make your decision.
Video quality
Irrespective of what type of camera you want, video quality will obviously be a very important area.
While multiple cameras that made our list can shoot in 4K, it might not actually be something you require – a lot of popular and successful bloggers still upload videos in 1080p (FullHD). Keep in mind that many viewers can't even enjoy 4K on their computer screen, phone or television.
That being said, shooting in 4K will give you more room to crop into footage without losing too much detail. And in the coming years, 4K will become more widespread, so it's also an investment for the future.
Of course, video resolution isn't the only thing that determines image quality. The amount of detail captured, low light performance, frame rate and field of view are just some of many other factors which determine how good a video looks.
Type of flip screen
Generally speaking, there are 3 different types of flip screens – fully articulating, 180° tilting flip screen, and front-facing screen. These are pretty self-explanatory:
The fully articulating screen moves around in any direction. It's great if you want to film stuff from a low or high angle. This gives you the most freedom, but might not be necessary for your needs.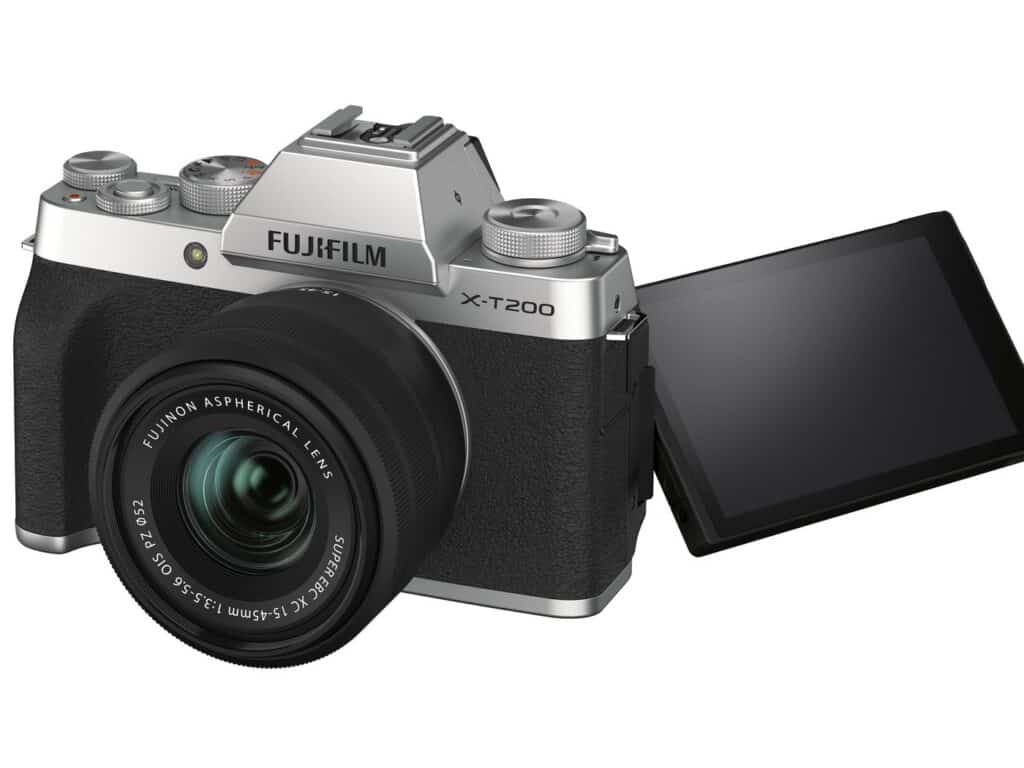 The 180° flip screen, as the name suggests, can only flip in one axis to face the front or back. It isn't as functional as the fully articulating one, but it can handle most recording situations.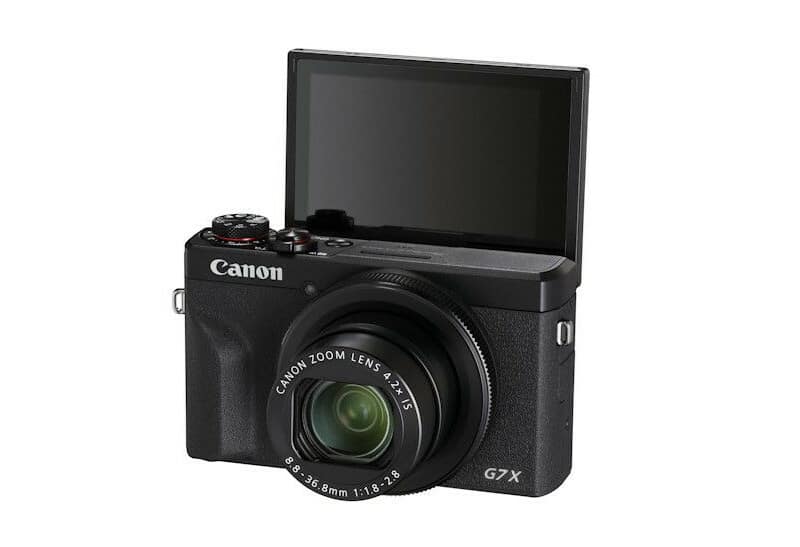 The last type is the front-facing screen, mostly found on action cameras. Yes, this isn't a "flip" screen per se, but it allows you to see what you're shooting.
External Mic input
While most cameras feature a built-in microphone, they typically don't cut it. From sounding muffled to picking up too much background noise, they're just not great for voice-heavy YouTube channels (i.e. the majority).
To drastically improve audio quality, you normally want a quality external mic. But recording sound and video separately mean having to synchronize them later, which can be a tedious process.
Some cameras feature an external mic input, which mean they capture video and audio from the connected microphone in sync. This is the most streamlined way to shoot video.
Battery life
Typically, the larger the battery capacity, the longer it will last.
Of course, some other elements come into play, like what settings you're using, how much power the camera draws and so on, but that's a general rule of thumb.
If you're going to be outside a lot, consider getting a camera with a long-lasting battery, or easily available extra batteries.
Camera Type
This is one of the most important things to think of before buying a camera for vlogging. Depending on what kind of videos you make, the type of camera for you will change.
For instance, if you're going to be at home a lot, in a controlled environment, with your camera on a tripod, you can compromise on weight or portability for better video quality or the ability to add lenses.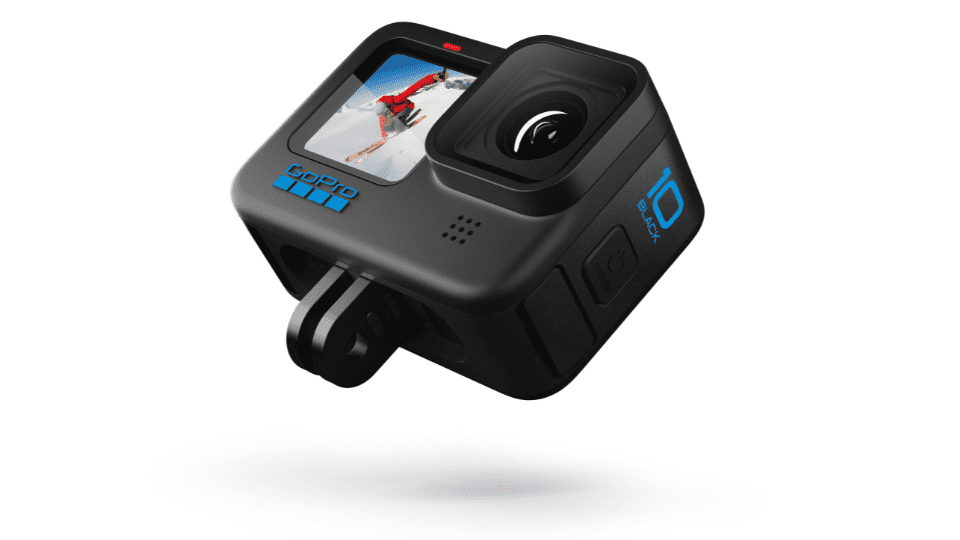 However, if you're going to be filming yourself outdoors doing something adventurous, an action camera like the GoPro may be the better choice for you.
Of course, many vloggers will invest in multiple camera setups to suit different purposes.
Other features
The cameras on this list have some unique features that can make all the difference to the video you're making. Some of them have in-built stabilization, ensuring your footage is smooth and jitter-free, while many of them have autofocus and light adjustment that reduces the effort that you have to put in while setting up for a shot.
That wraps up the key considerations you have in mind as you make your purchase decision. Now that we've got those out of the way, let's go through our top picks.
Top Vlogging Cameras With Flip Screens
The Sony ZV-Series is a great example of how powerful and capable high-end cameras have become. The ZV-1, in particular, is a remarkable vlogging camera. It combined the best aspects of previous capable Sony compact digital cameras, like the RX100 V and the RX100 VII, and offered it as a small and handy camera designed specifically for video content creation.
The ZV-1 is an ultra HD camera that can shoot videos in up to 4K at 30fps, giving you professional quality results. This pocket camera has been designed with ease-of-use in mind, and Sony has equipped it with some nifty features that make it perfect for vlogging.
Apart from a built-in video stabilization feature, the ZV-1 also offers a 'Background Defocus' button that allows you to seamlessly transition to a shallow depth of field by widening the aperture.
In addition to the aforementioned features, the camera comes with a fully articulating 3-inch touchscreen display, making it great for shooting from any angle.
The small proportions of the camera also mean that it comes with a small battery, and battery life is one of the other areas where the ZV-1 falls short. The larger, flagship mirrorless Sony A6600 offers better battery life, the ability to change lenses, and a host of other features, but it's also more cumbersome to use and carry around.
Despite its shortcomings, the ZV-1 remains one of the easiest cameras to use and record great video. For many YouTube channels, it will be the only camera needed since it is so versatile. Of course, its 1-inch 20.1MP BSI CMOS sensor is also great for photography, so there's potentially a lot you can get out of it.
What we like
Features – Background Defocus, hybrid autofocus
Top-notch internal three dimensional capsule mic that comes with a wind muff
3.5mm (1/8 inch) microphone jack
Fully articulating screen
What we don't like
The Canon G-Series has been a popular choice for vloggers and YouTube content creators worldwide since it was first introduced. In fact, it was our top choice for a compact vlogging digital camera until the Sony ZV-1 came along. Nevertheless, the G-series is still quite popular and the G7 X Mark III, in particular, is a great all-rounder.
The G7 X Mark III comes equipped with a 20.1MP, 1-inch sensor and can record uncompressed 4K video. Its intelligent auto white balance makes it good for beginner vloggers who don't want to spend time trying to get things right under mixed or artificial lighting. This iteration of the camera also answered people's prayers and features a mic port (the Mark II didn't) among plenty of other connectivity options.
A truly stand-out feature of the G7 X is its ability to live stream directly to YouTube, which is a huge advantage if that's what you intend to do. Unfortunately, there are some prerequisites to this, so make sure you can actually take advantage of the feature.
While the camera doesn't have an electronic viewfinder, it comes with a flip screen that flips up in its place. However, this flip screen isn't as articulate as the one on the Sony ZV-1 and that's one of the reasons this camera isn't our top compact choice.
It also misses out on some of the advanced video recording features and smarter autofocus that the Sony offers. The image and video quality is right up there with the Sony, though, and its built-in stabilization is better, so it is still a very strong contender.
If the Livestream feature is more important than better video and the fully articulating screen, then the G7 X Mark III may be the better camera for you.
What we like
Great design, compact size
Uncompressed 4K video
Live Stream capabilities
Easy to use flip-up screen
What we don't like
The Sony a6600 is Sony's top-of-the-line APS-C sensor mirrorless camera. It's perfect for someone looking for a feature-rich Sony camera with the ability to change lenses.
The larger APS-C sensor performs better than the 1" sensor found on the previous two compact cameras when it comes to image quality. The sensor enables better low-light performance and better depth of field, depending on what lens you're using.
Speaking of, the ability to change lenses is what could make this the camera you're looking for. The ZV-1 and G7 X Mark III have versatile zoom lenses that cover most bases. However, if you want to shoot some B-roll, something at a further distance, or create something more stylistic, the rigidity of a fixed lens camera won't suffice. Interchangeable lenses always provide more creative freedom, but remember, extra lenses don't come cheap.
Other features like the autofocus are excellent, too, with real-time eye- and object-tracking options. In our tests, we were impressed with the low-light performance that the Sony A6600 offered. Like most top-shelf mirrorless cameras and DSLRs, ISO can be set from as low as 100 to up to 32,000.
When it comes to holding the camera up and vlogging, you'll be impressed with the 5-axis in-camera gimbal stabilization – one of the best in the industry.
What we like
Excellent low-light performance and dynamic range
Multiple recording settings, including 4K at 120fps
5-axis built-in stabilization works exceptionally well
What we don't like
Price
No soft-skin feature, or high-frame rate modes, which ZV-1 offers
The Fujifilm X-S series is another popular mirrorless choice amongst vloggers. The X-S10 fell short of the A6600 for us, but it's still an exceptional and highly capable video camera.
The X-S10 is not the most affordable or compact camera on this list, but when you consider what it has to offer, the price and size are justified. We tested the camera out with the XC15-45mm kit lens and it made for the perfect vlogging setup. Uncompressed 4K footage, courtesy of a 26.1MP X-Trans CMOS 4 sensor and X-Processor 4, in-built stabilization, and a flip screen, there's little more that you could ask for.
Want to shoot some B-roll? The X-S10 offers a Full HD option that records at 240p but allows for footage to be slowed down 10x.
It's also a great-looking camera, and, like a lot of other options from Fujifilm, has a retro and classy finish. Their palm grip is also textured and the camera feels great to hold. The X-S10 is an incredible camera with arguably superior lenses to the Sony A6600, but its lenses are also more expensive and the selection is smaller.
Overall we just prefer the Sony as it's easier to use, has better touchscreen controls, better weatherproofing and Sony cameras have just been killing it for video in general over the last few years.
But if you have the chance to try this Fujifilm X-S10 alongside the Sony A6600, you could very easily end up taking it home over the Sony.
What we liked
Versatile sensor with excellent image quality
Strong autofocus performance
Stunning chassis that is easy to hold and handle
What we didn't like
Expensive and limited lens selection
The EOS M50 Mark II by Canon tops our list of mid-range vlogging cameras. It's the camera for you if you don't mind losing out on proper 4K shooting capability – we'll explain that below. The Mark II is a minor step up from the already popular original EOS M50. The difference between the two is the addition of a slightly better UI and an HDMI feed. Otherwise, the two are largely the same.
As we mentioned, the EOS M50 is a great camera, barring the option to shoot in 4K. It gets an APS-C size sensor, the ability to change lenses, and a fully articulating flip screen – all you'll need for some great vlogging footage.
It offers Canon's Dual Pixel and Eye Detect autofocus with subject tracking, and we found that it worked flawlessly. We tested its low light capabilities and they were just as impressive, with an ISO range of 100 – 25,600.
We mentioned that the EOS M50 Mark II can't shoot in proper 4K. This is because the Canon does a 2.56x crop when it shoots in 4K. Essentially, if you're shooting with a 15mm lens, it'll be the equivalent of shooting with a 38.4mm wide lens.
And that's the biggest downside of the camera – there isn't too much versatility when it comes to video settings. If you're fine with 1080p, you can shoot in 24fps or 60fps. If you want 120fps you'll have to drop to 720p, while 4K is almost unusable.
But overall, this is still the best vlogging camera there is at this price point and the lack of 4K is just one of the things you'll have to compromise on.
What we like
Dual Pixel phase detection autofocus
Livestream direct to YouTube
Generous grip and great touchscreen interface
What we don't like
Heavily cropped 4K/24p footage
No in-body image stabilization (IBIS)
The Fujifilm X-T200 is our second choice for a mid-range mirrorless vlogging camera simply because it offers great functionality, a solid build, and impressive video shooting options.
The X-T200 is equipped with a 24.2MP APS-C sensor that can shoot 4K footage at 30fps – it achieves this by 'downsampling' 6K footage.
We found that the resulting footage looks great and much more dynamic and crisp when compared to 1080p footage. This is where this Fujifilm outshines the Canon EOS M50 Mark II.
The X-T200 also has a new HDR video mode, however this only works in 1080p at 60fps. With HDR off, you can shoot in 1080p at 120fps, for some great action footage or B-roll that you want to slow down.
We also particularly liked the 3.5″ fully articulating flip-out screen that was sharp even under broad daylight.
On the downside, the X-T200 does not offer any face tracking features and its stabilization isn't as competent as the one on the Canon M50 Mark ii. There's also no headphone jack, which can be a problem if you want to monitor audio while you record.
So, while it may be a better camera with regard to video recording settings, we found the Canon offered better options as a vlog camera.
What we like:
Lightweight body, solid build
Sharp touchscreen display
What we don't like:
No smart tracking capability
No in-body image stabilization (IBIS) when shooting in 4K
The Sony ZV-1 and the Canon PowerShot G7 X Mark III are the best vlogging cameras out there if you're looking for something on the lower end of the price spectrum. However, if they're over your budget, you're more likely to find a good deal on a Sony a5100.
The a5100 has been around for a while and consequently, it has its shortcomings. Let's get those out of the way before we address why this is one of the best budget vlog cameras you can get. For starters, there's no 4K. This may not be a deal-breaker for a lot of you, but if it is, you're going to have to put in more money.
However, more importantly, there's no audio input port. The inability to connect an external mic is something you should take into consideration, especially if you're going to be vlogging outdoors where an external mic can drastically improve audio quality. While the internal mic's sound quality is decent, you'll grow out of it sooner than later. At that point you can upgrade to a camera or use one of many methods to synchronize audio and video from separate sources.
On the flip side, the a5100 is one of the smallest and lightest cameras out there to come with an APS-C sensor. It also gives you the ability to change lenses, which isn't a very common feature at this price range. Other features like autofocus and face tracking work well, almost as well as they do on the range-topping a6600 that we covered above.
In summary, the a5100 is a great point-and-shoot vlog camera for a very reasonable price.
What we like:
APS-C sensor at a low price
Front-facing flip-up screen
What we don't like:
No external microphone port
Older, discontinued model
If you have an even tighter budget, you're likely to find yourself choosing between options that don't offer a lot of valuable features. We tested several budget cameras and found that the Panasonic Lumix ZS70 (aka the TZ90) is another great cheap vlogging camera option.
The Lumix ZS70 offers a 3" articulating LCD screen, can record in 4K, and can automatically adjust exposure. The touch screen functionally is great and lets you easily pull/switch focus while recording by just tapping on the screen.
Shooting in 4K is possible at 25fps or 30fps. If you want to shoot at a higher frame rate, you'll have to drop down to 1080p. However, there is a vertical crop when you do this when compared to shooting in 4K.
Another feature we quite enjoyed was the 4K live cropping, which is essentially like a time-lapse pan shot. You can select a start frame, end frame, and an overall time for the clip, and the camera will stimulate a zoom/pan effect as you would get with a gimbal or tripod. We also tried out the in-built 5-axis stabilization – it works well for the price that the camera sits at, but isn't the best system out there.
The low price also brings some other compromises – the autofocus isn't great and we found that the drop in quality is quite notable when light isn't optimal. That said, the Lumix ZS70 offers substantially more than most other cameras at this price point and is an ideal budget flip screen camera.
What we like:
4K at an affordable price
Live Cropping features
What we don't like:
In-built stabilization could be better
Poor battery life
The DJI Pocket isn't a vlogging camera, per se, but it offers some features that make it a decent option for shooting content. In fact, in some regards, it's even better than some of the more expensive cameras on this list.
For starters, it can shoot in a variety of frame rates and resolutions, including 4K at 60fps, which the mirrorless cameras on this list can't do. This makes it excellent for shooting footage that you want to slow down for some B-roll.
And since it sits on a gimbal, it's easy to hold out in front of you and talk to while walking. We tested this out while jogging, too, and the Pocket 2 did a brilliant job at smoothing footage out and eliminating camera shake – better than most optical image stabilization implementations that are built into cameras.
The Pocket 2 doesn't offer a conventional flip screen – it comes with a front-facing screen, which is good enough to help you frame yourself or what you're shooting.
While a GoPro or DJI Osmo Action are more adept for filming intense action, the reality is that when you're filming outdoors you're not usually filming extreme sports or anything similar. If you're travel vlogging and doing a city tour, for example, you're mostly walking around and filming yourself and your surroundings. For these kind of scenarios, the DJI Pocket 2 is just much more practical.
New improvements over the previous iteration include a wider 20mm equivalent lens, a larger 1/1.7" sensor, better autofocus, and a multi-directional mic that the company calls DJI Matrix Stereo.
Making this an even better option for vloggers are some great add-on accessories. These include a DJI Do-IT-All handle and mic transmitter that allows for a compact audio solution that you can use to wirelessly record crisp audio.
What we like:
Powerful pocket-sized vlogging camera
Great 4K, 2K, and slow-motion shooting modes
Three-axis stabilization provides exceptionally smooth shots
What we don't like:
Not made for long, single-take recordings
Compatibility with external microphones require separately purchased accessory
GoPros are synonymous with action cameras, and there's no doubting their credibility in that segment. However, the newer GoPros are also rather capable cameras, otherwise, as well. The best of the lot, unsurprisingly, is the latest one – the Hero 10 Black.
The Hero 10 Black comes with a high resolution, if a little small, front-facing screen. However, it is a little choppy to use and isn't as seamless as the one on the DJI Pocket 2, or any of the other larger DSLR cameras on this list. But then again, the GoPro wasn't build with recording everyday stuff in mind. Instead, it's designed to record action.
And when it comes to recording action, the HERO 10 Black has it all. Super high frame rate recording capabilities ([email protected] or [email protected]), waterproof up to 33-feet, and a massive ecosystem of accessories that makes it capable of recording under virtually every environment and situation.
The improved image quality is perhaps the biggest improvement over the GoPro HERO 9. Much of this owes to the all-new GP2 image processor and 23 megapixel camera that takes surprisingly good photos.
The newest HyperSmooth 4.0 stabilization is simply the best in the business. While other cameras in this excluding the DJI Pocket 2 will need separate gimbals for recording very movement-heavy footage, the GoPro handles all the stabilization for you, with up to 45-degree horizon levelling capabilities.
Just like with the DJI Pocket 2, one of GoPro's biggest drawbacks is its size and the small sensor that it houses. As a result, low-light video isn't great. Also, because of its ultra wide-angle nature, you do get a noticeable fish eye effect which isn't ideal for recording a home vlog.
What we like:
Multiple video recording settings and great software
Build quality and strong battery life for an action camera
What we don't like:
Low light performance
Accessories costs can add up to quite a bit
What else do you need to vlog?
There you have it. That's our list of the top vlogging cameras with a flip screen, across multiple price brackets. The best camera for you depends on what your requirements are and what kind of content your vlogs are going to cover.
Irrespective of what camera you choose, you will have to upgrade it eventually and even invest in other great features to aid your video-making process. Here's a quick look at some other things you'll want to get if you're serious about vlogging:
Audio
While all the cameras on this list have an in-built microphone, none of them will record the best audio possible. These mics have 3 main limitations – the audio quality, in general, will be sub-par, there will be a lot of wind noise if you're recording outdoors, and the mics are designed to pick up audio from all around it and not just the subject (you).
You can resolve this by getting an external mic. A camera that has a mic port will automatically use the audio that's recorded by the mic when it's plugged in. Some of the cameras on this list, like the Sony a6600, will have a cold shoe mount which you can use to mount a boom mic on. These mics also have wind muffs to reduce buffeting.
If your camera doesn't have a mic port, you'll have to get an external audio recording and sync the audio while editing.
Tripod
A cheap tripod is fine if you're going to be shooting pictures, but investing in a video tripod can make a world of a difference. These will help you get some smooth pan shots and will be great for shooting time-lapses. On the other hand, getting a smaller one also lets you use it as a 'monopod' to vlog with. Decide on what works for you, but know that it's a great piece of equipment to have.
Stabilization
Shaky footage can be annoying to watch. Modern-day cameras have some sort of stabilization built into them but they don't match the smoothness that an external gimbal can provide. Gimbals can be expensive and cost just as much as your camera itself. Getting one will increase the quality of your footage if you're going to be moving around a lot or shooting something cinematic, however, it's not an investment worth making if you're just getting started.
Spare Batteries
If you're recording at home and able to leave your camera connected to the charger during recording, then spare batteries won't be a concern. However, if you are going on trips where access to outlets is potentially limited, you'll want to make sure you have some extra batteries available as backup
Memory Cards
Almost all digital cameras will need somewhere to store the recorded video footage, since unlike phones, don't have their own flash storage. Most mirrorless and DSLR cameras will take SD cards while the smallest cameras like the DJI Pocket 2 or GoPro HERO 10 take smaller microSD cards.
Necessary Cables and Adapters
New camera purchases will almost always have a charging and/or data transfer USB cable. However, if for example the computer you are connecting to is a MacBook Pro without the old school USB type A port, you might need to purchase a USB-C to USB-A adapter.
FAQ
How Important Is An External Mic Input?
An external mic input is a missing feature on many DSLR and mirrorless cameras. This is because although they are great for video, many people are primarily or exclusively buying them to take photos.
Many cameras such as the Canon G7X or Panasonic Lumix GH5 have very capable built-in microphones. In fact, many professional-looking YouTube videos you've seen are made using internal mics. But as soon as you leave a controlled environment and start moving around, going outside or have background noise, you might be in trouble.
An external mic input gives you the option of adding a shotgun mic (attached using the hot shoe) or better yet, a wireless lavalier mic that will always be a superior audio recording solution.
What about camcorders with flip screens?
Camcorders are a rare sight these days, especially among YouTubers. Mirrorless cameras have replaced them, because having interchangeable lenses gives them more versatility, and naturally bigger sensors means less noise and superior depth of field.
Even though you can find cheap camcorders with flip screens, you should avoid them as the HD video quality is worse than your cell phone.
While professional filmmakers and videographers are still using camcorders, they're very fancy ones which cost tens of thousands of dollars! Very, very few YouTube vloggers are using this kind of equipment.
Why Haven't You Recommended A DSLR Camera?
While DSLRs aren't completely obsolete, mirrorless cameras have several advantages that just make them better for recording video. For example: IBIS, faster autofocus, silent shooting, the ability to see exposure changes on the fly and typically faster FPS. While some of the latest high-end DSLRs are finally catching up, mirrorless cameras are still far ahead and they're smaller and easier to carry, too!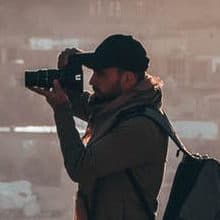 I'm a photographer and the chief editor of Capture Guide. After spending several years in parts of South America with my trusty old Nikon D7100, I'm now back home patiently waiting for borders to re-open.