It's that time of year again. DJI have released their newest smartphone handheld gimbal and it's time to see what innovations they've made to stay ahead of the curve.
For those unaware, DJI are the biggest player in the gimbal universe and their Osmo Mobile series impresses with each new model.
The Osmo Mobile 2 slashed its predecessor's price in half, and the Osmo Mobile 3 was the world's first foldable stabilizer that made it infinitely more portable than the rest.
This time, DJI have chosen to do away with the 'Osmo Mobile' name and simply call it the OM4. Apparently customers were already using the shorthand form, although that's the first time I've heard it called that.
But more importantly, the new OM4 brings an innovation which suddenly seems so obvious that you wonder why nobody came up with it before—a magnetic quick-release mechanism which means you can wave goodbye to fiddling around with a clamp.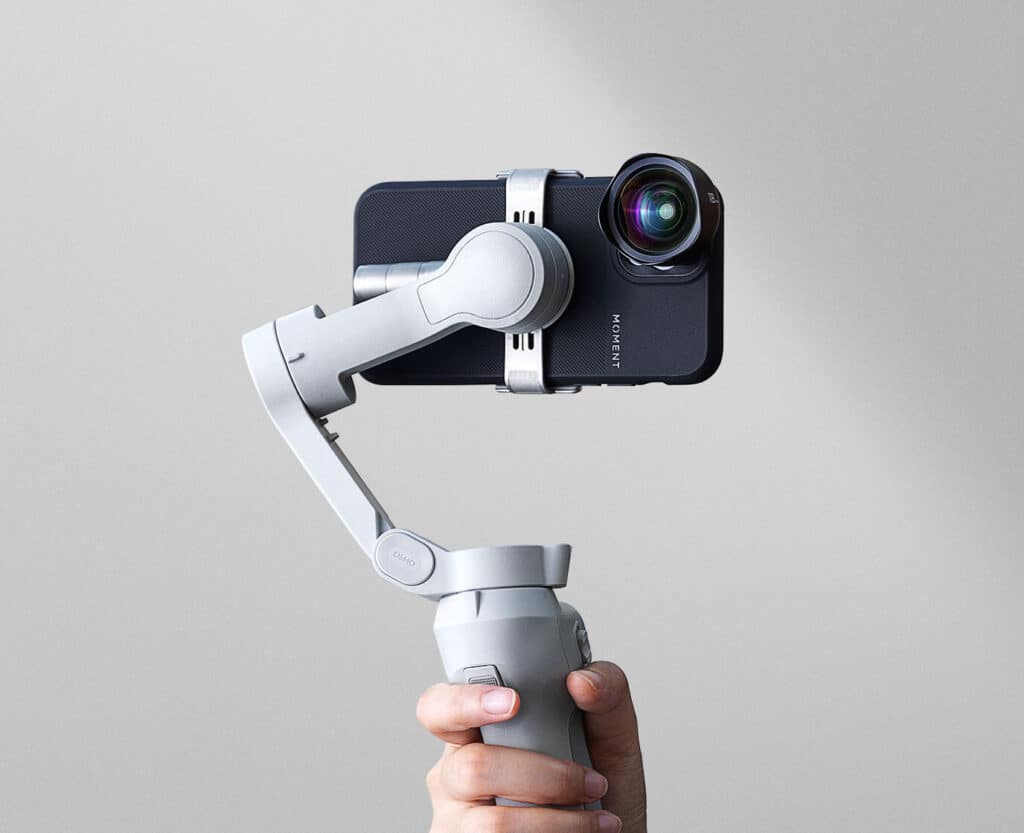 First Impressions
DJI Osmo Mobile 3 owners will immediately find themselves in familiar territory with the OM4.
The physical body is pretty much identical, save for the magnetic mount that the Osmo Mobile 3 doesn't have.
That's certainly not a bad thing, since the rubberized grip of the DJI Osmo Mobile 3 was (and still is) unbeaten in terms of ergonomics.
The control scheme and USB-C charging port are also unchanged. Again, the simple and intuitive controls needed no change and USB-C is obviously preferable over the Micro-USB ports which some new gimbals still (annoyingly) sport.
Magnetic Attachment Design: 2 ways to do it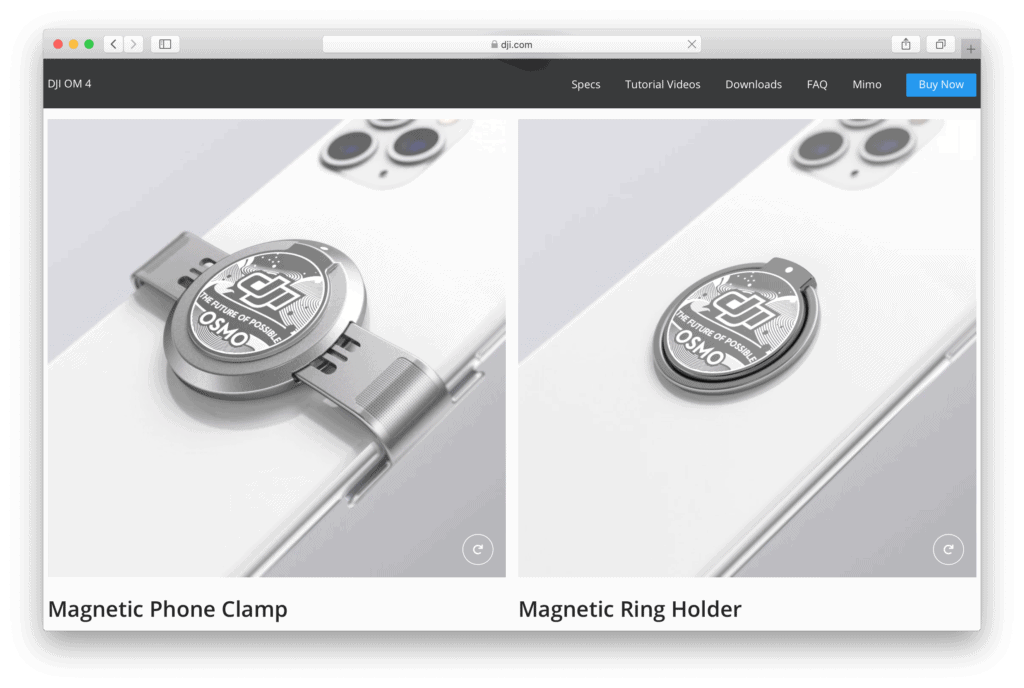 DJI provides users with two different options to magnetize your phone to the gimbal's magnet.
The first option is to use the magnetic clamp. Your phone fits between the spring-loaded grip and the back of the magnet will snap onto the stabilizer's magnet once it's close enough. This is basically the same as the Osmo Mobile 3's design, albeit the clamp is removable and connected using a magnet rather than nuts and bolts.
The second option is to use a pop socket style magnet ring holder. It attaches to the back of your phone and has a ring you can pull out to slide your finger through for extra grip.
The magnetic ring holder's adhesive sticker attaches better to plastic than glass surfaces. As a result, it's best to stick this on the back of your phone case. The advantage of this setup is that attaching to the gimbal is lightning fast since you don't even need to reach for the clamp.
Pricing
While smartphone stabilizer prices have been seeing a downward trend since their inception, the OM4 bucks the trend. At $149, it's more expensive than its predecessor which cost $119 on its own or $139 for the 'combo' kit which bundled a tripod and hardshell carry case.
The DJI OM4 offers no optional packages, but it does already come with the Osmo Grip Tripod.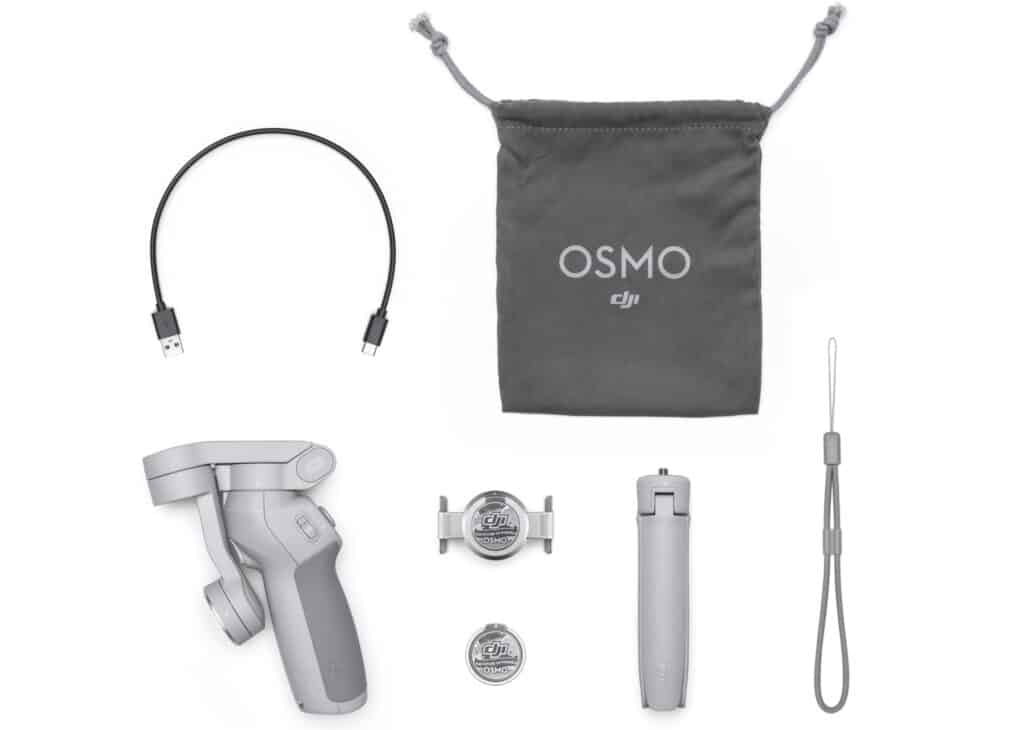 Here's the full box contents:
• DJI OM4 unit × 1
• Magnetic Ring Holder × 1
• Magnetic Phone Clamp × 1
• Grip Tripod × 1
• Power Cable × 1
• Storage Pouch × 1
• Wrist Strap × 1
• Manuals × 1
The addition of the magnetic phone holder and magnetic phone clamp are likely what make the OM4 more expensive than the Osmo Mobile 3.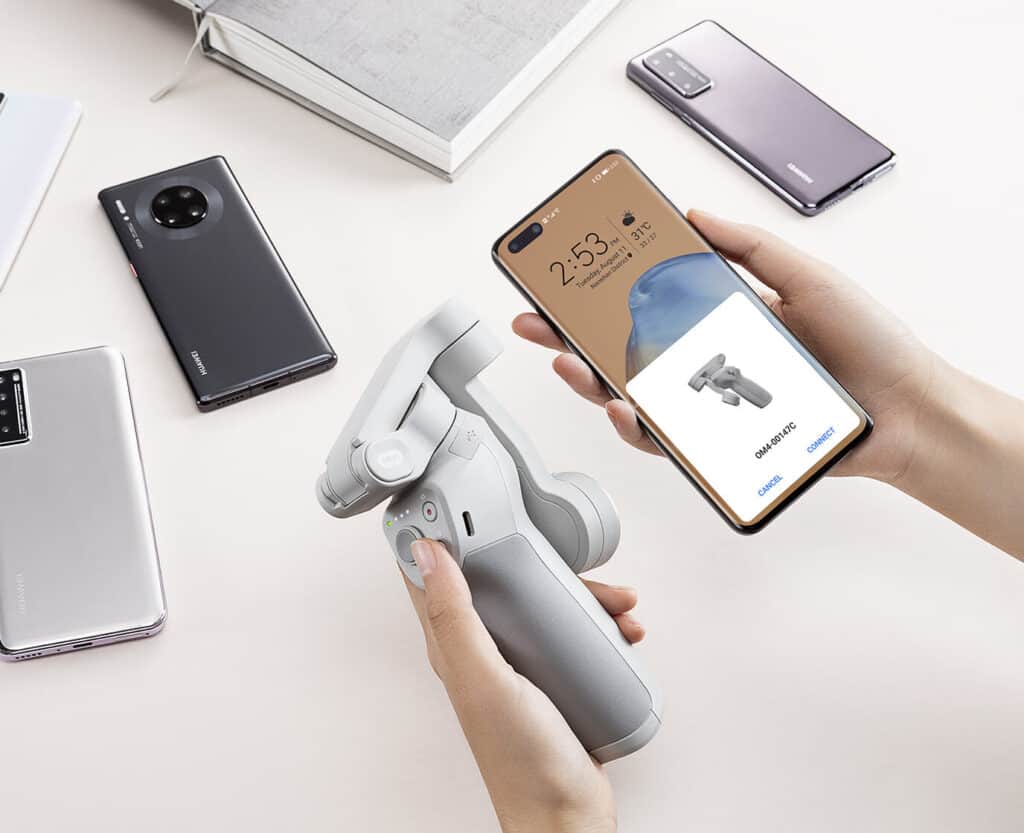 Performance
Like its predecessor, the OM4 is a terrific video stabilizer. The core stabilization performance is among the best, and thanks to its new upgraded motors, it can now accommodate even heavier payloads than before. That being said, the difference compared to the Osmo Mobile 3 is not significant, so owners of that model don't need to bother upgrading.
The 230 ± 60 g max. payload means it can comfortably hold bigger phones like the iPhone 11 Pro Max or Samsung Galaxy Note 20. Nonetheless, I'd still encourage owners of phablet-sized phones to double check whether their phone falls within the compatible range of weights and dimensions.
Battery performance is also top-notch. DJI claims it has a 15 hour battery life on a single charge, and my experience wasn't far off. It also doubles up as a power bank thanks to its USB-A port, which is surprisingly practical given you'll find your phone needing extra juice more often than the OM4.
The biggest question on many people's minds will be 'is the magnet completely secure?'
Honestly, the magnet feels extremely secure and I wouldn't worry about it. There might be some situations where I'd feel more comfortable with a traditional mount, like if I was filming on a sailboat on a windy day or sticking it out of a car window. But hey, that's not how I roll.
Control Layout
As already mentioned, the DJI OM4 keeps the same controls as the Osmo Mobile 3.
At the center of it all is a flat rubberized joystick that lets you electronically pan and tilt. To the right of the joystick are the record button and power button, the latter doubling up as the mode button to cycle through gimbal modes.
DJI have kept the zoom slider, although in my review of the Osmo Mobile 3 I did mention I'd prefer a zoom wheel for smoother control of the zoom. Fortunately, the zoom control is silky smooth, which speaks more about the software than the hardware.
The grip's rear trigger which was introduced on the Osmo Mobile 3 is still there. Holding it down locks the gimbal so your camera follows your movements. Pressing it once activates Active Track object tracking, pressing it twice recenters your gimbal and pressing it three times switches between front and rear cameras. I found that on all my iPhones and some Android phones, the camera switch would not work in the middle of a recording, while it does on some Androids.
DJI Mimo App
While we can expect a slew of OM4 knock-offs to follow, a big advantage of going with a big-brand like DJI is its superior software.
Besides letting you cycle through the basic follow modes (follow, pan-follow, locked etc.), the DJI Mimo app features a number of neat features and shooting modes that are either missing or poorly executed on the competition.
The app is downloadable from the iOS app store and Google Play store. Once it is installed, it will detect the OM4 over a Bluetooth connection and unlock its full potential.
While you can technically use your own camera app, I'd recommend sticking with the Mimo app when your phone is mounted on the gimbal. The story creation feature is admittedly gimmicky, but the AI object tracking and gesture controls (which let you start and stop video recording through simple gestures) are actually very useful. Additionally, there are a number of special shooting modes which aren't available on the default camera apps.
Shooting Modes
The DJI Mimo app features a number of special shooting modes:
Motionlapse, Timelapse and Hyperlapse
Panoramas
CloneMe Panoramas
Object Tracing (ActiveTrack 3.0)
DynamicZoom and Spin Shot
The CloneMe panorama is a cool type of panorama where you or your friends appear multiple times in a single shot. You basically pose in different spots as the gimbal pans your phone camera and the results can be quite amusing.
Dynamic Zoom mimics the Hollywood dolly zoom effect by digitally zooming in as the camera operator walks backward or zooms out as the operator walks forward. Unfortunately, since it relies on digital zoom (as opposed to optical zoom), the footage can come out grainy in poor lighting conditions.
The final new addition is the 'spin shot', which creates a barrel-roll effect. Most DSLR and mirrorless gimbals have this shooting mode, but it's not something you often find on a phone gimbal.
Overall, the OM4 brings a number of unique shooting modes which will give creatives some new tools for the job. I personally found them a bit gimmicky for my taste, but can see how they'd be employed in YouTube intros and what not.
It's also worth mentioning that since this is a software update, existing owners of the DJI Osmo Mobile 3 will also have access to the new shooting modes.
Gesture Control
The latest version of DJI's Mimo app also features gesture controls, which actually makes it preferable to using the native camera app on your iPhone or Android.
You can easily start and stop video recording through a variety of gestures, and
Verdict
The DJI OM4 is the best handheld three-axis smartphone gimbal you can find right now. It builds on the Osmo Mobile 3's clever foldable design by making it more convenient to use via its magnetic design.
This is something you can carry around on a daily basis and instantly sling your phone on for those spur-of-the-moment shots. The magnetic attachment once again puts DJI ahead of the competition and it still has the best stabilization performance, object tracking AI and ergonomics out there.
Nonetheless, we can't ignore the fact that the competition is catching up. You can find solid 3-axis gimbals for around $70, and that means the OM4 is a premium product.
If you're a vlogger or live streamer, the additional expense can easily be justified. But cheaper gimbals might be more compelling for light users who are simply looking for something to take on their next family trip.
Pros:
Magnetic mount is a fantastic convenience feature
Upgraded motors can support heavy phones and generate less heat
Same great ergonomics and intuitive controls as its predecessor
DJI Mimo app and AI object tracking are best in the business
Cons:
Expensive, especially compared to today's budget gimbals
Rating: 4.5/5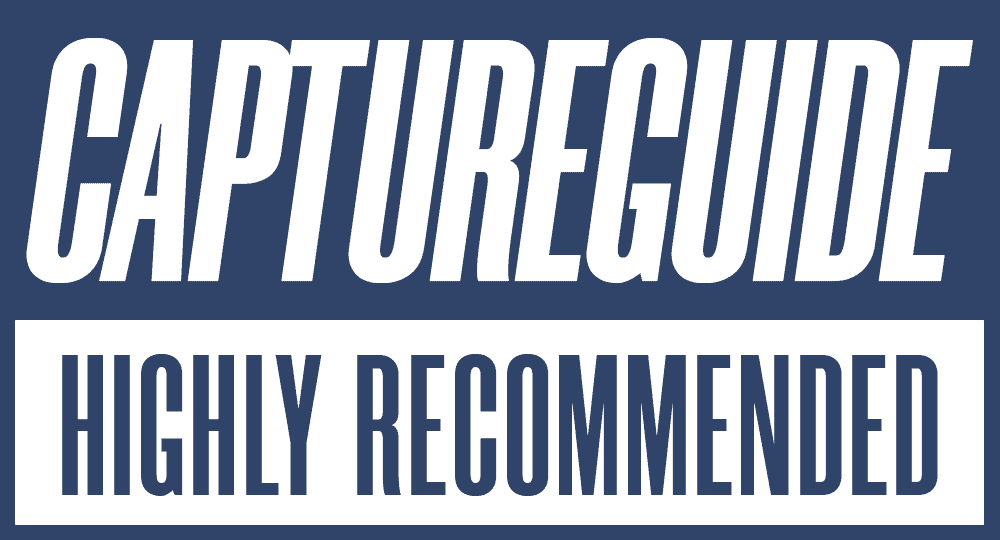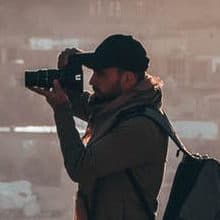 I'm a photographer and the chief editor of Capture Guide. After spending several years in parts of South America with my trusty old Nikon D7100, I'm now back home patiently waiting for borders to re-open.