Smartphone gimbals are going mainstream. You might have attracted some strange looks filming with one a few years ago, but today no one bats an eye. I recently moved to London and these things are everywhere.
I was given the opportunity to review the Funsnap Capture 2, another gimbal from Funsnap which succeeds the original Capture. This is yet another 3-axis gimbal for your iPhone or Android that eliminates camera shake, but can it differentiate itself within a market that's already crowded? Let's take a closer look in this review.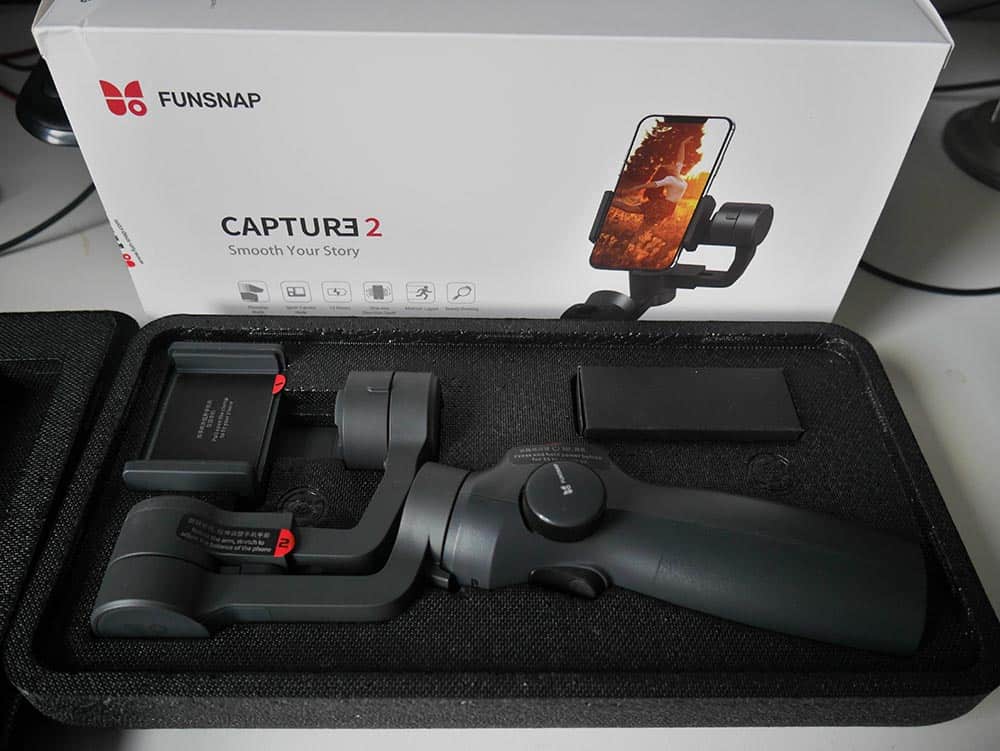 First Impressions
The Funsnap Capture 2 comes packaged in a clean white box. Inside is a black hard styrofoam case which contains the gimbal itself and a Micro USB cable that can be used for charging.
The gimbal's design is undeniably similar to the DJI Osmo Mobile 2. This certainly isn't a bad thing given that has some of the best ergonomics for a smartphone gimbal. Perhaps surprisingly, the Funsnap Capture 2's build quality is just as good. It feels robust in the hands and belies its lower price tag.
There are, however, differences compared to the Osmo Mobile 2. The Funsnap Capture 2 features a zoom wheel on the left instead of a zoom slider, and adds a trigger button to the back of the grip.
For myself, these are big improvements. A wheel is far more consistent for zooming than adjusting a tiny slider. Meanwhile the trigger, which can serve two purposes, is something that becomes handy while recording and feels very natural to use.
The other major difference is the Capture 2's lack of balance adjustment and holder knobs. Instead of adjusting the arm's length by turning a balance adjustment knob to unloosen the arm, you adjust the length by simply pulling or pushing the arm. As you push/pull, the arm 'clicks' into position in discrete steps.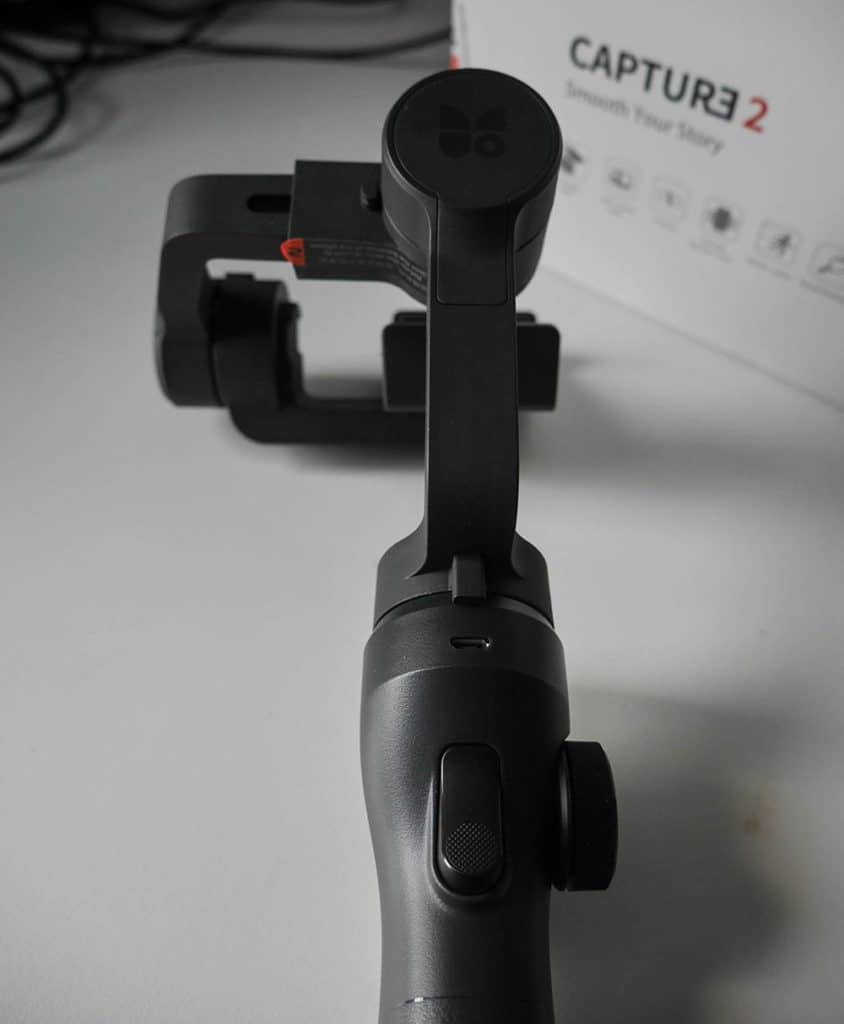 This has the advantage of being less fiddly, but the balance adjustments can't be fine tuned as much. For example, I could perfectly balance an iPhone X, but couldn't perfectly balance a Xiaomi Redmi Note 5. Note that this isn't a big issue as the gimbal will automatically level the horizon when you turn it on, but it will cause very slightly higher battery drain.
Compatibility
As with most smartphone gimbals, the Funsnap Capture 2 uses a spring-loaded adjustable clamp. The clamp can fit phones that are 55-90mm wide. That means it can house pretty much any phone/phablet you can think of. It can fit house a GoPro or similar action camera, although I did not try it myself.
But the clamp is rarely an issue when it comes to gimbal and phone compatibility. The much more common problem is the gimbal's motors lacking the power to balance heavier phones such as the iPhone 8 Plus, iPhone XS Max or Samsung Galaxy Note 9.
With a maximum supported payload of 250g, the Capture 2 manages beats out the likes of the Osmo Mobile 2 (240g) and Zhiyun Smooth 4 (210g).
Testing it with the iPhone X and Xiaomi Redmi Note 5, I was impressed that the motors could cope in horizontal and vertical orientations. Maintaining balance when the phone is mounted vertically is often a problem, but the Capture 2 had no such problems.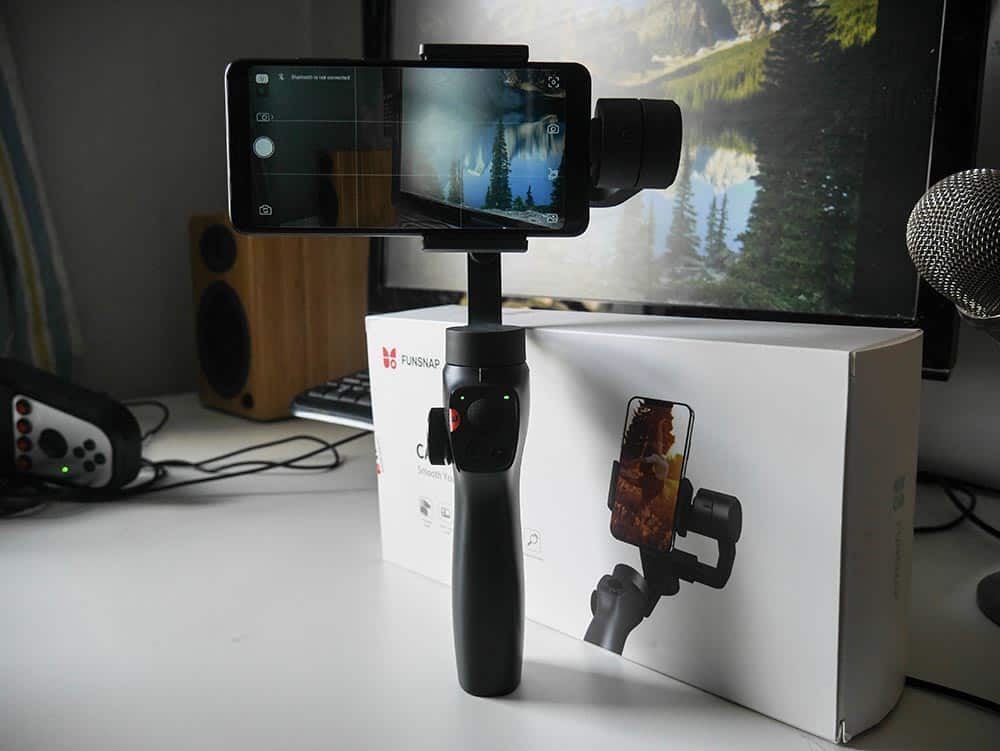 Shooting Modes
The Funsnap Capture 2 features 3 basic shooting modes, which can be cycled through by tapping the Mode button. The shooting mode that is being used is indicated by the color of the Mode LED.
All-Following (Green): The default mode, the gimbal locks the roll axis while following movements in the pan and tilt axes.
Locked (Red): All axes are locked, meaning the camera lens will stay pointed at the same target.
Pan-following (Blue): The pitch (up and down) and roll axes are locked, meaning the gimbal keeps the horizon set but will follow any left/right panning.
The behavior of the trigger button can be set by the user. It can either temporarily lock the gimbal (regardless of shooting mode) or activate 'Phone Go' mode, which boosts the motor speed and makes sure the gimbal follows your movements without lag. The Phone Go mode is particularly useful when you need to temporarily track a fast moving object but want to otherwise maintain a slow/medium panning and tilting speed. 
Performance
Most iPhone and Android gimbals do a pretty good job when it comes to stabilization these days. The Funsnap Capture 2 is no different. Videos came out silky smooth with no noticeable camera shake, micro jitters or sudden motor spasms. Motor noise is present but quiet and doesn't get picked up by the phone's microphone.
The Capture 2 delivers a seamless and pleasant filming experience. It combines the Osmo Mobile 2's ergonomics with the Zhiyun Smooth 4's zoom wheel and rear trigger, which means you get the best of both worlds. Speaking of the zoom wheel, zooming in and out is smooth and doesn't have the incremental movements that some other budget gimbals have.
The Capture 2 app worked without a hitch on Android and iOS. The software is basic, but lets you adjust all the settings you might want to change and has some fancier features like 320-degree panoramas and motion timelapses.
Battery Life
The Funsnap Capture 2 reportedly has a 8-12 hours battery life. I haven't tested it for an extended period of time but I've used it on and off for a couple of days and haven't needed to charge it.
Verdict
Overall I was very impressed by the Funsnap Capture 2. It doesn't bring anything new to the table, but it offers solid stabilization performance as well as great build quality with nice and chunky gimbal arms that don't look like they're ready to snap off. It also combines the features I liked from various other gimbals, namely a comfortable grip, smooth zoom wheel and rear trigger. For the price, you'll be hard pressed to find a better gimbal.
Pros:
Good build quality and ergonomics
Great stabilization
Simple and intuitive control scheme
Cons:
Have to physically switch orientation
Basic app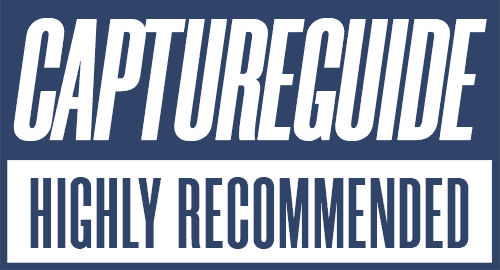 The Funsnap Capture 2 is now available at GeekBuying.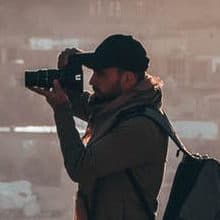 I'm a photographer and the chief editor of Capture Guide. After spending several years in parts of South America with my trusty old Nikon D7100, I'm now back home patiently waiting for borders to re-open.