Insta360 took a big bite out of GoPro's market share with its innovative 360-degree cameras and action cams, and now it's stepping up to challenge DJI's long reign in the smartphone gimbal market with the release of the Insta360 Flow.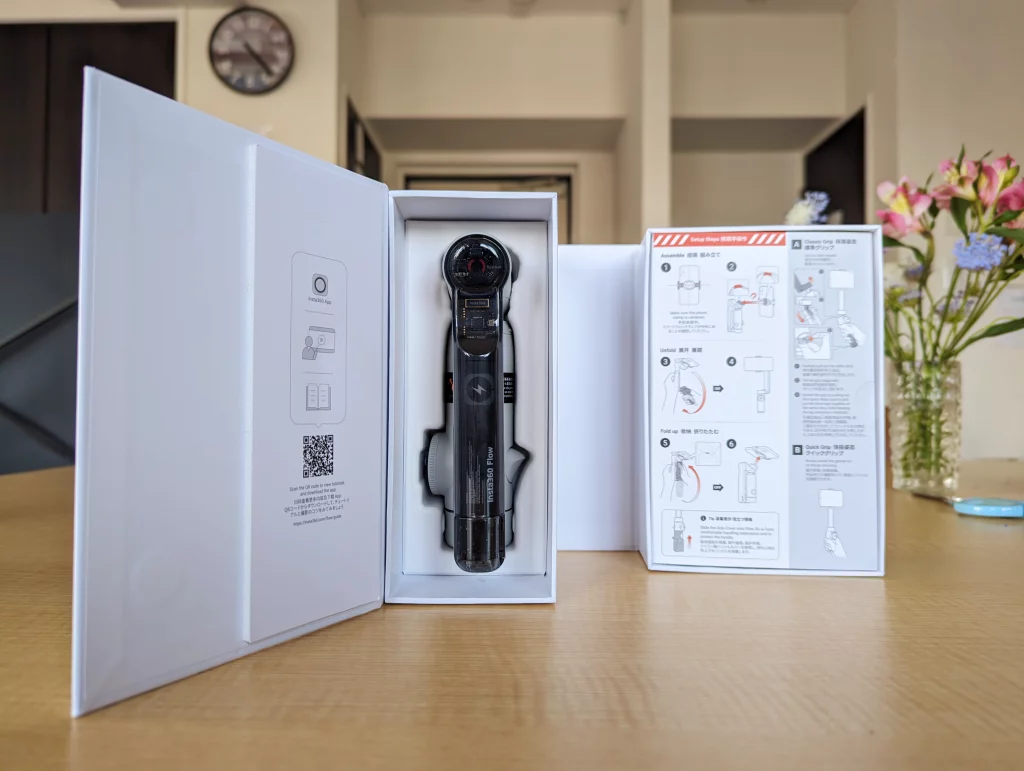 For context, the smartphone gimbal market has been relatively stagnant, with the DJI Osmo Mobile series maintaining its position as the go-to choice in a market flooded with low-quality imitations.
To be fair, we shouldn't ignore Zhiyun's Smooth series which targets a more 'professional-grade' niche, but it's clear that this segment hasn't generated significant interest among the broader consumer base.
The average phone user just wants a hassle-free gimbal that can be easily carried and used without the fuss of manual balancing and tightening screws like an actual filmmaker on set.
This is precisely why I was actually excited to review the Insta360 Flow because we finally have a new gimbal coming from a major player (relatively speaking) and it appears to understand what most people will actually use a phone gimbal for.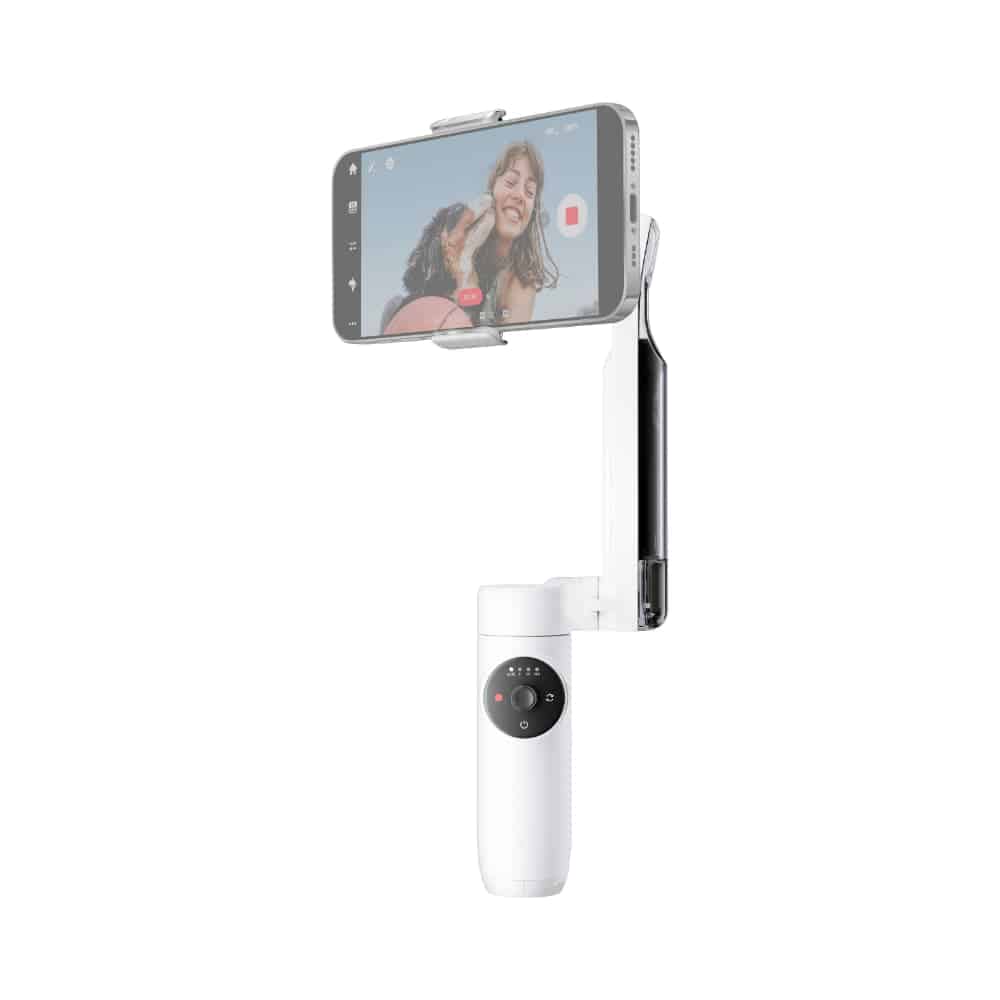 The pocket-sized Insta360 Flow pits itself against the Osmo Mobile 6, boasting more features and an equally refined app experience.
Load Capacity:
4.6 to 10.6 oz / 130 to 300 g
Great stabilization performance
Folds down elegantly
Built-in selfie stick and tripod
Unrivaled object tracking
Foldable design limits tilting range
Short grip
First impressions
My initial impressions of the Insta360 Flow were largely positive because of the attention to detail and visually striking design.
The gimbal folds down elegantly compared to other foldable gimbals and the transparent plastic cover that exposes the device's inner circuitry is a nice touch. I was slightly concerned about the durability of the plastic cover, but I am yet to see any reports of breaking or cracking from other users.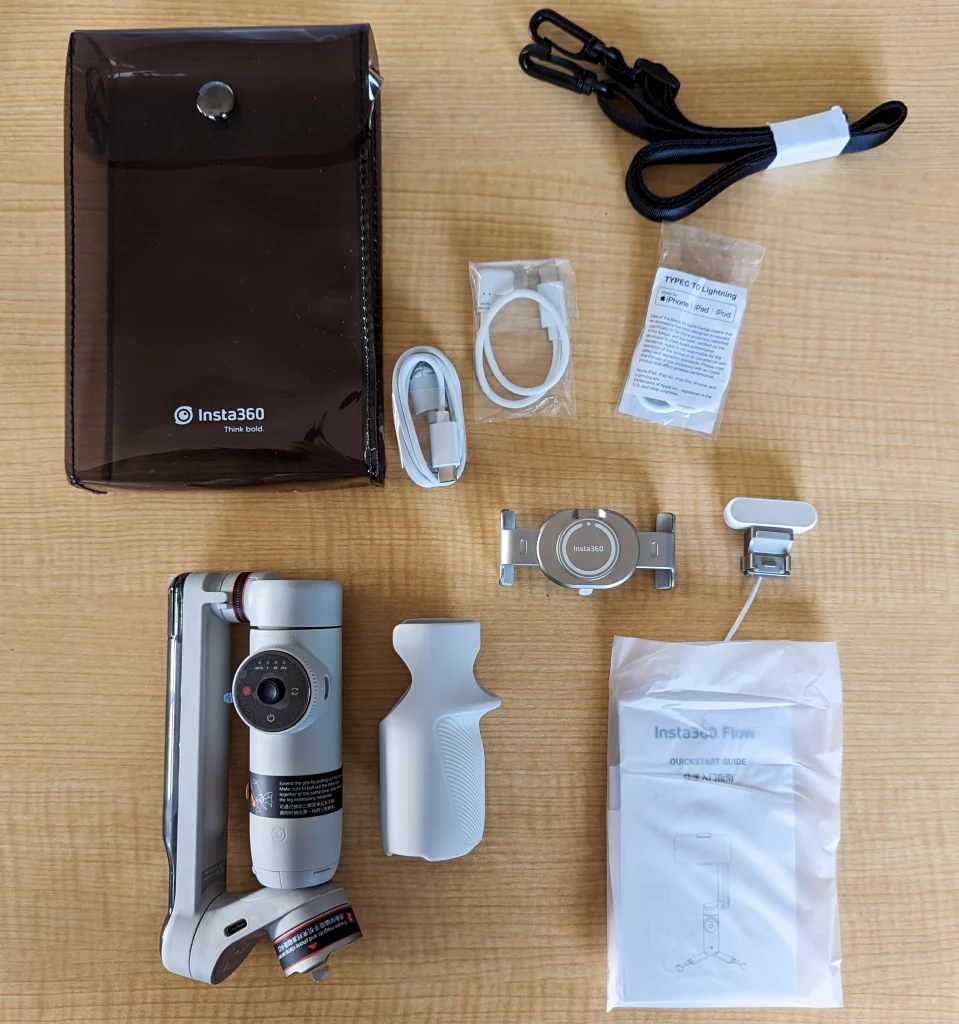 While there are some differences, it's immediately evident that the gimbal was built upon the groundwork established by the DJI Osmo Mobile 6. It retains all the key innovations DJI introduced over the years, including the magnetic clamp mounting mechanism, foldable design, and the built-in selfie stick—the latest feature introduced with the Osmo Mobile 6.
However, Insta360 one-upped DJI by integrating a mini tripod into the gimbal. With convenience being the name of the game here, this is a very welcome addition. This might sound trivial, but in order to accomplish that Insta360 had to move the battery pack from the grip to the gimbal arm, which is no easy feat.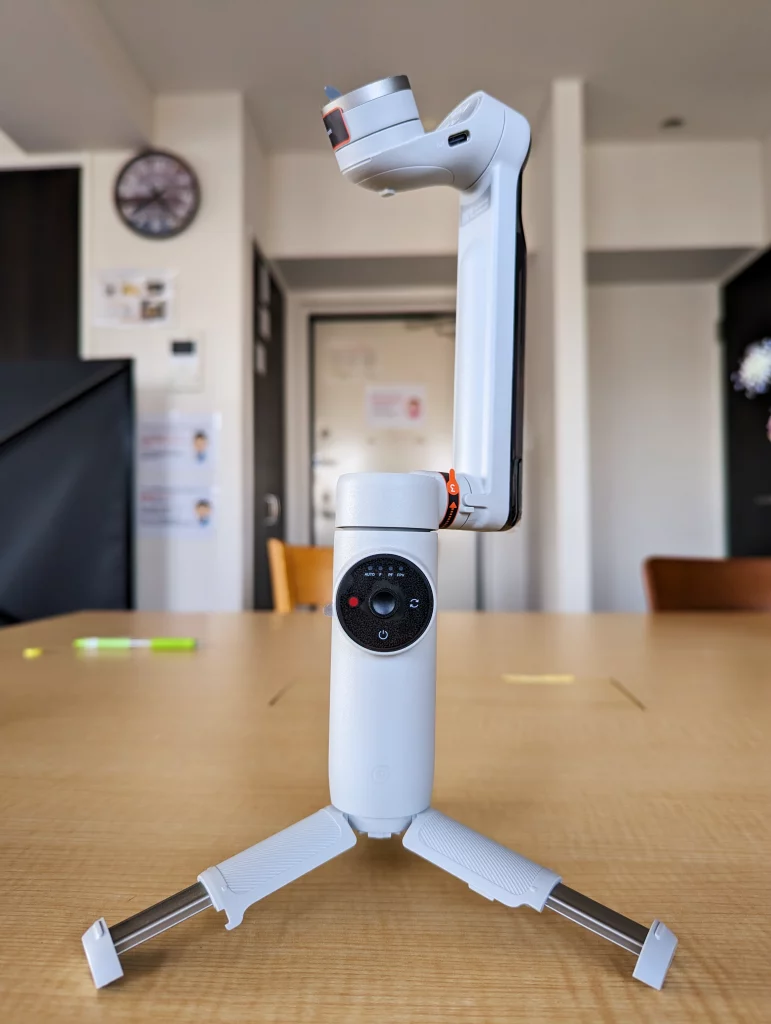 It's worth noting that the mini tripod also serves as a grip extension when its legs are closed and includes a 1/4-20 screw thread on the bottom for attachment to a larger tripod if desired.
Setup
The Insta360 onboarding experience was a breeze, and possibly one of the smoothest I've experienced to date—though my familiarity with gimbals probably helped.
Thanks to the magnetic mounting and auto-balancing features, all you need to do is attach the included clamp to your phone and let the magnets and gimbal motors do the rest.
Everything else is pretty intuitive, too, and the learning curve is gentle so you don't feel overwhelmed from the get-go. This is in stark contrast to earlier generations of gimbals which sometimes felt like being handed the keys to a spaceship.
A good tip is to skip the paper manual and follow the interactive tutorial on the Insta360 app instead, which will walk you through the various controls and tick them off as you successfully execute them.
Controls
Despite a fairly minimal control layout, all the essential actions can be performed using the device's controls without having to resort to your phone's screen. The basic buttons include power, record, and orientation change. Additionally, there is a multifunction rear trigger, focus wheel, and joystick for electronic pan and tilt.
Interestingly, the circular panel is touch-sensitive, and users can switch gimbal modes by swiping clockwise and counter-clockwise. While I would have definitely preferred a dedicated gimbal mode button, I understand why Insta360 opted for this design choice. It fully utilizes the available space on the so-called SmartWheel, and it's hard to imagine where an extra button could have actually been placed.
Ergonomics
The compact nature of the Insta360 Flow comes with ergonomic trade-offs. The grip is short, and while pulling out the grip extension at the base of the grip does help, it can slide around a tiny bit, which can be frustrating.
The included rubber grip improves grip and adds ergonomic curves, but overall the gimbal is less comfortable in the hands compared to the DJI Osmo Mobile 6.
The focus/zoom wheel is positioned around the center panel, which isn't as nice as having it placed on the left of the grip like the DJI Osmo Mobile 6. However, this placement is much more accommodating for left-handed users, so it represents a compromise in either case.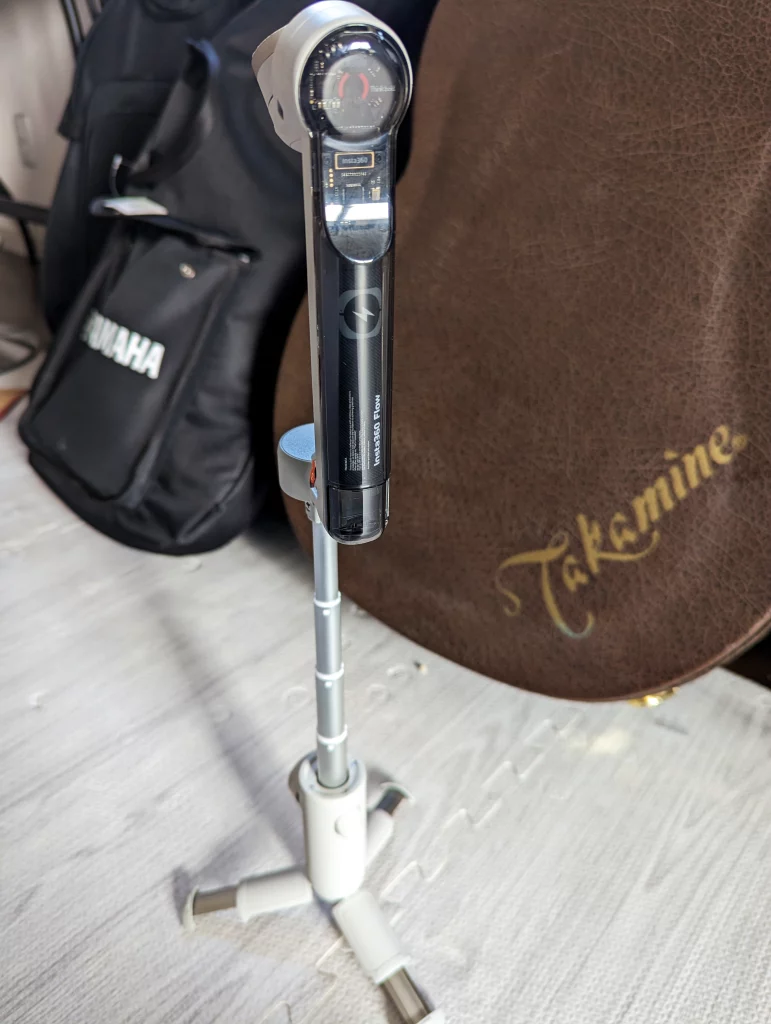 Stabilization Performance
The Flow provides excellent 3-axis stabilization, with powerful and quiet gimbal motors that can keep up with the action. Its 300g (10.6 oz) payload capacity allows it to support heavier phones, even with an attached ND filter. This capacity is 10g higher than the DJI Osmo Mobile 6 (290g/10.2 oz), on par with the Zhiyun Smooth 5S (300g/10.6oz), and only surpassed by the Hohem iSteady M6 (400g/14.1oz).
While the stabilization performance is good, it's important to note that like the Osmo Mobile 6, this is a foldable gimbal meaning there is a compromise in the range of motion.
More specifically, the range is slightly limited in the up-and-down tilt axis, which means you have to pay some attention when you're hitting vertical extremes. This isn't really an issue when you're filming with the gimbal in your hands, but can be an issue when the gimbal is set on its tripod too low on the ground and filming action above, for example.
Companion App and AI Tracking
A common weak point for many phone gimbals is the mobile app experience. This is where major brands like DJI have an advantage, as they have the resources to better develop and update their apps.
However, even DJI's Mimo app has its quirks, and Android users must sideload the app since it was removed from the Google Play store back in 2021. Now that might not be a problem for you, but it might be difficult to explain to someone to install an APK and trust the safety if you were buying the gimbal as a gift, for example.
Fortunately, the Insta360 companion app is one of the gimbal's strong points and is available for download both on the Apple App Store and Google Play Store. This isn't at all surprising, given that the company's success with its prior products like the X3 360-degree camera and Titan VR camera is attributed as much to software as hardware.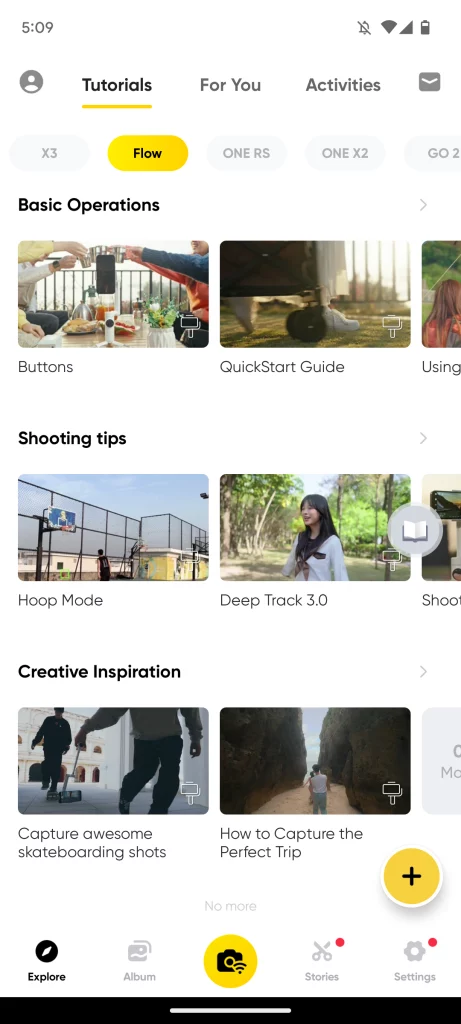 The app is well-designed and mostly bug-free. Android phones are generally well-supported, although certain features may not be available, as is the case with basically all companion apps for Android devices.
What truly impressed me was the AI object tracking capability of the Insta360 Flow's Deep Track 3.0. The key improvements over DJI's ActiveTrack 5.0 include:

Person re-identification: When a subject disappears and reappears (e.g., walking behind a pillar), the gimbal won't lose track, whereas ActiveTrack 5.0 fails in these cases.
Smart Subject Recovery: If a subject moves out of frame while zoomed in, the app will zoom out and resume tracking.
It was just superior overall and handled edge cases like maintaining tracking on a specific person in larger crowds better (the DJI Osmo Mobile 6 would sometimes switch to tracking another person midway).
Accessories
While it may be Insta360's first foray into the mobile gimbal market, there's already an ecosystem of accessories available. The Spotlight fill light, which is bundled in the creator kit and available to be purchased separately, will probably appeal most to vloggers and TikTok stars.
There are also custom inserts available to put under the transparent cover on the back of the gimbal arm. No functional impact, but it's nice to see such personalization possibilities.
Most interesting of all, though, is probably the built-in cold shoe mount which makes it possible to attach external wireless mics like the Rode Wireless GO II. The fact that smartphone videographers are now incorporating ND filters, fill lights, external mics, and gimbals demonstrates the impressive evolution of mobile video production.
Verdict
After testing the Insta360 Flow, it's safe to say that it offers a strong alternative to the DJI Osmo Mobile 6 in the smartphone gimbal market. It manages to strike a balance between ease of use and professional-grade features, making it an ideal option for both casual and more serious content creators.
The Insta360 Flow's compact, foldable design, and integrated mini tripod make it highly portable and convenient for on-the-go shooting. While there are some ergonomic trade-offs, the overall experience remains comfortable for most users. The Flow's 300g payload capacity is on par with its main competitors, and its stabilization performance is impressive, albeit with some limitations in the tilt axis due to its foldable design.
One of the standout features of the Insta360 Flow is its software, which is where gimbal manufacturers tend to struggle with most. The AI object tracking capability of Deep Track 3.0 is superior to DJI's ActiveTrack 5.0, handling challenging situations with greater precision and accuracy.
The main drawbacks to consider are the slightly less comfortable grip compared to the DJI Osmo Mobile 6 and the limited range of motion in the up-and-down tilt axis. However, these issues are relatively minor and unlikely to hinder the overall experience for most users.
If you're in the market for a smartphone gimbal, the Insta360 Flow should definitely be on your shortlist. Along with the Osmo Mobile 6, it's an incredibly well-rounded gimbal that strikes a good balance between convenience and performance. However, there are cheaper options without all the bells and whistles that may suffice depending on your needs. Meanwhile, non-foldable locking gimbals like the Zhiyun Smooth 5S and Hohem iSteady M6 offer more range of motion and will be better suited for all-day shooting.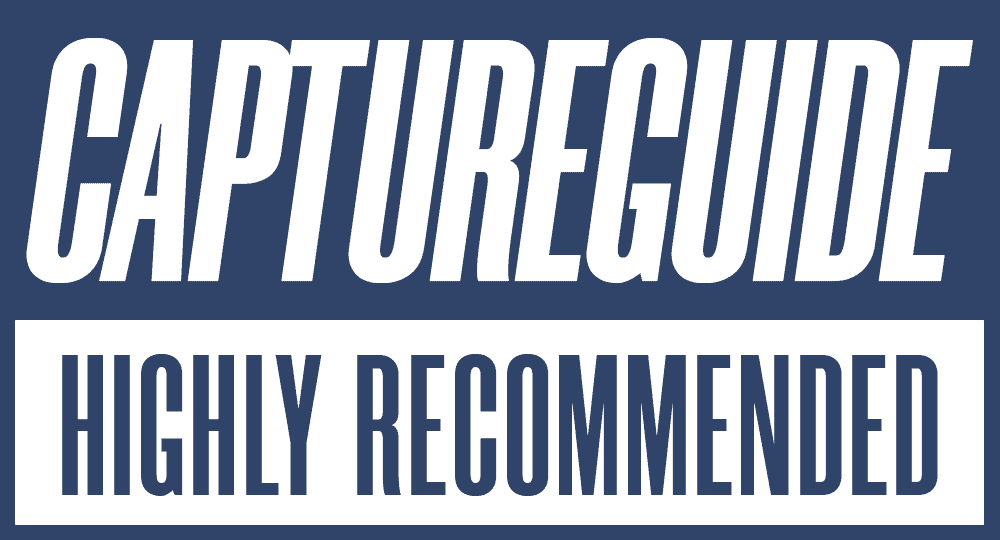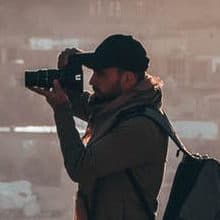 I'm a photographer and the chief editor of Capture Guide. After spending several years in parts of South America with my trusty old Nikon D7100, I'm now back home patiently waiting for borders to re-open.