The iPhone has native support for a wide range of video file formats. However, there are also some video formats that aren't natively supported.
Whether you're an iPhone videographer like myself or simply having problems watching the movie you recently downloaded, video formats can be a pain in the neck.
Which Videos Formats Does iPhone Support?
The first thing you need to understand is that there are two areas where compatibility issues can arise:
The Video Codec (e.g. H.264, HEVC/H.265, AV1, VP9)
The Video Container Format (e.g. MOV, MP4, ASF, AVI)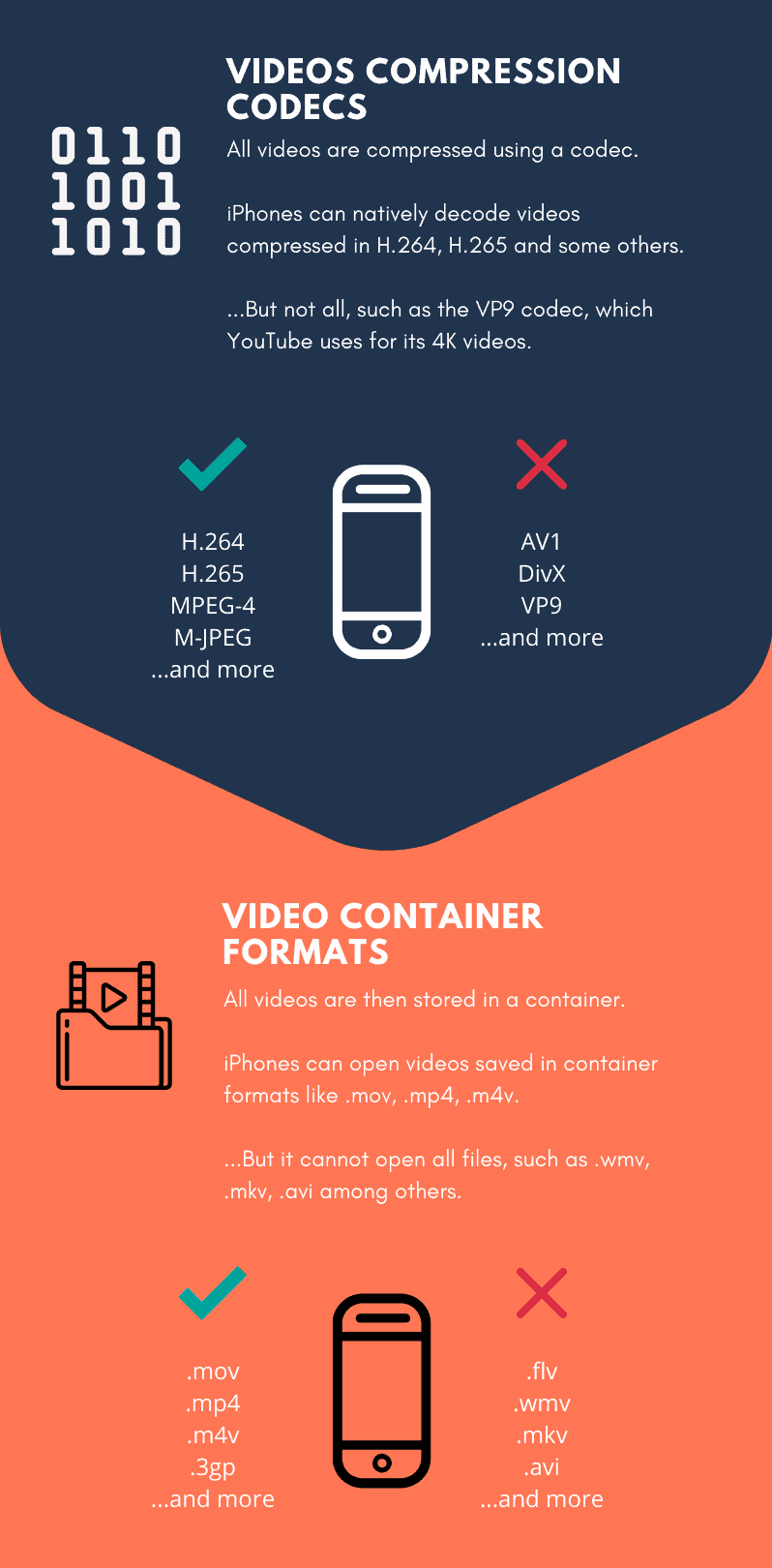 iPhone Video Codec Support
Apple devices supports most codecs. However, they do not support the AV1 and VP9 codecs, which have some advantages over the more popular H.264 and H.265 codecs.
However, this lack of support for uncommon codecs is unlikely to present an issue. The industry is yet to adopt them on a big scale. Almost all videos you download or try viewing are using H.264 and H.265.
However, there is one area where it is an issue: YouTube.
iPhones, iPads and Apple TVs lack the option to view 4K content on YouTube. People scratch their heads, as 4K can be selected on other streaming services like Netflix.
The problem is Google (who own YouTube) encode 4K video using the VP9 codec. As I just mentioned, the iPhone can't playback these videos!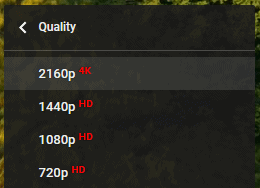 iPhone Video Container Format Support
Now let's talk about the more important bit.
The container is responsible for wrapping the video codec, audio codec, closed captioning and associated metadata into a file.
Most videos today are encoded using H.264 or H.265 codecs, and the compatibility issues are down to the iPhone being unable to open the container.
Common containers are .mp4, .mov, .ts, and .avi.
The iPhone 'Videos' app (the default media player that is used when opening video files) can handle most containers. But not all.
Supported: .mp4, .mov, .m4v, .3gp
Unsupported: .wmv, .avi, .mkv, .flv
If you have a video file with an unsupported extension, you have two options.
You can convert your file on your computer using video conversion software, and send it to your iPhone again. Or, you can download a third-party media player app like VLC from the App store (recommended).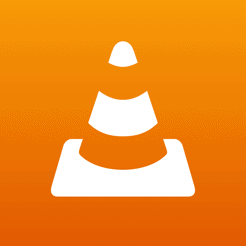 Dealing With The 'Unable To Play Video' Error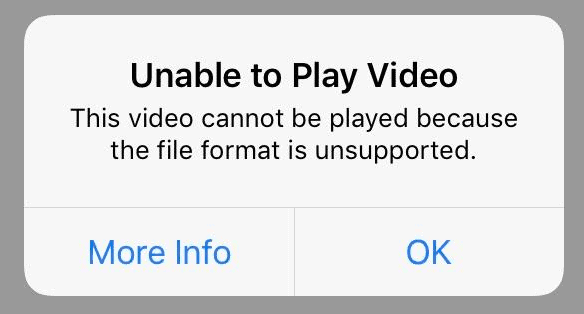 Now let's discuss the 'unable to play video' error that iPhone users might encounter.
What went wrong?
There are two likely cases.
Possible Reason 1: Unsupported Video Format
As mentioned earlier, the iPhone does not have native support for all the video formats.
Common culprits are Windows Media Video (WMV), AVI and MKV files. The latter two are especially common if you've torrented TV series or movies from the internet.
If this is the case, you'll need to convert the file using file conversion software. Or just download a third-party app (like VLC Media Player or Infuse 6) that can play the file.
Possible Reason 2: Corrupted File
Another possible reason for the error is a problem with the video file itself.
There are a number of corrupted video files circulating the web. It is also possible to corrupt the video when transferring videos (usually because there is not enough space and the video gets cut off).

If this is the case, you can first try opening the video on the VLC Media Player app. The app can attempt to repair videos, if the damage is minor. You'll need to download it from the App store first, of course.
If that fails, there are more sophisticated video repair software options available on PC and Mac. However, these are normally paid. It's also a lot of effort, so I'd recommend just giving up on that video and moving on.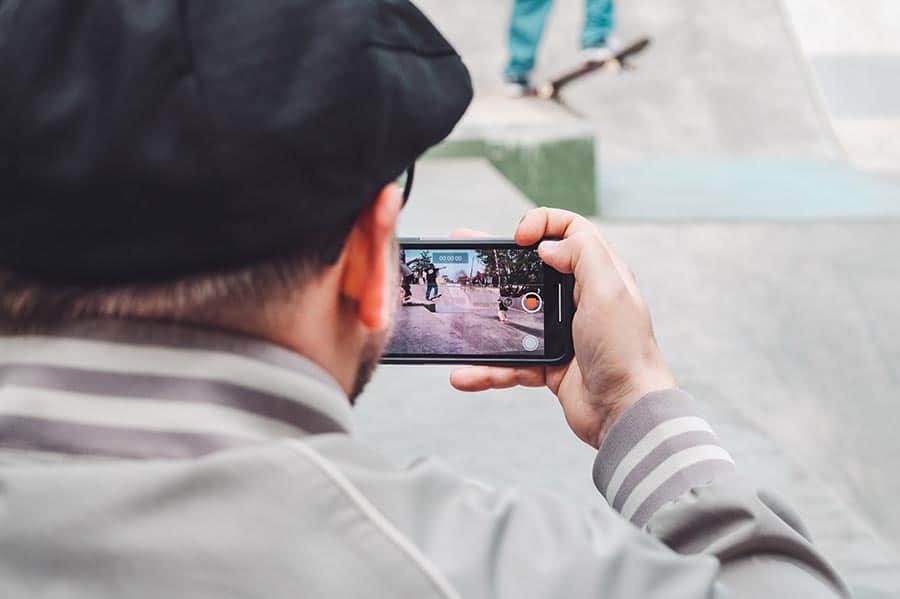 What Video File Format Does iPhone Use When Recording Video?
iPhone currently records video using HEVC a.k.a. H.265 compression and stores it using the Quicktime .mov file format.
Recording Video With Maximum Compatibility
Before the release of iOS 11, iPhone devices would record H.264 video. H.264 is the most common video compression standard around, and pretty much any computer or device will be able to play with them.
While the newer HEVC standard compressees the file more efficiently, some older devices such as TVs (typically those introduced before 2012) can not natively play a HEVC file.
If you want to make sure your videos have maximum compatibility across devices and operating systems, you can force the iPhone to record in H.264 from the settings:
Go to Settings > Camera.
Tap Formats.
Select 'Most Compatible'.
You can revert this change by selecting 'High Efficiency'
Note that you must enable 'High Efficiency' (HEVC) to record 4K@60fps or 1080p@240fps footage.
Key Takeaways
Videos are compressed using codecs.
They are then stored inside a video container format.
iPhone can handle most codecs and container formats.
If the video format is not supported, a third-party app will most likely be able to open the video.
Alternatively, you can convert the file on your computer to a format that is natively supported.
The iPhone video camera records using HEVC/H.265 compression and saves files inside a .mov container.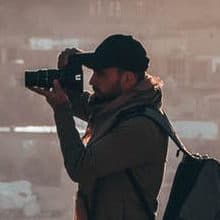 I'm a photographer and the chief editor of Capture Guide. After spending several years in parts of South America with my trusty old Nikon D7100, I'm now back home patiently waiting for borders to re-open.