Have you ever tried to download an app or shoot a video only to be notified that your device is out of space? This can be highly frustrating.
Luckily, storage space is something that you can quickly get more of, and one of the most convenient ways to do this is with a memory card. Memory cards are used on a wide range of gadgets, from smartphones to DSLRs and GoPros.
That said, finding the right memory card to suit your needs depends on several factors. These include the type of device you're using, what you're going to be using it for, and the class and speed ratings of the card.
SanDisk, now owned by Western Digital, is one of the names at the forefront of memory card technology. They offer a wide range of memory card models to suit various applications. They designate their cards with different names – SDHC/SDXC Extreme, CompactFlash Extreme, CompactFlash Extreme Pro, etc. – and knowing which one to choose can be pretty intimidating.
To save you the trouble, let's take a quick look at the different types of memory cards and what each has to offer. Note that the quoted read and write speeds are from the manufacturer, and real world performance may vary.
TL;DR: SanDisk label the majority of their flash memory and portable SSD products as being either Ultra, Extreme or Extreme Pro. The Extreme Pro represents the highest performance, and the Ultra the lowest, with the Extreme somewhere in between. In the past, there were also the 'SanDisk Extreme Plus' and 'SanDisk Ultra Plus' series, but these are outdated and no longer produced.
Note: Considering their broader user base, this article will mainly cover SD cards (for DSLRs, mirrorless cameras, and camcorders) and also the microSD versions (for GoPros, phones etc.)
SanDisk Extreme Vs Extreme Pro
SD Card
| | | | |
| --- | --- | --- | --- |
| | SanDisk Extreme (UHS-I) | SanDisk Extreme Pro (UHS-I) | SanDisk Extreme Pro (UHS-II) |
| UHS speed class | U3 | U3 | U3 |
| Video speed class | V30 | V30 | V90 |
| Highest Supported Video | 4K video | 4K video | 8K video |
| Max read speed | 150MB/s | 170MB/s | 300MB/s |
| Max write speed | 70MB/s | 95MB/s | 260MB/s |
The SanDisk Extreme and Extreme Pro SD cards represent the company's top-of-the-line range. But how do the Sandisk Extreme and Extreme Pro differ?
For starters, the Extreme model has a maximum write speed of 70MB/s and a maximum capacity of 256GB; the Extreme Pro offers a faster maximum write speed of 90MB/s with memory options up to 1TB.
Sale
The read speeds (a.k.a. transfer speeds) for both memory cards are notably higher at 150MB/s for the Extreme and 170MB/s for the Extreme Pro UHS-I card. If your camera can support it, there's also the Sandisk Extreme Pro UHS-II which has 300 MB/s read and 260 MB/s write!
Sale
Important note: These figures are for the current generation of Sandisk Extreme and Sandisk Extreme Pro SD cards. Previous versions of these SD cards which share the same name have lower specs, but the Extreme Pro is always ahead of the Extreme within the same generation.
For several years, the Extreme was one of the top choices amongst amateurs and professionals because it was reliable, fault-free, and fast. You can shoot high-resolution video or shoot multiple pictures in burst mode, and the card will process it without any delay. However, there was one downside – the 256GB limit.
For someone out on a multi-day shoot or looking to shoot many videos, even the 256GB limit proved to be a restriction. That's where SanDisk decided to offer more with the Extreme Pro.
In addition to more space, the Extreme Pro also offers better read/write speeds, allowing for quicker process and file transfers.
The SanDisk Extreme Pro is available as in UHS-I and UHS-II variants. The latter offers the fastest read/write speeds and the fastest V90 video speed class (capable of 8K video recording). However, keep in mind that many cameras can not actually take advantage of the UHS-II speed class or the V90 video speed class, so check compatibility before forking out for the top-end UHS-II Extreme Pro.
Both these cards have pros and cons, but we recommend that you choose the SanDisk Extreme Pro if you can afford it. The higher write speed means you won't have to wait until your photos or images are saved before you can shoot the next one. And with options up to 1TB, it'll be a while before you run out of space.
On the flip side, if you're not a professional photographer or filmmaker, the standard Extreme will work just fine. Remember, the read speed may not affect your ability while taking occasional photos, but it will play a role in how quickly you can transfer your files onto a PC. If that matters to you, then upgrading to an Extreme Pro may be worth it.
MicroSD card
A microSD card can be used as expandable storage for your phone, and it's also the standard memory card for action cameras, the Nintendo Switch, and more.
They are substantially smaller than standard SD cards, but similarly fast and just as expensive. The Extreme MicroSD delivers as it should, with a maximum storage capacity of 1TB and transfer speeds up to 160MB/s. Its A2 performance class means a much faster app launch when used in a phone compared to cheaper memory cards, and it comes with all the other features that the SanDisk Extreme standard SD card offers.
The Extreme Pro MicroSD UHS-II is even faster. The read and write performance clocks in at an incredible 170MB/s and 90MB/s respectively with a max capacity of 1TB. Unlike the Sandisk Extreme Pro SDXC memory card, the MicroSD does not currently offer a version that is capable of 300MB/s transfer speeds.
SanDisk Ultra vs SanDisk Extreme
| | | |
| --- | --- | --- |
| | SanDisk Ultra (UHS-I) | SanDisk Extreme (UHS-I) |
| UHS speed class | U1 | U3 |
| Video speed class | V10 | V30 |
| Highest Supported Video | 1080p video | 4K video |
| Max read speed | 120MB/s | 150MB/s |
| Max write speed | Not stated | 70MB/s |
SanDisk has rightfully earned accolades for its trustworthy reputation in the storage device market, and it's easy to see why consumers may feel a little intimidated given the excellent quality that SanDisk produces.
These cards are designed to support your cameras, but the need is different for casual and professional photographers. The SanDisk Extreme memory card is built to be weather and temperature-proof and allows you to record and playback 4D Ultra HD and full HD videos with ease.
We've touched on the excellent performance of the Extreme, with its maximum write capacity of 90MB/s and a read speed of 150MB/s.
In turn, the SanDisk Ultra, which is also weather, and temperature proof, delivers a maximum transfer speed of 120MB/s, and a maximum write speed that depends on the size of the card. Typically, the write speed ranges between 60-80 MB/s.
Sale
Both the SanDisk Extreme and the SanDisk Ultra memory cards offer convenient SD card adapters that enable compatibility with any device and data recovery software that is a lifesaver if you accidentally delete something you need. In addition to this, the Extreme card is optimized for faster app launching.
So what's the verdict? Well, the SanDisk Ultra will save you some money and be perfectly fine for taking photos and full HD 1080p video footage. However, to record 4k UHD and enjoy faster transfers between your device and computer, you'll want the Sandisk Extreme.
MicroSD Card
The MicroSD cards offer pretty much the same features as the standard SD card in terms of durability and longevity. The SanDisk Ultra Micro SD delivers read speeds of 100MB/s, is compatible with the UHS-1 bus, and can capture full HD video.
If you want a slightly faster card, the SanDisk Extreme microSD will be just that, with a read speed of 120MB/s. It also gives you more storage size options, up to a whopping terabyte storage capacity. That leaves you room for hours upon hours of video files.
The differences between the two may seem minute, but over time, those small reductions in transfer times and writes to the card will add up. So, if you're a heavy user, the Sandisk Extreme will more than make up for the additional cost over the Ultra.
SanDisk Ultra vs SanDisk Extreme Pro
| | | | |
| --- | --- | --- | --- |
| | SanDisk Ultra (UHS-I) | SanDisk Extreme Pro (UHS-I) | SanDisk Extreme Pro (UHS-II) |
| UHS speed class | U1 | U3 | U3 |
| Video speed class | V10 | V30 | V90 |
| Highest Supported Video | 1080p video | 4K video | 8K video |
| Max read speed | 120MB/s | 170MB/s | 300MB/s |
| Max write speed | ~30MB/s | 95MB/s | 260MB/s |
Before we get into this, you need to understand that both these cards are excellent performers that are designed for very different target audiences. And yes, that makes a huge difference.
Both are of the Secure Digital Extreme Capacity (SDXC) card type, but the SanDisk Ultra is designed for casual and amateur photographers, while the Extreme Pro is designed for professionals.
Physically speaking, both cards are equally robust and durable. However, the difference lies in speed. Let's take a look at these two SanDisk memory cards in a little more detail:
SanDisk Ultra
Can only support 1080p HD video recording
Not ideal for DSLR or Mirrorless cameras
Better suited for points and shoot compact digital cameras, smartphones, tablets etc.
Available as SD or MicroSD cards, ranging between 32GB and 256GB of storage for the SD cards, and between 32GB and 512GB for the MicroSD cards.
10-year limited warranty
The Ultra does not deliver the best speeds and are designed for smartphones, tablets, or point-and-shoot cameras without high speed requirements.
SanDisk Extreme Pro
Designed for professional photography and videography, with a higher price to reflect that
Compatible with DSLR and mirrorless cameras as well as phones and games consoles
Available as standard SD and microSD
Storage capacity ranges between 32GB and 1TB
Lifetime limited warranty
The specs reveal a UHS speed class of U1 for the Ultra and U3 for the Extreme Pro, and simple maths tells us that the Extreme Pro is at least three times faster.
And we know that recording at higher resolutions and higher frames per second rely on being able to write onto the card at a faster speed. Both photography and videography require high-demand usage, and the Ultra's limited speeds will not cut it for 4K video or rapid burst mode shooting in RAW where the camera's internal buffer fills faster than it can write to the SD card.
We recommend going with the Ultra SD card for point-and-shoot cameras. Still, for more advanced DSLR and Mirrorless cameras, the Extreme Pro is the way to go because of its compatibility and, of course, its speed.
Memory cards are designed to last for years, and the Extreme Pro and Extreme cards come with a limited lifetime warranty, while the Ultra is limited to 10 years. This, however, does not affect performance, but the decision ultimately lies in what you intend to use it for. If you're looking for a memory card purely for taking photos, there is no reason not to go for the Ultra SD card. However, recording 4k videos and shooting in burst mode demands more speed and better performance, in which case the Extreme SD is ideal.
The latest addition to the SanDisk family is the Extreme Pro UHS-II card that promises even higher-performance video recording, maximum workflow efficiency, and super-fast burst shots. As exciting as this is, there is a bit of a downer; the long and short of it is restricted to the few cameras that can actually support the UHS-II standard.
MicroSD
We've addressed the specs of both the Ultra MicroSD and the Extreme Pro MicroSD earlier in the piece. Essentially, it is still the Extreme Pro that outperforms the Ultra in potential card capacity and performance. If you're looking for something to amp up your device's performance without spending too much, the SanDisk Ultra Micro SD card will work for you.
SanDisk High Endurance vs SanDisk Max Endurance MicroSD Cards
If you're looking for the best MicroSD cards for dash cams or home security cameras, the SanDisk High Endurance and Max Endurance cards are the ones you should be getting! These relatively recent additions to the SanDisk memory card lineup are specifically designed to record 24/7 without overheating or failing.
The High Endurance is a class 10 U3 that delivers a video speed of 30. The 256GB is rated for up to 20,000 hours of recording at 1080p – double that of its 64GB counterpart that can record for 10,000 hours. It uses what SanDisk calls "multi-level cell technology flash" and has a read and sequential write speed of 100MB/s and 40MB/s, respectively.
Sale
SanDisk 128GB High Endurance Video MicroSDXC Card with Adapter for Dash Cam and Home Monitoring systems - C10, U3, V30, 4K UHD, Micro SD Card - SDSQQNR-128G-GN6IA
Ideal for dash cams and home monitoring systems
Designed for high endurance so you can record for up to 20,000 hours with...
Built for and tested in harsh conditions; temperature proof, waterproof,...
Save more videos with capacities up to 256GB (1GB = 1,000,000,000 bytes;...
The Max Endurance, meanwhile, is a step above. It's been rated for 120,000 hours or nearly 14 years of recording at the exact resolution for the 256GB version (see comment). Both ranges offer models that feature between 32 GB and 256GB capacity, each with a different warranty ranging between 2 and 15 years.  
Sale
Both are somewhat similar in terms of their performance, and choosing between these would ultimately come down to the warranty, but for most, the affordable 128GB High Endurance will suffice.
Simpler, better, and faster is the order of the day, and it is unlikely that any professional is willing to skimp on time or quality. With that said, professionals use SD Cards, but patience will run thin if you are using unsuitable storage devices even on your mobile device. As you can see, some of the cars on this list perform better than others. However, this performance comes at a cost and may not be required for the level you're shooting at. Keep that in mind when you're deciding on which SanDisk memory card to get.
FAQ
Can I just use a microSD card with a card reader instead of an SD Card?
While microSD cards are as performant as SD cards, it's generally preferable to use a standard SD card which natively fits the SD card slot. Using a microSD card in combination with a card reader increases the number of moving parts, the technically it's more prone to failure. However, the difference is slight so the choice is ultimately not that significant.
Can I use a UHS-I card in an UHS-II card slot and vice versa?
Yes, the UHS-I and UHS-II specifications are backwards compatible. That means you can use them interchangeably. However, using a UHS-II card in a UHS-I card slot will mean your speed will be limited to UHS-I speeds.
How Many Photos can I store on a card with X GB of storage?
We've gone ahead and done the calculations for you. Find out how many photos you can store on a 32/64/128/256 GB memory card.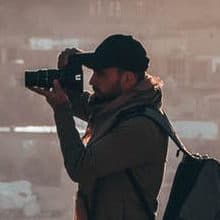 I'm a photographer and the chief editor of Capture Guide. After spending several years in parts of South America with my trusty old Nikon D7100, I'm now back home patiently waiting for borders to re-open.