If you're anything like me, a remote control might just be the single most useful accessory you can buy for your GoPro.
I've personally been using the GoPro Smart Remote (official GoPro accessory) for several months. There are numerous situations where I find myself reaching for it.
I've had the chance to test multiple remotes and feel pretty confident about writing a buying guide for them. Here are the things I'll cover:
Why you might want a GoPro remote
GoPro remote recommendations
Charging your remote
Smart Remote vs. Smartphone app
GoPro voice control – an alternative to buying a remote
Situations that call for a GoPro remote
Riding my bike: My GoPro is mounted to my helmet and the remote is mounted on the handlebar. I can extend my thumb to hit the record button and make a quick glance at its display to ensure it's actually recording.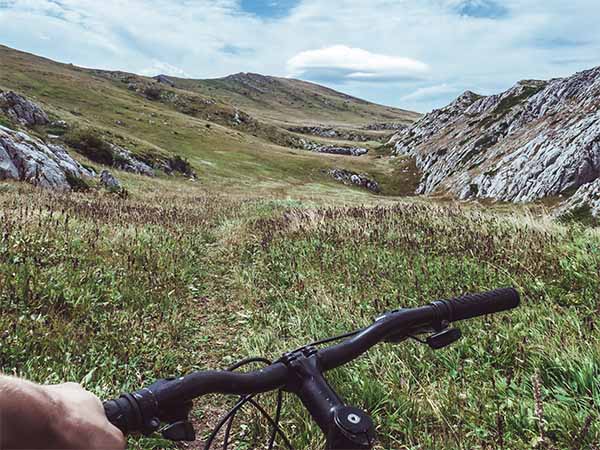 Positioned away from the GoPro: When I leave my GoPro on a tripod, using the smart remote is by far the best way to start recording.
Group photos: When I take a step back from the camera for a group shot, I don't want to rely on the GoPro's timer and pray for a good outcome. Instead, I can activate the shutter at the perfect moment.
…And I get all that use out of it as a casual GoPro user. I am positive that those engaged in extreme sports like surfing, kayaking or skydiving will find a remote control a necessity for shooting videos.
Best GoPro Smart Remote In 2021
If you're looking for the best GoPro remote control, I've got you covered.
Besides GoPro's own offerings, I've also had the chance to check out and test several unofficial remotes that are popular on the market.
Here are my most recommended GoPro remote controls, ranked in order:
Best Overall: GoPro Smart Remote
Max. range: 600 ft (180m) | Waterproof: 33 ft (10m) |Compatibility: HERO5/6/7/8 Black, HERO5 Session, Fusion, Max 360
The GoPro Smart Remote is GoPro's official remote accessory. It succeeds the older remote called the "GoPro Wi-Fi remote". Being an official GoPro accessory, it costs slightly more than unofficial remotes.

The natural upside of that is better compatibility with existing and future GoPro models. It's also manufactured with GoPro's high standards, meaning it really is waterproof up to 33ft (10m) and operational at a 600ft (180m) range in optimal conditions.

As you'd expect, you can power your GoPro on and off and hit the record button to begin recording remotely. It lets you add HiLight tags to mark key moments and the LCD display lets you know things like the remaining battery life and how long you've been recording.

One of the key features of the Smart Remote is the ability to change settings using the remote. Third-party options and even GoPro's previous Wi-Fi remote do not let you change settings using the remote. Though I don't find myself using this button much, it's definitely a neat addition.

Included in the box are a key ring and wrist strap. The wrist strap can be adjusted to attach to all kinds of gear. When cycling, I personally use this handlebar clip which makes for an elegant gear setup.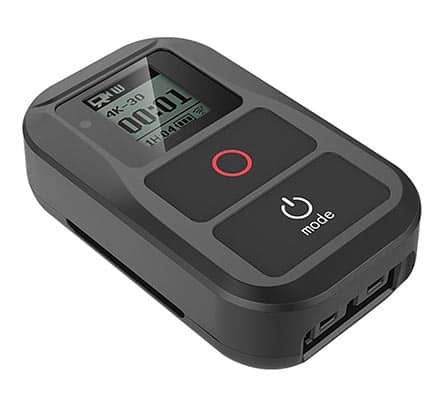 Best Unofficial: Suptig Waterproof Wireless Remote Control
Max. range: 160 ft (50m) | Waterproof: 6.5 ft (2m) |Compatibility: HERO5/6/7/8 Black, HERO4/5 Session, HERO3/3+/4
This GoPro remote from Suptig is a good choice If you want to save money and don't mind going down the unofficial route.

The design closely resembles the first-generation GoPro Wi-Fi remote. It doesn't feature a settings button like the second-generation GoPro smart remote (above), but it has all the other features including an LCD screen which displays key information.

It's definitely not the flashiest third-party GoPro remote you can buy. However, a big plus in my book is the fact it has the same mounting clip as the official remote. Most third-party options lack it, meaning you're limited to using a wrist strap or generic adjustable cradle.

Overall, it gets the job done and the fact it uses the same mounting clip as the official accessory is a big plus. However, I'd still pick the GoPro Smart Remote if you can afford it. It has superior durability, waterproofing, WiFi range and gives you the ability to change settings.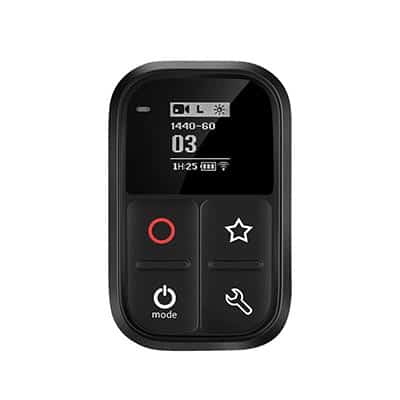 Best For Night Use: TELESIN Smart WiFi Remote Control
Max. range: 160 ft (50m) | Waterproof: 6.5 ft (2m) |Compatibility: HERO 5/6/7/8 Black, HERO 4, Session 4/5
TELESIN came close to making a worthy alternative to the official smart remote. At first glance, it looks just as good while costing less.
It lets you change settings thanks to its dedicated settings button. It even includes a programmable button that the official Smart Remote doesn't feature.
However, it's let down by two things:
Firstly, despite being IP67 waterproof, it doesn't handle contact with water well at all. I found mine let water in after dunking it in the sink, messing up the OLED screen.
Even if you don't take it underwater, it doesn't have the mounting clip that the official remote and Suptig remote has. Given how important mounting options for GoPro users are, it's a big drawback.
It does have one redeeming feature, though. That's its OLED screen which is clearly visible at night. Compare that with the LCD displays on the other remotes which would need an external light. That being said, how often do GoPro owners film videos at night?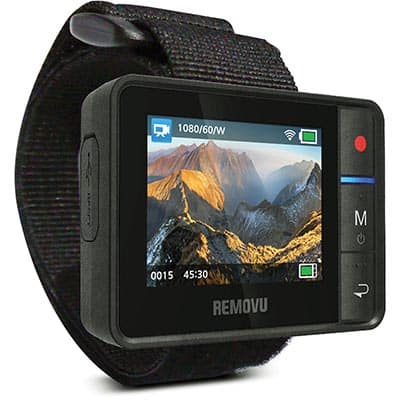 Best With Monitor: Removu R1+
Max. range: N/A | Waterproof: 3 ft (1m) |Compatibility: HERO 3/3+/4/5/6 Black, HERO4 Session
Removu have created some awesome GoPro accessories in the past. One example is the Removu S1 gimbal I previously reviewed.
The Removu R1+ is a GoPro remote control that also features a live monitor.
This means you don't need to go back to your GoPro's screen to get a live preview. Just look at the R1+'s 2.0-inch colour LCD display instead.
As neat as the R1+ is, it's simply not a good purchase anymore. Costing over $200, it's simply too expensive for what it is.
Furthermore, the HERO6 is the last generation of GoPros it supports. At this point, we can only hope someone develops a remote and monitor combo for the newer GoPros.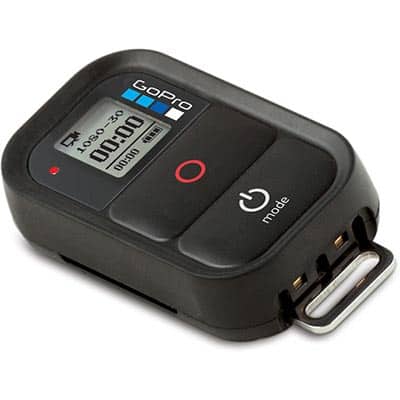 Worthy Mention: GoPro Wi-Fi Remote Control (Discontinued)
Max. range: 600 ft (180m) | Waterproof: 10 ft (3m) |Compatibility: HERO 4/5/6/7 Black, HERO 4 Silver, HERO 3+, HERO Session
No products found.
Before the release of the GoPro Smart Remote, this was the official remote control. While it doesn't officially list support for the HERO7/8 Black, you can get it to work with them.
To this day it still has a better WiFi range (600ft/180m) and waterproofing (10ft/3m) than most unofficial remotes. It also has the mounting clip that makes it better for attaching to various things.
However, I wouldn't recommend buying this now unless you find it for dirt cheap. It has 40% less battery life than the new smart remote and doesn't let you adjust settings or HiLight key moments.
Not Recommended: GoPro REMO Voice Activated Remote
Max. range: 33 ft (10m) | Waterproof: 16 ft (5m) |Compatibility: HERO5/6/7 Black, HERO5 Session, Fusion
The GoPro Remo is proof that not every official accessory is great. It's essentially a wearable wireless mic that lets you use GoPro voice commands to remotely control your GoPro.
It only works with GoPros that already feature voice controls (starting with the HERO5). It also ended compatibility with the HERO7 Black and won't work with the HERO8 Black.
So why would you need it? Well, you can place it closer to your mouth so it picks up your voice in windy or noisy environments. But it still feels rather redundant.
Furthermore, its 33ft (10m) range is far less impressive than the other remote controls. It also lacks an LCD status display which every remote needs to have, in my opinion.

Charging Your GoPro Remote
All GoPro remotes communicate using a WiFi signal. This uses energy and it does mean you will have to recharge them using the supplied USB cable from time to time.
If you use the official GoPro Smart Remote or the Suptig remote control, you might want to consider getting this triple charger.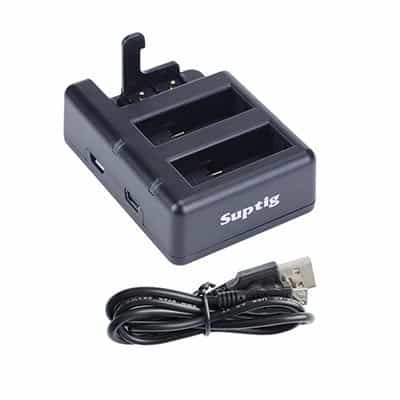 This charger has two charging ports for removable lithium ion GoPro batteries. The third port lets you dock the entire remote on (via the charging/mount clip featured on the smart remote and Suptig remote).
GoPro Smart Remote Vs GoPro App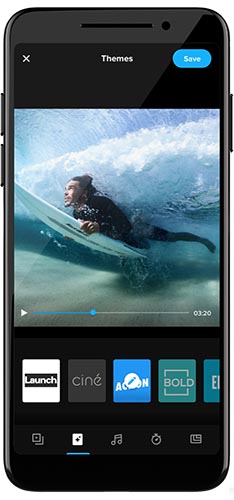 If you own a GoPro, chances are you've already downloaded the Android or iOS GoPro app. This also lets you remotely control your GoPro.
Each method of remote control has its advantages.
The smart remote is better for:
Range. The smart remote has a typical WiFi range of 200-600 feet. The GoPro app has a range of 35-50 feet.
Usability. Wearing gloves? Hands on handlebars? Using the smartphone app is next to impossible and you're much better off with the smart remote.
Harsh conditions. The smart remote is far more durable and also waterproof.
Controlling multiple cameras. I haven't tested this myself but the smart remote allows you to simultaneously control up to 50 GoPros!
The GoPro App is better for:
Live preview. Your phone's screen becomes a viewfinder and you can preview and frame your shots.
Changing settings. Changing settings from the app is much more intuitive than doing it using the smart remote.
Price. The app is free!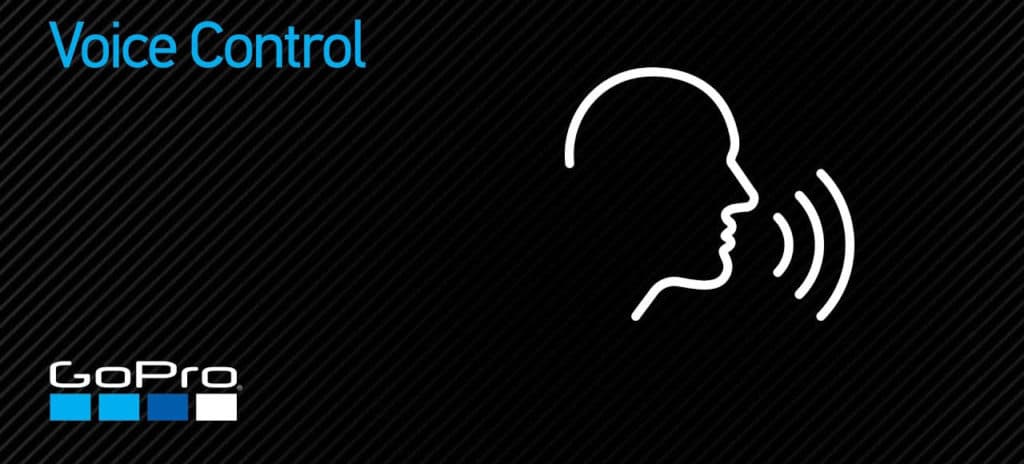 Another Alternative: Using Your GoPro's Voice Control
If your GoPro features voice control (most of the newer ones do), you can control it remotely by saying one of the voice commands.
I occassionally use voice commands, but there are some issues worth noting:
Doesn't always reliably pick up your voice.
Very limited range, even if you shout.
You don't know if you've started recording unless you look at your GoPro's status light.
Does not suit situations where you don't want to disturb your surroundings.
Final Thoughts
Hopefully you've enjoyed reading through my recommendations for GoPro remotes.
Although expensive, the official GoPro smart remote is definitely my recommendation. Its native compatibility, mounting clip and superior WiFi range and waterproofing make it worth the extra money.
If you're not quite ready to spend that much on a remote, try the GoPro app or voice control. These won't cost a cent and might satisfy your needs for the time being.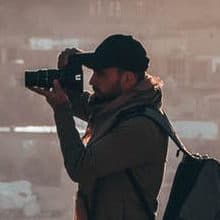 I'm a photographer and the chief editor of Capture Guide. After spending several years in parts of South America with my trusty old Nikon D7100, I'm now back home patiently waiting for borders to re-open.