When I got my hands on my first GoPro in 2013, I was eager to take it outside and use it as much as possible. However, walking around with a GoPro on a stick felt both unnatural and inconvenient. As a result, I never ended up making much use of my GoPro Hero 3+.
A couple of years later, I got into mounting biking and found a real reason for filming with a GoPro. I bought a GoPro Hero5 along with a chest mount and EVO SS Wearable Gimbal.
Since then, I've come to really appreciate the convenience of my using GoPro's voice control. There's no need to stop and fiddle with your GoPro anymore!
Does my GoPro have Voice Control?
Newer GoPros have voice commands. The GoPros that are voice command ready can understand 12 voice commands in 10 different languages.
The current voice command ready GoPros are the following, check if yours is on the list:
HERO8 Black
HERO7 (White, Silver, & Black)
HERO6 Black
Fusion
HERO5 Black
HERO5 Session
HERO (2018)
Remo
This is now a standard feature for GoPros so you can automatically assume any future GoPros will have this feature too.
If yours isn't on the list, it might be time to consider upgrading. However, there are other ways of remotely controlling your GoPro, for example through the use of the GoPro App.
What languages does GoPro Voice Control understand?
The current list of languages that GoPro voice commands can be used in are the following:
English (U.S. , U.K. and Australian)
French
German
Italian
Portuguese**
Russian**
Spanish
Chinese
Korean**
Japanese
** Voice control is not available for these languages with Remo.
How do I use GoPro Voice Commands?
Using GoPro voice commands is incredibly easy and intuitive.
You'll first need to enable voice commands by swiping down on the screen and tapping on the voice command icon. (If you need to change the language, you'll also need to go into your GoPro's settings -> voice commands and change it from there.)
Once that's done, you're all set! Your GoPro is now listening to you. Simply say any of the 12 following basic GoPro voice commands:
"GoPro Start Recording"
"GoPro HiLight" (Adds a highlight tag while recording video)
"GoPro Stop Recording"
"GoPro Take a Photo"
"GoPro Shoot Burst"
"GoPro Start Time Lapse"
"GoPro Stop Time Lapse"
"GoPro Video Mode"
"GoPro Photo Mode"
"GoPro Time Lapse Mode"
"GoPro Burst Mode"
"GoPro Turn Off"
There are also some other voice commands which are not available across all models:
"GoPro Turn On" (only with HERO7 Black, HERO6 Black, & Remo + HERO5 Black) – Learn about how it works here.
"GoPro Capture" and "GoPro Stop Capture" (HERO7 cameras only) – Start/stop capturing according to whatever mode you are in (e.g. video, timelapse, photo)
Secret GoPro Voice Commands
There are also two 'secret' voice commands that are not officially listed, but work:
"That was sick"
"Oh shit!"
These two voice commands have exactly the same effect as saying the "GoPro HiLight" command and will add a highlight tag while recording video. Pretty cool, huh?
Other ways to remotely control your GoPro
There are a few other ways to control your GoPro without actually having to touch the GoPro itself:
GoPro App with your smartphone
GoPro Smart Remote (compatible with GoPro HERO3 and up)
GoPro REMO waterproof voice-activated remote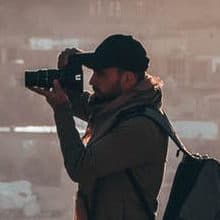 I'm a photographer and the chief editor of Capture Guide. After spending several years in parts of South America with my trusty old Nikon D7100, I'm now back home patiently waiting for borders to re-open.