Whether it's a monopod, tripod, Steadicam, shoulder rig, easy rig or a gimbal–you really ought to have some stabilization solution as a filmmaker. There's no doubt that 3-axis gimbals are all the rage nowadays, though, since they make professional-level stabilization possible for everyone.
A 3-axis gimbal stabilizer essentially counteracts unwanted movements resulting from camera shake by intelligently creating an equal and opposite motion in the pan, tilt, and roll axes. They're not cheap, but they're also not prohibitively expensive, especially when the price is compared to the cost of your camera, lens, and other accessories.
Today, the gimbal market is both crowded and confusing, with seemingly every manufacturer releasing multiple gimbals each year with names that all sound similar to one another. DJI and Zhiyun are no doubt the big boys here, but the Moza gimbals from Gudsen also present some real competition.
In this buyer's guide, I'll be running you through the best gimbals for mirrorless cameras, DSLRs, and Cinema cameras like the Blackmagic Pocket 6K. The main thing to remember is that these days the image stabilization performance is becoming pretty even among different models, meaning the things you want to be comparing are things like weight, packability, accessory compatibility, payloads, battery life, and ergonomics.
Best Mirrorless And DSLR Gimbals At A Glance
Here are my top 3 current recommendations:
…and here are some other options worth considering:
Now let's take a look at each of these gimbals in more detail…
Despite starting out as a drone manufacturer, there is no doubting that DJI is the most prolific gimbal manufacturer of today. While they dominated the mobile and professional gimbal market, they didn't have an under $1000 handheld gimbal for DSLR and mirrorless camera owners who sat in between.
That was until the release of the Ronin-S in 2018, which was so highly anticipated it sold out during pre-orders. It didn't disappoint. The DJI Ronin-S was probably the closest thing to a perfect DSLR and mirrorless gimbal you could get at the time. This was my go-to gimbal, and it is only this updated version from DJI, the RS2, that has made me replace the Ronin-S for good.
The build quality of the RS2 is simply a cut above the rest. Zhiyun, DJI's main competitor in this space, has a tendency to produce slightly cheaper feeling, plasticky gimbals – and that goes for its more expensive models as well. By comparison, the RS2 feels incredible in the hand and is built from carbon fiber, a first of its kind. This makes it considerably lighter than its rivals, which is something you'll really come to appreciate when filming over a long day.
With a maximum payload of 10lbs (4.5kg), the DJI RS2 can comfortably accommodate Four Thirds and APS-C mirrorless cameras as well as most DSLRs and full-frame cameras. There are gimbals that can support even heavier setups, but the RS2 excels in not having the gimbal arms obstruct the camera, thanks to adjustability not just from the sliding plate, but also the roll motor, meaning you get plenty of clearance at the back.
Other standout features of the DJI RS2 include its excellent battery life and the fact it packs down so well. The battery life is rated at 12 hours, though realistically you can expect around 6-8 hours. One of the best things about the battery is that it isn't built-in meaning you can replace it by buying a new grip. Most cheaper gimbals have an internal battery built into the body, meaning over time you will need to replace the whole gimbal when the battery begins to die.
One thing that I do think DJI could improve is the usability in underslung modes. Basically, using the RS2 underslung for those low-angle shots means you'll have to take off the foldable tripod/grip attachment under the main grip and relocate it behind the camera. This is all fine and dandy until you need to rest the camera on a surface – since the tripod legs are being used as the briefcase grip, you need to go through the whole process of unscrewing it and screwing it back onto the main grip. Slightly annoying, but not a dealbreaker, since if it really bothers you you can purchase another foldable tripod.
Owners of large cinema cameras will definitely want to look into how theirs plays with the DJI RS2, as this would really be pushing the gimbal to its limit and might require the use of counterweights. In any case, any sizeable cinema camera will probably be better off with the Zhiyun Crane 3S which was designed with huge cinema cameras in mind, or something else entirely. You can check the official compatibility of the DJI RS2 with your camera here: https://www.dji.com/uk/support/compatibility.
Zhiyun's Weebill-S was an incredibly successful product release for the company, so it's no wonder they went all out with the Weebill 2 and came up with something that wouldn't disappoint.
The Weebill series isn't really a direct answer to the aforementioned DJI RS2 or the more affordable DJI RSC2. Instead, it's slotted between the two, price-wise, though it is also the smallest of the bunch. That means it's basically it's a gimbal that is either a slightly cheaper alternative to the DJI RS2, or a premium alternative to the DJI RSC2, depending on how you want to look at it.
At $549, the base package is priced slightly higher than the DJI's budget gimbal, the RSC2. However, to get the sling grip handle, which is arguably one of the best things about the Zhiyun Weebill 2, you need to get the 'Combo' package, which increases the difference further. If you want to equip it with an image transmitter and focus/zoom control motor, you'll need the Pro or Pro+ package which cost $899 or $1099 respectively. That's basically the same price as the DJI RS2 'Pro Combo' package (which includes the DJI RavenEye Image Transmitter and other goodies), and at that point, you might as well just be getting the RS2.
That's not to say the Zhiyun Weebill 2 is just plain inferior to the DJI RS2. It's not, and it has some areas where it beats the DJI. The biggest wins are in its bigger, better-placed LCD touchscreen display and superior briefcase grip for underslung recording. The image stabilization performance is also right up there with the RS2, despite it being physically more compact.
However, the DJI RS2 beats the Zhiyun Weebill 2 in several key areas, which is why the Weebill 2 is my runner-up and not the winner. Firstly, the Weebill 2's battery life is rated at 9 hours, and realistically you only get around half of the operating time as the RS2 on a full charge. Secondly, the battery is built-in, which makes the Weebill 2 is less future-proof than the DJI RS2. Finally, and probably most importantly, the build quality is a notch below that of the DJI RS2, which is in a class of its own.
With a maximum payload of 7.3lbs (3.3kg), the Weebill 2 can't support as big a payload as the DJI RS2, but it can handle more than the DJI RSC2. While the Zhiyun store mentions several larger cameras such as the Lumix S1H and BMPCC 6K as being compatible, I'd be wary of the compatibility chart because some people have claimed the Lumix S1H with LUMIX S 24-105 F/4 Macro OIS lens as not even being close to usable.
Overall, the Zhiyun Weebill 2 is a really solid gimbal and deserving of a mention, it's just that it finds itself in a weird spot in today's market. If you're trying to save some money, the DJI RSC2 or Gudsen Moza Air 2S present better value for money than the base Weebill 2. And if you want something a bit more premium, a kitted-out Weebill 2 costs basically as much as the DJI RS2, which is better in several ways.
There aren't many consumer gimbals that aren't made by DJI or Zhiyun these days, but Moza has always been in their shadows, giving buyers another choice. Often, Moza gimbals really deliver on value for money, and the Moza Air 2S does precisely that.
The original Moza Air was a real hit, so when the Moza Air 2 was released with various issues such as lack of USB-C, people were understandably disappointed. The Moza Air 2S, which improves the Moza Air 2 in several ways (and takes inspiration from the Moza AirCross 2), puts Gudsen right back on the radar.
The value for money on the Moza Air 2S is excellent. For under $500, you essentially get a jacked-up DJI RSC2, which is the $500 gimbal everyone talks about. Compared to the DJI, the Moza gives you an improved 20-hour battery life, a higher payload of 9.3lbs (4.2kg), and additional attachment options (such as a useful hot shoe mount) on the side and back. The box is also stuffed with a generous amount of accessories, too.
A particularly unique feature you get with the Air 2S is the 'smart micro handwheel', which is a focus and zoom wheel that can be controlled with much more precision than the standard type of focus wheel you find anywhere else. It's also got a nice AI-assisted calibration and balance check option that means you don't have to spend much time getting things set up at all.
The torque of the motors can comfortably handle heavier camera and lens combinations and image stabilization performance is solid. The 3-axis gimbal also offers 3 special shooting modes, called inception, FPV and Sport Gear mode.
While the Gudsen Moza Air 2S is my current recommendation for a budget gimbal for mirrorless and DSLR cameras, the ultra-popular DJI RSC2 is also worth mentioning.
On paper, it's not quite as impressive as the similarly priced Moza Air 2S. For starters, it only supports a payload of 6.6lbs (3.3kg). Then again, that's substantially better than its predecessor (DJI Ronin-SC), which only supported weights of up to 4.4lbs (2kg). This means, unlike its predecessor, it doesn't encounter issues with fairly popular full-frame cameras like the Sony Alpha 7 III that are paired with heavier lenses.
It also lacks some of the standout features of the Moza Air 2S, such as its extended battery life and smart micro handwheel for smoother focus control.
However, RSC2 does offer a much better 'Pro Combo' package which gets you everything from a focus motor, image transmitter, and more. I am not even sure Moza Air 2S has an official image transmitter, so when it comes to package and accessory options, the DJI RSC2 takes home a big win.
Overall the DJI RSC2 is a great gimbal for the price. And given DJI's solid track record and how popular it is, you can expect it to be well supported into the future. The RSC2 Pro Combo package is especially interesting, considering there are few other options when it comes to a full gimbal and accessory kit for $739.
One area DJI has missed is a gimbal that supports large cinema cameras. The RS2 is its flagship consumer/prosumer gimbal, and while it can accommodate popular cinema cameras like the BMPCC 4K/6K, it can't support the likes of a Sony FX9 camcorder or RED cinema camera.
That's where the Zhiyun Crane 3S, with its impressive 14.3lbs (6.5kg) maximum payload, steps in. Zhiyun designed the Crane 3S as a small gimbal for big cameras, meaning it's a 3-axis gimbal that can be used with professional cameras that are typically stabilized with much more complicated rigs and vests.
Of course, Zhiyun also made sure to offer plenty of clearance between the mounted camera and gimbal arms, so you simply won't have trouble balancing even the heaviest setups.
What might surprise you is the cost, which is actually less than that of the DJI RS2 and closer to the price of the Zhiyun Weebill 2.
The reason it costs less than those two is because it's a fairly unremarkable, bare-bones gimbal outside of its motor torque and balancing power. You don't have the fancy touch screen LCD display of the Weebill 2, or the carbon fiber construction of the DJI RS2. On the topic of the Carbon Fiber RS2, the Crane 3S is over two times heavier than the RS2 (5lbs vs 2.36lbs).
That means while the Crane 3S is one of the few gimbals that works with certain camcorders and cinema cameras, most people will be better off with a gimbal like the DJI RS2 or Zhiyun Weebill 2. For virtually every mirrorless camera, DSLR camera and pocket cinema camera, you would basically be paying for a whole lot of power that you simply don't need.
Gimbals are big pieces of equipment that you don't just spontaneously throw in your backpack on the off chance you encounter something worth recording. While they're considerably smaller than a vest and rig, they're just not that portable. However, the Crane M3 is a subcompact 3-axis camera gimbal that comes very close to that.
Weighing just 1.6lbs (0.7kg) and measuring 9.4 inches (24cm) long when folded down, the Crane M3 is the smallest gimbal capable of comfortably handling a payload of around 3.3 lbs (1.5kg). This means it can carry virtually all APS-C mirrorless cameras and many full-frame cameras like the Sony A7R iv with a Prime lens like the Sony FE 20mm F1.8G.
The Crane M3 is surprisingly capable of handling heavier payloads, but just be aware that movement in one or more axes may be slightly restricted on bigger cameras. This is expected for the size, and it's rarely a big issue since you won't normally pan, tilt or roll so much that you're hitting the extremes of the gimbal's movement range.
Interestingly, Zhiyun also markets this compact gimbal as one that's simultaneously suitable for use with an action camera like the GoPro HERO10 or smartphone. The "Combo" package includes a smartphone adapter that makes it a nice alternative to a dedicated smartphone gimbal like the DJI OM5.
The gimbal also manages to pack in a number of great features given its size. There's a handy color LCD display and built-in 800 lumen LED light which isn't as good as having a personal lighting assistant around, but still pretty neat nonetheless.
Because this is a gimbal with a fairly unique form factor and one that's not really designed for professional use, it uses a proprietary quick release plate which means it is slightly less flexible than more expensive midsize gimbals which often use a more standard Manfrotto plate. However, Zhiyun have also released custom TransMount plates for popular cameras like the Fujifilm X-T4, Sony ZV-E10, Canon M50, Nikon Z fc, and more.
Upgrading to the Crane M3 Pro package not only gets you a nice EasyGo backpack that fits the gimbal and your camera, but also gives you a shotgun microphone and the expansion base. The expansion base is needed to use the shotgun mic for better audio capture, as well as allow use with the wireless image transmission module (sold separately).
Overall this is a great gimbal for travel vloggers or more casual users who simply can't justify lugging around a huge gimbal wherever they go. The stabilization performance is almost as good as the other gimbals listed here, though you'll need to make sure you're using it in conjunction with your camera's IBIS or lens stabilization.
Ah, the good ol' glidecam. Before 3-axis gimbal stabilizers were a thing, Glidecams were the go-to accessory for video stabilization at a reasonable price.
Even in this era of electronic gimbals, glidecams serve a purpose. Amounting to little more than a stick with some weights on it, they stabilize footage using the basic laws of motion.
The resulting footage has a floatier and organic feel which can, at times, be desirable. With skilful operation and IBIS or lens stabilization (or, better yet, dual IS), you might be surprised by the outcome. You don't have to worry so much about breaking it, either.
However, there is no doubting that it is difficult to achieve the same level of stabilization using a glidecam or rip-off glidecam. They require a high level of operator skill and even then the footage might not be satisfactory.
More Buying Tips
How do gimbals compare to other video stabilization methods?
Gimbals are relatively new technology, only made possible by intelligent software that reacts to motion-detecting sensors. It's only recently that they've dropped to a price that is not only cheaper than traditional stabilizing gear, but now there are consumer-grade gimbals that are affordable for YouTubers, amateur filmmakers and those who simply pursue videography as a hobby.
Not only are they accessible to non-professionals, they are also easier to use, much lighter and potentially provide superior stabilization overall. There is no doubt that to achieve the smoothest video on a budget and relative ease, gimbals are currently the way to go.
What are pan-follow, follow, locked and tracking modes?
A gimbal is able to make adjustments in three axes using its three brushless motors: pan, roll and tilt.
Pan-following keeps the horizon straight by locking the roll and tilt but following any movements you make in the pan axis. Follow mode will not lock any axis, but eliminate jitter by making micro adjustments which smooth out each and every movement. Finally, locked mode locks the camera's orientation, meaning your camera lens will stay pointed at the same target.
Some gimbals feature tracking, which uses AI to keep the camera pointed at an object you specify.
I purchased a gimbal but the footage isn't perfectly smooth. Should I return it?
DSLR and mirrorless camera gimbals should be perfectly balanced before operating the gimbal. Afterwards, you'll need to go into the settings and do some fine-tuning. I've used many gimbals in the past and it typically takes a few days of recording to get to a point where I'm happy. Last but not least, there is some skill in using a gimbal, so don't expect your new fancy gadget to do everything for you.
Conclusion
The gimbal market for filmmaking cameras has matured a lot since its early days, and now there is a gimbal for every type of user.
For the majority of people who have a mirrorless camera (Four Thirds, APS-C and Full Frame) or DSLR, the DJI RS2 is my go-to recommendation. That, or the older DJI Ronin-S (which is also very good). They're not without their faults, but they have the best build quality and feel more intuitive to use than gimbal offerings from Zhiyun, Gudsen and Tilta.
However, if your budget is limited, the Moza Air 2S, DJI RSC2 and even the base Zhiyun Weebill 2 are what you should be considering. Meanwhile, if portability is the main concern, the Crane M3 is worth a look.
Of course, you need to make sure your camera and lens combos are compatible with whatever gimbal stabilizer you decide to buy. If you have a fairly standard camera like the Sony A6600 or Canon EOS 90D, then you can confidently trust what the manufacturer says, since these aren't edge cases. But with something like a Blackmagic Pocket 6K or Canon C70, you almost certainly want to ask around.
Also, don't be afraid to go for a discontinued gimbal. Older models like the Ronin-S and Zhiyun Weebill-S are still solid options if you can get them at a reduced price.
I hope you enjoyed reading through this buyer's guide. Please leave a comment if you have any feedback or would like to put forward your own recommendation.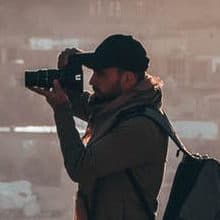 I'm a photographer and the chief editor of Capture Guide. After spending several years in parts of South America with my trusty old Nikon D7100, I'm now back home patiently waiting for borders to re-open.