Whether it's a monopod, tripod, Steadicam, shoulder rig, easy rig, or a gimbal, you should have some stabilization solution as a filmmaker. 3-axis gimbals are becoming the go-to for people wanting professional-level stabilization without breaking the bank and arguably constitute essential filmmaking equipment.
A 3-axis gimbal stabilizer essentially counteracts unwanted movements resulting from camera shake by intelligently creating an equal and opposite motion in the pan, tilt, and roll axes. They're not cheap, but they're also not prohibitively expensive, especially when the price is compared to the cost of your camera, lens, and other accessories.
Today, the gimbal market is both crowded and confusing, with seemingly every manufacturer releasing multiple gimbals each year with names that all sound similar to one another. DJI and Zhiyun are no doubt the big players here, but there are also offerings from other brands that are worth considering.
In this buyer's guide, we'll run you through the best gimbals for mirrorless cameras, DSLRs, and Cinema cameras (like the Blackmagic Pocket 6K). The main thing to remember is that nowadays the actual image stabilization performance is pretty close across different models, meaning what you really want to focus on comparing are things like weight, packability, accessory compatibility, payloads, battery life, and ergonomics.
In This Guide
---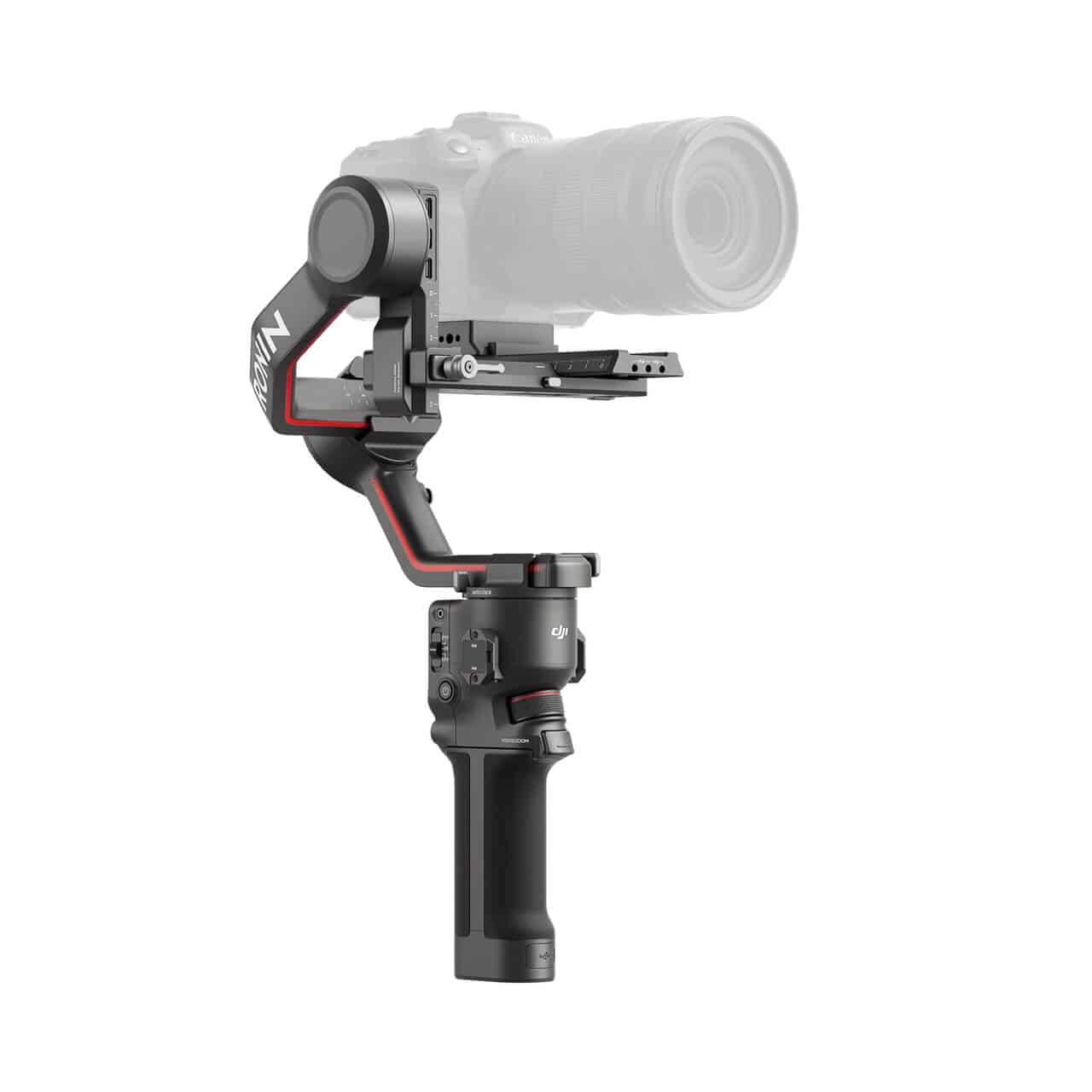 Best for most people
Auto-locking and wireless Bluetooth control further improve upon the already excellent DJI RSC2.
Maximum Payload:
6.6lbs (3kg)
Accessory Connections:
NATO Ports, 1/4"-20 Mounting Hole, Cold Shoe, USB-C
Excellent stabilization performance
No need to tether camera to gimbal with cable
Auto-locking feature
Intuitive 1.8-inch touchscreen
May run into issues with long lenses
DJI started out as a drone manufacturer, but the overlapping technology meant that they had a huge head start in pioneering the gimbals that are popular today. They're without a doubt the most prolific gimbal manufacturer today and their gimbal offerings cover every corner of the market.
The DJI RS3 is their latest standard gimbal offering designed with mainstream cameras in mind. This includes smaller APS-C bodies like the Fujifilm XT-4 and full-frame hybrids like the Sony A7IV. Chunkier cinema cameras like the BMPCC 6K or Canon C70 aren't officially compatible, and if the kind of camera you have then you'll have to spend extra for the DJI RS3 Pro.
From build quality to usability and stabilization performance, the RS3 is unmatched at its price point. It is technically the direct successor to the highly praised DJI RSC2, but it manages to improve in several areas.
Most notable is the introduction of automatic axes locking, which basically means there's no need to manually flip switches on individual arms when the gimbal isn't on; instead, simply power it off and watch the RS3 do its thing.
Another huge usability improvement over its predecessor is wireless Bluetooth control, which means you don't have to physically tether your camera to the gimbal using a cable to be able to control the camera via the gimbal's controls.
Other key improvements include the replacement of the basic 1-inch OLED display on the RSC2 with a pretty 1.8-inch OLED color touchscreen, as well as the improved 3rd-Gen stabilization algorithm. According to DJI, the 3rd-Gen algorithm results in a 20% performance improvement over the RSC2's Titan Stabilization algorithm.
A nice feature of the RSC2 that didn't make its way to the RS3 is the ability to be folded down, with the RS3 instead letting you detach the battery grip. But the RS3 does introduce a physical control for switching between shooting modes (Pan Follow, Pan Tilt Follow, and FPV) which makes on-the-fly mode switching a breeze.
With the gimbal market slowly consolidating, it's becoming increasingly difficult to recommend gimbals that aren't manufactured by DJI. And for most folk, the RS3 is the gimbal to go for.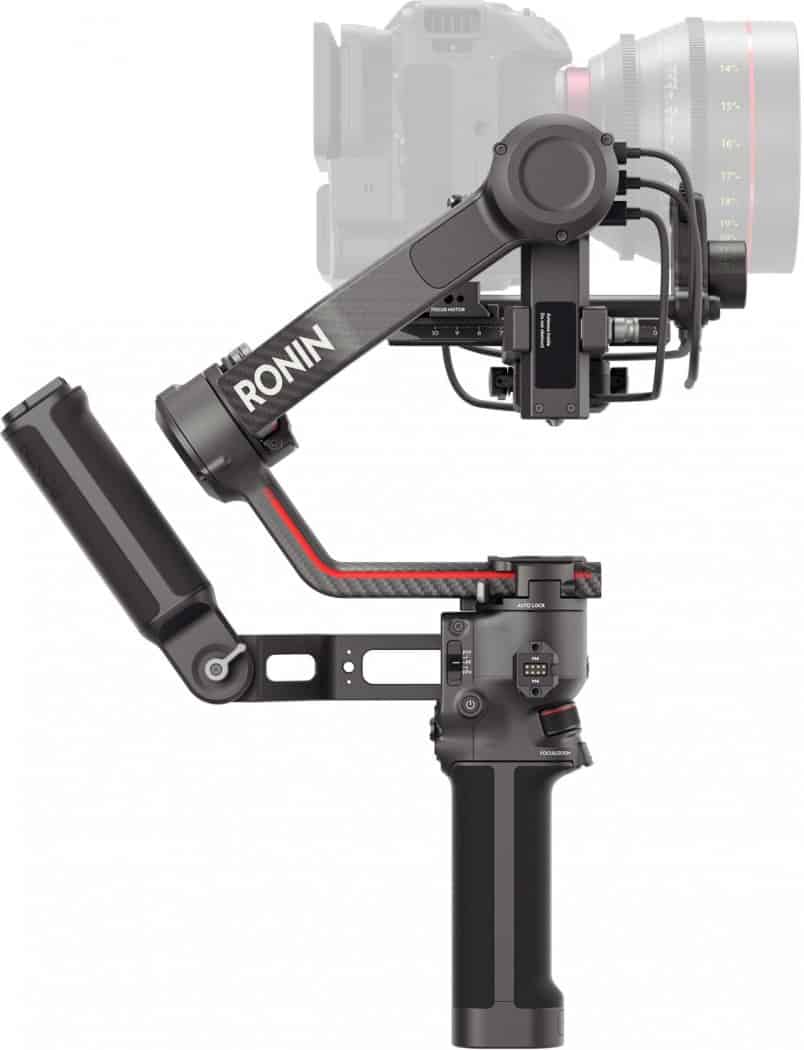 For Bigger Payloads
The DJI RS3 Pro is the ultimate gimbal for heavier setups, and for those who want to take advantage of the full DJI ecosystem.
Maximum Payload:
10lbs (4.5kg)
Accessory Connections:
RSA/NATO Ports, 1/4"-20 Mounting Hole, Cold Shoe, USB-C
Accommodates cine cameras and kitted-out mirrorless setups
Carbon fiber construction
Image Transmitter and LiDAR rangefinder support
While the DJI RS3 is recommended for most buyers, the DJI RS3 Pro targets two specific groups: those with bigger camera setups and those who with specific shooting needs.
The biggest draw of the RS3 Pro is definitely the ability to support 50% heavier payloads over the standard model, as well as physically bigger bodies and longer lens barrels thanks to a longer extension arm. All this is made possible with a fairly minimal increase in the weight of the gimbal itself because the RS3 Pro's body is constructed from carbon fiber as opposed to the aluminum alloy used in the standard RS3.
When it comes to 'pro' features, the RS3 Pro can be used with the optional RavenEye image transmitter, as well as an optional LiDAR rangefinder. Both accessories yield improved autofocus performance, with LiDAR unlocking the full 'ActiveTrack Pro'. The RS3 Pro also benefits from faster charging compared to the RS3, as well as RSA ports for extra accessory compatibility.
It's worth noting that the RS3 Pro isn't only worth it if you own a bigger camera like a BMPCC 6K or RED Komodo, or if you need the 'pro' features. It also provides those with normal-sized cameras more flexibility and peace of mind when it comes to using additional accessories (e.g. microphone) and bigger lenses.
Overall the DJI RS3 Pro is a fairly straightforward upgrade to the RS3, but just make sure you'll actually take advantage of its more powerful motors or professional features.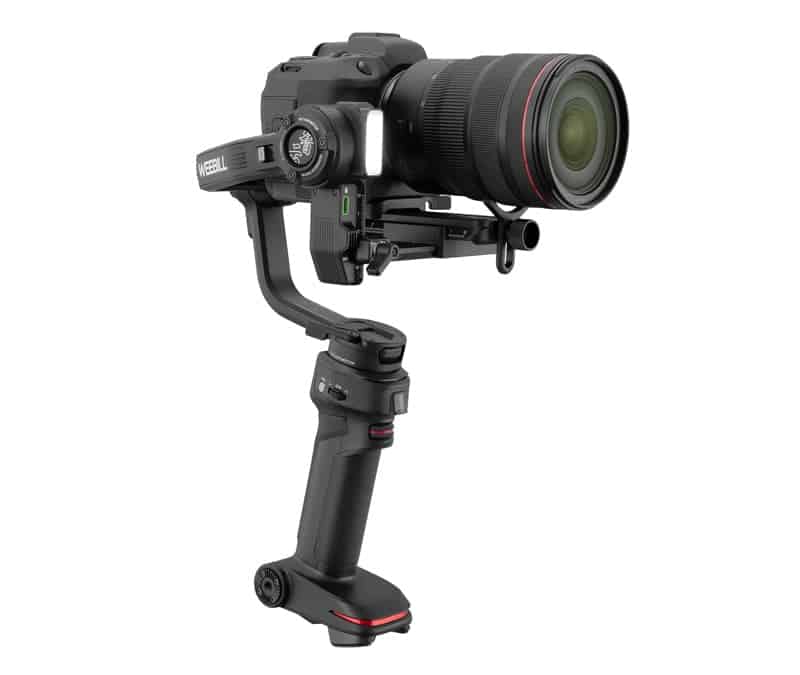 Notable Mention
An otherwise solid gimbal, the Zhiyun Weebill is let down by odd design decisions across the board.
Maximum Payload:
Undisclosed
Compact and Lightweight design
Sling grip for creative angles
Excellent image stabilization
Awkward control placement
Fill light filter and built-in mic are gimmicky
Proprietory quick-release plate
Alongside DJI, Zhiyun is the other big name when it comes to gimbal makers. Over the years they've proven themselves to be a worthy competitor, although their innovations tend to be rather hit or miss. While the Zhiyun Weebill 3 is a great gimbal for mirrorless cameras, it is unfortunately overshadowed by the aforementioned DJI RS3 which is just a better gimbal in almost every regard.
Strange design decisions across the board ultimately amount to a disappointing gimbal. The grip is slightly small and uncomfortable to use, even for those with average-sized hands. The primary controls are located to the left of the grip, immediately excluding left-handed shooters. The gimbal uses a proprietary plate instead of a the Arca-Swiss quick release plate used by the DJI RS3.
All these small nuisances just aren't a problem with the DJI RS3. The RS3 also deals two major blows to the Weebill 3 by having wireless Bluetooth control (not necessary to physically tether to the camera with a cable) and auto locking.
The Weebill 3 does, however, have small wins of its own. Zhiyun claims it can last up to a whopping 21 hours on a single charge, which is 9 hours longer than the RS3. It also has a built-in mic and a built-in fill light. However, the mic and fill light are gimmicky in nature, solving a problem that never really existed. Some casual vloggers may appreciate these features, but both are better replaced with something that does the job better.
Related: DJI RS3 vs Zhiyun Weebill 3 comparison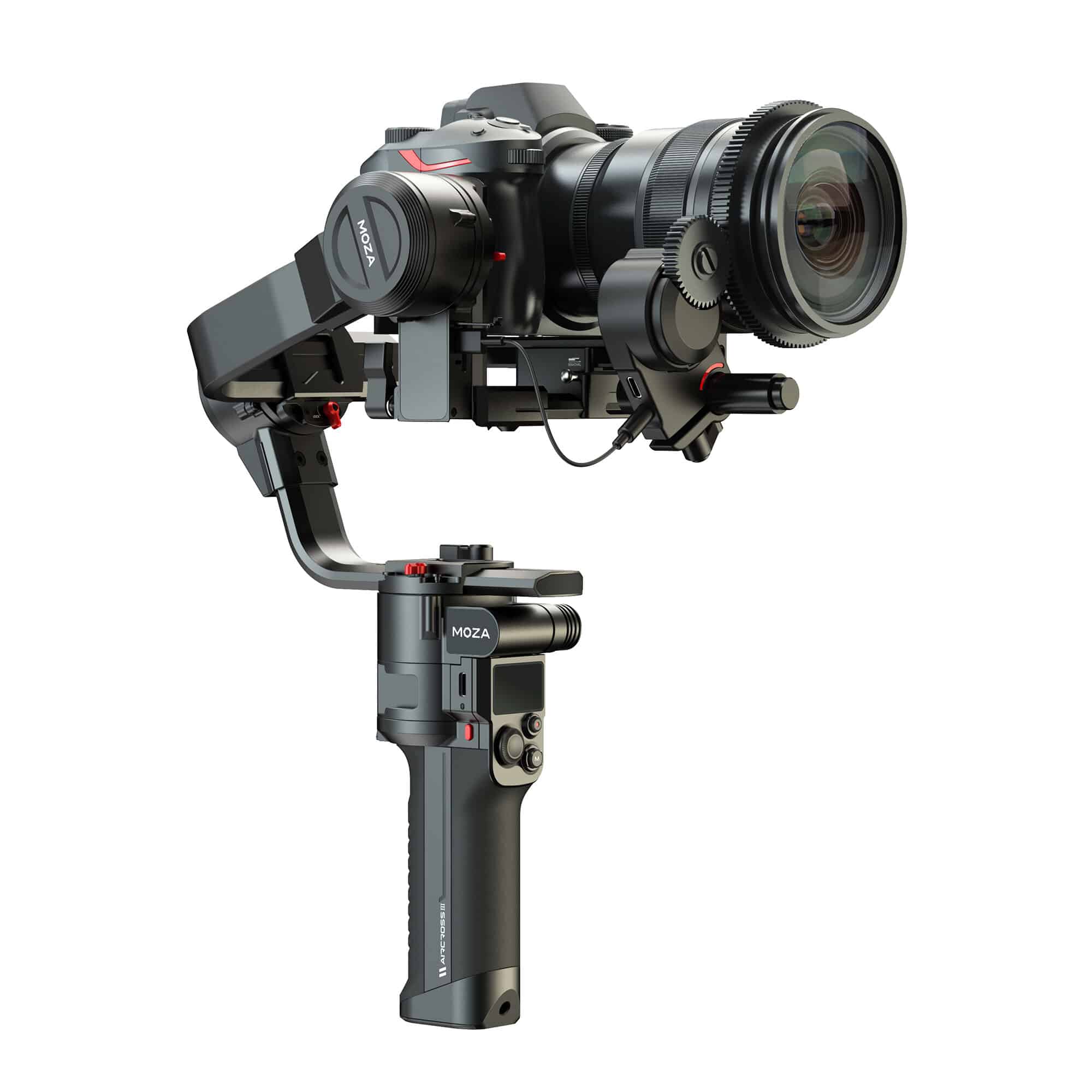 Notable Mention
The AirCross 3 has some interesting features, but the construction isn't as solid as the DJI or Zhiyun offerings.
Maximum Payload:
7lbs (3.2kg)
Transformable and foldable design
Affordable
Can be paired with Moza Slypod monopod
Build quality and durability concerns
Gudsen might not be as well known as DJI or Zhiyun, but they've survived long enough to provide prevent the market from becoming a duopoly. The Moza Air and Air 2S were great gimbals in their time, and while the Moza AirCross 3 isn't perfect, it's a solid gimbal that has a few neat tricks up its sleeve.
The standout feature is its transformability, which lets you hold it and record in four different configurations. These include the classic one-handed grip, underslung grip, two-handed grip and in extended mode with the optional Moza Slypod sliding monopod.
The AirCross 3 is also foldable, folding down to the size of an A4 sheet of paper. There are plenty of foldable gimbals on the market, but the Aircross 3 does fold down to more compact dimensions compared to its rivals.
Unfortunately, the timing of the Aircross 3's release was rather unfortunate, as the RS3 was right around the block. The Aircross 3 feels rather dated by comparison, and it also doesn't benefit from the more developed ecosystems or superior software of DJI and Zhiyun.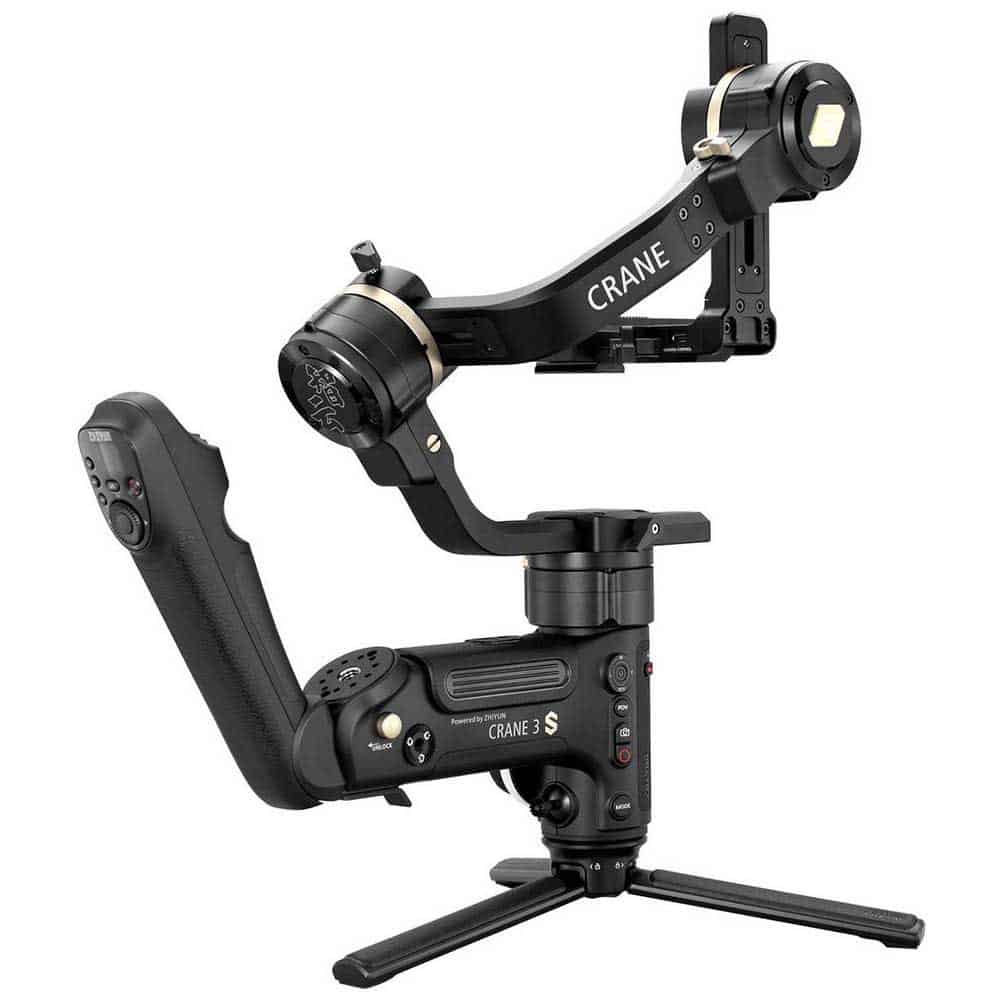 For the heaviest setups
The Crane 3S is useful in certain scenarios but is too heavy for daily run-and-gun handheld video shooting.
Maximum Payload:
14.3lbs (6.5kg)
Powerful motors can balance cine gear
Different carrying options
Very heavy
Limited features
One area DJI has missed is a gimbal that supports very large cinema cameras. The RS3 Pro is its flagship consumer/prosumer gimbal, and while it can accommodate popular cinema cameras like the BMPCC 4K/6K, it can't support the likes of a Sony FX9 camcorder.
That's where the Zhiyun Crane 3S, with its impressive 14.3lbs (6.5kg) maximum payload, steps in. Zhiyun designed the Crane 3S as a small gimbal for big cameras, meaning it's a 3-axis gimbal that can be used with professional cameras that are typically stabilized with much more complicated rigs and vests.
Of course, Zhiyun also made sure to offer plenty of clearance between the mounted camera and gimbal arms, so you simply won't have trouble balancing even the heaviest setups.
What might surprise you is the cost, which is actually less than that of the DJI RS3 Pro and closer to the price of the Zhiyun Weebill 3.
The reason it costs less than those two is that it's a fairly unremarkable, bare-bones gimbal outside of its motor torque and balancing power. You don't get a fancy touch screen, or the carbon fiber construction of the DJI RS3 Pro. With its aluminum construction, the Crane 3S ends up being over two times heavier than the RS2 or RS3 Pro.
That means while the Crane 3S is one of the few gimbals that works with certain camcorders and cinema cameras, most people will be better off with a gimbal like the DJI RS3 Pro or Zhiyun Weebill 3. For virtually every mirrorless camera, DSLR camera, and pocket cinema camera, you would basically be paying for a whole lot of power that you simply don't need.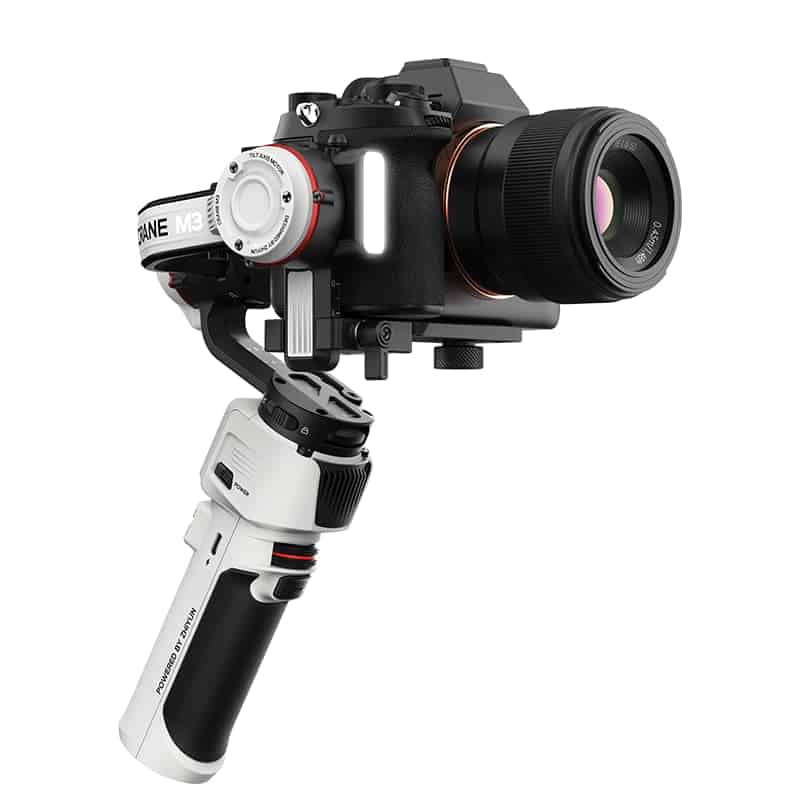 Best Subcompact Gimbal
Only slightly bigger than a smartphone gimbal, the Crane M3 is good for creators who want to pack light.
Maximum Payload:
4.85lbs (2.2kg)
Lightweight and portable
Good performance with APS-C and Mico Four Third cameras
Finicky controls
Full frame cameras will push it to its limits
Gimbals are big pieces of equipment that you don't just spontaneously throw in your backpack on the off chance you encounter something worth recording. While they're considerably smaller than a vest and rig, they're just not that portable. However, the Crane M3 is a subcompact 3-axis camera gimbal that comes very close to that.
Weighing just 1.6lbs (0.7kg) and measuring 9.4 inches (24cm) long when folded down, the Crane M3 is the smallest gimbal capable of comfortably handling a payload of around 3.3 lbs (1.5kg). This means it can carry virtually all APS-C mirrorless cameras and many full-frame cameras like the Sony A7R iv with a Prime lens like the Sony FE 20mm F1.8G.
The Crane M3 is surprisingly capable of handling heavier payloads, but just be aware that movement in one or more axes may be slightly restricted on bigger cameras. This is expected for the size, and it's rarely a big issue since you won't normally pan, tilt or roll so much that you're hitting the extremes of the gimbal's movement range.
Interestingly, Zhiyun also markets this compact gimbal as one that's simultaneously suitable for use with an action camera like the GoPro HERO10 or smartphone. The "Combo" package includes a smartphone adapter that makes it a nice alternative to a dedicated smartphone gimbal like the DJI OM5.
The gimbal also manages to pack in a number of great features given its size. There's a handy color LCD display and built-in 800 lumen LED light which isn't as good as having a personal lighting assistant around, but still pretty neat nonetheless.
Because this is a gimbal with a fairly unique form factor and one that's not really designed for professional use, it uses a proprietary quick release plate which means it is slightly less flexible than more expensive midsize gimbals which often use a more standard Manfrotto plate. However, Zhiyun has also released custom TransMount plates for popular cameras like the Fujifilm X-T4, Sony ZV-E10, Canon M50, Nikon Z fc, and more.
Upgrading to the Crane M3 Pro package not only gets you a nice EasyGo backpack that fits the gimbal and your camera but also gives you a shotgun microphone and the expansion base. The expansion base is needed to use the shotgun mic for better audio capture, as well as allow use with the wireless image transmission module (sold separately).
Overall this is a great gimbal for travel vloggers or more casual users who simply can't justify lugging around a huge gimbal wherever they go. The stabilization performance is almost as good as the other gimbals listed here, though you'll need to make sure you're using it in conjunction with your camera's IBIS or lens stabilization.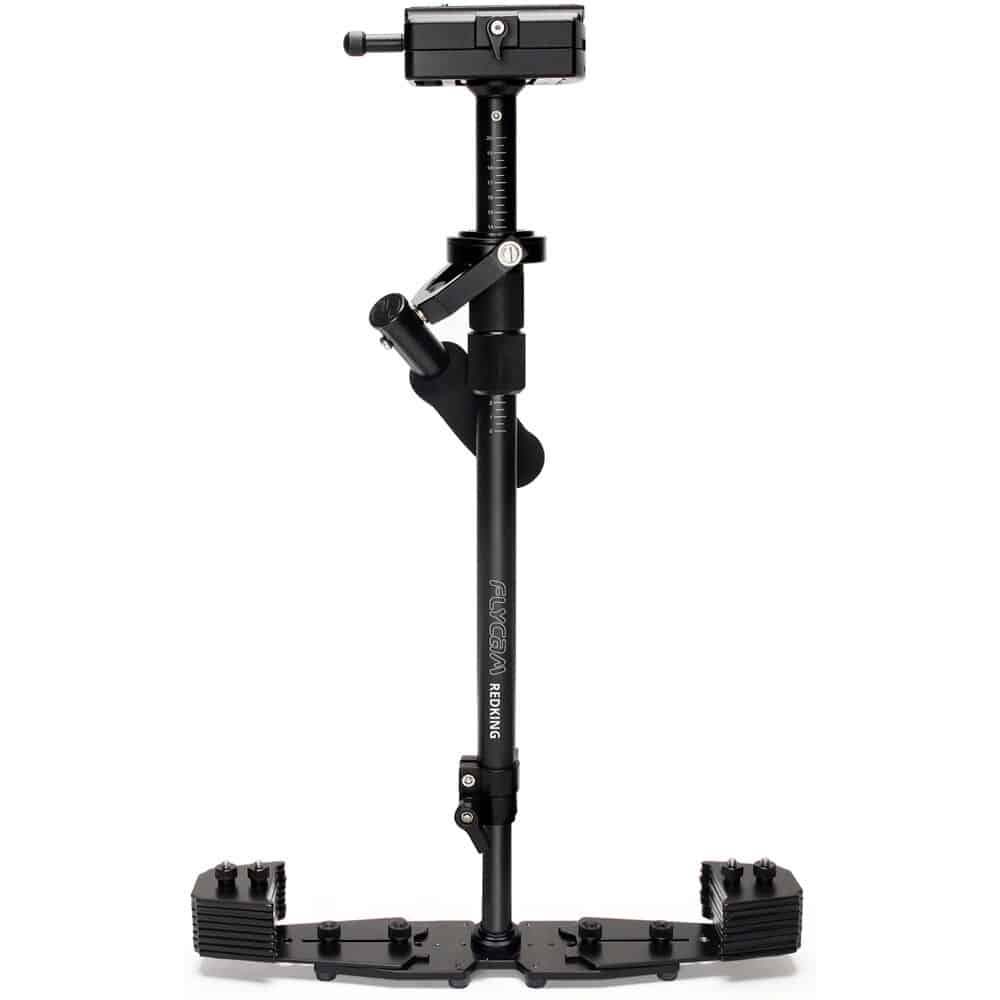 Best Manual Stabilizer
An entirely different beast from a motorized 3-axis gimbal, a manual stabilizer like this can shine in the right hands.
Maximum Payload:
15.4lbs (7kg)
Telescopic Post:
From 55cm to 82cm
Fluid and floaty stabilization
Better-suited for rugged outdoor shoots
Requires operator skill
Won't achieve perfect stabilization like a gimbal
Ah, the good ol' glidecam. Before 3-axis gimbal stabilizers were a thing, Glidecams were the go-to accessory for video stabilization at a reasonable price.
Even in this era of electronic gimbals, glidecams serve a purpose. Amounting to little more than a stick with some weights on it, they stabilize footage using the basic laws of motion.
The resulting footage has a floatier and organic feel which can, at times, be desirable. With skillful operation and IBIS or lens stabilization (or, better yet, dual IS), you might be surprised by the outcome. You don't have to worry so much about breaking it, either.
However, there is no doubt that it is difficult to achieve the same level of stabilization using a glidecam or rip-off glidecam. They require a high level of operator skill and even then the footage might not be satisfactory.
More Buying Tips
How do gimbals compare to other video stabilization methods?
Gimbals are relatively new technology, only made possible by intelligent software that reacts to motion-detecting sensors. It's only recently that they've dropped to a price that is not only cheaper than traditional stabilizing gear, but now there are consumer-grade gimbals that are affordable for YouTubers, amateur filmmakers and those who simply pursue videography as a hobby.
Not only are they accessible to non-professionals, but they are also easier to use, much lighter, and potentially provide superior stabilization overall. There is no doubt that to achieve the smoothest video on a budget and with relative ease, gimbals are currently the way to go.
What are pan-follow, follow, locked and tracking modes?
A gimbal is able to make adjustments in three axes using its three brushless motors: pan, roll and tilt.
Pan-following keeps the horizon straight by locking the roll and tilt but following any movements you make in the pan axis. Follow mode will not lock any axis, but eliminate jitter by making micro-adjustments that smooth out each and every movement. Finally, locked mode locks the camera's orientation, meaning your camera lens will stay pointed at the same target.
Some gimbals feature tracking, which uses AI to keep the camera pointed at an object you specify.
I purchased a gimbal but the footage isn't perfectly smooth. Should I return it?
DSLR and mirrorless camera gimbals should be perfectly balanced before operating the gimbal. Afterwards, you'll need to go into the settings and do some fine-tuning. We've used many gimbals in the past and it typically takes a few days of recording to get to a point where we're happy. Last but not least, there is some skill in using a gimbal, so don't expect your new fancy gadget to do everything for you.
Conclusion
The gimbal market for filmmaking cameras has matured a lot since its early days, and now there is a gimbal for every type of user.
For the majority of people who have a mirrorless camera (Four Thirds, APS-C and Full Frame) or DSLR, the DJI RS3 is the go-to recommendation. That, or the older DJI RSC2 (which is also very good). They're not without their faults, but they have the best build quality and feel more intuitive to use than gimbal offerings from Zhiyun or Gudsen.
However, if your budget is severely limited, the older DJI Ronin-SC is available for very little and is still worth considering (it's only 3 years old!). Meanwhile, if portability is the main concern, the Crane M3 is worth a look.
Of course, you need to make sure your camera and lens combos are compatible with whatever gimbal stabilizer you decide to buy. If you have a fairly standard camera like the Sony A6600 or Canon EOS 90D, then you can confidently trust what the manufacturer says, since these aren't edge cases. But with something like a Blackmagic Pocket 6K or Canon C70, you almost certainly want to ask around.
We hope you enjoyed reading through this buyer's guide. Please leave a comment if you have any feedback or would like to put forward your own recommendation!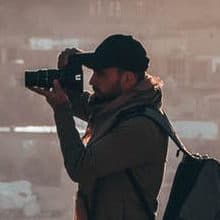 I'm a photographer and the chief editor of Capture Guide. After spending several years in parts of South America with my trusty old Nikon D7100, I'm now back home patiently waiting for borders to re-open.