The consumer gimbal market has consolidated significantly since gimbals became popular in 2015, leaving only DJI and Zhiyun as the two true market contenders today. As we head into the holiday season, the newly released DJI RS3 and Zhiyun Weebill 3 will be in the sights of most gimbal buyers.
The margins of difference in actual stabilization performance get thinner with each year, meaning the key areas to consider are the little things that affect quality of life as a user: ergonomics, setup time, extra features, and software.
Of course, there are also other things to consider, like camera compatibility and the wider accessory ecosystem, which we've done for this head-to-head comparison.
Camera compatibility and Payload Capacity
It's not worth listing each and every compatible camera here, so here are links to the lists of officially supported cameras:
DJI: https://www.dji.com/support/compatibility
Weebill 3 https://www.zhiyun-tech.com/en/compatibles/index
While DJI state a payload capacity of 3kg (6.6lbs), Zhiyun does not state a maximum payload. Zhiyun has stopped doing so on their last few gimbals, and it's perhaps a good thing as these stated payloads can be misleading because they don't take into account things like weight distribution (e.g. with longer barrel lenses) which can make these figures inaccurate.
Overall though, there's not much difference in raw power, so you'll be fine with either unless you're pushing the upper limits with a heavier setup. If you are using a heavier mirrorless camera or a cinema camera like the BMPCC4K, then the DJI RS3 Pro is your safest bet, although it does cost significantly more.
Key Feature Differences
Ergonomics
The DJI RS3 is the winner in terms of pure ergonomics. The Weebill 3's grip feels a bit small, even for those with average-sized hands. This will inevitably lead to some discomfort during extended shoots.
However, ideally, you want to have the optional extra grip on either of these gimbals. With both gimbals, having the optional extra handle lets you record using both hands or hold them like a briefcase.
With the Weebill 3, you can just get the combo package to get the extra grip. With the RS3 on the other hand, the Twist Grip Dual Handle isn't part of the combo package and will set you back a further $139. Admittedly, this second grip does feel more premium than the Weebill 3's, but it's a large sum of money for what is a fairly basic accessory.
Controls
DJI appears to have put more thought into the control scheme, as the physical buttons are located in convenient locations. A nice new feature is the introduction of a physical switch that lets you flick between the most commonly used gimbal modes (first person view, pan following and pan and tilt following).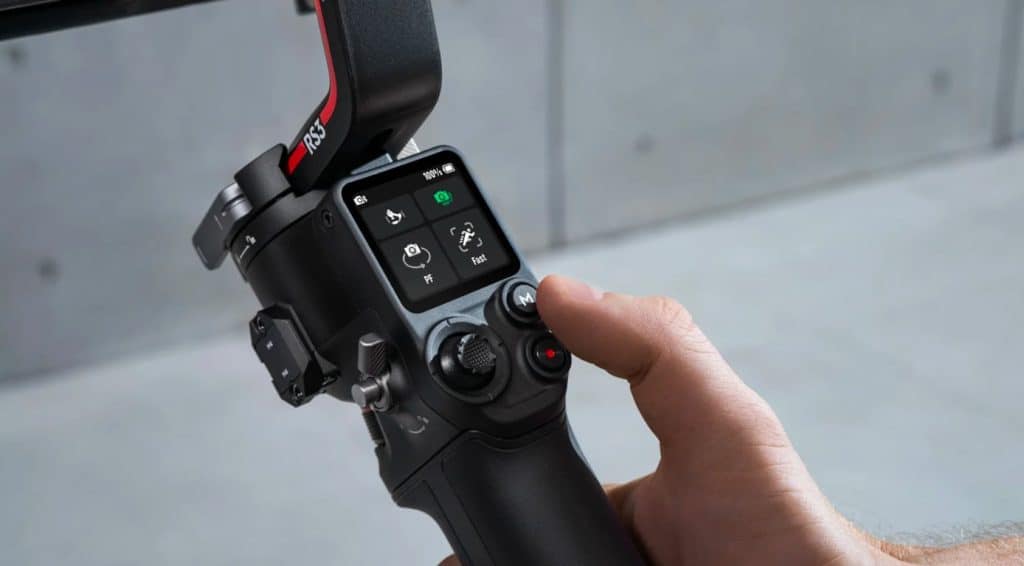 Previously, this could only be achieved by going through the screen menu using a fiddly dial. Speaking of the screen, this is where DJI really improved things, with the RS3 now boasting a 1.8-inch touchscreen LED which is infinitely more intuitive than using a menu without touch controls.
The Weebill 3's controls, on the other hand, are slightly awkwardly placed. Left-handed people are at a significant disadvantage here, as the gimbal's design was obviously designed with right-handed people in mind. The screen is also smaller and isn't responsive to touch, so you're stuck with the good old scroll wheel.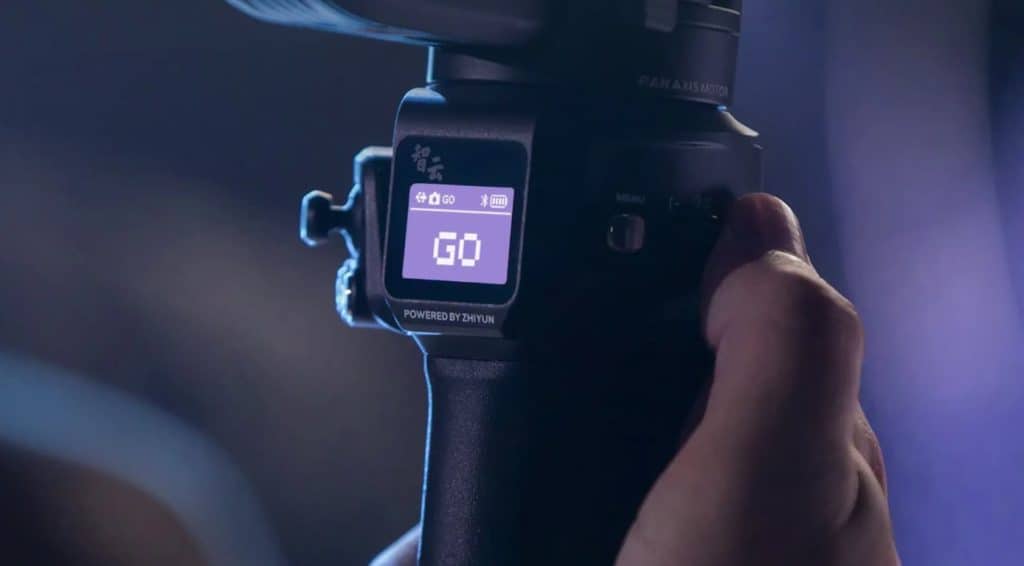 The RS3 has an Auto-Lock Feature
A common headache as a gimbal operator occurs when you're in between shots and momentarily power down your gimbal. By doing so, you leave your camera flapping around as the motors are no longer active.
To stop this from happening, gimbals typically let you lock each axes by manually flipping switches on the gimbal arms. It doesn't take too long, but it's just another inconvenience to have to deal with
For the RS3 and RS3 Pro, DJI introduced an auto-locking feature, which removes the need for any manual switch-flicking. When the gimbal is powered down, each axes is locked and your camera will be held steadily in position. The whole process takes a couple of seconds and after using it, you won't want to go back to a manual locking system like the one found on the Weebill 3.
RS3 has Wireless Shutter Control
One of the nicest new features of the DJI RS3 is the fact that you can trigger the camera's shutter and start recording via Bluetooth. Previously, this would require the camera to be physically tethered to the gimbal with a cable. The Weebill 3 still requires a cable for the gimbal's shutter button to activate the camera shutter.
Weebill 3 has longer battery life
According to Zhiyun, the Weebill 3 has a stated maximum battery life of 21 hours, which is considerably more than RS3's 12-hour battery life. Both models have come away from the early days where you could barely squeeze a couple of hours out of a gimbal.
While the Weebill 3 will last you longer on a single charge, the RS3's battery comes in the form of a detachable grip, so you can potentially carry around spare grips if you have any battery concerns.
Weebill 3 has a built-in mic and fill light
The built-in mic and fill light with changeable color temperature are the two standout features of the Weebill 3. Not having to buy them separately represents significant cost savings and also means you'll have a setup that weighs less than having them all as separate accessories.
The problem is that the mic and fill light are very mediocre, and for serious jobs you'll want to be using something better. Therefore, it's a nice touch for the casual shooter or hobbyist, but won't cut it for professional work.
Weebill 3 uses proprietary quick-release plate
Whereas the DJI RS3 has dual-layer quick-release plates with the lower plate being compatible with the Manfrotto standard and the upper plate being Arca-Swiss and Manfrotto compatible, Zhiyun went with a proprietary system for the Weebill 3. This isn't a huge deal, but a more universally accepted standard is always preferable.
Price
The DJI RS3 starts from $549 for the basic package, but most buyers will want to go for the combo package which retails at $719. The combo package gives you a focus motor that can physically turn your camera lens's focus and zoom ring when you use the gimbal's controls. It also throws in a briefcase handle which allows you to hold the gimbal in more ways.
Meanwhile, the Zhiyun Weebill 3 is definitely the more budget-friendly pick, costing $449 for the base package and $529 for the combo package. Mind you, Zhiyun's combo package isn't really comparable to the RS3's, because it doesn't include a focus motor. To get the focus motor, you'll need to spend an additional $79 for the TransMount Focus/Zoom Control Motor 2.0, which brings the final price much closer to the RS3 combo package ($608 vs $719).
Verdict
A natural evolution of the already great RSC2, DJI delivered an incredibly solid gimbal that aims to make the filming experience go as smoothly as possible. While it might not feel like an awful lot has changed, as an operator you will come to appreciate the subtle changes, such as wireless Bluetooth control and auto axes locking, that minimize frustration.
In usual fashion, Zhiyun has tried to be a bit more daring and experimental with the Weebill 3. The introduction of a built-in fill light and microphone feel a bit gimmicky and won't cut it in professional settings, but will come in handy for bloggers and casual shooters. We would have preferred to see more attention being paid to the finer details instead of adding brand-new features. That said, it costs less, and results in an equally smooth video at the end of the day, so it does represent great value for money.
Overall, the DJI RS3 seems to be the gimbal to go for most buyers, but everyone's situation is different and there is absolutely a case to be made for the Weebill 3. Both gimbals have made it onto our list of recommended mirrorless camera gimbals.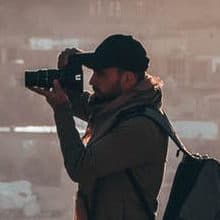 I'm a photographer and the chief editor of Capture Guide. After spending several years in parts of South America with my trusty old Nikon D7100, I'm now back home patiently waiting for borders to re-open.