Over the last few years, Feiyu have firmly established their position in the gimbals market. They first had success with the high end AK4000 for DSLRs and the popular G6 gimbal for action cameras. They then turned their attention to the smartphone market with the release of the budget-friendly 3-axis Vimble C. The new Vimble 2 is their latest smartphone gimbal which aims to iron out some of the kinks the Vimble C had.
Out of the box, the Vimble 2 comes shipped with a nice and compact travel case. That's a nice bonus compared to the polystyrene box that even some of the higher end gimbals come packaged in.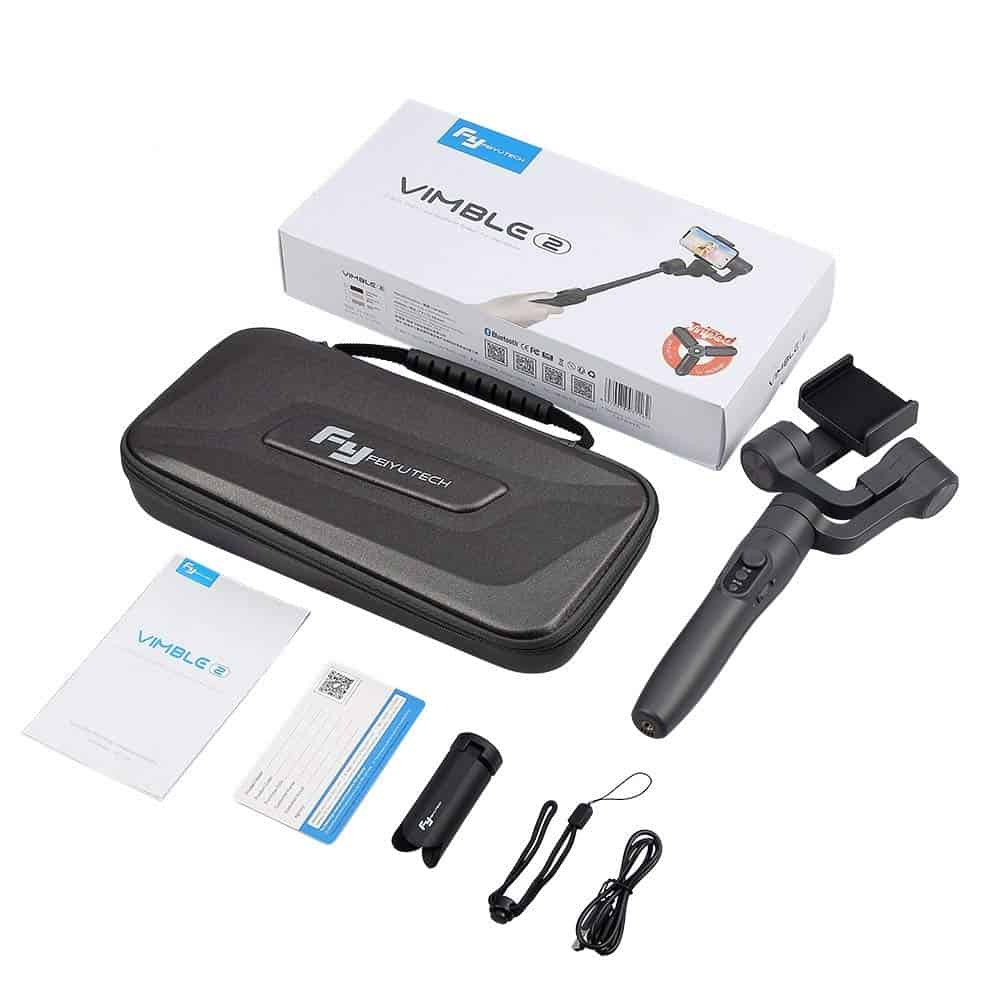 Bundled accessories include a USB cable, a carry strap and a small but functional tripod. I don't rate the tripod particularly highly as it's base is too small provide good stability but it will do the job. The quarter inch mounting system will always allow you to replace it with another tripod, so it's not a big deal.

Build Quality

In terms of build quality, the Vimble 2 is pretty much what you would expect from a $99 gimbal. It's plastic construction isn't going to protect it from the elements but it will hold up just fine under most situations.

The rubberized grip is a nice premium touch that makes the Vimble rather pleasant to hold. It's certainly a nice change from some of the other cheaper smartphone gimbals out there.

Compatibility

The Feiyu Vimble 2 is compatible with iPhones almost every Android smartphone (width between 57mm and 84mm), with a maximum supported weight of 210g. For reference, the large Samsung Galaxy Note 9 weighs 201g, so I don't know which phones would be too heavy for the Vimble 2.

While technically designed to be a smartphone gimbal, the Vimble 2 is also compatible with GoPros and action cameras thanks to its adjustable clamp. Unfortunately, using it with an action camera will result in some missing functionality. Also, the Vimble 2's body is not really strong enough to resist any serious action.

Features

The Vimble 2's main unique selling point is its 18cm extension pole. This feature is obviously very handy when taking selfie shots, however I personally found it incredibly useful for taking low angle shots closer to the ground. It is much more convenient than bending down uncomfortably.

I found it very easy to mount my smartphones on the Vimble 2, even easier than some of my other favourite gimbals like the EVO GP-Pro or Zhiyun Smooth 4. Switching between horizontal and vertical shooting modes is a breeze because you can switch it physically using your hands, unlike the Vimble C which required using the controls.

The Vimble 2 also features a micro USB charging connector so you can charge your phone while it is attached to the gimbal. Given the battery life of the gimbal is around 5 hours I'm not sure how much you will want to depend on its battery for charging your phone, but it's a nice feature to have nonetheless.
Controlling the Vimble 2

The control system on the Vimble 2 is simple but intuitive. Unlike some of the fancier gimbals which have controls that are more fitting for an aeroplane, the Vimble 2's mode is changed through a single main button. Pan, follow and lock modes are activated by pressing the button one, two or three times respectively.

The back of the grip features a trigger button that serves to temporarily lock the gimbal until released. It's a very useful feature in practice.

As with most motorized gimbals, the Vimble 2 also has a joystick that allows you to change its direction and do things like manual panning.

Stabilization

Of course, none of these features would mean anything unless the Vimble 2 performed well for video stabilization.

Perhaps surprisingly for a gimbal of its price, I found the Vimble 2 to do remarkably well for video stabilization. Being a 3-axis gimbal, stabilization occurs in every axis: pan, tilt and roll.
I tested it with an iPhone 7 Plus, an Honor 10 and my old Galaxy S7 Edge and in all three cases the videos came out with almost no noticeable camera shake.
Software

Feiyu have released their own app named 'Vicool' designed for use with the Vimble 2. It allows you to adjust various setting such as the motor strength and panning speeds.
While I personally prefer to always use stock video apps for recording video, using the app to record will unlock some exclusive recording features you wouldn't have.

For example, the zooming in feature, for example, allows you to zoom in using the camera's joystick. However, I found using it resulted in a choppy zoom where you could see the incremental zoom. The amount of choppiness varied slightly depending on the phone (it was least noticeable on the iPhone 7 Plus).

Unfortunately, the app's biggest issue is it only supports video recording up to 1080P. That makes it almost redundant today where many people are shooting in 4K on their phones.
Conclusion

Pros
Decent stabilization performance
Simple and intuitive control system
18cm extendable arm is actually useful
Cons
Disappointing battery life (around 5 hours)
Feiyu camera app is no good
Overall the Vimble 2 is a very reasonable budget smartphone gimbal and one of the contenders for the best budget iPhone and Android gimbals. Feiyu have clearly thought of the more casual video shooters with the inclusion of a selfie stick, but as it turns out the selfie stick is also quite a nice feature for taking low angle shots.
Rating: 4/5
Looking for a gimbal for your iPhone? Check out my list of recommended gimbals for iPhone.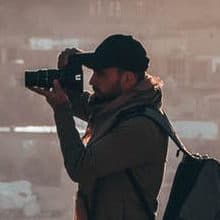 I'm a photographer and the chief editor of Capture Guide. After spending several years in parts of South America with my trusty old Nikon D7100, I'm now back home patiently waiting for borders to re-open.