These days, recording buttery smooth video is as easy as mounting your phone to a gimbal and pressing the record button. But picking the best gimbal stabilizer for your iPhone or Android is not that easy.
New gimbals are seemingly released every year, and each one of them looks more or less the same. They're made by companies you've never heard of before, and the glowing Amazon reviews aren't particularly convincing. And in most cases, it's impossible to even try before you buy. The list goes on.
To make things easier for you, in this smartphone gimbal buyer's guide I'll walk you through my recommendations for the year.
Included In This Guide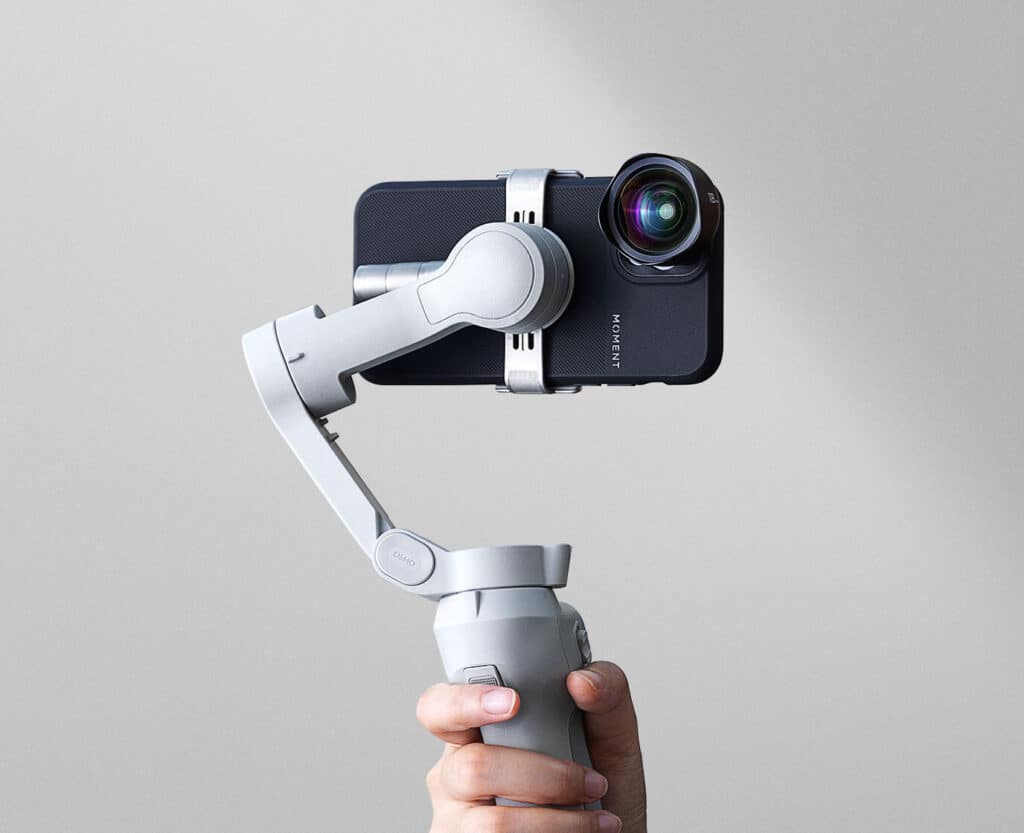 For this round-up of the best iPhone gimbals, I've thoroughly tested all the gimbals that come frequently recommended by tech magazines and YouTube reviewers. I've also aggregated the praise and common complaints from these other reviews so hopefully, you'll find my rankings to be fair and well-researched. Here are my recommendations:
Best Overall
The latest iteration of the popular phone gimbal from DJI, the OM 5 has everything you need. Three powerful motors for buttery smooth footage, a telescoping arm for more filming options, and a magnetic clamp for a fuss-free setup.
Compact, lightweight and versatile
Premium feel
Good software
Reduced battery life over OM 4
Fiddly selfie stick
Who's it for?
The DJI OM5 is the iPhone gimbal I'd recommend for most people. As the fifth iteration of the most popular gimbal for phones, DJI have improved their formula by adding in an extension rod which means it also functions as a selfie stick when required.
Compatibility
The DJI OM5 is compatible with the vast majority of iPhone and Android smartphones. It can support payloads of up to 0.63lbs (290g).
It is officially compatible with all iPhones from the iPhone 8 and up. The DJI OM5 works with all three lenses on the newer iPhone Pros (Ultra wide camera, wide camera, telephoto camera).
You can see the full compatibility list here.
OM 5 Overview
With the magnetic phone clamp mechanism that was introduced with the DJI OM4, it was difficult to see how DJI could improve their flagship handheld iPhone gimbal.
While it's normally other manufacturers copying DJI's designs, this time DJI have taken inspiration from other popular gimbals by incorporating their very own extension rod in the DJI OM5.
Despite the addition of the extendable arm, they've also managed to make the DJI OM 5 the lightest DJI gimbal yet.
However, these upgrades did come at a cost, though. The impressive battery life of the DJI OM4 has been slashed from 15 hours to just 6.4 hours. This smaller and lighter battery is what made it possible for the DJI OM5 to weigh so little, but it does end up meaning you'll need to charge it more frequently.
Furthermore, because the battery is significantly smaller than before, it also can't be used as a battery pack for your phone.
What I liked
This is just as comfortable to hold as its predecessor, and the addition of a selfie stick does make it more versatile than before. While I'm sure many will scoff at the idea of a gimbal selfie stick combo, the extension rod isn't just for recording yourself, but also for higher angle shots and extra perspectives.
Of course, it keeps all the things that made the DJI OM4 great, namely the magnetic clamp mechanism which makes attaching and taking off your phone a total breeze.
What I didn't like
Well, the significantly reduced battery life is definitely disappointing. I got around 4-5 hours of use on a single charge, which in all honesty is more than you're going to need for day-to-day shooting. However, it's nice to have extra juice just in case, and this gimbal doesn't double up as a phone charger. Instead, you'll need to carry around an extra power bank!
If that sounds unacceptable for your use case, you'll be happy to know that DJI hasn't discontinued its previous model. The DJI OM 4 SE (below) uses the same gimbal motors as the DJI OM 5 and is basically the same thing.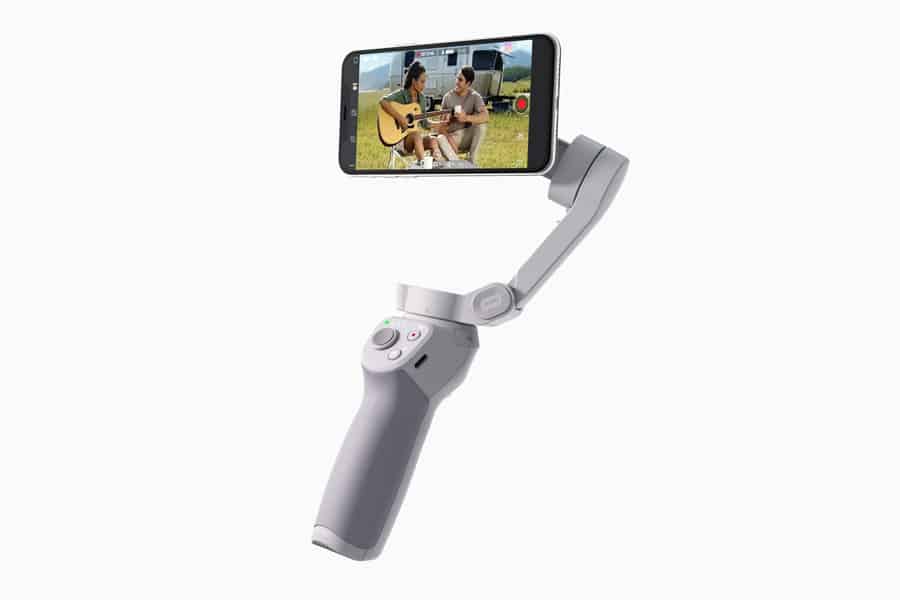 Runner Up
If the DJI OM 5's telescopic arm seems a bit gimmicky to you, the OM 4 is still available and just as good as it was before.
Same great stabilization as OM 5
Magnetic clamp mechanism
Long battery life
Can be used as a phone charger
Not much cheaper than the newer OM 5
Who's it for?
The DJI OM 4 SE is the best iPhone gimbal for those people who simply don't need the extension rod you get on the DJI OM5 and would rather have extra battery life and the ability to use it for charging your phone.
The DJI OM4 "SE" is essentially a re-release of the OM4 to cater to those consumers who would rather have extra battery life than have the extension rod on the OM5.
Compatibility
The DJI OM4 can accommodate iPhone and Android phones 67-84 mm wide and up to 6.9-10 mm thick.
DJI upgraded the motors from the Osmo Mobile 3 and it can now support phones that way 230 ± 60 g. That's a 26% increase of its predecessor and it can easily support phones even when you're using camera attachments like the Moment lens.
The gimbal also features a quarter-inch thread needle for compatibility with mount accessories like tripods.
It is compatible with the same phones as the DJI OM5, which includes bigger phones like the iPhone 13 Pro Max. You can find the full compatibility list here.
Osmo Mobile 4 SE Overview
DJI is the biggest civilian drone manufacturer in the world and their engineering expertise is clearly demonstrated by their handheld gimbals.
Their first phone gimbal, the Osmo Mobile, was a resounding success thanks to its build quality and ease of use. The Osmo Mobile 2 kept the winning formula but slashed the $299 price tag all the way down to $129.
For the Osmo Mobile 3, DJI had to innovate to stay ahead of the competition. The first of its kind, the Osmo Mobile 3 featured a foldable design that made it far easier to pack.
With the OM4, DJI once again broke new ground by introducing a magnetic phone mount design. By either using the magnetic spring loaded clasp or sticking a pop-socket style ring holder to your phone, you no longer had to fight to set up your gimbal.
DJI have also moved away from the older DJI Go app and replaced it with the all new DJI Mimo for iOS/Android. This makes it easy to take fancy dolly zooms, panoramas, timelapses and slow motion shots. Also, the new ActiveTrack 3.0 AI does object tracking much better than competitor apps.
Apart from that, and some upgrades to the gimbal motors, the rest of the gimbal is very much the same as the Osmo Mobile 3. The Osmo Mobile 3 was my previous favorite gimbal, and DJI made the right improvements to make the OM4 their best gimbal yet.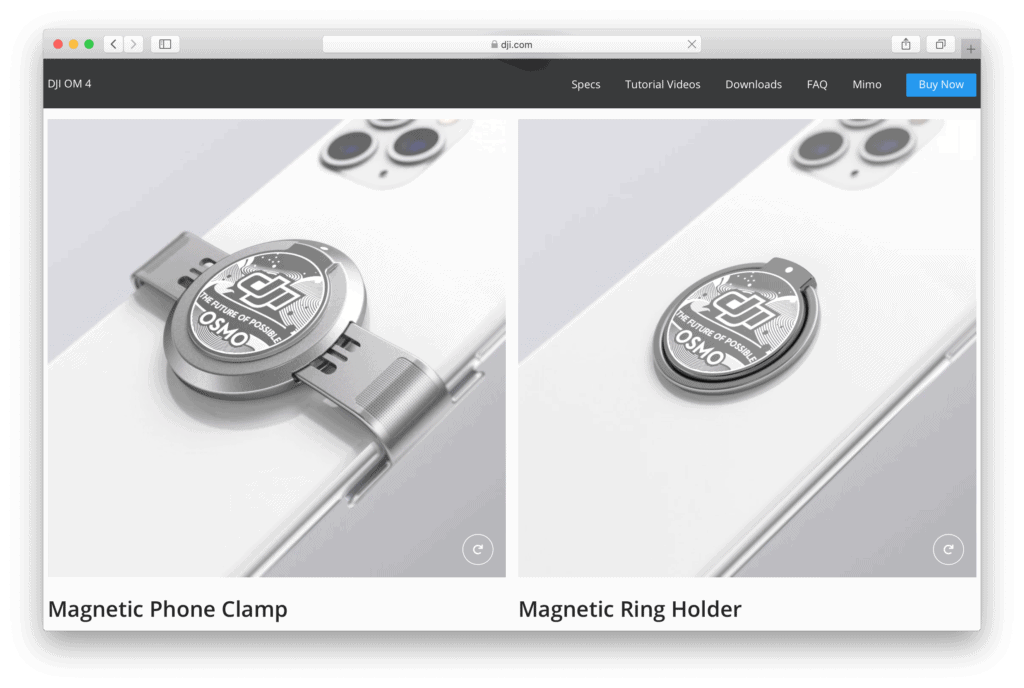 What I Liked
The DJI OM 4 faces stiff competition from the likes of the Zhiyun Smooth 4, but ultimately I believe the OM4 manages to get everything right: ease of use, portability, ergonomics, stabilization performance, battery life and price.
Filming with the OM4 felt the most natural of all the gimbals I tested. It feels less bulky compared to the Zhiyun Smooth 4 and the angled handgrip means you don't have to snap your wrist back in order to keep it upright.
It's standout features are its foldable design and magnetic phone holder. The former makes it much more portable than traditional gimbals, while the latter means you can mount and take off your phone in less than a second.
The stabilization performance is great and DJI's proficiency in the area really shows. The motors are very responsive and when you crank up the pan and follow speeds it can film fast-paced action without a hitch. The motors are also very quiet, meaning recordings aren't affected by motor noise. With regards to the battery life, the OM4's inbuilt 2450mAh battery will last 15 hours. No smartphone gimbal lasts longer, with the exception of the Freevision Vilta Mobile.
What I Didn't Like
The OM4's foldable design compromises its mechanical range of movement slightly, meaning it can't pan or tilt quite as far as some of the other gimbals.
DJI also increased the price from the Osmo Mobile 3. $149 wouldn't have been considered expensive a couple of years ago, but with the abundance of sub-$100 alternatives today, the choice isn't as clear-cut as it could be. At least they bundle a mini tripod with it this time!
Read the full review: DJI OM4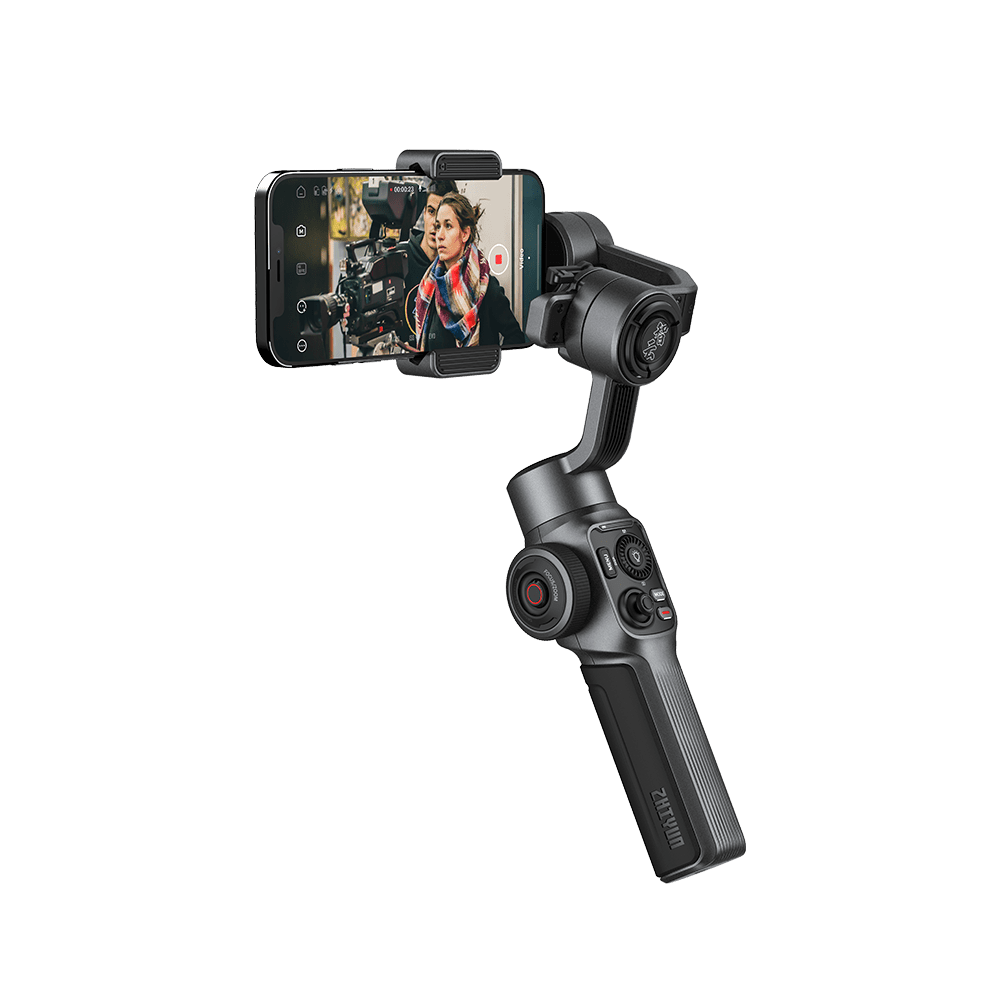 Notable Mention
The Zhiyun Smooth 5 offers several features targetted towards "pro" videographers but it's a bit of a hassle to use.
Battery Life:
4.5 to 12 hours
Weight:
21.7 oz / 615 g (with Handlebar and Battery)
Solid build quality
Lots of buttons and controls
Magnetic fill lights with combo package
Heavy and doesn't fold down
Expensive
ZY Cami app lacks polish
Who's It For
The Zhiyun Smooth 5 is a more pro-oriented, if a little pricey, iPhone gimbal that gives you plenty of dials and buttons to make adjustments without resorting to your phone screen. While it has all the features you could ask for, it's let down by clunky iOS and Android apps and an uncomfortable grip.
Compatibility
With its all-new upgraded motors, the Zhiyun Smooth 5 is compatible with virtually any phone. This includes bigger and heavier iPhones like the iPhone 12 and 13 Pro Max.
Zhiyun Smooth 5 Overview
The Zhiyun Smooth 4 was one of my favorite iPhone gimbals because of the number of physical controls and pro features it came with. Whereas DJI focused on a seamless user experience, the Zhiyun Smooth 4 was all about offering the user with as many features as possible.
Zhiyun went for years without upgrading the Smooth 4, but they finally gave us the much-anticipated Smooth 5 for 2022.
While this upgrade hasn't really done anything revolutionary, it has finally given us a solid alternative to the DJI offerings. Compared to its predecessors, it's significantly more compact.
Furthermore, it benefits from a more rugged construction, stronger motors, and a nice new joystick that can be used for smooth panning at a consistent speed.
The software has also been upgraded, adding important features like gesture control, object tracking
What I Liked
Nothing really stands out with the Zhiyun Smooth 5, but the plentiful physical controls make sure any adjustments you need can be made on the fly. It's simply more convenient to make changes using buttons or dials on the control rather than swiping and tapping your phone screen.
The new thumbstick is pretty neat and the zoom/focus wheel makes it easy to perform more advanced shooting techniques like smooth dolly zooms.
If you opt for the more expensive combo package, you also get a magnetic fill light that attaches to the clamp for 360-degree lighting.
What I didn't like
While the Zhiyun Smooth 5 does an excellent job of stabilizing your phone's camera with three axis stabilization, it's got a steep learning curve and also takes a while to get up and running.
The grip is also less ergonomic than that of other gimbals, mainly because it's too short and you have to end up attaching the tripod in its closed form for a more comfortable grip.
Finally, the ZY Cami app is pretty poor and buggy compared to the DJI Mimo app. That's something that could change, but probably won't given Zhiyun's poor history when it comes to software.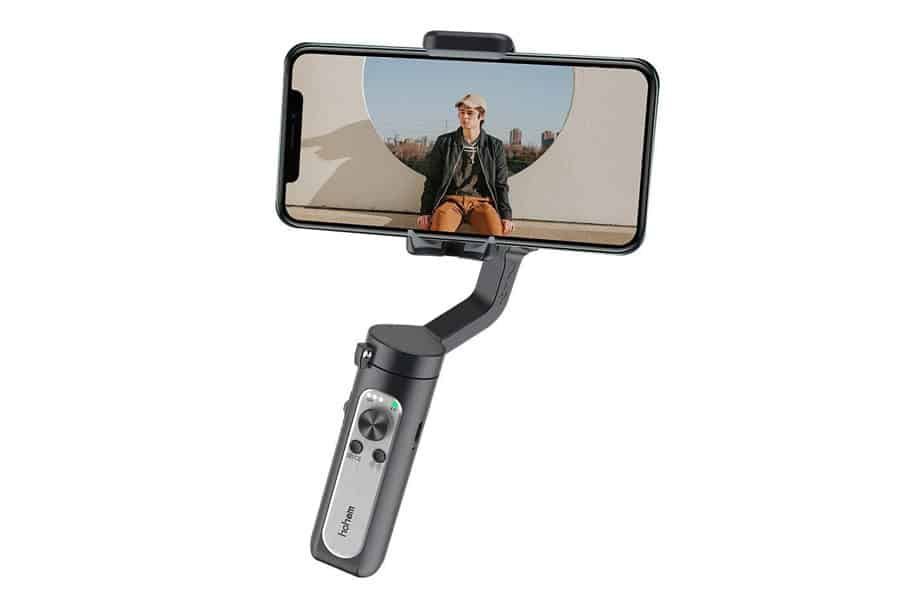 Budget Pick
The Hohem iSteady X is an affordable 3-axis gimbal stabilizer that nails the basic features. However, the lack of clearance means bigger phones clip the gimbal arm at extreme angles.
Decent stabilization
Foldable design that packs down easily
No ergonomic curves or rubberized grip
Unpolished companion app
Who's It For
As the cheapest iPhone gimbal, the iSteady X is a good option for the budget-conscious, or those simply wanting to see what all the fuss is about. Hohem took inspiration from the success of the foldable DJI gimbals and the compactness of the Zhiyun Smooth Q2.
The result is a foldable and highly compact 3-axis gimbal stabilizer that can be purchased for $69. If you can look past its unrefined companion app, the iSteady X is a decent gimbal for the price.
Compatibility
Supporting phones up to 280g in weight and 90mm in width, there are virtually no phones I can think of that the iSteady X doesn't work with.
To activate the gimbal you'll also need to download the Hohem Pro companion app which is compatible with Android 6.0 and up and iOS 9.0 or later.

Hohem iSteady Mobile Overview

Hohem might not enjoy the same recognition as DJI or Zhiyun, but they are the top-selling gimbal maker on Amazon.
The highly popular iSteady Mobile and iSteady Mobile Plus were popular because they offered the same features as premium gimbals for a fraction of the price.
In order to keep up with the trend of increasingly small gimbals, Hohem released the iSteady X which has a foldable design that's made possible by its offset gimbal arm.
The result is a gimbal that's just as competent as the iSteady Mobile Plus but much easier to carry around. In fact, weighing just 259g, the iSteady X has earned itself the title of the 'world's lightest gimbal'.
What I Like

Of course, what I like most about this gimbal is its low price. With solid core stabilization performance, a decent 8-hour battery life and a foldable design that makes it easy to carry around, the iSteady X offers great value for money.
While it won't cut it for mobile filmmakers or power users, it's perfectly suitable for home vlogging and the occasional family trip.
What I Didn't Like

The iSteady X offers terrific value for money, but as a cheap gimbal stabilizer, it's just not as refined or complete as something like the DJI OM5 and OM4.
The handgrip is short and lacks any ergonomic curves, so filming can become quite uncomfortable after a while.
It's also missing a rear trigger and any kind of 'sport mode' to momentarily boost the motor responsiveness, so it's not ideal for recording super fast-paced scenes where there is fast camera movement.
Finally, there's no USB-A port to be found, which means you can't use the gimbal as a backup power bank. Most other gimbals include this, and it's a shame not to be able to take advantage of its large li-ion battery for charging purposes.
Read Full Review: Hohem iSteady X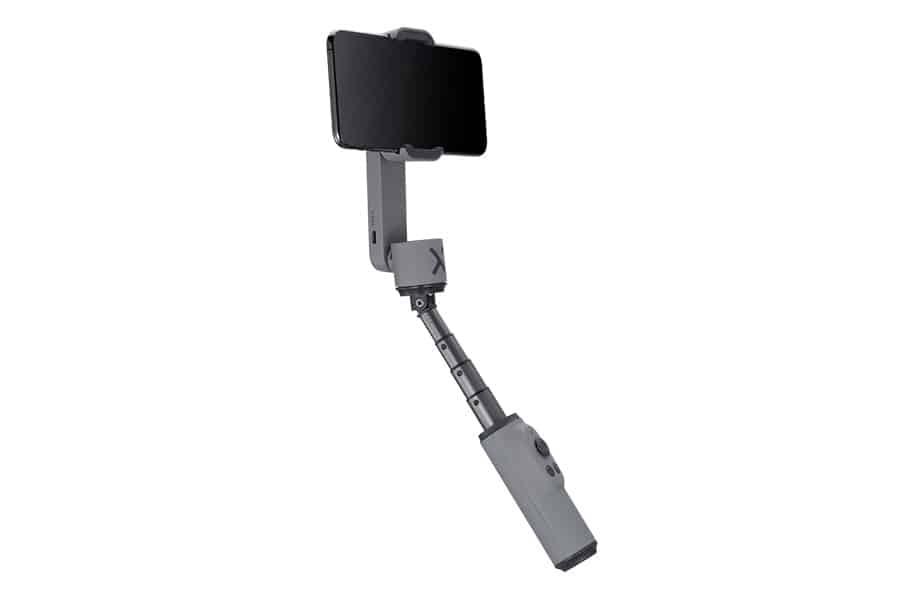 Best 2-Axis Gimbal
The Zhiyun Smooth X is a tiny gimbal that is surprisingly powerful for its size and a lot of fun to record with.
Battery Life:
4 to 5.5 hours
Very affordable
Compact and lightweight
Feels like a toy
Stabilization performance isn't the best
Struggles with heavy payloads
Who's It For

If you don't mind sacrificing some stabilization performance for the cutest gimbal on earth, the Smooth X is for you.

Compatibility

The Smooth X can support phones that weigh 200±35 g, which is less than most of the gimbals on this list.
As a result, a phone like the iPhone 11 Pro Max (226g) would really be pushing it to its limit. You can expect its 5.5 hour battery life to take a hit as the motors have to work extra hard.

Zhiyun Smooth X Overview

While gimbals are typically associated with professional YouTubers and content creators, Zhiyun have targeted the Instagram Story and TikTok celebrities with the Smooth X.
They've made a gimbal that can be kept in your pocket just in case something post-worthy comes up. The gimbal also houses a selfie stick that can extend up to 10 inches—no need to choose between a gimbal and selfie stick anymore!
However, the Zhiyun Smooth X is not a traditional 3-axis gimbal. It only has motors that stabilize in the pan and roll axes, but not in the tilt (up and down) axis. So going up and down stairs, for example, will produce shaky footage.
What I Liked

The Smooth X identifies a unique market segment: Front-facing camera superstars and livestreamers who want to give viewers superior video quality.
Its ease-of-use and compactness make it perfect for non-persistent video where smoothness matters but isn't the be-all and end-all.
At $69, it's also one of the cheapest stabilizers on the market.
What I Didn't Like
This is not a 3-axis gimbal stabilizer, but a 2-axis stabilizer, so the stabilization is inferior to other gimbals.
The difference honestly isn't big, but core stabilization performance should be the first and foremost thing to consider in a gimbal.
With the Hohem iSteady X available for the same price, it's difficult to justify the Smooth X unless you really need that selfie stick.
Read full review: Zhiyun Smooth X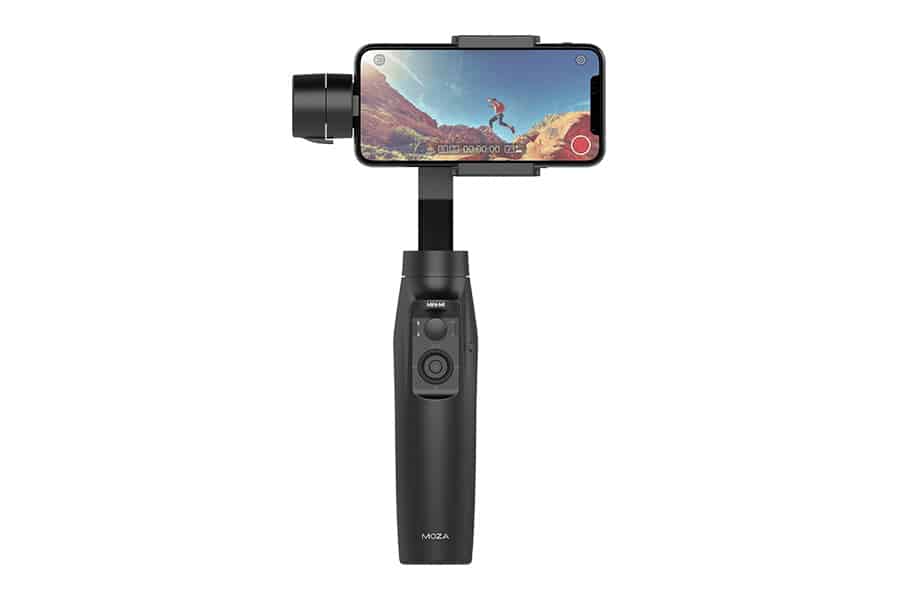 Wireless Phone Charging
An otherwise average gimbal, the Moza Mini-MI's clamp can wirelessly charge your iPhone.
Decent stabilization
2-in-1 gimbal/wireless phone charger
Poor companion app
Micro USB port (not USB-C)
Mediocre gimbal, mediocre charger
Who's It For

The MOZA Mini-M is the only gimbal that can wirelessly charge your phone and has an impressive number of different shooting modes. While these features might seem redundant to many, it also has stabilization performance that is among the best within the sub-$100 budget.

Compatibility

The MOZA Mini-MI supports every iPhone, although its wireless charge feature will of course only work with the newer iPhones that feature wireless charging.
Thanks to a max supported payload of 300g and a max supported phone width of 92mm, the Mini-MI supports just about any Android phone you can think of.

MOZA Mini-MI Overview
The MOZA Mini-MI is an iPhone gimbal that has more features than almost any other gimbal you can think of. Its most unique feature is its ability to charge mounted phones wirelessly using the Qi Wireless Charging standard.
Weighing 534g, the Mini-MI isn't quite as small as its name might suggest. It is a little on the bulky side, but the difference in size won't be an issue for most and its thick handle will be welcomed by those with bigger hands.

Despite its size, the Mini-MI packs a slightly smaller 2100mAh battery which provides the gimbal with 10 hours of battery life.

For controls, the Mini-MI features a joystick for electronic panning and tilting, as well as a number of controls to switch shooting modes and more. It can flip the mounted phone with a double press of a button, putting it into 'selfie-mode'.

All these features can be had for under $100. Given that many of its features are missing on more expensive gimbals like the Osmo Mobile 2, MOZA offer terrific value for money with the Mini-MI.

What I Like

The wireless charging feature isn't for everyone, since many older phones won't be supported. However, it is an incredibly useful feature for those that can take advantage of it, since you almost always run into issues with your phone's battery life when recording with a gimbal, and not the other way around.
Wireless charging aside, the Mini-MI is a very solid budget gimbal. It has stabilization performance that is on par with my other favorite budget gimbals: the Hohem iSteady Mobile and Zhiyun Smooth-Q. Not only that, it has the ability to independently lock each axis, giving a total of 8 different following modes.


What I Didn't Like

Despite all the awesome features it packs, the Mini-MI's stabilization performance is like that of a budget gimbal and it's build quality isn't the best, either.
When you zoom in on footage and compare it to similar footage taken with the OM4 or Zhiyun Smooth 4, the micro-stutter is a lot more apparent.

Given that MOZA is a fairly new brand, their smartphone companion app is expectedly disappointing. You will be better off filming with the stock camera app or purchasing Filmic Pro–a shame considering the MOZA app has a neat sports mode and barrel-roll mode.
The MOZA Mini-MI is a serious contender for the best budget gimbal, but given its bulky size and slightly lower battery life, it isn't the best gimbal under $100 unless you're going to make use of the wireless charing feature.
Read Full Review: MOZA Mini-MI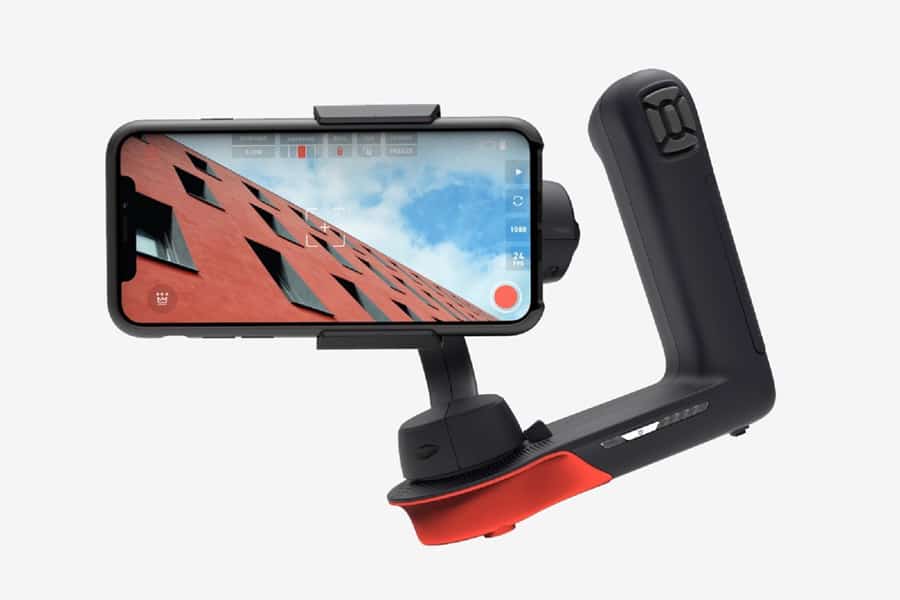 Notable Mention
The Freefly Movi Cinema Robot was engineered from the ground up with professionals in mind. Unfortunately, demand just wasn't there and it was permanently discontinued in 2021.
Excellent stabilization
Can hold with both hands
Great app
Unfortunately, the Movi has been permanently discontinued. There are no plans for a new release. Read about it here.
Who's It For?

The Freefly Movi Cinema Robot is a gimbal designed by filmmakers for filmmakers. Besides being an excellent video stabilizer, its companion app, Movi App, makes it easy to perform various 'cinematic' tricks. However, it isn't cheap.

Compatibility

The Movi Cinema Robot can support a payload of over 500g. It can support the largest iPhones like the iPhone 7 Plus, iPhone 8 Plus and iPhone XS Max. Larger Androids are also supported. You can find a full list of supported phones here.

Movi Cinema Robot Overview

The Movi Cinema Robot is almost U-shaped, unlike most monopod styled gimbals. This makes it possible to hold it with with two hands and provide additional stability.

As you might expect for a gimbal of its price, the stabilization performance is excellent and superior to the DJI Osmo Mobile 2.

A big part of the Movi Cinema Robot is its exclusive companion app – Movi App. Unlike other gimbal companion apps, this app is well thought out and offers a lot of cinematic presets. This makes it easy to produce impressive video content.

The Movi Cinema Robot takes two 2600mAh Lithium Ion batteries that last for around 8 hours. This is shorter than the other gimbals on this page, but the Movi Cinema Robot uses powerful motors that can support a much higher payload.

There's also a lot of further customization possible with the Movi Cinema Robot. By attaching the Movi Hoodie accessory mount, you can attach flashes and shotgun mics to the gimbal.

What I Like

I loved the Movi Cinema Robot's unique U-shaped design. You can hold it using both hands, which not only helps stability but reduces fatigue when filming for extended periods.

Its U-shaped design features a sturdy rubber base, which allows you to rest the gimbal and keep it upright on any flat surface. I therefore rarely need to use a tripod with it.

The stabilization performance is excellent and using the Movi App is heaps of fun. It makes it incredibly easy to change settings like the exposure or quickly flip through previews of your recordings – all without needing to touch your phone. It also makes it easy to capture barrel roll, dolly zoom, orbit and other cinematic effects.

What I Didn't Like

The gimbal is bulkier than other gimbals, and unnecessarily cumbersome if you're just looking to record some shots during your next holiday.

But the biggest issue is its cost. At $300, it costs between 2-3x as much as the other gimbals on this list. I personally don't feel the gimbal is worth it unless you are certain that its unique features are worth the difference in price.
Read Full Review: Freefly Movi Cinema Robot
Other Noteworthy iPhone Gimbals
Freevision VILTA Mobile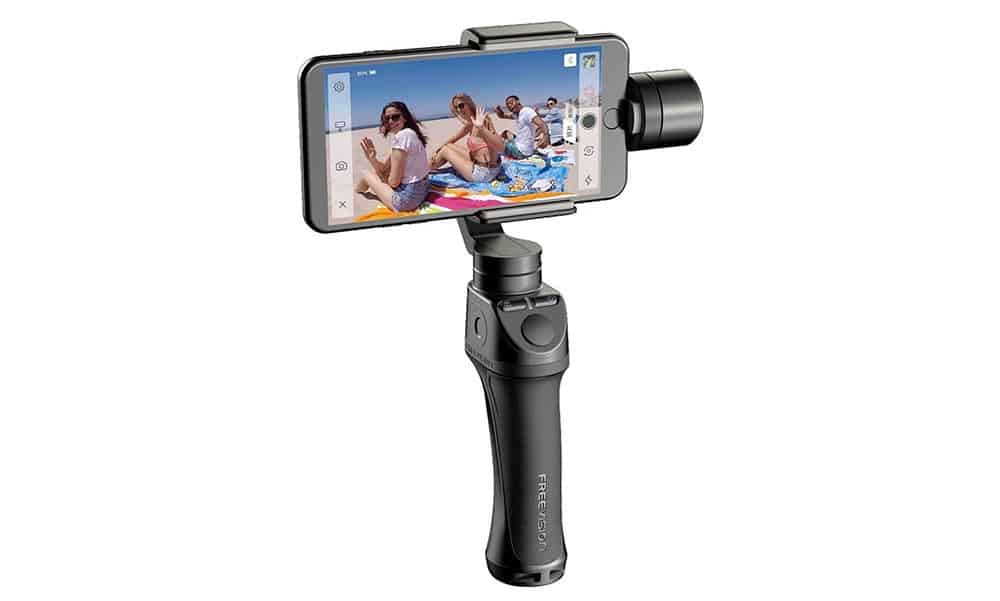 No longer recommending Freevision gimbals because its apps are reportedly no longer available on Apple's App Store. See comment.
For ergonomics and build quality, the Freevision VILTA-M is my top pick. It is similar to the DJI Osmo Mobile 3 and OM 4 in design, but features an even comfier grip and is constructed using 'aeronautical materials'.

It is a solid alternative to the gimbals from DJI, but unfortunately, its image stabilization came out inferior. This was noticeable when comparing footage at a 250% zoom, where the VILTA-M showed a lot of jitter.
DJI Pocket 2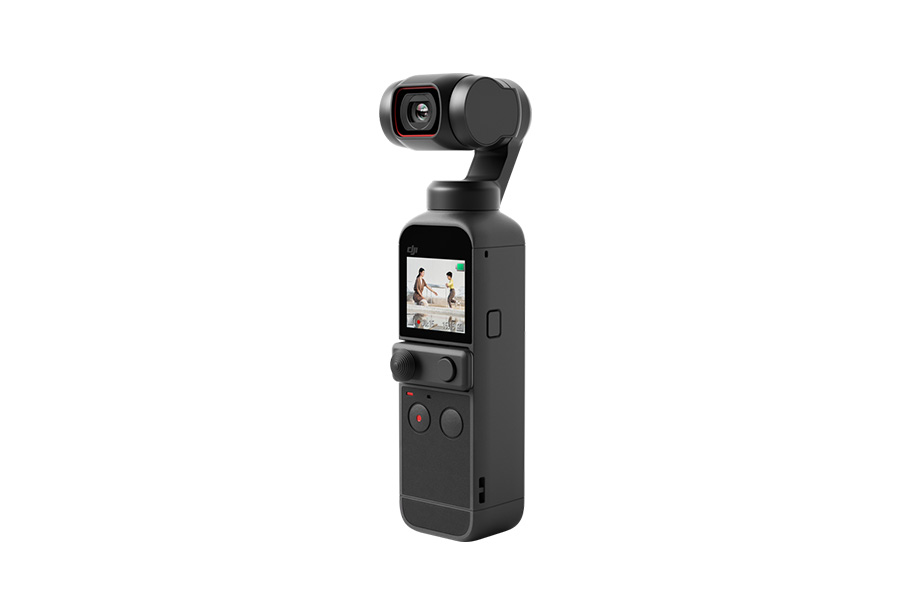 This isn't technically an iPhone gimbal, but instead, it's a dedicated 2-in-1 camera that can replace your iPhone for video needs. If you find the whole process of mounting and unmounting your iPhone on and off a gimbal and hate carrying around two pieces of equipment to take videos, then this is for you.
It's not cheap, but it packs an excellent camera and it's just a heck of a lot of fun to film with.
Why Should I Get An iPhone Gimbal?
Had you asked me 5 or 10 years ago, I would have told you iPhone gimbals are a waste of time. After all, why would you invest in cameraphone accessories when you can invest in "real" camera equipment? But now, I hold a very different view, as I find my iPhone more and more often becoming my go-to equipment for video.
Here are the reasons why now is a good time to invest in a gimbal for your smartphone:
Reason 1: You can shoot serious video with your iPhone
Rewind to 2016 or so and you'll find no one really took recording video with their iPhone that seriously.
Sure, people were used to sharing some casual footage on social media. But vloggers, amateur filmmakers, and live streamers were all using expensive DSLRs or mirrorless cameras.
But newer phones like the iPhone 13, Google Pixel 6 Pro, and Samsung Galaxy S21 have changed everything. These phones pack in cameras that can produce crisp 4K video at a smooth 60 frames per second. More and more people are turning to their phones to record video content. And that trend is set to continue.
Reason 2: Your iPhone's built-in OIS isn't always enough
As you begin shooting video on the move, camera shake becomes apparent. Even with the latest iPhone and its fantastic built-in sensor-shift optical image stabilization (OIS) technology, camera shake will be a problem if you want production-ready footage.
So what's the solution to the problem?
A 3-axis motorized gimbal is an iPhone accessory that can drastically reduce unwanted camera shake and vibrations.
How do they work? First, they use gyroscopes and accelerometers to detect camera shake. Then, three brushless motors rotate three pivots by just the right amount to counteract the shake. With the ability to keep your smartphone level in all three axes (pan axis, tilt axis, and roll axis), your phone is held completely steady.
And best of all, unlike a Steadicam or dolly that Hollywood film crews operate, gimbals are incredibly simple to use. Just mount your iPhone or Android and hit the record button.
So whether you're a YouTube content creator, an amateur filmmaker, or someone simply looking to record better videos for their Instagram stories, a lightweight gimbal stabilizer is a simple and cheap way to massively up your game.
Reason 3: An iPhone gimbal does other things, too
While the primary purpose of a gimbal is to help you keep your iPhone camera steady, these days they all have a number of advanced features that make them capable of so much more.
Some features you might see include face tracking and object tracking, doubling up as a power bank, and helping you take a time-lapse or motion lapse video. Of course, it's also much more comfortable to record with a gimbal's ergonomic grip compared to holding up a flat iPhone in your hand.
Reason 4: Smartphone Gimbals Are Cheaper Than Ever
I still remember choosing my first gimbal for my iPhone in 2016. Back then smartphone gimbals cost over $300, so a lot of research went into my purchase. I finally settled on the awesome original DJI Osmo Mobile, which is still a great gimbal today.
Today, however, smartphone gimbals cost much closer to $100 and perform better than the ones from 2016. Now is definitely a great time to pick up a new gimbal and start producing some slick video footage.
More Buying Tips
Motorized Gimbals Vs Mechanical Stabilizers (Steadicam, Glidecam etc.)
Before gimbals were a thing, handheld stabilizers were the go-to tool for image stabilization. They cost less but require more skill to operate, and don't offer the same level of stabilization. For iPhone video stabilization, gimbals are definitely the way to go.
Can My New Gimbal Be Used As A Power Bank?
Yes. Many, but not all, smartphone gimbals can also function as a power bank. Their battery capacities are smaller than dedicated power banks but they can be useful as a backup. Of course, charging your phone with a gimbal will eat into the recording time of your gimbal.

Will My New Gimbal Conflict With My iPhone's OIS?
The iPhone 6S Plus was the first iPhone to feature optical image stabilization (OIS) and not rely purely on electronic image stabilization (EIS). iPhones with OIS use gyroscopes and accelerometers to detect shakes and reduce their impact by moving the lens with electromagnet motors. However, as a method of image stabilization, it is nowhere near as effective as a gimbal.
While some gimbals previously didn't play well with the iPhone's sensor-shift OIS, they now don't suffer from such issues.

Can I Use My iPhone Gimbal With A GoPro/Action Camera/DSLR?
Smartphone gimbals are primarily designed for use with iPhone and Android devices. However, many of them can also hold a GoPro or similarly sized action camera instead. To ensure the GoPro or action camera is held firm, purchasing a GoPro gimbal mount adaptor plate is recommended.

DSLR and mirrorless cameras are too heavy for use with these gimbals, so you will need to use a gimbal designed for DSLRs and mirrorless cameras.
Further Video Stabilization With iMovie
Using a gimbal stabilizer is the best way to deal with camera shake. However, it is possible to further stabilize recorded video footage in iMovie (iOS/Mac). You can find detailed information about the procedure here.

Are Smartphone Gimbals Waterproof?
In general, smartphone gimbals are not waterproof. Their brushless motors could be damaged by contact with water. It is therefore not recommended to record video in wet conditions.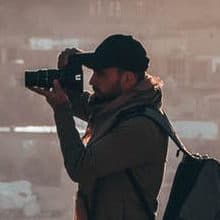 I'm a photographer and the chief editor of Capture Guide. After spending several years in parts of South America with my trusty old Nikon D7100, I'm now back home patiently waiting for borders to re-open.