The last few years has seen a dramatic increase in the number of new GoPro gimbals coming out. Simultaneously, more and more affordable options are entering the market.
What used to be considered an accessory reserved for enthusiasts, 3-axis motorized gimbals are now available for the average GoPro user.

The Hohem iSteady Pro is exactly that, and with a price point below $100, it will no doubt tempt some of the more casual video shooters out there.

With that in mind, let's take a look at whether this very reasonably priced GoPro accessory is actually worth your money.
First Impressions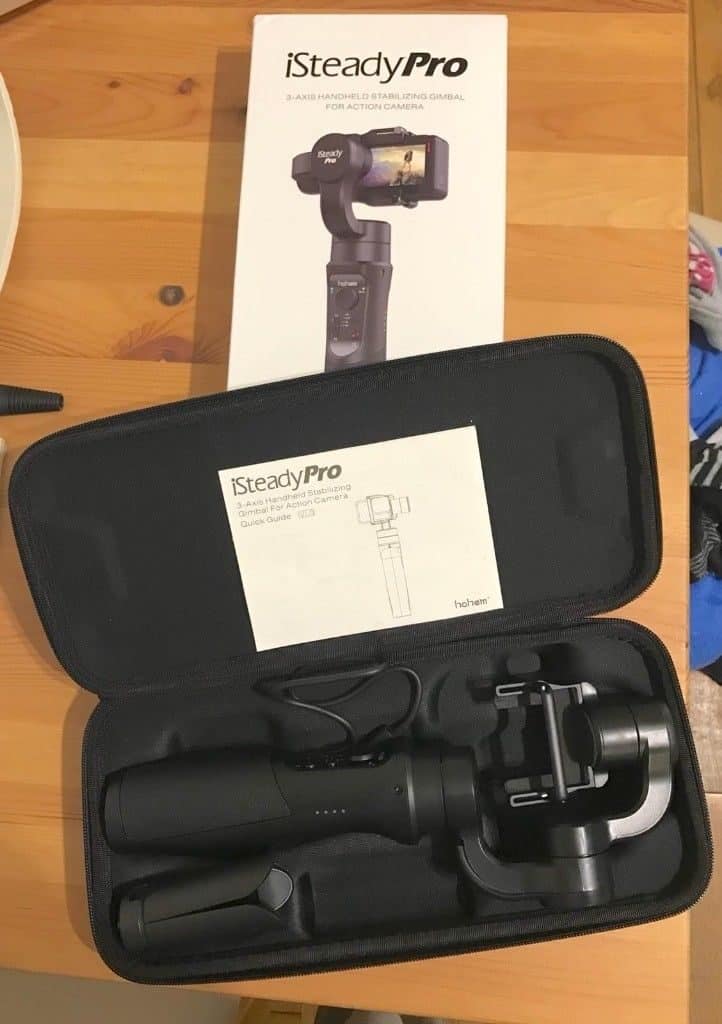 Right out of the box you can tell this is marketed towards the more casual user. It's packaging is much smaller and lighter than the high end gimbals many gimbal owners will be familiar with.

A nice carry case as opposed to a simple carry pouch is generously included. Inside you'll find all the bundled accessories which include a micro USB charging cable and very small tripod.

When I first got my hands on the gimbal, I couldn't help but feel the build quality was a notch below more expensive gimbals. Many high end gimbals also have a plastic base construction, but the Hohem iSteady Pro felt lighter and more plasticky.

Nevertheless, it would be rather naive to expect a sub-$100 gimbal to feel just as well built as a gimbal that costs twice as much.

Moving on, the GoPro/action camera attachment clip. Unlike high end gimbals which feature detachable clips, The iSteady Pro makes do with a fixed clip. As a result, there's no chance of using it with your smartphone.

For custom attachments, the iSteady Pro features to quarter-inch screw thread holes for accessories like the included Tripod. One is on the side of the grip and the other is at the base of the gimbal.

The Hohem iSteady Pro features a total of 3 USB ports. The standard USB port is to make the gimbal function as a powerbank and allow you to charge whatever device you might have. The micro USB port on the side of the grip is for charging the gimbal itself. Meanwhile, at the head of the gimbal is a mini USB port which was presumably designed to directly connect with the mounted device. I personally found the positioning of the mini USB port on the head to be too inconvenient for charging my GoPro HERO7 and HERO5.
Compatibility

The Hohem iSteady Pro is compatible with the GoPro 3/3+/4/5/6/7 and similarly sized non-GoPro action cameras. Note that the way you attach your GoPro will depend on its model. With the GoPro 5 and above you'll mount it with the lens beside the motor, and vice versa with any of the older GoPros.

Controlling the Hohem iSteady Pro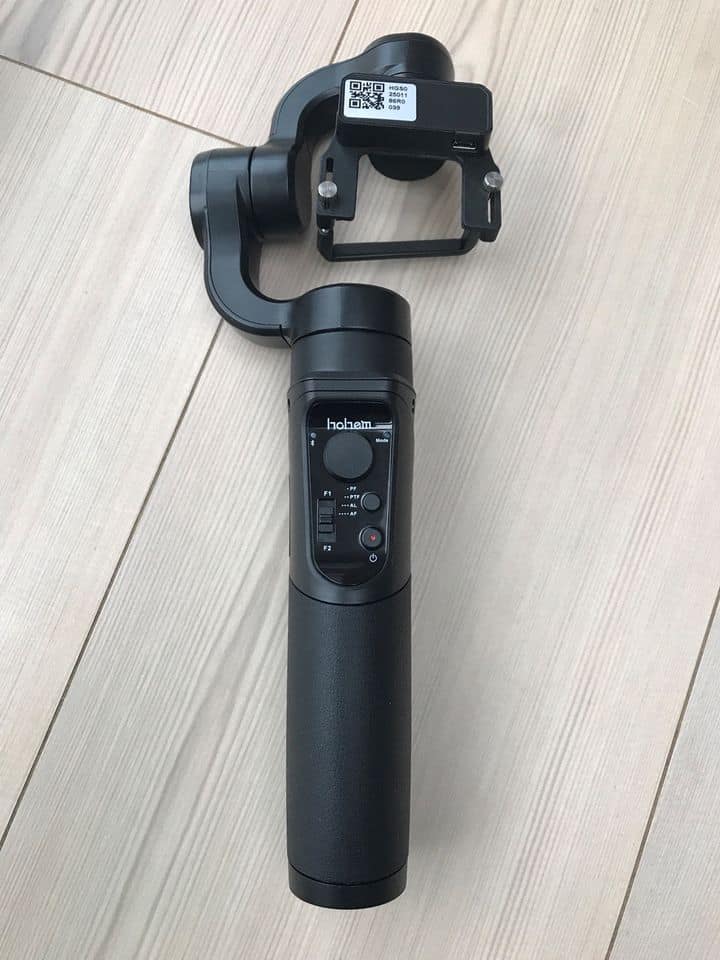 For a budget gimbal, the Hohem iSteady Pro packs in a great number of controls and shooting modes.

LED indicators will tell you which mode you're in and whether you're connected to your smartphone via bluetooth.

The iSteady Pro has several buttons that are used for its control. An on and off button and mode toggle button both simple buttons that don't need further explanation. In the center is a button to trigger quick lock, and to the left side is a button that can be assigned a custom mapping via the app.

Besides them, the gimbal features a joystick that allows you to control the pan (side to side motion) and tilt (up and down motion) of your camera. A nice thing about the iSteady Pro is that it has a 360-degree range of motion in the pan axis. That's better than some gimbals which can only pan 90 degrees left or right.

Shooting Modes

By default the iSteady Pro will turn on in pan following mode. That means it tilts up and down to keep the shot level, but allows you to pan left and right freely. Since it is a 3-axis gimbal, it will also correct in the roll axis (that's when your camera tilts, or rolls, left or right).

It's worth noting that unlike some gimbals which don't make it clear what shooting mode you're in, this gimbal uses a flashing indicator to indicate its current shooting mode.

The second mode is the pan and tilt following mode. This basically means it will lock the roll axis and negate any roll, but allow (smooth) movements in the tilt and pan axes.

The third shooting mode is the all locked mode. All three axes are locked, meaning the gimbal will do its best to keep the GoPro's orientation locked. This is useful when the subject recording the video is still, but the environment is unsteady – e.g. in a car or on a boat.

Lastly, we have the all following mode. This basically means the gimbal will follow movements in all axes, but smooth those movements out. I personally find myself using this mode least as I am rarely in situations where I actually want to roll my camera left or right. However it's nice to have this shooting mode as an option nevertheless.

Hohem Gimset App

The Hohem Gimset is an iOS/Android app that allows you to connect your iSteady Pro to your phone. The following things can be done via the app:
Gimbal calibration
Remotely control your gimbal (e.g. change shooting mode, pan left and right)
Configure settings (e.g. motor speed, joystick sensitivity)
Update firmware, digital user manual
A nice feature is that the settings can be saved under various profiles. Therefore, you could potentially have one setup that has a very fast follow speed, and one that has a much slower one.

For example, if you're filming downhill biking you could use a profile where the follow speed is fast to emphasise the intensity nature mountain biking. Meanwhile, you could use a slow follow speed profile to film a relaxing walking tour through a city.

Overall, I highly rate the Hohem Gimset app. It isn't perfect but it is definitely one of the better manufacturer provided apps.

Stabilization Quality

The stabilization quality of the Hohem iSteady Pro was pleasantly surprising given my somewhat low expectations going in. It was very comparable to the likes of my Feiyu G5 which costs twice as much.

I tried it with both my GoPro HERO3+ and GoPro HERO6. Both produced good results, with the HERO6 being slightly better thanks to its superior built-in image stabilization.

Another positive I took away from using the iSteady Pro was the relatively quiet brushless motors. Being a smaller gimbal, the smaller motors themselves produce less noise.

Conclusion

The Hohem iSteady Pro will be a massive improvement over any gimbal-less setup and isn't missing any features that more expensive gimbals might have. For under $100 you'd be hard pressed to find a better alternative.

The only thing holding it back is its relatively cheap build quality. While mine hasn't had any problems and online reviews are overwhelmingly positive, I wouldn't feel very comfortable doing anything too adventurous with this gimbal.

Overall the Hohem iSteady Pro offers fantastic value for money and offers real 3-axis motorized gimbal stabilization to the masses. Just make sure you handle it with some care.
Rating: 4/5
The Hohem iSteady Pro is currently our favorite budget gimbal in our GoPro gimbals buying guide.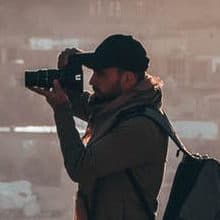 I'm a photographer and the chief editor of Capture Guide. After spending several years in parts of South America with my trusty old Nikon D7100, I'm now back home patiently waiting for borders to re-open.