GoPros make great video cameras, but there is no questioning that they were designed to record action. Whether you're filming extreme sports or a leisurely walking city tour, the GoPro is an obvious choice given its compact size and great video quality.
When we're recording action, camera shake is always going to be a potential problem. Even with the latest GoPro Hero 10 which features the latest "HyperSmooth" version 4 electronic image stabilization technology, tackling camera shake with software alone has clear limitations.
A 3-axis GoPro gimbal is the ultimate GoPro accessory to help you record buttery smooth video footage. However, choosing the best GoPro gimbal can be very difficult given the sheer number of different gimbals available today.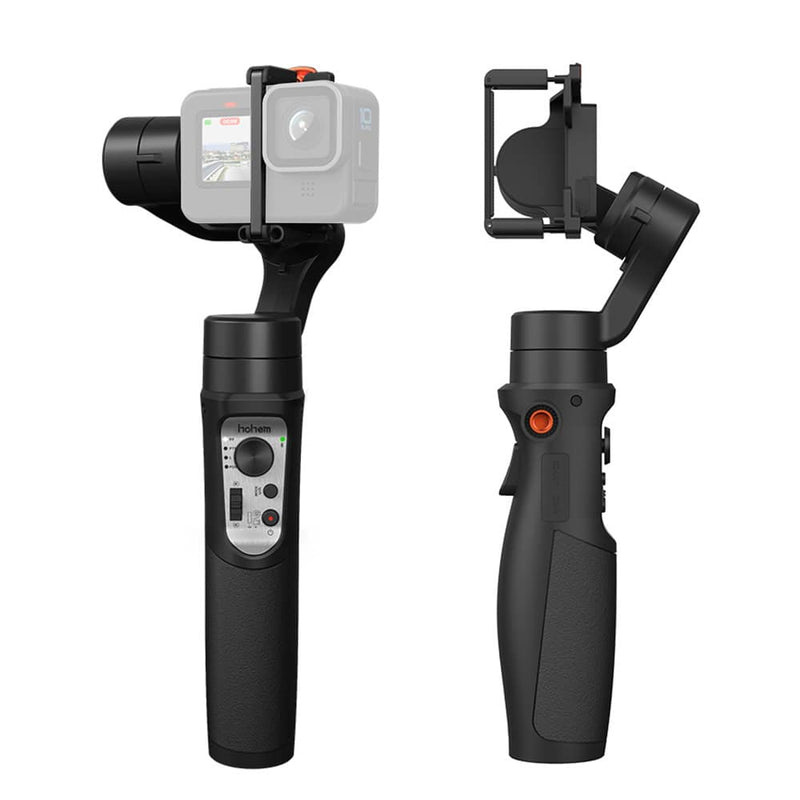 In this buyer's guide, we'll be going through the best gimbals money can buy right now. We've not only tested them ourselves but also aggregated the feedback from other reviewers and users.
At A Glance – Best GoPro Gimbals 2023
---
Notice: GoPro gimbals in 2023:
Unfortunately, manufacturers have been slow to update GoPro gimbals. It seems there isn't much demand and focusing on smartphone gimbals is simply more profitable. GoPro themselves haven't released a new gimbal since the outdated Karma Grip (which isn't compatible with the GoPro Hero 8, 9, or 10).
Fortunately, there are some new options springing up for owners of recent GoPro models, and in the products that make up this list, I've made sure to include confirmed compatibility with different GoPros.
---
Wearable Gimbals vs Handheld Gimbals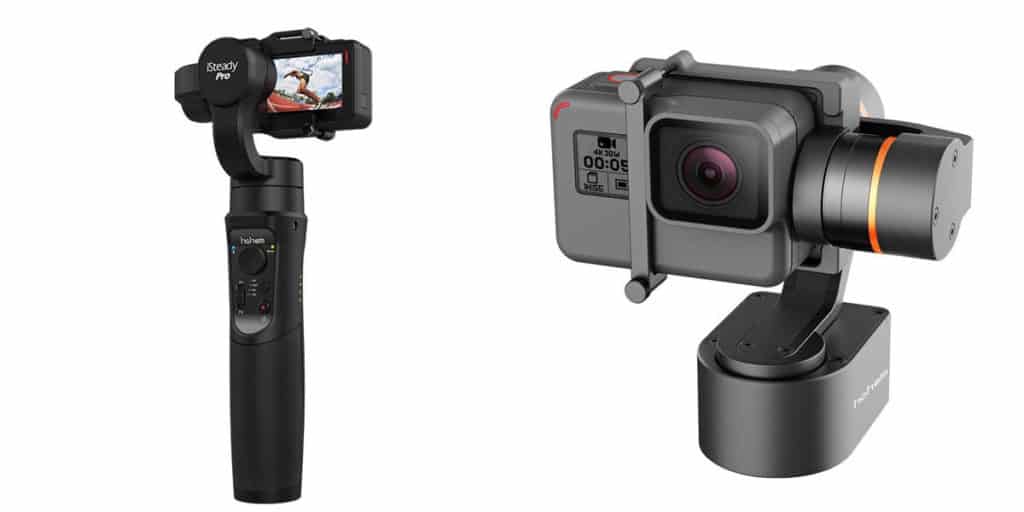 Before we take a closer look at our winning picks, let's talk about the differences between wearable gimbals and handheld gimbals.
Handheld gimbals feature a grip so you can walk around with your GoPro in your hand. It's the ideal setup if you want complete freedom over camera movements.
But when you're filming extreme sports, a handheld gimbal might be too cumbersome. For example, when you're out mountain biking, there's no way you'll have a hand free to hold up your camera. A wearable gimbal can be mounted to your chest, your handlebars, or just about anywhere you can think of.
There are also a few other subtle differences between the two kinds of gimbal. Being more compact, wearable gimbals feature smaller batteries which don't last as long as those of handheld gimbals which can pack bigger batteries in the handgrip. When being worn, they also need to be attached to your body somehow, which might require some additional accessories like a chest harness or shoulder strap.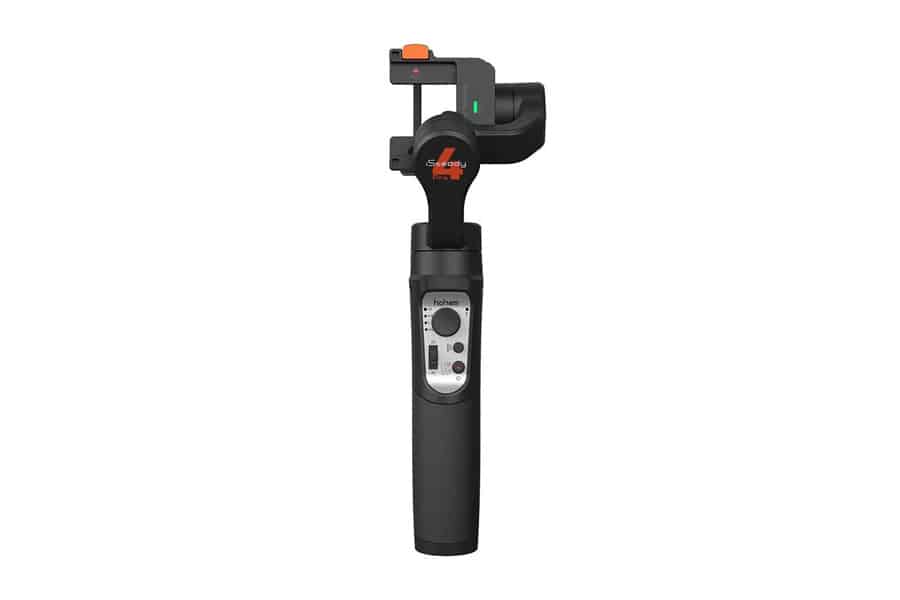 Best Overall
A solid and affordable GoPro gimbal that makes mounting and unmounting a breeze. Packed with features and fully compatible with the GoPro HERO9 and HERO10 models.
Maximum Payload:
0.33lb (150g)
Waterproof:
IPX4 Splashproof
Affordable
Quick-release clip for one-step mounting
Handy trigger button
14-hour battery life
Who's It For
For those videographers looking to eliminate camera shake without breaking the bank, the Hohem iSteady Pro 4 is an excellent choice. The splashproof gimbal is by far the most popular GoPro action camera gimbal right now and is what I'd recommend to the vast majority of buyers.
Compatibility
The iSteady Pro 4 is compatible with the GoPro HERO10/9/8/7/6/5/4/3+/3 and other similarly sized sports cameras, including the DJI Osmo Action, Yi 4K, Yi 4K+, AEE, SJCAM, and Sony RX0.
Hohem iSteady Pro 4 Overview
Despite its low price tag, the iSteady Pro 4 isn't short on features. In fact, with four shooting modes, 600° range of motion in the pan axis and a 14-hour battery life, it has most of the competition beat.
The small handgrip packs in a decent number of controls, including a joystick to electronically adjust the pan and tilt. In addition to the standard buttons you'd expect, there are also programmable hotkeys that can be set in the Hohem Gimbal App.
Of course, many of you will be wondering what makes it different from the original iSteady Pro. The new version features an angled gimbal arm which improves torque and makes sure the GoPro's display remains unobstructed. It also features a trigger at the back of the handle which makes functions like locking on to subjects or snapping far more convenient while filming.
What I Liked
There are simply no other action cam gimbals that perform as well as the iSteady Pro 4 within a $100 budget. Hohem has brought motorized gimbal stabilization to the casual GoPro user and hasn't skimped on features either.
I reviewed footage across various zoom levels and playback speeds and compared them with footage coming from the Feiyu G6 and GoPro Karma grip. Honestly, the difference is so slight that it becomes difficult to recommend the latter options given the price difference.
What I Didn't Like
The iSteady Pro 4 definitely looks and feels like an entry-level GoPro gimbal stabilizer. It doesn't have the ruggedness of the other gimbals and its build feels more plasticky than more expensive options. And although very difficult to tell, the motors are very slightly less responsive than some other alternatives which makes them less capable when recording fast-paced action.
Read Full Review: Hohem iSteady Pro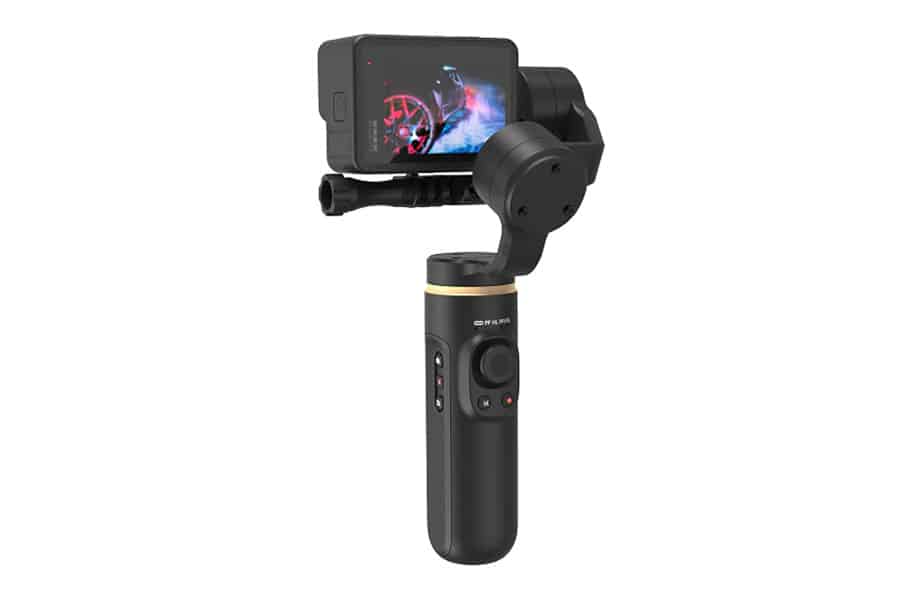 Runner-Up
A slightly more compact alternative to the iSteady Pro 4, only time will tell if the app is kept up-to-date.
Maximum Payload:
0.3lb (135g)
Compact and lightweight
Foldable design
Quick mount and dismount procedure
Uncomfortable grip
Unknown brand - uncertain future support
Who's It For
Priced only slightly higher than the Hohem iSteady Pro 4, the INKEE FALCON is another new release that supports the very latest GoPro action cams. If you would prefer a slightly more compact and lighter alternative, this is a good choice.
Compatibility
The INKEE FALCON gimbal is compatible with the GoPro Hero 10/9/8/7/6/5, DJI OSMO Action, Insta360 ONE R and any other action cameras that have similar dimensions.
INKEE FALCON Overview
Coming from a little-known Chinese brand, the INKEE FALCON is one of the few handheld gimbals that is specifically designed for use with action cameras.
Nothing particularly stands out, and it feels very generic overall. But that's not a bad thing, since the latest gimbals all pack a ton of different features like multiple shooting modes, motion time-lapses and 360-degree horizontal panning range.
One key feature that INKEE markets is the "vertical shooting mode" which lets you film portrait video by holding your GoPro on its side. Personally, it seems like a bit of a gimmick because there aren't many times I would prefer recording in portrait orientation. But some people may like it.
What I Liked
The mounting and balancing procedure was straightforward and overall it didn't take long to get it all set up. The gimbal is light and compact, and slightly smaller than its rivals which can be advantageous when you're carrying your GoPro in a small bag or case.
I also like the clutter-free button layout and the feel of the joystick and rear trigger. The control scheme is probably nicer than the Hohem iSteady Pro 4, but the difference is pretty marginal.
What I Didn't Like
The first problem is the size of the grip. It's too small! I don't even have big hands for a guy and it just felt awkward to hold. Now you can attach the bundled tripod and close the legs to make it act as a grip extension, but it just adds an extra layer of hassle and is still pretty uncomfortable to use.
Also, the FALCON app is one of the least mature. I've seen unknown gimbal brands come and go over the years, and quite often their app is just left to die or removed from the iOS App Store or Google Play Store completely. Given how this doesn't have the userbase of the more popular Hohem gimbal, I can't say with confidence that support will last for the foreseeable future.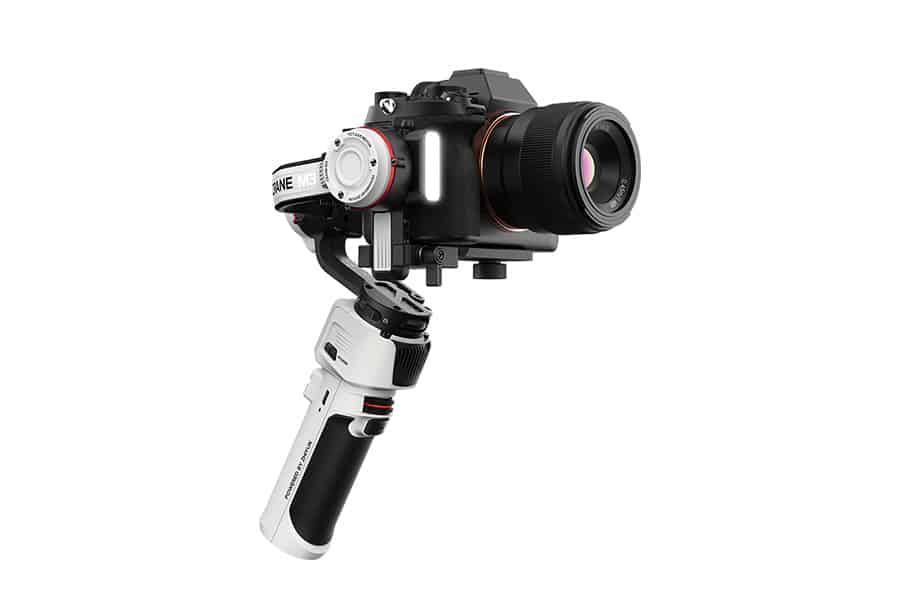 Premium Pick
A gimbal also capable of mounting mirrorless cameras as well as smartphones, the Crane M3 is best-suited for serious videography. Make sure to get the Combo package (see link) to get the GoPro mount adapter.
Maximum Payload:
2.2lb (1kg)
Great build quality and stabilization performance
Supports tons of cameras
Built-in fill light
Who's It For
Simply a cut above the rest in terms of quality and features, the Zhiyun Crane M3 is a GoPro-compatible gimbal for those who want a serious piece of kit. However, it doesn't make sense to buy one unless you have other cameras to use it with.
Compatibility
The Zhiyun Crane M3 is designed for smaller cameras, not just GoPros. This means it can comfortably accommodate smaller mirrorless cameras, point and shoots, and smartphones.
It supports GoPros, but there are two caveats. First, you'll need to buy the adapter mount, and second, some of the controls won't work for GoPros.
Zhiyun Crane M3 Overview
Zhiyun is a well-known gimbal manufacturer, though most of its offerings are designed for DSLR, mirrorless and cinema cameras.
The Crane M3 is supposed to be a powerful yet incredibly compact gimbal. It's primarily designed as a mirrorless camera gimbal, so the light payload of a tiny GoPro will prove no challenge.
A standout feature is an integrated 800 lumen LED light which isn't as good as having a personal lighting assistant around, but still pretty neat nonetheless.
What I Liked
The Zhiyun Crane M3 feels incredible in the hands, making the cheaper GoPro gimbals feel like toys in comparison. With a color touch screen, plenty of dedicated controls and a more polished app, the overall experience of using the Crane M3 was superior to that of cheaper gimbals.
What I Didn't Like
First and foremost, the price. It costs four times as much as other GoPro gimbals and you'll need the custom GoPro adapter mount to use it with your GoPro.
If you own a compatible mirrorless camera, a smartphone, and GoPro and you want to kill three birds with one stone, this could be a very good investment. But for use with a GoPro alone, it's not really worth it, especially as some of the features don't actually work with a GoPro.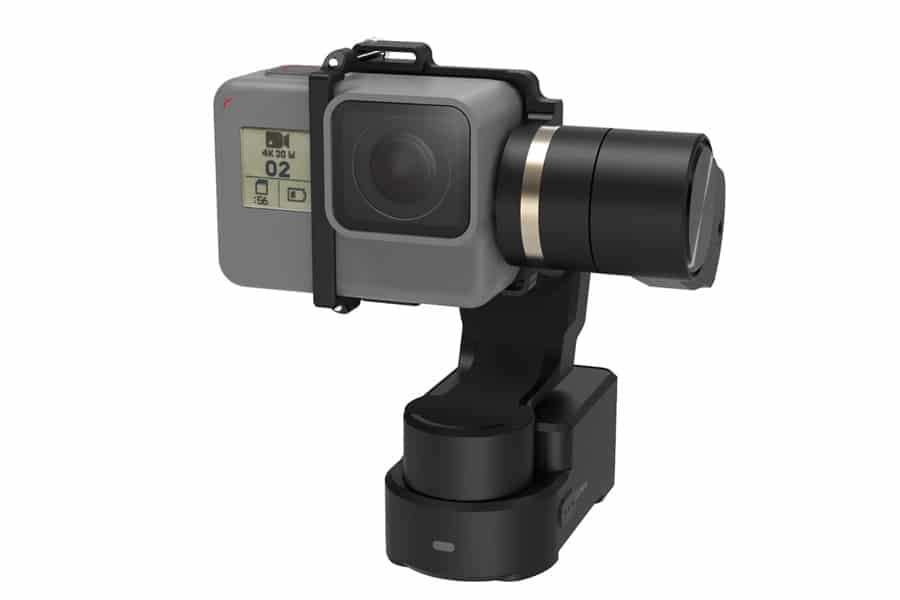 Best Wearable
The Feiyu WG2X is one of the few splashproof wearable GoPro gimbals, but it needs a successor that works with the HERO9 Black and HERO10 Black.
Maximum Payload:
0.3lb (135g)
Waterproof:
IPX4 Splashproof
Easily worn
Great stabilization performance
Can also be used as handheld gimbal using included tripod
Low battery life
Very limited compatibility with newest GoPro models
Who's It For
For those who want to wear their camera on their chest or on their helmets, getting a wearable gimbal like the Feiyu WG2X is a no-brainer. Wearable cameras are are also more versatile when it comes to mounting–not having a hand grip makes it much more stable when mounting the gimbal to handlebars, RC cars and the like.
Compatibility
The Feiyu WG2X supports the GoPro HERO8, HERO7 (all models), HERO6, HERO5, HERO4 as well as the HERO Session via the included Session mount adaptor. With a GoPro HERO10/HERO9 adapter kit it can stabilize these newer GoPros, but it will not be able to establish a remote connection to them.
Similar sized action cameras like the Yi 4K/4K+, Sony RXO and SJCam, are also supported.
WG2X Overview
The Feiyu WG2X is an update of the well-received WG2 wearable gimbal. Although on the surface they appear very similar, the WG2X has improved stabilization performance, an angled gimbal arm and the ability to control it remotely.
Its compact design makes it easily worn with chest harnesses or shoulder straps. It can also easily be attached to desktop tripods, selfie sticks and handlebars that fit its universal quarter-inch thread needle.
This wearable GoPro gimbal features three shooting modes: pan follow, following and locked. Unlike other popular wearable gimbals like the Zhiyun Rider-M and Hohem XG1, the WG2X has an unlimited range of motion in the pan and tilt axes (as opposed to 320-degrees).
Through the Feiyu ON App, you can control the WG2X remotely using your phone. This is an especially useful feature for wearable gimbals which are difficult to access when worn.
What I Liked
Most wearable gimbals are very similar, so the only point of differentiation is stabilization performance. The WG2X shines in this area, beating out the likes of the equally popular EVO SS and Hohem XG1. Thanks to its software update, the stabilization is also a noticeable upgrade to its predecessor, the WG2.
The angled gimbal arm, though hardly essential, is a nice touch. When mounted to a chest harness, the gimbal arm no longer blocks the GoPro display.
Included in the box is a small tripod. When you close the legs of the tripod, it essentially becomes a grip of its own meaning you can use the WG2X as a handheld gimbal.
What I Didn't Like
Being a wearable gimbal, the WG2X has a smaller 1500mAh battery that can be housed within its compact body. This means the battery life will only last around 2.5 hours on a single charge. Unfortunately, this is the case with almost every other wearable gimbal out there.
Unlike the WG2 which was rated IP67 waterproof, the WG2X is merely splashproof and is therefore less water-resistant. It is fine for use in light rain, but attempting to use the gimbal in watersports will most likely result in motor damage.
Read Full Review: Feiyu Tech WG2X Wearable Gimbal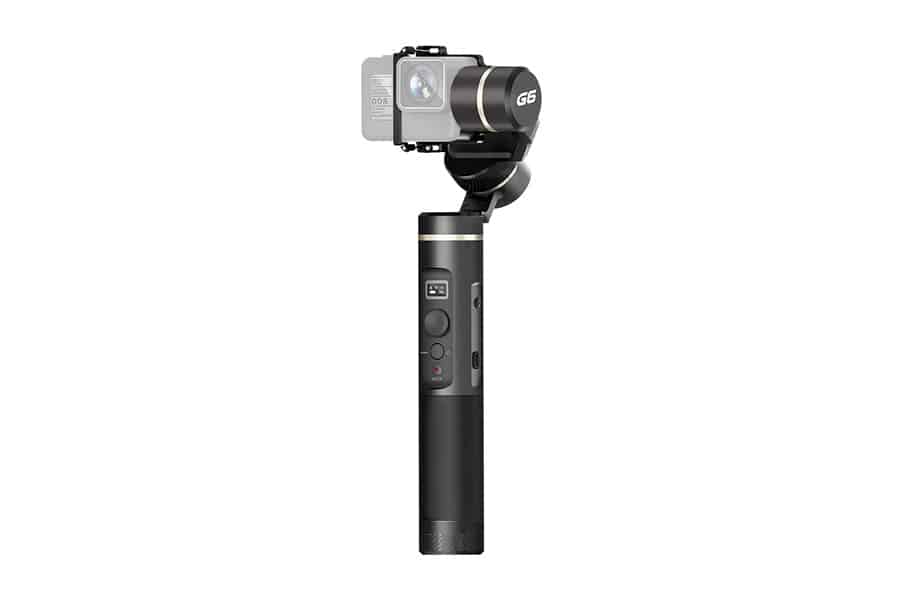 Notable Mention
With its nice aluminum-allow construction, it's a shame Feiyu has not released an updated version of the G6.
Maximum Payload:
0.29lb (130g)
Weight:
0.74lb (336g) not including battery
Nice aluminum construction
OLED camera status screen
Outdated design
Older Wi-Fi connection, not Bluetooth
Who's It For
The Feiyu Tech G6 is a solid all-round GoPro gimbal that offers great stabilization performance for the price. Unfortunately, it comes from the same era as the ancient GoPro Karma Grip, meaning it doesn't make much sense to pick one up now.
Compatibility
GoPro-wise, the G6 is fully compatible with all GoPro 3/3+/4/5/6/7 models. It is also compatible with similar sized action cameras like the Yi 4K/4K+, AEE and Xiaomi Mijia. The box also includes a separate frame for the Sony RX0 action camera.
It offers partial support for the latest GoPro models, meaning it will stabilize but not let you control the camera with buttons (e.g. shutter/record, pan with joystick).
Feiyu G6 Overview
Feiyu are one of the biggest gimbal brands today and the G6 is their flagship GoPro stabilizer. Its small and slick IP67 splash proof body packs in a small LCD display and other nifty features like an external mic port and slider to control the roll of your camera.
Despite looking almost identical, the G6 is a big step up from its flawed predecessor, the Feiyu G5. The G5 had some funky stabilization issues with obvious microjitter, but the G6 holds its own against the considerably more expensive GoPro Karma Grip.
Other non-essential but nice new features are its angled arm and additional thread needle on the side of the grip. The angled arm makes it so that the arm rarely obstructs the GoPro's LCD screen.
The G6's companion app, Feiyu ON, allows you to link up your smartphone and gimbal over bluetooth and control the gimbal remotely. This means you could remotely pan and tilt the gimbal or even setup motion time lapses while your gimbal and GoPro is in another room.
What I Liked
The stabilization performance on third party handheld gimbals can be hit or miss. Fortunately, the G6 is a top performer and it doesn't disappoint. When reviewing zoomed in footage, the G6 footage was slightly more shaky than the Karma Grip footage but only marginally so.
The G6 has a bunch of features the Karma Grip lacks, like an informative LCD screen which tells you things like the remaining battery life and current shooting mode. The external mic port will be welcomed by those recording audio-sensitive footage, since motor noise is a very common issue with any motorized gimbal.
Finally, Feiyu went with a 5000mAh removable battery which can last for up to 12 hours on a single charge. You can therefore swap out the battery as you please, although most people will rarely find themselves needing to do so.
What I Didn't Like
Mounting your GoPro to the Feiyu G6 is a somewhat fiddly procedure, requiring adjustment of hand screws. Attaching your camera is a lot more troublesome than with the Karma Grip, which is a case of simply slotting the camera in its harness.
The Feiyu G6 is difficult to recommend these days because it's an old 2018 model, and the price hasn't even been reduced.
Read Full Review: Feiyu Tech G6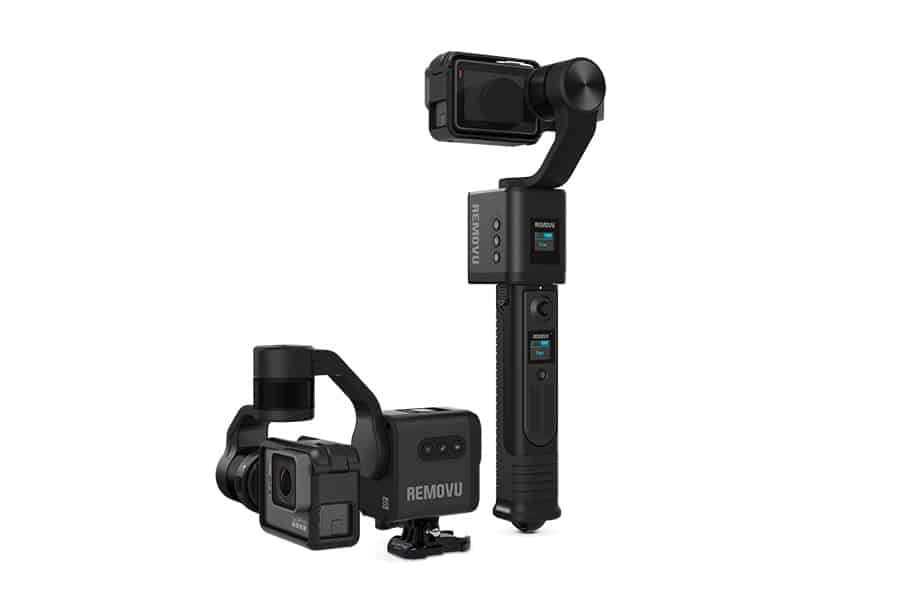 2-in-1 Wearable/Mountable
Innovative Korean brand Removu had a great idea behind the Transformer-like S1, but its high price and various shortcomings meant it just wasn't a market success.
Maximum Payload:
Not specified
Versatile
Removable battery
Removable remote control
Audible motor noise
Fiddly
Who's It For
Want a handheld stabilizer with the ability to transform into a wearable and mountable gimbal? The Removu S1 is your answer. Its modular design means the grip can be detached, leaving a wearable gimbal that can be mounted just about anywhere. Unlike the GoPro Karma Grip which can function as a wearable gimbal if you put in the effort, the Removu S1 was designed to be a dual-purpose gimbal from the ground up.
Compatibility
The Removu S1 is compatible with the GoPro HERO7/6/5, HERO4/3+/3 and Hero Session cameras using different housing frames (included). It is not compatible with non-GoPro action cameras.
Removu S1 Overview
Removu are a little-known Korean GoPro accessory manufacturer who have engineered something quite special in the Removu S1. Featuring a rainproof modular design, the S1 offers unmatched versatility.
By detaching the handgrip, you are free to mount the gimbal anywhere, just as you would with a true wearable gimbal. Furthermore, the handgrip itself features a removable bluetooth wireless remote control. That means you can remotely control the gimbal even if it's mounted on your helmet or to your chest.
Unlike most other GoPro gimbal batteries, the S1's battery is removable. Removu have generously provided a battery charger which can charge up to two batteries simultaneously. The S1 will last for between 3-5 hours on a single charge.
The Removu S1 features three shooting modes (pan follow, following and locked) and can be used inverted for those underslung shots. The remote control is quite fancy, with a helpful LED display and joystick to electronically pan and tilt the gimbal.
What I Liked
Versatility is the Removu S1's main strength. There is simply no other gimbal that can be used as a handheld gimbal or wearable gimbal. The GoPro Karma Grip might be an exception, but it's difficult to call that a true 2-in-1 gimbal, since the battery is housed in the grip.
The Removu S1 comes in a very classy design. It feels well built, if a little bulky being the heaviest gimbal in the whole list. Small bonuses like its removable battery and removable remote control are the icing on the cake.
Performance wise, the Removu S1 delivers very smooth footage. It isn't quite as smooth as the Karma Grip or G6, but it's definitely one of the better stabilizers out there.
What I Didn't Like

The biggest issues with the Removu S1 are its loud motor noise and somewhat sluggish follow modes.
Compared to other gimbals, motor noise is more noticeable. This might not be an issue for some, but those doing more audio-sensitive work like vlogging might take an issue with it.
When you pan left and right or tilt up and down, the S1 is a bit slow to follow, even when the follow speed is cranked to the max. It's not ideal if you're filming scenes with quick camera movements.
Read Full Review: Removu S1 GoPro Gimbal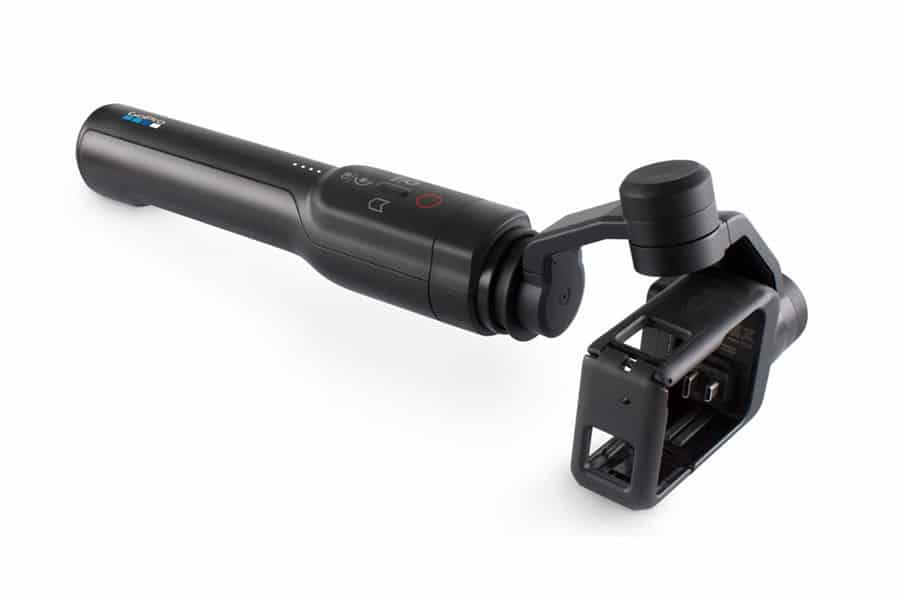 Official Accessory
The Karma stabilizer is an official GoPro accessory and incredibly comfortable in the hands. But it's been discontinued and not compatible with HERO8 or newer models.
Maximum Payload:
Not specified
Waterproof:
Weather Resistant
Ergonomic design
Ease of use
Official support
Very poor battery life
Bulky
Who's it for?
The GoPro Karma Grip doesn't come cheap, but those after native compatibility with GoPros should look no further than GoPro's very own Karma Grip. Despite being a slightly older gimbal, it still manages to perform just as well as almost every other third-party gimbal in everything but battery life.
Compatibility
The GoPro Karma Grip is compatible with the HERO4/5/6/7 Black and HERO4 Silver. GoPro HERO4 owners will have to purchase the HERO4 Karma harness. The Karma Grip is not compatible with non-GoPro action cameras. Unfortunately, GoPro hasn't updated the Karma Grip meaning owners of newer models are out of luck.
As one might expect from an official product, mounting the GoPro to the Karma Grip is as simple as opening the harness and inserting the camera.
Karma Grip Overview
The Karma Grip gets its name from GoPro's Karma drone. Although the Karma drone wasn't a commercial success, they were able to salvage the drone's gimbal and pair it to a hand grip—and thus the Karma Grip was born.
GoPro decided to keep things simple with the Karma Grip. It only features two shooting modes (pan follow and following) and lacks extra features like a pan/tilt joystick or selfie mode.
The gimbal has long been considered to produce the best image stabilization of any GoPro gimbal to date. While third-party gimbals play catch up, GoPro have consistently released firmware updates to iron out some of the performance issues that used to exist.
Since the gimbal can be detached from the grip, it can technically also function as a wearable gimbal. However, because the gimbal's battery is located in the handgrip, you need to purchase the Karma Grip extension cable and keep the grip with you.
What I Liked
The Karma Grip's biggest strengths are its ease of use and top-notch stabilization performance. It works seamlessly with GoPros and doesn't involve installation of any third-party gimbal companion apps which other manufacturers use for firmware updates or configuring settings.
While the GoPro Karma Grip is noticeably bigger compared to a lot of its competitors, it feels incredibly nice in the hands. Being able to feel the additional weight in your hands also makes moving the gimbal around feel more controlled.
What I Didn't Like
Costing significantly more than third-party offerings, the GoPro Karma Grip doesn't offer the best value for money. GoPro gimbals from the likes of Feiyu and Zhiyun have been closing the stabilization performance gap and typically cost half as much as the Karma Grip.
The Karma Grip also shows its age in its disappointing battery life. Recording at 4K, you can only expect around 2 hours of recording time. One of the reasons for this is that it always simultaneously charges your GoPro camera, meaning the battery is drained from two sources.
Read Full Review: GoPro Karma Grip
Other Notable Gimbals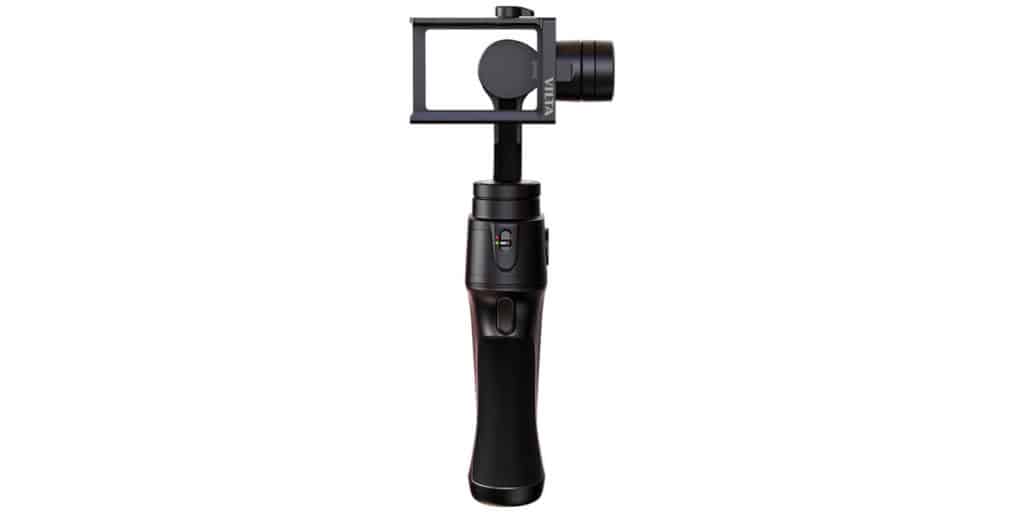 Freevision Vilta-G
Another 2-in-1 gimbal, the Freevision Vilta-G is a solid alternative to the Removu S1. Top notch build quality, a very comfortable grip, decent stabilization performance and quiet motors are just enough to justify its high price tag.
The Freevision Vilta-G lacks the innovative features found on the S1 like the removable battery and remote control. It's also not weatherproof, so if you don't mind the louder motor noise, the Removu S1 is a better choice overall.
Like the Removu S1, this is an old model and the companion app has been dropped from the App Store, so I can't recommend it anymore.
Read Full Review: Freevision Vilta-G GoPro Gimbal
Zhiyun Smooth 4 Smartphone Gimbal
While technically not a GoPro gimbal, the Zhiyun Smooth 4 is a highly rated smartphone gimbal that can also house a GoPro within its adjustable spring clamp. GoPro mount plate adaptors can also be purchased separately to make sure the GoPro is better secured.
The Smooth 4 isn't really designed for the kind of activity typically associated with GoPros, since smartphone gimbals are generally not weather proof and have slightly slower follow speeds. But for those who spend a lot of time filming with their phone and only occasionally take out their GoPro, the Smooth 4 is worth a look.
Note that since it is not natively compatible with the GoPro, you won't be able to use its buttons to control your GoPro. However, it will at least balance your GoPro and stabilize footage.
More Buying Tips
Understanding Shooting modes
The majority of GoPro gimbals feature two or three shooting modes. These are:
Pan-following: The gimbal will react to keep the horizon level, but follow movements in the pan axis (sideways).
Following: The gimbal will follow movements in the pan (sideways) and tilt (up and down) axes, while making sure the footage is stabilized.
Locked: This shooting mode locks the GoPro's orientation in all three axes (pan, tilt and roll). This effectively means the GoPro lens will always be aimed at the same target.
Some GoPro gimbals (including the GoPro Karma Grip) do not feature the locked mode. If you feel this is an important shooting mode to have, this should weigh into your purchase decision.
Can I Use A GoPro Gimbal As A Smartphone Gimbal?
GoPros are lighter and more compact than today's typical smartphone. As a result, most GoPro gimbals cannot support such a heavy payload, and their frame housing will not accommodate a smartphone in the first place.
On the other hand, smartphone gimbals are generally able to accommodate GoPros. However, using a smartphone gimbal as a GoPro gimbal comes with its own problems, and is not an ideal setup. Generally speaking, it's recommended to purchase a GoPro gimbal for your GoPro and a smartphone gimbal for your phone.
Are GoPro Gimbals Waterproof?
GoPros and other action cameras are mostly waterproof these days, but most GoPro gimbals are not fully waterproof or waterproof at all. Gimbals feature rotating pivots powered by brushless DC motors, and it is difficult to fully protect these moving parts from water damage if submerged.
Many GoPro gimbals, are however, splash proof or weather resistant. Here are how the gimbals in this list fare against the elements:
GoPro Karma Grip: Weather Resistant (Light rain and snow)
Hohem iSteady Pro 4: Splashproof (Heavier rain and snow)
Feiyu Tech G6: Splashproof (Heavier rain and snow)
Feiyu Tech WG2X: Splashproof (Heavier rain and snow)
Removu S1: Weather Resistant (Light rain and snow)
INKEE FALCON: Not weather resistant
Zhiyun Crane M3: Not weather resistant
Feiyu Vilta-G: Not weather resistant
Zhiyun Smooth 4: Not weather resistant
Wrapping Up
Choosing the best gimbal for your GoPro is a tricky process, but it ultimately depends on how and where you plan to use your GoPro to record footage.
Most people will probably want to go with a handheld gimbal, unless certain the GoPro will be worn. Filming with the GoPro in your hand is the most natural setup, and a handheld gimbal basically becomes a GoPro grip that just happens to stabilize the recordings.
The GoPro Karma Grip (Official accessory) was engineered to work seamlessly with the GoPro, but it seems GoPro is focused on HyperSmooth electronic image stabilization technology over a gimbal's mechanical stabilization these days. This means they probably won't release another official gimbal.
Luckily, third-party accessories are getting better and better, with the Hohem iSteady Pro 4 offering almost everything you can ask for in a $100 gimbal.
The FeiyuTech WG2X is our favorite wearable gimbal, thanks to excellent image stabilization and a few neat features that other wearable gimbals lack. Unfortunately, it doesn't have much competition and needs an update itself so that it's fully compatible with the HERO9 and HERO10 models.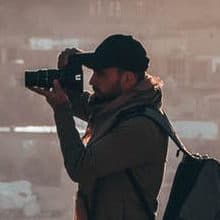 I'm a photographer and the chief editor of Capture Guide. After spending several years in parts of South America with my trusty old Nikon D7100, I'm now back home patiently waiting for borders to re-open.