Turning off your GoPro is the simplest way to preserve its battery life when not shooting video. Turning the GoPro off is a simple process that can be achieved in a few ways.
However, many users experience battery drain while the GoPro is turned off. We'll therefore also discuss some nuances after explaining the basic procedure.
Turn Off GoPro HERO7/6/5
Here are the various ways you can turn off your GoPro HERO7 Black/Silver/White, HERO6 Black and HERO 5 Black.
Method 1: Using The Mode button
Press and hold the mode button for 2 seconds
The camera will beep several times and the camera status lights will flash.
Method 2: Using Voice Control
More recent GoPros (beginning with the HERO5 black) support voice control. One of the voice commands will turn off your GoPro.
Make sure voice commands are enabled in settings
Say "GoPro turn off"
You can also turn on your GoPro using the voice command "GoPro Turn On" if the 'wake on voice' setting is enabled. Note that the camera will only be listening to voice commands for 8 hours after being turned off.
Learn more about GoPro voice commands and supported devices.
Method 3: Using Auto Power Off
Find 'Auto Off' or 'Auto Power Off' (exact wording depends on your model) in your GoPro settings/preferences.
Choose between 5/15/30 minutes. Choose never if you do not want to activate this feature.
Your GoPro will automatically power off after 5/15/30 minutes of inactivity.
Turn Off GoPro Fusion
Like the other GoPros, the GoPro Fusion can be turned off by either holding the mode button for 2 seconds or using the voice command "GoPro Turn Off".
However, it is not possible to adjust the 'auto power off' time. GoPro Fusion cameras will automatically turn off 7 minutes after you have stopped recording.
Turn Off GoPro HERO5 Session
The GoPro HERO Session doesn't have a direct method for turning it off. Instead, the camera will automatically turn itself off when you are not recording video or taking photos.
Reducing Battery Drain when your GoPro is off
Many users report that their battery is quickly drained even when the GoPro is turned off.
The most common cause is that WiFi and/or Bluetooth are still active when the GoPro is off. To ensure that your camera is truly off, make sure to disable these by going to the 'Wireless Connections' in settings before turning your GoPro off.
Using QuikCapture To maximize battery life
QuikCapture is a special feature on most GoPros that is disabled by default (with the exception of the HERO Session / HERO4 Session, and HERO5 Session).
When it is enabled, your GoPro will automatically turn on and start recording when you press the shutter/select button. The GoPro will turn itself off as soon as you stop recording.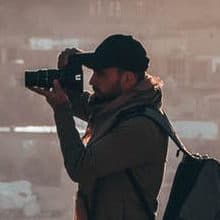 I'm a photographer and the chief editor of Capture Guide. After spending several years in parts of South America with my trusty old Nikon D7100, I'm now back home patiently waiting for borders to re-open.