If you're new to trekking and going on quick adventures, you've most probably considered taking a camera along with you. The main concern with this is that you risk your camera getting damaged in the rain or other source of water you may come into contact with.
Buying or using a conventional camera (e.g. DSLR or mirrorless) and shooting in torrential rain is a surefire way to damage the camera. But a big selling point of a GoPro (or GoPro alternative) is that it's been made to handle even the most extreme conditions. The newest GoPros are usually a maintenance-free camera even when used in wet conditions, but let's investigate further.
Are GoPros Waterproof Without A Case?
Yes! Starting with the GoPro HERO5, all GoPro HERO models are waterproof up to 33 feet (10 meters). The GoPro MAX is a slight exception in that it is only waterproof up to 16 feet (5 meters).
GoPro did not build the older generations of GoPro cameras to be waterproof or even water-resistant. You would need external housing to ensure water never reached the camera's body, which would make the action cam feel bulky compared to its original size.
Another negative about having to combine it with a large protective case was that it would make the audio recording muffled since it would cover up the microphone. Even though some cases feature a skeleton backdoor that helps the microphone pick up more sound, the audio quality difference between no case and case is still significant.
The good news is that all the new GoPro camera bodies have a rugged waterproof design which makes them a great underwater camera. This means they easily withstand rain and can even be submerged to specific depths.
Current models like the GoPro Max, GoPro Hero8, GoPro Hero9, and GoPro Hero10 can be used underwater, making them a perfect companion if you're going snorkelling or scuba diving to specific depths.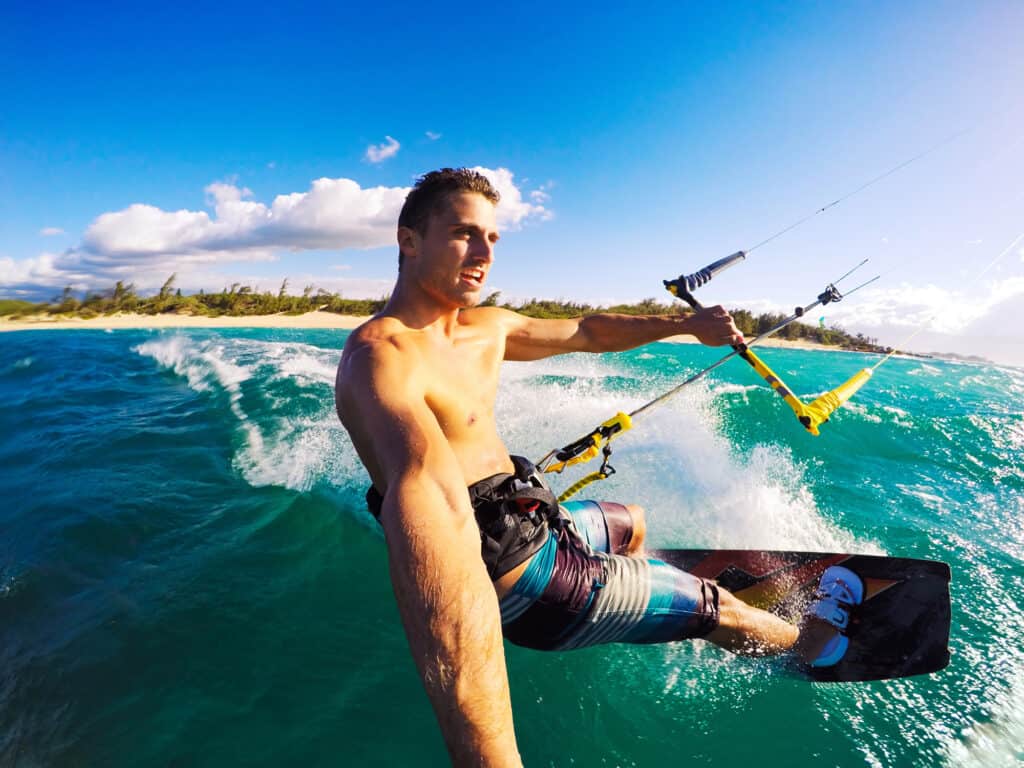 Are All GoPros Waterproof?
No! Older models like the GoPro HERO4 Black, Silver, HERO3+ Black and HERO3+ Silver are NOT waterproof without additional housing.
Waterproof Depth Ratings for GoPro Cameras
GoPro has a range of cameras available, and each GoPro model has slightly different features, so it'll take some research for you to decide which model's features and price range best suit your requirements.
GoPro Hero 10 – 33ft/10m
The GoPro Hero10 Black delivers the best video quality, shooting up to 5.3K high-resolution video and up to 23 megapixels for photographs. The Hero10 has the newest "HyperSmooth 4.0 Stabilization," which is the latest iteration of GoPro's stabilization technology. This will contribute to even smoother footage than what you get in older models.
Like the other Hero series cameras, the Hero10 can be submerged to 33 feet without a protective case. The official 'Super Suit' GoPro accessory that houses the Hero9 is the same case you can use for the Hero10, with a depth rating of 196 feet or 60 meters.
GoPro Hero 9 – 33ft/10m
The GoPro Hero9 Black can record videos in 5K high resolution and capture photographs at a resolution of 20 megapixels. The Hero9 uses sophisticated HYPERSMOOTH electronic image stabilization technology to avoid camera shake while shooting, and for the first time introduced a color front-facing screen for previews.
The Hero9 can be submerged to 33 feet without a protective case. Like with the Hero8, using dive housing on the Hero9 will extend this to 196 feet.
GoPro Hero 8 – 33ft/10m
The GoPro Hero8 Black can capture video in 4K and photos in 12 megapixels. The Hero8 has built-in image stabilization to make your footage look much better. The Hero8 can be submerged as deep as 33 feet without the need for extra housing. If you want to go even deeper, you can get your hands on a waterproof case that will allow you to go as deep as 196 feet.
GoPro Max – 16ft/5m
The GoPro Max features 360-degree video in a high resolution of 6K and comes with stabilization. Audio is recorded from six microphones lending to a 360° experience during playback. It can also be submerged in water to a depth of 16 feet without special housing.
GoPro Session – 33ft/10m
GoPro designed the Session to be a simple to use, entry-level version of the GoPro. Interestingly, it is actually the GoPro HERO4 Session that was the first naturally waterproof GoPro. Unfortunately, the Session series has been discontinued.
GoPro Waterproof Housing Accessory – 196ft/60m
If you're going diving you will obviously need to take your GoPro further down than 33 feet. In such cases, you should get the official GoPro waterproof casing which is depth rated to 196 feet (60m).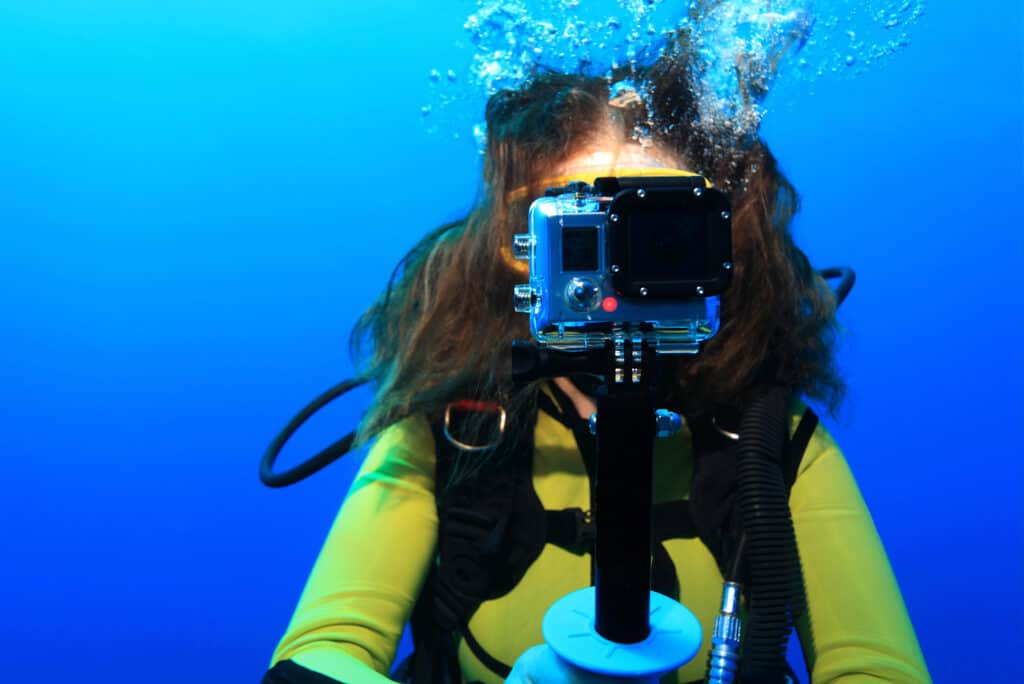 What Can I Use a Waterproof Camera For?
The advantage of having a waterproof action camera is that you can use it for almost any activity without thinking twice. You can take it along with you to the swimming pool on your vacations with your buddies to capture some funky dives or even out into the sea to capture some coral reefs during a snorkelling session.
If you're a scuba enthusiast, a waterproof camera will undoubtedly be your diving companion, along with all the scuba gear, of course. Thanks to how well new waterproof cameras are sealed, they can withstand water and pressures down to 33 feet (10 meters) without a dive case.
Not having a protective case would make it much easier for you to handle since you'll be able to interact with the camera's buttons directly. However, in the case of scuba diving, the depth rating doesn't really cut it, so dive housing is highly recommended.
It will also be significantly safer to use additional housing when you're in saltwater when you go deep-water diving. As we all know, saltwater does not get on well with glass and metal, and the last thing you want is premature ageing on your new GoPro camera. So it's best to have it sealed well and protected before introducing it to any saltwater.
You can undoubtedly use cameras like these for lighter activities since they're built to withstand so much more. You can always take it out on a trek, and should it start raining, the safety of the camera needn't be a concern whether it's in your hand or backpack.
You'll always know your camera is waterproof and will always be ready for a shot, even if you need to point it upwards toward the rain. Dunking it into a freshwater pool to capture any fish in it certainly won't be a problem because of how well the seals are made, and you'll end up with some excellent footage for your social media posts or private gallery.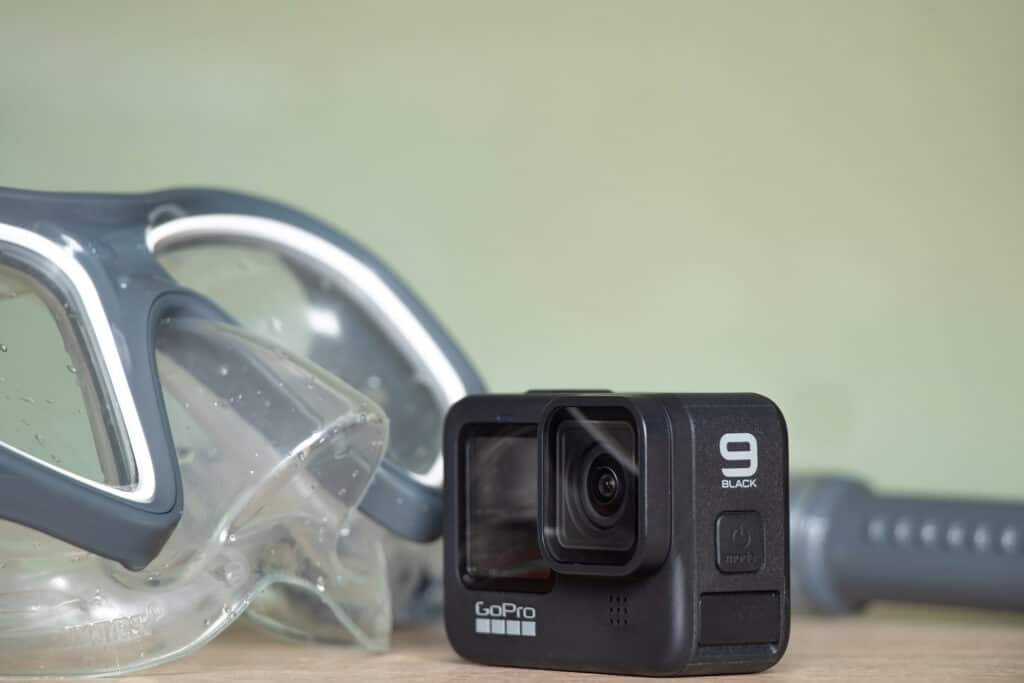 When Should I Buy Waterproof Housing for My GoPro?
You don't have to go out immediately and buy waterproof housing for a GoPro unless you have an older generation model. The GoPro HERO4 Black, Silver, HERO3+ Black, HERO3+ Silver and older models are NOT waterproof without separately purchased housing. They can't handle being submerged or even just being exposed to moderate amounts of rain.
But if you've just bought a relatively recent GoPro, there's no need to fret because the new cameras can all be submerged without issues to a depth of 33 feet or 10 meters.
If you're not taking your camera into salt water, it's not something to be too concerned about. But if the GoPro will be exposed to salty water for extended periods of time, it makes sense to buy a waterproof housing to protect the camera lens and metal parts from corrosion. After all, you want your GoPro to last for as long as possible.
Disadvantages of Using Waterproof Housing
Having waterproof protective housing has its advantages, but it also brings its fair share of shortcomings. The neat, sleek, and compact feeling of the action camera disappears as soon as you wrap it up in extra housing.
Separate housing also hampers the fluidic use of your camera's buttons and touch screen. You'll feel a big difference between having the protective case on and off because the feedback you get from a protective case is never as tactile as handling the buttons on the camera or interacting with the responsive screen directly.
For this very reason, many scuba divers end up setting up the camera and mounting it to their chest, head or arms and only hitting the record button before diving. Interaction with the camera through a protective case makes things a little more complicated, especially when diving at lower depths where there isn't as much light.
Your GoPro Is Waterproof, But Are Its Accessories?
It's all good and well that your GoPro is ready for your next wet adventure, but it's crucial to make sure any accessories you plan to use it with also have a sufficient depth rating.
Accessories like an external microphone or a gimbal will very likely face problems when in contact with water, so make sure your entire shooting kit is okay with the amount of water you'll be dealing with.
7 Tips for Using Your GoPro Underwater
Recording underwater video or underwater photography with your GoPro may seem straightforward, but there are a few things you should keep in mind before doing so in order to ensure the longevity of the camera.
1. Inspection
Always take a closer look at your camera seals before getting it wet. If it's been dropped or bumped with some force, a seal could have given way, which may let water seep inside and get to the electric components.
If you're using underwater housing, clean the rubber seal of dust and debris so it doesn't have any gaps which could lead to water getting into the housing.
2. Clean your lens
If using watertight housing, make sure your lens doesn't have any watermarks or fingerprints on it before putting it into the case. The last thing you want to discover when reviewing your footage is blurry video caused by smudges and grease on your lens.
3. Adjust Your Settings Beforehand
Set your camera up before a dive so that you don't have to fiddle with it later. This includes everything from adjusting the white balance to the aspect ratio.
Should you want to adjust the settings for lower light conditions when you dive, you should consider setting the camera up for a lower frame rate for videos and slower shutter speed for photographs since the lower you dive, the lesser light you'll have to shoot with.
4. Charge Your Batteries
If your GoPro will be put inside additional waterproof housing, you don't want to go through the hassle of switching out the battery, assuming you have extra batteries. With a limited battery life of around 1.5 to 2 hours off a full charge, it's important that your GoPro's rechargeable battery is fully charged before taking it out to record some action.
5. Learn GoPro Voice Commands
Fiddling around with the body of the GoPro itself isn't the only way to control your GoPro. For difficult conditions where access to the GoPro's main controls could prove a challenge, it's highly recommended you learn the most important voice commands to do things like start/stop recording and take a photo.
6. Accessorise
Red Filter: Shooting in low light can be tricky when you can't change settings easily underwater. Luckily, you can do a few things, like adding a snap-on red filter to your GoPro.
Red filters are used in particular because that's usually the first color in the spectrum you start to lose when the light begins to fade underwater. The filter helps to compensate for that loss and makes your footage look a little more dramatic than it would if you didn't have a filter.
Rig – If you find yourself struggling to keep the GoPro steady underwater because of its size, it's worthwhile using a rig that you can grip much better for a steadier shot.
It'll be significantly easier to hold and frame your photos with one of these unless you prefer shooting in a wide-angle mode and mounting the camera on your chest or head.
Lights – If you've decided to buy a rig for your GoPro, the next best thing to add on to it would be a light set up to help illuminate the subjects you're trying to record underwater.
You do get lights for underwater shooting, and it can enhance your footage that much more when used correctly. Remember to compensate for them when you're setting up your camera before your dive.
Anti-fog inserts – These might be something you should consider having if you're diving regularly. Without anti-fog inserts, the humidity within the case can tend to fog up the insides, especially the area around the lens.
Placing these into the protective case absorbs the moisture within them, ensuring that condensation won't ruin your shots. When using these, one thing to keep in mind is to make sure your case still closes appropriately and doesn't leave any gaps. A gap could spell inevitable disaster for your GoPro if you decide to go beyond a certain depth.
Dome ports are another neat accessory you can pick up for your GoPro if you want a split frame shot with half underwater and half above the surface. These photographs tend to look a lot more dramatic as the water is a little further away from the lens and creates what looks like a split image.
Selfie stick – A selfie stick is a great accessory to have when underwater because you can always get a little closer to your subject with your camera, should you want to keep your distance from it. You could always use it for some nice selfie shots as well!
Floating hand grip – Getting a floating hand grip might benefit you if you're surfing, boating, or just doing any water activities on the surface. The handgrips are easy to use; you just mount your GoPro onto it and point it in the direction you want to shoot.
Should it fall or slip out of your hand, it's not going to sink; instead, it floats as the name suggests, making it easy to find or keep an eye on if it drifts away from you.
New accessories keep coming into the market, so it's worthwhile keeping an eye out for what may suit you and your adventures.
7. Don't Forget To Clean Up!
After you're done with your diving, snorkeling, boating, or surfing session, the most important thing to do would be to rinse your gear with fresh water to ensure you get all the saltwater off before taking the camera out of its protective housing.
Not practising this could lead to your GoPro possibly getting damaged with saltwater contact. The lens and metal areas are most vulnerable to damage from salts.
Once corrosion begins to set in on equipment, it's nearly impossible to get back to that "straight out of the box" feeling with your camera. This corrosion will most certainly reduce the device's overall usable life span, so it's worthwhile practising good maintenance for your camera from day one.
Now get out there and get some great underwater footage!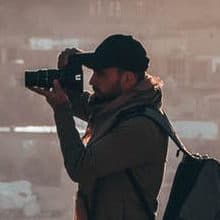 I'm a photographer and the chief editor of Capture Guide. After spending several years in parts of South America with my trusty old Nikon D7100, I'm now back home patiently waiting for borders to re-open.