Shooting music videos at a professional level is anything but easy. The videos play a significant role in conveying the emotion and meaning behind the music itself and have to do so in just a few minutes.
Irrespective of whether the video is for a light-hearted song, or something much deeper, there's something that ties them together—today's viewers expect high-quality videos. Quality videos are what makes videographers reputable in the industry, and the right camera can make all the difference.
What Makes Music Videos Different?
Any camera that takes video can technically be used to shoot music videos. An iPhone, a point and shoot, a DSLR, or a camcorder can all shoot a video that ultimately ends up being the length of a track.
But music videos have distinctive features that make them unique:
Usually short in length (no need for long continuous shots)
Be a visual spectacle
Carry a sense of rhythm and motion
From this, we can immediately start thinking about what makes a good camera for shooting music videos.
First, a camera that allows interchangeable lenses is recommended because we want the flexibility to create scenes filmed in different styles.
For example, we might want to shoot a live concert from afar and record a rock band with a headbanging crowd and leave in some camera shake. That would require a zoom lens. Or we might want to use a lens that produces a soft-focus effect for a romantic cinematic effect.
The point is, being able to use different lenses opens up more possibilities.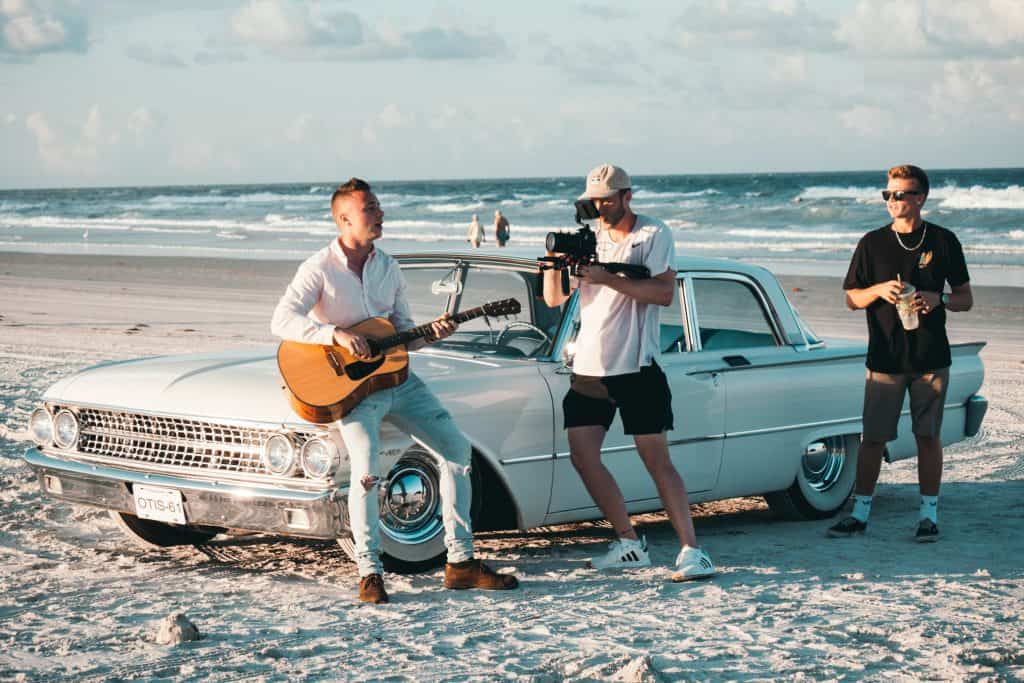 Second, videos will often be shot handheld with the cameraperson moving about. You only rarely see music video clips where the camera is always static and only the subject is moving. Therefore, we ideally want cameras with in-body image stabilization (IBIS) because we don't want to depend on the lens having stabilization (in-lens stabilization). While many lenses do have optical image stabilization, many don't.
And finally, because the videos are short, we actually don't need cameras with the ability to record long continuous video. Professional camcorders are typically capable of 12+ hour continuous recording, but we don't need that, so we have some leeway when it comes to this aspect.
Rating Camera Types For Music Videography
As such, we can narrow down what kind of cameras are best suited for filming music videos. Let's discuss the various options: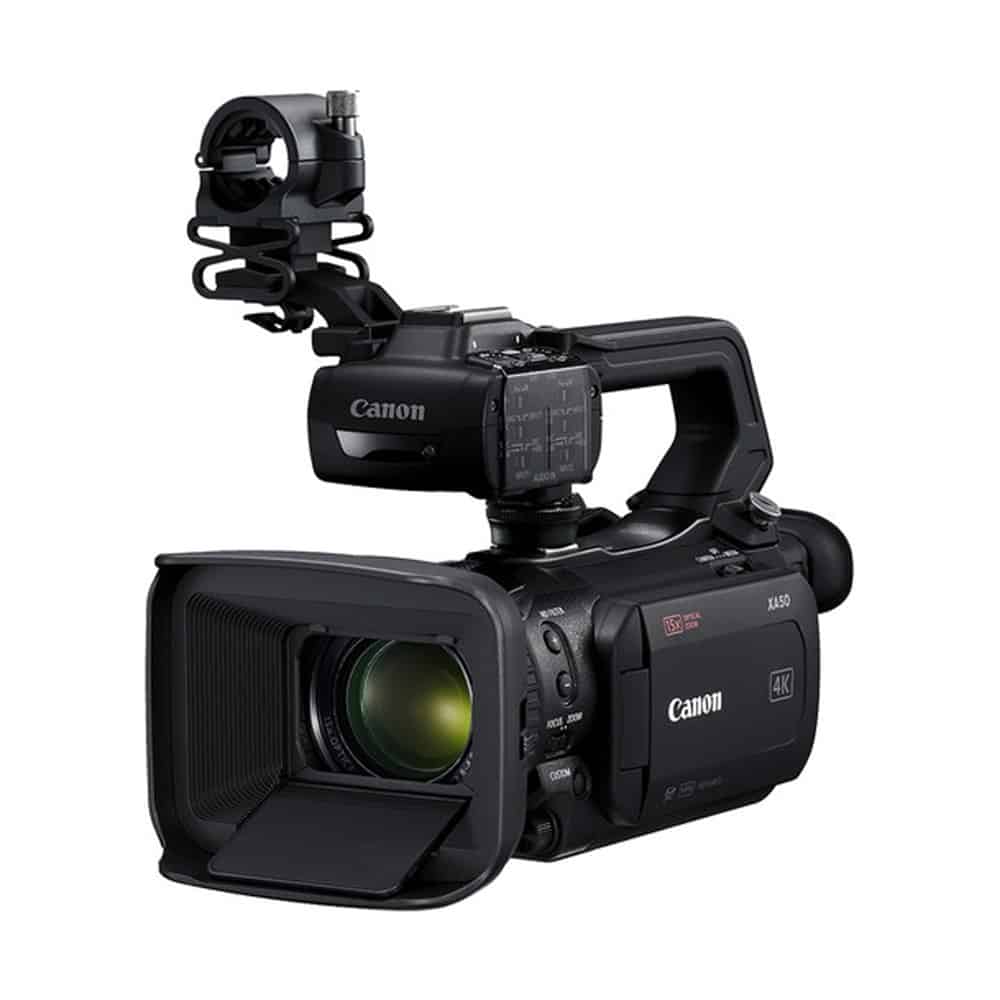 Camcorders
Professional camcorders are made with convenience and practicality in mind. They're easy to hold as you record, can record for hours on end, feature adjustable zoom, and have features and functions that make video creation fast.
Because of that, they're used widely in the industry, from TV shows to documentaries to corporate videos and sports broadcasts.
But they're not the best cameras for music videos. Firstly, they usually have smaller sensors than DSLRs and mirrorless cameras, often Super 35, 1-inch, or smaller. The smaller sensors mean they don't have as shallow a depth of field (for that blurred background effect) or the same level of dynamic range as the bigger sensors found in DSLRs and mirrorless cameras.
So while they make great workhorses, they aren't the best for creating short videos that really pop. They just lack the flexibility of still cameras with interchangeable lenses that can take video.
When you take into account that staged music videos don't need long continuous shots or setup convenience, you'll realize that camcorders are nice to shoot with but aren't the ideal type of camera.

Mirrorless Camera
Mirrorless cameras are the most popular type of camera these days, both for photography and videography. There's a whole selection out there, from cheap entry-level ones all the way up to extremely high-end models.
These offer the best of everything. Like DSLRs, they're considered 'hybrid shooters' because they can take photos and video. However, in our list, we've identified some mirrorless cameras that have been heavily optimized by the manufacturer for video creation.
Many newer ones also feature 5-axis in-body image stabilization, meaning video comes out silky smooth. And of course, there are plenty of lens options out there. Overall, these make the best music video cameras for the majority of people including hobbyists, enthusiasts, and professionals working on low-budget productions.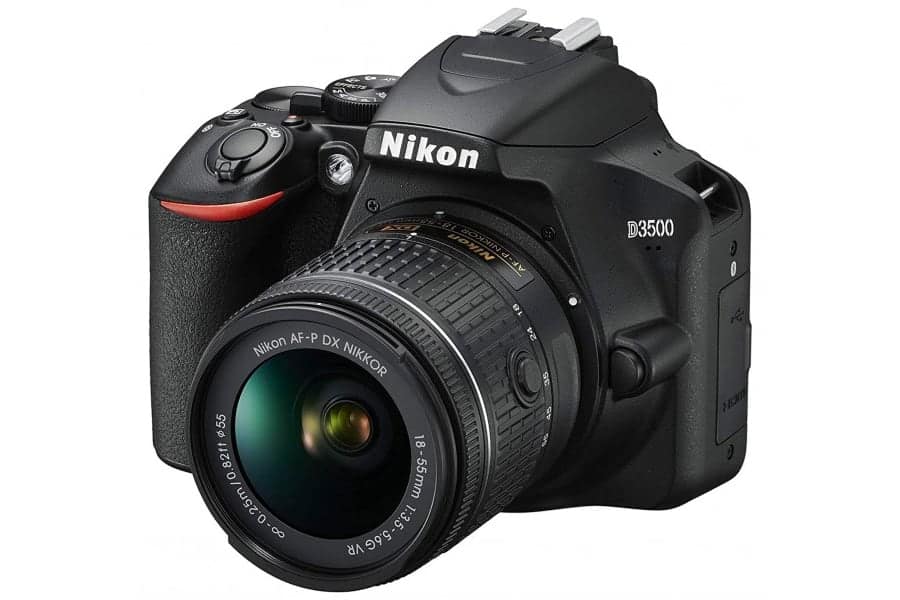 DSLR
This type of camera was the standard in photography only a decade ago, and while still great, they're not up there with the newer mirrorless cameras – especially when it comes to video.
DSLRs have a physical limitation when it comes to autofocus: by having to have the mirror up while recording video, they can't take advantage of on-chip phase detection sensors for autofocus. Instead, they have to live with more basic contrast-focus detection, which means there's a higher risk of momentary blur while the camera adjusts focus. Mirrorless cameras don't have a mirror (it's in the name!) and can therefore use more sophisticated AF technology.
DSLRs also very rarely feature in-body image stabilization, unlike mirrorless cameras, which makes them more susceptible to camera shake and jitter. While in-lens stabilization and the help of a dedicated camera gimbal will solve the problem, you end up having to make extra considerations to work around the lack of sensor-shift IBIS.
Finally, the whole video shooting experience is a bit more awkward than mirrorless cameras. Not only are they often bigger in size and weight, but you also can't use the optical viewfinder for video (it's for photos only). Once again, this is a physical limitation caused by the camera's mirror being up while recording and blocking your view through the eyepiece, meaning you'll need to use the live view on the LCD display. That's fine and all, but mirrorless cameras that feature an electric viewfinder (EVF) allow you to look through the eyepiece during your music video shoot.
With all that said, DSLRs do have some advantages over mirrorless. The biggest one is that they're less expensive and benefit from a thriving second-hand market for lenses and accessories. You can potentially end up with a superior camera kit for the same price by going down the DSLR route because the actual image quality is no better or worse.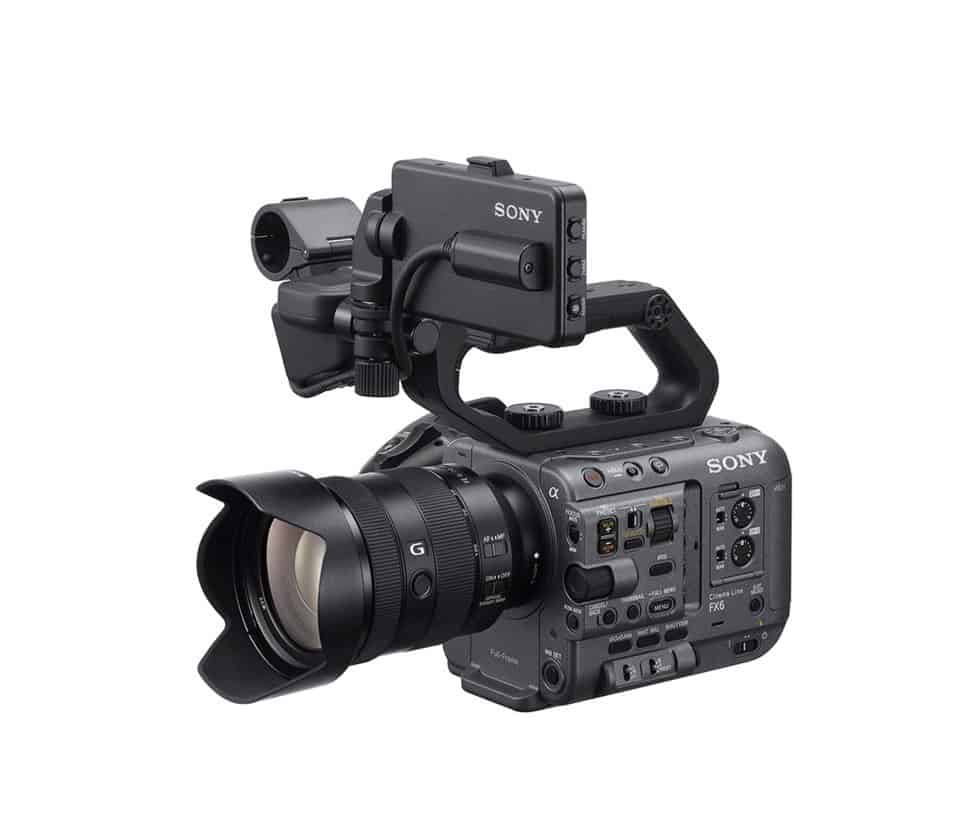 Cinema Camera
Cinema cameras combine the best of both worlds. Like hybrid stills/video cameras, they have interchangeable lenses for maximum flexibility and also larger sensors that can produce a shallower depth of field and greater dynamic range.
But like camcorders, they're solely focused on video. This means they have more features, functions, and outputs that cater to professional video creation. While a mirrorless camera is perfectly fine for the independent freelancer or YouTube creators, film crews and professional music video companies will often opt for a cinema camera for the added practicality and dependability.
Included In This Guide
In this buyer's guide, we have included one consumer-level cinema camera, but haven't reviewed those used by serious film crews which cost tens or even hundreds of thousands of dollars. Those are generally reserved for the big studios with special requirements, but they're definitely not a requirement for shooting stunning music videos.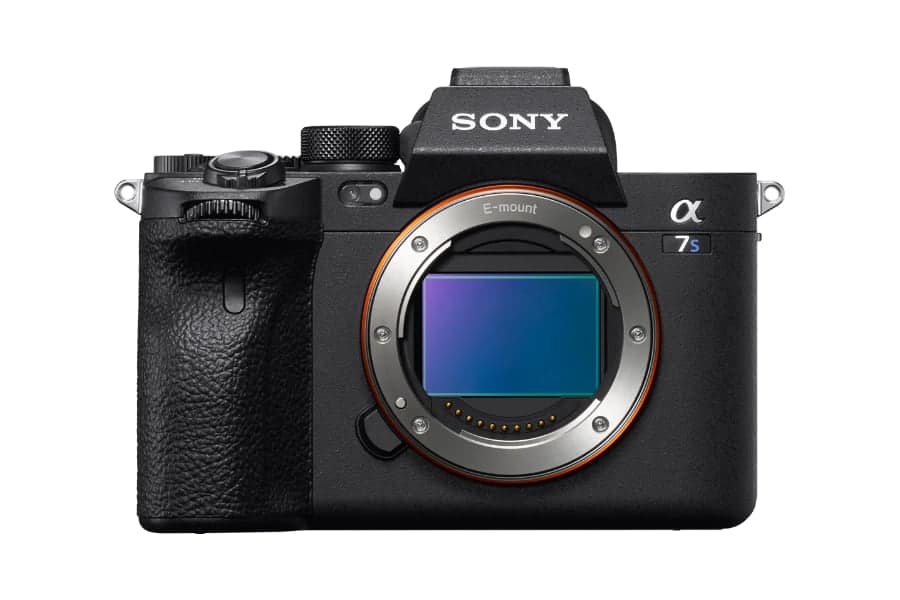 Best Overall
This is one of the best cameras we've ever tested, with low-light capabilities that blows competition out of the water.
Sensor:
12.1 MP Exmor R CMOS
Stabilization:
5-axis IBIS
4K 10-bit 120fps video
Performs in uncontrolled environments
Category-leading autofocus
Fully articulating touchscreen
Price
Relatively low sensor resolution
Sony has been killing it in the mirrorless camera department, and the traditional camera giants Canon and Nikon are just playing catch up. The Sony Alpha 7 series has been massively successful, and their 'S' line is focused on videomaking for professionals. It took Sony over four years to give the A7 III the S treatment, but it's been worth the wait. In our opinion, it's the best music video camera on the market right now.
The back-illuminated 33 MP full-frame sensor with its Bionz XR processor can capture 4K video at up to 120fps with full readout, meaning all light is read without crops, bins, or line skips. With dual-ISO technology, its low-light performance is among the best on the market, which can really make a big difference because darker settings are often employed in music videos.
It also has phenomenal rolling shutter performance which makes it especially resistant to extreme motion and flashing lights, which again, are crucial for scenes in dance and EDM videos that employ strobe lights. And for smooth handheld shots, you can take advantage of its 5.5Ev in-body stabilization, which is almost as effective as a separate gimbal if hands are kept relatively steady. Sony has also made sure there are no overheating issues during heavy use, which is a real problem in many mirrorless video cameras.
Now it's worth noting that this is specifically designed for video production and its relatively low-resolution 12.1MP sensor means photos lack the resolution you would expect for a camera at its price. The standard Sony A7 IV is a little cheaper and a good choice for those that need a photo and video camera, but be warned it's significantly less capable in the video department because the A7III has literally been engineered for video shooting.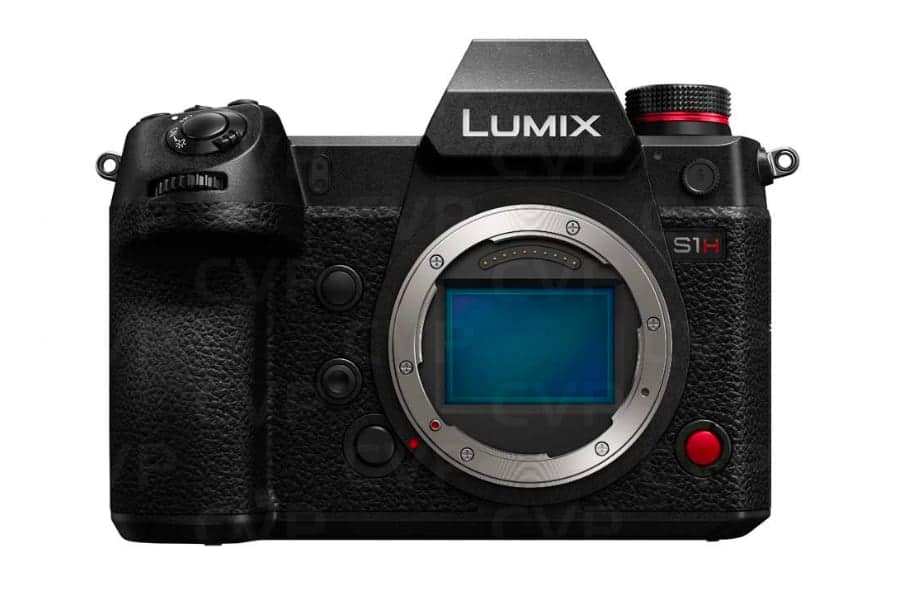 Runner-Up
Panasonic Lumix DC-S1H
Stabilization:
5-axis IBIS
6K video
High-resolution viewfinder
V-Log, LUTs and comprehensive video tools
Unpredictable video AF
Big and heavy
Panasonic is another brand that got a head start in the mirrorless market and did extremely well out of their compact micro four-thirds (MFT) cameras. But they're doing incredibly well with their full-frame range now and the Panasonic S1H is a seriously good video camera that is well worth considering alongside the Sony A7S III.
Whereas the Sony A7 III is great in virtually every harsh environment and acts as a great run-and-gun camera, the Lumix S1H instead has a larger sensor that's capable of recording stunning 6K footage at its best. The Panasonic also has some video-focused wins over the Sony A7S III, like arguably superior IBIS and nifty features like the ability to control the shutter angle.
Overall, the Sony A7S III performs slightly better than this camera in several areas such as rolling shutter performance, low-light performance, and lens selection (where the Panasonic's L Mount alliance is lagging). However, for less money, you're getting a more balanced hybrid stills/video camera that can create seriously high-quality music videos with some effort. After all, it's even been approved by Netflix for its original productions, so you can't really go wrong with it.
Best Cinema Camera
For the skilled independent filmmaker, the BMPCC 6K Pro is a good alternative to hybrid shooters. But with no autofocus, autoexposure or IBIS, it's not beginner-friendly.
Affordable cinema camera
Built-in ND filters
Blackmagic Raw and ProRes
Manual everything
Tilt-only screen
Big and heavy
Cinema cameras are made for the highest quality professional videos, and their ability to create more dramatic lens effects than a camcorder (used for TV shows or sporting events) makes them especially popular among crews taking music videos.
While DSLRs and mirrorless cameras, by virtue of having interchangeable lenses, will also give your music videos these effects unlike camcorders, they aren't quite as purpose-built as cine cameras. By that, we mean they don't always have all the 'pro' features a professional camera crew expects, such as built-in ND, audio outputs, long battery life, and rugged body construction. Basically, features a professional music video production team will rely on.
Blackmagic Design is hugely popular for its cinema cameras and the Blackmagic Pocket Cinema Pro 6K Pro has the potential to create some of the best-looking music videos out there. It can take 6K and 4K videos in 12-bit B-RAW and 10-bit ProRes. Obviously, the resulting massive file sizes mean it will eat through gigabytes of data quickly, but we're not shooting a documentary here.
The camera itself doesn't use a full-frame sensor but opts for the smaller Super 35 sensor which is common in the film industry. The camera also comes with an active Canon EF lens mount which means you can use it with hundreds of lenses from Sigma, Zeiss, Canon, and others to capture videos with the exact aesthetic you want.
This camera isn't for everybody, however, primarily because it demands a high level of operator skill. With no continuous autofocus or image stabilization, you won't get much assistance from the Pocket Cinema, and will probably need to invest in other accessories before you're ready for a full-fledged production.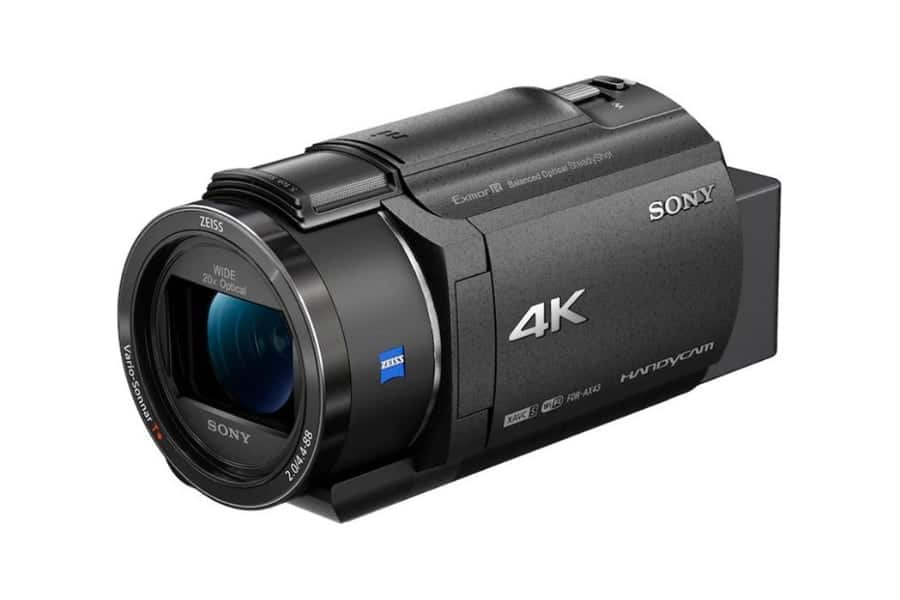 Best Camcorder
This 4K Handycam from Sony gives you a simple and straightforward way to shoot video with minimal fuss, but be aware of its limitations.
Sensor Size:
1/2.5 type (7.20mm)
Turn on and record
20x optical zoom
Record with one hand
Fixed lens
Struggles in low light
The Sony FDR-AX43 is a 'prosumer', 'dad-cam' style camcorder designed for non-professionals who want a quick and effective way of taking videos. They aren't that popular anymore, but they absolutely have a place in the market.
It's one of our favorite video cameras for taking to sports competitions, and while not as well-suited as a music video camera, it's a great choice for those who want to record music videos without the hassle.
The FDR-AX43 is compact and packed with features. 10x optical zoom, 4K shooting, and a low noise Exmor R CMOS sensor mean you can literally take it out of your bag and hit the record button to produce video footage that is a cut above that of amateur music videos. It's even got a pretty impressive built-in multichannel 5.1 microphone, though that obviously doesn't mean much for music videos.
The best part about the FDR-AX43 is how accessible it is for newcomers. Because it has a versatile adjustable zoom lens that's fixed, you won't have to put in any thought about using different lenses. That's especially valuable if you're an indie band or dance group that just wants to produce videos to upload to YouTube and other social media.
It's not without its shortcomings, though, as its relatively small sensor means it struggles in low-light situations. A lack of an interchangeable lens also means you also are limited in creative direction, since you can't get any interesting shallow depth of field lens effects or similar. Note that this camcorder wouldn't be recommended for any paid freelancing gigs, as clients will usually have certain expectations about the type of equipment that's used.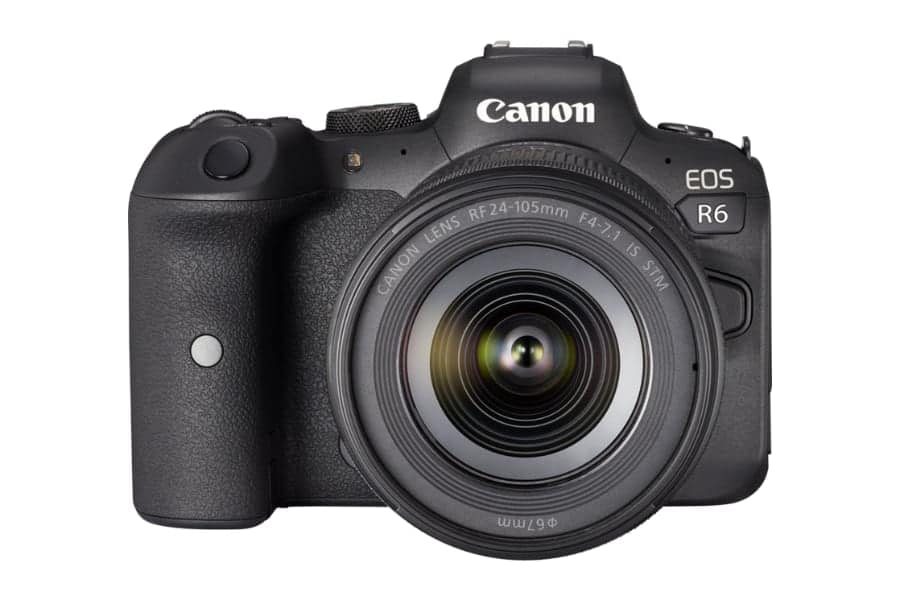 For Photo & Video
Canon puts its all-new image stabilization technology into action on the R6, making it a great camera for photo and video, though it can run hot during longer recordings.
Stabilization:
5-axis IBIS
Great all-rounder
Excellent autofocusing
8 stop IBIS
Twin UHS-II SD card slots
Canon is the most widely used camera brand in professional applications and though it took them a while to switch over to mirrorless technology, they've already proved themselves as the one to beat. The Canon R6 is a hybrid shooter that is excellent for both photography and videography.
With its 20MP dual pixel CMOS sensor, UHD 4K shooting up to 60p, 10-bit 4:2:2 internal recording in either C-Log or HDR PQ, and class-leading in-body stabilization (rated up to 8EV of correction), there R6 has all the bases covered.
Unlike the Sony A7S III and Panasonic Lumix DC-S1H which are basically engineered for video specifically, the Canon R6 is a more standard hybrid shooter. As a result, it's a lot more affordable, and its video capabilities will still be enough for the enthusiast level. The only problem is that it has a tendency to run hot when recording 4K video for longer periods (30-40 minutes and over). This shouldn't be a major obstacle for music video production, but it will depend on individual use-cases.
This segment of the market is especially tough, with the likes of the Sony A7 IV being priced the same and having advantages in certain aspects. However, we prefer the Canon R6 because of its better ergonomics, stronger AF performance, and IBIS that can work in harmony with in-lens optical image stabilization.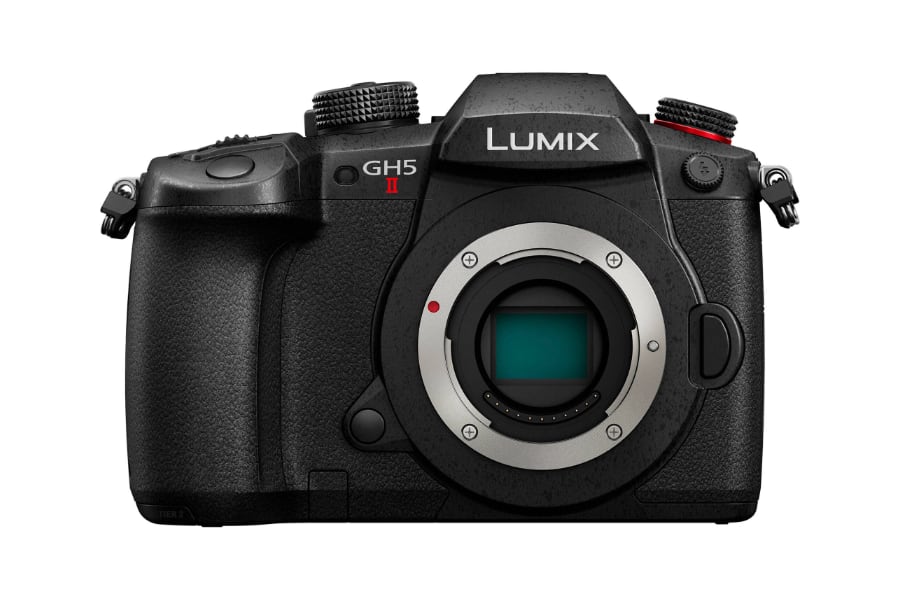 Entry-Level Pick
Among other things, the Lumix GH5 II adds in-body stabilization and direct live streaming to the massively popular GH5. A very capable entry-level video camera for serious work.
Sensor Size:
Micro Four Thirds
Lens Mount:
Micro Four Thirds
Stabilization:
5-axis IBIS
10-bit 4K60 internal recording
6.5 stop image stabilization
Good build quality and ergonomics
Live streaming
ISO range could be wider
Fairly minor improvements over its predecessor
As a hybrid stills and 4K video camera, the original GH5 that was launched in 2017 received heaps of praise for its video-focused features. The new Panasonic Lumix GH5 II gets a few upgrades that help it maintain its position as the best entry-level mirrorless camera for amateur filmmaking.
One of the most impressive aspects of the GH5 II is how many recording options you get for a camera of its price. It can handle up to 60 frames per second in 10-bit internal 4K, with 4:2:2 subsampling that takes advantage of the camera's great dynamic range. It's also got plenty of quality-of-life features like a full-sized HDMI port for connecting to an external recorder as well as a microphone input and headphone jack.
Its 20.3 MP sensor is considered one of the best micro four-thirds sensors available. Image quality is excellent, but as a smaller sensor the only area it's lacking in is low-light performance. If shooting in uncontrolled lighting is on the cards, paying extra for the full-frame Panasonic Lumix DC-S5 is definitely worth considering.
Overall, if you're serious about the music industry and want to venture into recording with your very first interchangeable lens camera, the Lumix GH5 II is the go-to camera. Note that its predecessor, the GH5, remains a very good video camera for this day and you may be able to pick up a used one at a reduced price.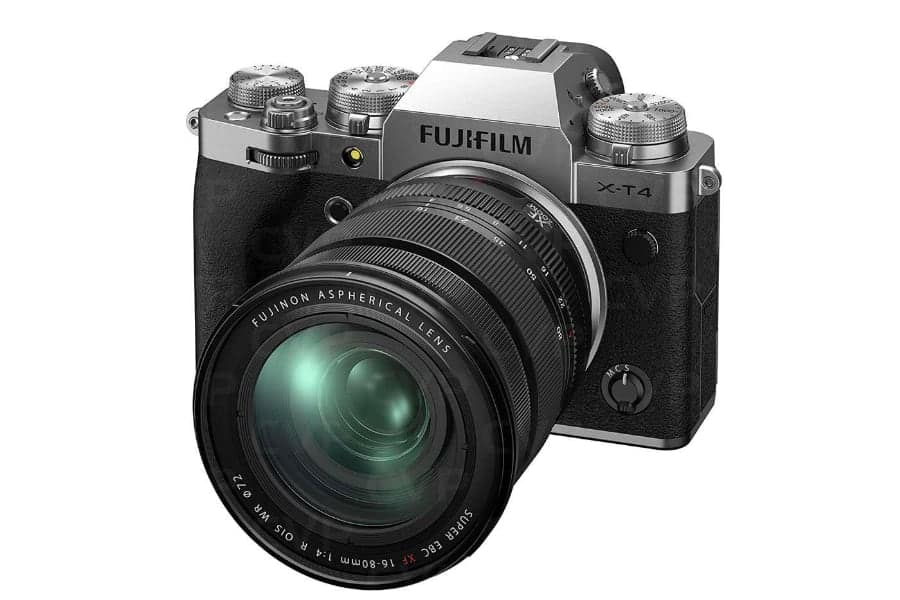 Best APS-C
An incredible compact APS-C camera that's a compelling alternative to its more expensive full-frame rivals which includes the Sony A7 IV.
Sensor:
26.1 MP X-Trans CMOS
Stabilization:
5-axis IBIS
Pro-grade, rugged body
6.5-stop in-body stabilization
Classic controls
10-bit 4K video at 60fps
Hit or miss AF performance depending on lens and subject
Fujifilm and Olympus might not be quite as popular as Canon or Nikon, but their niche lies in APS-C mirrorless cameras that are revered for their smaller bodies and classic designs. The Fujifilm XT-4 is the best APS-C camera you can get for video right now, and it's obvious that Fujifilm has paid special attention to making sure it's a great option for video specifically.
Besides its beautiful weather-resistant body with retro dials and a fully-articulating touchscreen, the camera can shoot 10-bit footage in 4K at 60 fps and an insane 240 fps at 1080p. That means 10x slow-motion Full HD video, which remains the maximum resolution for most music videos being uploaded to YouTube.
It also gains in-body image stabilization from its predecessor, a truly transformative addition that means you can produce professional results without the need for a gimbal.
It's worth noting that at this price point there's more competition than ever these days. The Sony A7 IV and Nikon Z6 are full-frame cameras with superior low light performance, and the Panasonic GH5 and GH5 II have smaller MFT sensors but more video tools and features. Yet the XT-4 manages to sway photographers and videographers away from those offerings because it's the kind of camera you want to own, with its retro aesthetic, nice ergonomics and high-quality lens options.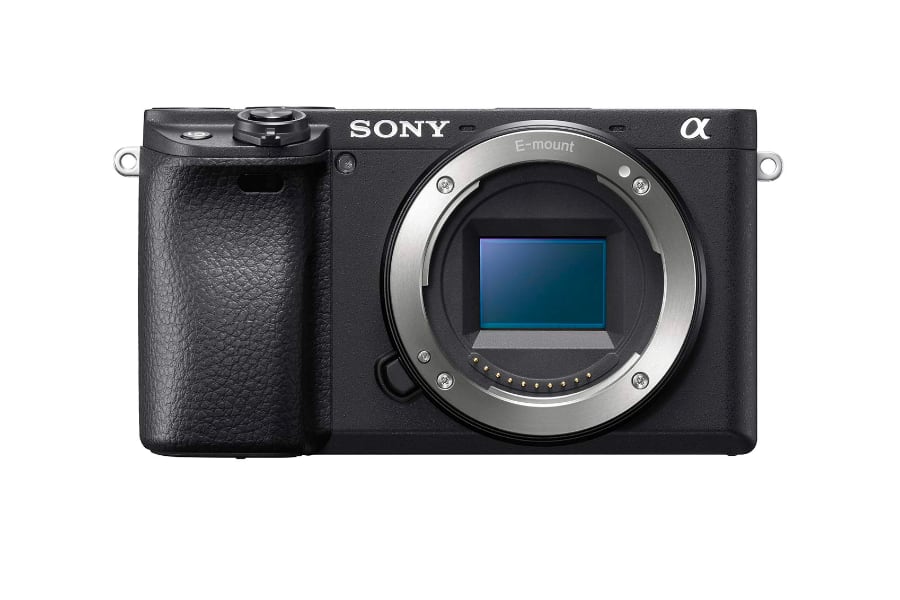 Budget Pick
Sony has been a dominant force in the budget mirrorless category with their A6xxx series, and the A6400 hits the price-to-performance sweet spot.
Compact and lightweight
Affordable
Excellent, fast AF
Tilting LCD display (doesn't articulate)
No IBIS
Interchangeable lens cameras aren't cheap for a reason. They assume the user is going to at least have two or more lenses at some point, and there's no point committing to a lens ecosystem if the camera body will be replaced in a couple of years. But the Sony α6400 APS-C camera is a very capable under $1000 camera for filmmaking and that should leave enough money on the table to buy extra lenses.
Image quality is impressive and can be taken at 4K at 30fps or 24fps. There is a slight crop to 4K30p, but with the right handling, you should be able to effectively capture everything in the scene. It can also shoot up to 120fps in 1080p resolution which can translate to slow-motion scenes which definitely have a place in certain music videos.
Obviously, at this price, there are some compromises to be made. Most notably the camera lacks IBIS, which is something you get in the more expensive Sony A6600. But before you consider paying an extra $500 for the A6600, consider that you could use that money instead to buy an actual mirrorless camera gimbal. Furthermore, if you're only using native Sony lenses featuring Sony's Optical SteadyShot stabilization, the IBIS on the A6600 becomes redundant so it might not be worth the extra money anyway.
Overall the Sony A6400 is the best entry-point for video shooters on tighter budgets, and its excellent image quality, compact sizing, and versatility make it a very compelling package.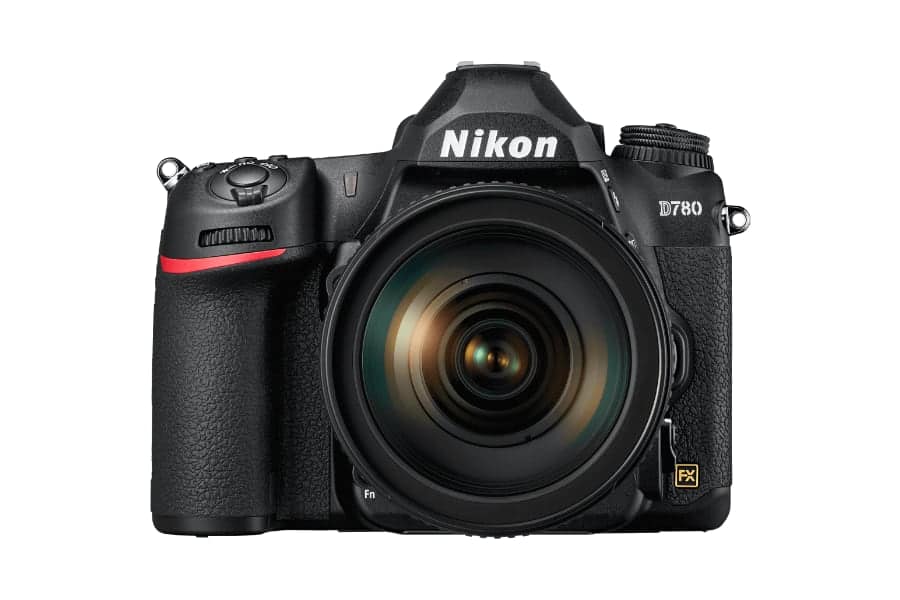 Best DSLR
For those who would rather stick with DSLRs, the Nikon D780 is a capable hybrid shooter with a decent amount of video tools and intelligent AF.
Great image quality
AF system better than other DSLRs
Log recording
DSLRs aren't ideal for video, but the Nikon D780 manages to perform remarkably well for filmmaking.
As we previously mentioned, a physical limitation of DSLRs is how they have to use more basic contrast-based autofocus systems. For the D780, Nikon actually borrowed the same autofocus system from the mirrorless Nikon Z6. Thanks to this hybrid system, provided you're not shooting through the optical viewfinder, you can get better AF coverage that extends to the edges of the frame.
The Nikon D780 produces beautiful 4K video quality, capturing oversampled 4K video at up to 30 fps as well as 1080p full HD video at 120 fps. Log recording is supported and it can directly output 10-bit video to an external recorder via HDMI so that you have more to work with when color-grading.
Overall, the D780 makes a lot of sense if you already have F mount lenses or just have a preference for the feel of a DSLR, especially for photo shooting. It's important to note though, that if you just want a Nikon then the mirrorless Nikon Z6 or Z6 II are simply better cameras for video, and don't cost any more.
Music Video Camera FAQ
How do I go about creating my first music video?
If you're a beginner in all of this, you really need to learn the camera basics and get familiar with shooting scenes.
The camera is one thing, but just a very small part of a much bigger operation. Apart from any involved musicians, you'd expect someone on the camera, a director, lighting assistants, video editors, and actors. Of course, you can take on many of these roles, but the point is there are much more important things than the camera itself.
If you're a beginner, it is better to start learning video shooting techniques and the production process with whatever you've got, before investing in anything fancy. If you're short on time and need something done, hire a professional. This is especially the case if you're going to shoot something where you don't get many chances, e.g. a live performance or at a location you've rented out for the day.
Full-frame, APS-C, or MFT?
These are the most common image sensor sizes in photo cameras in descending order of size. The bigger the sensor, the more information is captured, and typically the more expensive. Smaller sensors have the advantage of costing less and being smaller (including their accompanying lenses). The size especially is a big reason why MFT and APS-C are popular as travel cameras (in fact, smaller 1-inch sensors are probably the most popular for travel).
But when it comes to recording video, you see an even greater range of sensor sizes. The Super 35mm is the standard for motion pictures, but it's smaller than full-frame and much closer to APS-C. However, even bigger sensors than full-frame exist, such as the Standard 65mm.
You can make a great music video with any of these sensor sizes (the iPhone has a tiny sensor by comparison but still produces impressive footage). But the biggest consideration is that switching between them takes some time to get used to because the crop factor and field of view are different.
Canon, Nikon, Sony, or Panasonic?
These are popular camera makers and the most talked-about manufacturers on YouTube and Reddit. Right now, they all have very strong offerings and so any decision should come down to the model and lens options as opposed to the brand.
There are also several other brands that make good video cameras. In our list, we included cameras from Blackmagic and Fujifilm, and there are definitely other manufacturers worth considering.
How about a simple point-and-shoot camera?
Point and shoot digital cameras are easy to use, but they're really struggling against phone cameras that are similar or often better in terms of video quality.
If you want the convenience of a smartphone but better quality, the Sony FDR-AX43 camcorder is a fantastic choice.
Of course, that camcorder isn't cheap, and a point-and-shoot camera is much more affordable. So if you don't want to use your phone and need a cheap alternative, check out our under-$300 and under-$500 point-and-shoot camera recommendations.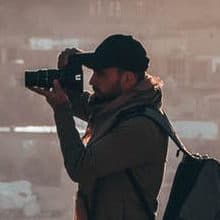 I'm a photographer and the chief editor of Capture Guide. After spending several years in parts of South America with my trusty old Nikon D7100, I'm now back home patiently waiting for borders to re-open.