DJI gained worldwide recognition for producing some of the best consumer drones on the market, but their choice to diversify and manufacture camera accessories has also been massively successful. The DJI Osmo Mobile, though expensive, was an excellent first attempt at producing a smartphone gimbal.

The DJI Osmo Mobile 2 is the Osmo Mobile's successor, and it appears DJI have made some big moves to position themselves as the market leader in handheld gimbals.  The Osmo Mobile 2 supposedly delivers better stabilization than its predecessor—while costing less than half as much at launch.

As a fan of previous DJI gimbals, it should go without saying I was massively excited for the Osmo Mobile 2. At the same time, I was skeptical about whether or not DJI could deliver on their promises.

Could DJI really produce the ultimate smartphone gimbal while pricing it as a budget gimbal? Or did they have to cut some corners to appeal to the more price sensitive consumer? Let's find out.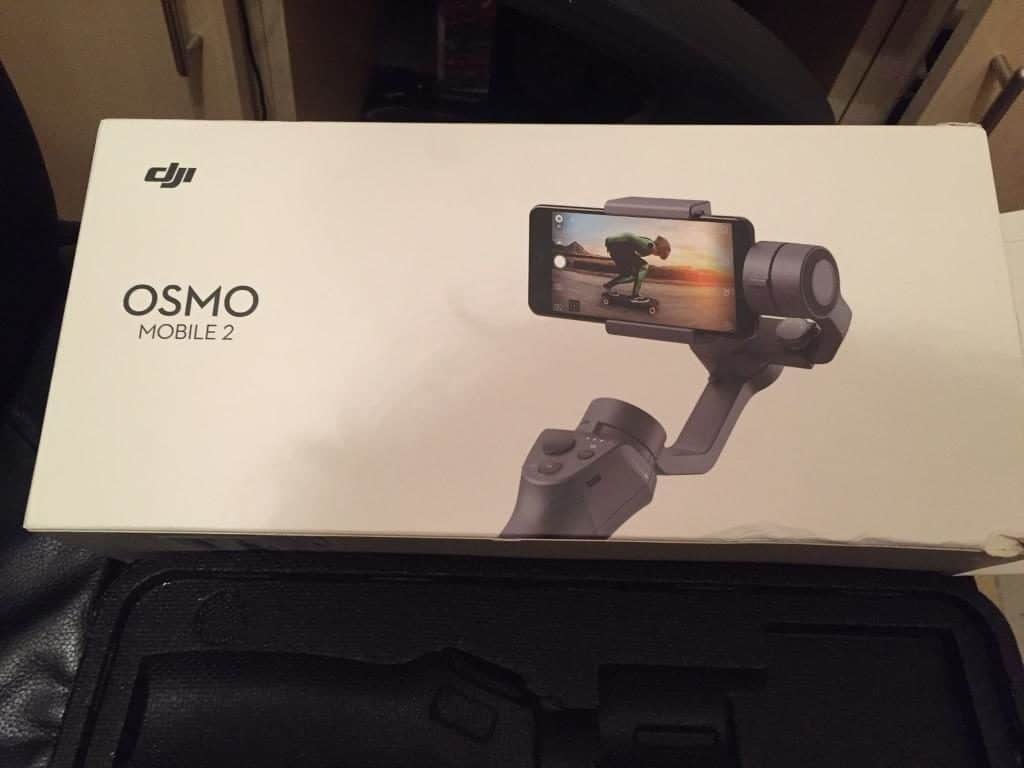 What The Osmo Mobile 2 Does

Before we dive into the review, let me clear up what exactly a gimbal like the Osmo Mobile 2 is for.

A gimbal stabilizer is essentially a device that drastically reduces unwanted camera shake.

Even though high end smartphones like the iPhone X feature advanced optical image stabilization (OIS), the fact is camera shake will always noticeable when filming things while moving, or when the camera is mounted on a moving object.

3-axis gimbals like the Osmo Mobile 2 use three brushless motors to control three pivots. These pivots move to counteract the changes in orientation of the camera. The resulting video footage is much smoother than any gimbal-less setup.

First Impressions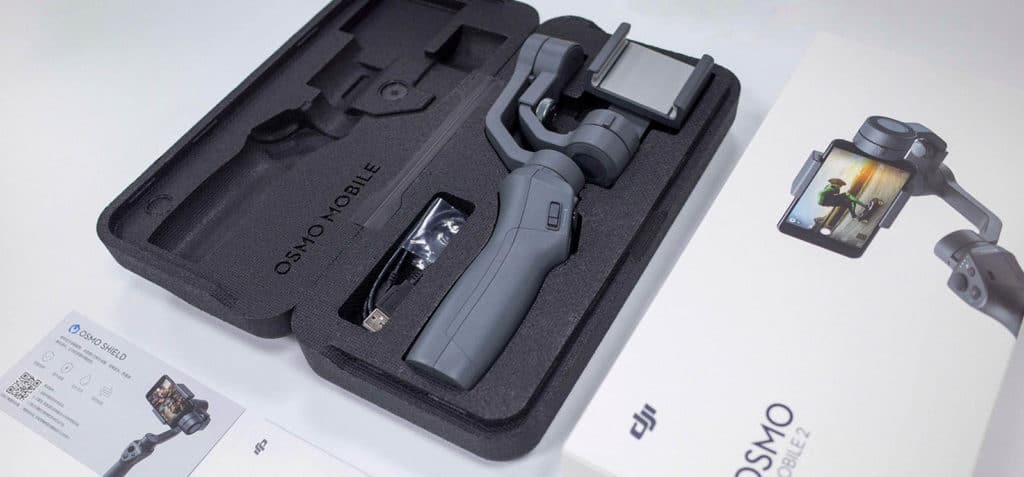 Out of the box, the DJI Osmo Mobile 2 looked very familiar. It looks almost identical to its predecessor while being slightly lighter and more compact. That's obviously a plus, even though the original Osmo Mobile 2 was compact enough to begin with.

Unlike many other gimbals that include a bunch of accessories like frame housing, wrist straps and tripods, the Osmo Mobile 2 has a much more minimalist package. Inside the included carry case you'll only find the gimbal itself and a micro USB charging cable.

Build Quality

Most smartphone gimbals are made from plastic, and the Osmo Mobile 2 is no exception. However, according to DJI, the Osmo Mobile 2 is made from high-strength nylon that is supposedly both lighter and stronger than its predecessor's plastic.

The Osmo Mobile 2 felt good in my hands. Despite still being plastic, it felt better built than cheaper gimbals like the Hohem iSteady Mobile. Of course, only time will tell if that is actually the case.

Like its predecessor, the ergonomics of the Osmo Mobile 2's handgrip is very good. It doesn't feature a rubberized grip or feel quite as comfortable to use as the fancy GoPro Karma, but it's definitely one of the better grips around.

As with almost every smartphone gimbal, the DJI Osmo Mobile 2 is not waterproof so it shouldn't be taken outside on rainy days or used to film water sports.

Compatibility and Setup

The DJI Osmo Mobile 2 features a spring loaded clamp that makes mounting your smartphone a breeze. I found it vastly superior to the screw mechanisms found in many other gimbals. This is an especially welcome feature for a smartphone gimbal, because you'll constantly be taking your mounting and unmounting your phone.

I personally tried the gimbal with my old Samsung S7 Edge, iPhone 7 Plus and iPhone X. I didn't have any issues putting them on, but the iPhone 7 Plus in its TPU case was a bit of a squeeze.

According to DJI, the Osmo Mobile 2 is compatible with all iPhone models, including the new iPhone XS and XR and XS Max. Supporting a maximum payload of 240g, the Osmo Mobile 2 will also be compatible with the vast majority of Androids.

Your phone can be mounted in either horizontally (landscape) or vertically (portrait). The latter is obviously geared towards those users wanting to share stories on Instagram Stories or the like.

Unfortunately, switching between horizontal and vertical orientations requires you to physically take off your phone, flip the clamp and put it back on. Some smartphone gimbals allow you to switch orientation at the press of a button or flick of the wrist – the Osmo Mobile 2 doesn't.

Regarding compatibility with accessories, the industry standard quarter-inch screw thread needle at the base of the gimbal makes it easy to mount to tripods and the like.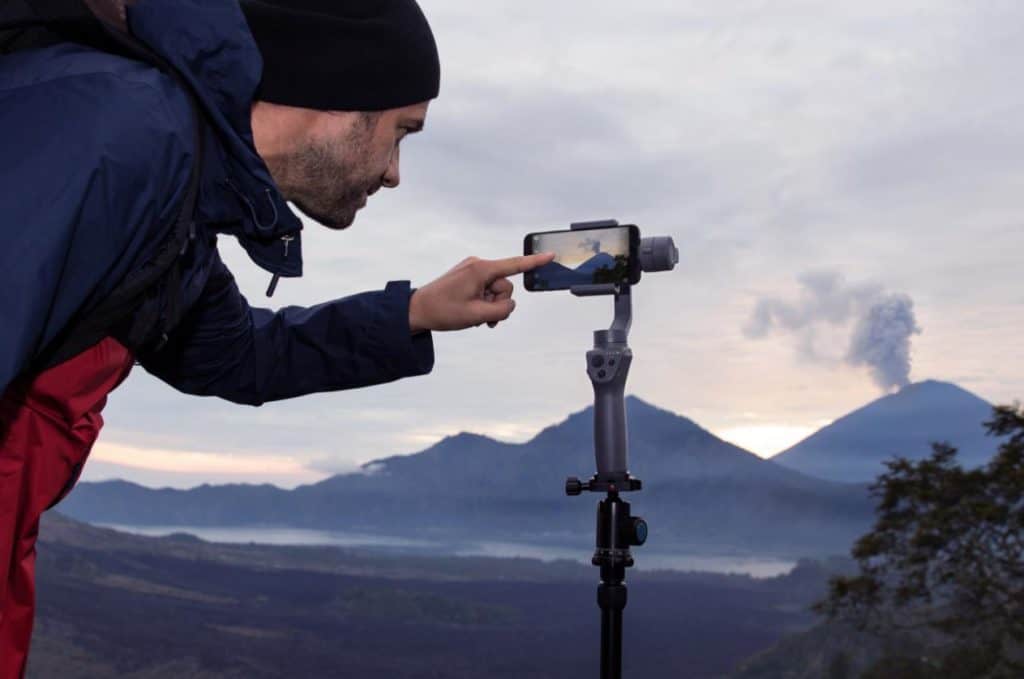 Controlling The DJI Osmo Mobile 2

Whereas some gimbals make you feel like you're piloting a drone, perhaps ironically, DJI's gimbal control scheme is very simple and straightforward.

The power button is not only used for turning the device on and off, tapping it three time will reset the gimbal to its default orientation.

There is a dedicated record button which means you don't have to touch your phone's screen to start capturing.

The joystick in the middle is used to control the gimbal's pan and tilt. This is a fancy way of saying pointing the camera left, right, up and down.

The range of motion is very good, but not the best. The Osmo Mobile 2 has roughly a 340-degree range of motion in the pan and tilt axes and can roll 45-degree to either side. This is much better than a lot of gimbals which can only pan 180 degrees, but some of the newer gimbals are capable repeatedly panning 360 degrees.

Other than that, the left side of the handgrip has a zoom slider. This allows you to adjust the digital zoom while recording video. As with most gimbals that offer a physical button to control digital zoom, it's not perfect. In other words, as you zoom in it'll be a little choppy and not perfectly smooth.

Gimbal Modes

The Osmo Mobile 2 features two shooting modes which you can easily switch between:

Follow Mode: In this mode, the Osmo Mobile 2 will follow the user's movements while eliminating camera shake. Therefore when you pan left or right or tilt up or down, the gimbal will follow your movements, albeit smoothing out those movements for buttery smooth footage.

Free Mode (a.k.a. All Lock): In this mode, the Osmo Mobile 2 will lock the pan, tilt and roll axis. In layman's terms, the gimbal will try and keep the cameras orientation the same, and stay focused on the same object. As an example, you'll want to be in this mode when you're filming at a gig, or when you want to use your phone as a dashcam.

With only two gimbal modes, DJI have kept things simple. It is fine for most cases, but some users might be disappointed by the lack of a pan-follow mode.

Stabilization Performance

Stabilization performance is really where the DJI Osmo Mobile 2 shines, especially for its price. Videos are even more stable than its expensive predecessor, and suffer from very few micro-vibrations.

A common complaint of certain motorized gimbals is that their brushless DC motors are too noisy and audible in recordings footage. The DJI Osmo Mobile 2's motors are practically silent and I couldn't pick up any trace of their sound over the ambient sounds in my recordings.

The Osmo Mobile 2's motors are also fast, meaning they can keep up with even the fastest changes of direction. Sometimes you want the follow speed to be slower, and the smartphone companion app allows you to manually adjust the follow speeds.

DJI Go App

Quite frankly, most of the iOS/Android apps that gimbal manufacturers create for their gimbals are rubbish. Even though they add some functionality, I always find myself using the stock camera apps to record.

However, the DJI Go companion app is an exception. With a big company like DJI behind it, it feels more polished and very user friendly.

Of course this is the app you'll use to calibrate the gimbal, configure settings and so forth. However, using the DJI Go app will unlock some exclusive capture modes that are actually worth using.

Firstly, the app lets you record time-lapse and hyperlapse video. Most of you will probably be familiar with time-lapses, but some of you might not be familiar with hyperlapses. In photography, a hyperlapse is essentially a motion time-lapse where the camera also moves. DJI's Go app lets you take hyperlapses by prompting you to select the start and end position of the camera and the duration of the shot.

Perhaps the apps greatest feature, and feature that makes you actually want to record video using it, is 'ActiveTrack'.

ActiveTrack lets you draw a box around an object and the gimbal will follow that objects movements by means of AI. A usage example would be if you're a vlogger wandering around your room and want the camera to follow your movements.

For static photography, the app has the following three photo modes:
Photo Timer
Panorama shots
Long exposure shots
The resulting quality of your photo will vary depending on your smartphone, but you can adjust things like the white balance through the app.

Finally, I should probably mention the livestream feature within the app. I don't personally livestream, but if you want to easily livestream to Facebook live or YouTube, this app has you covered.

Battery Life

The Osmo Mobile 2's 2600mAh battery is built into the handgrip. Unlike the original Osmo Mobile 2, it's not removable. Using non-removable batteries seems to be becoming a trend since the release of the popular GoPro Karma gimbal stabilizer.

The battery life of the Osmo Mobile 2 is absolutely fantastic. I'm typically used to using batteries that last 2-6 hours on a single charge. The Osmo Mobile 2 can keep going for up to 15 hours on a single charge. That's three times longer than the original Osmo Mobile.

A full charge will take approximately 3 hours. If you're ever in a situation where you need to charge your phone, USB port on the back of the handgrip will allow you the Osmo Mobile 2 to function as a powerbank.

Conclusion
DJI have outdone themselves with the Osmo Mobile 2. They kept the Osmo Mobile's winning formula, threw in some tweaks and significantly reduced the price. I would recommend this gimbal to almost any videographer. Those who desire a gimbal to aid them in doing fancy videography techniques, however, might find it a little basic.
Pros
Fantastic stabilization performance for the price
Motors are very quiet, almost silent
Spring loaded clamp takes the hassle out of mounting your phone
Excellent battery life
Decent smartphone app
Cons
Flipping between portrait and landscape mode is fiddly
Limited shooting modes
Rating 4.5/5
The DJI Osmo Mobile 2 is currently what I consider to be the best gimbal for iPhone.
Sale
DJI Osmo Mobile 2 Gimbal For iPhone And Android
Share Your Story:The Osmo Mobile 2 is a handheld smartphone gimbal made for...
Stable and Smooth Moves:The Osmo Mobile 2 was built to film on the go. Just...
Lightweight and Portable:Now you can take your story anywhere. The Osmo...
Hours of Live Streaming:Go live! With up to 15 hours of battery life, the...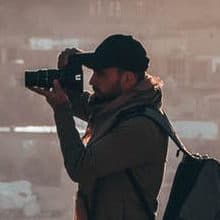 I'm a photographer and the chief editor of Capture Guide. After spending several years in parts of South America with my trusty old Nikon D7100, I'm now back home patiently waiting for borders to re-open.