September 2020 update: DJI have released a new gimbal, the DJI OM4. Read my full review here.
DJI's roots might be in manufacturing drones, but today's average consumer better knows them for their camera gimbals.
Released in January 2018, the DJI Osmo Mobile 2 went on to become the best-selling smartphone gimbal. It shook things up by slashing the original Osmo Mobile's $299 price tag to just $129.
A year and a half has passed, and the DJI Osmo Mobile 3 has finally landed. The smartphone gimbal landscape is also very different to what it was back then, with an abundance of cheap Osmo Mobile 2 imitations and more technologically impressive gimbals being released by the likes of Zhiyun and Freefly.
Given today's fiercely competitive and crowded gimbal market, does the Osmo Mobile 3 do enough to keep DJI ahead of the competition? Or has the room to truly innovate on a smartphone gimbal already reached its limits?
Let's take a look and find out.
Sale
DJI Osmo Mobile 3 For iPhone And Android Phones
FOLDABLE GIMBAL: With a new foldable design at just 405 g, you can take...
SINGLE-HANDED CONTROL: Thanks to an intelligent design with accessible...
GESTURE CONTROL: From vlogging to group photos, this convenient feature...
CREATIVE SHOOTING MODES: Such as Dolly Zoom, Panoramas, Slow Motion,...
What Is It For?
If there's one thing you can bet on when it comes to the next iPhone, Samsung Galaxy or Google Pixel, it's that the phone's camera will be upgraded.
The latest phone cameras not only take super high resolution photos, but they can also record crisp 4K video at 60 frames per second.
Many vloggers, streamers and amateur filmmakers are dropping their DSLRs and camcorders to use their phone as their primary recording device.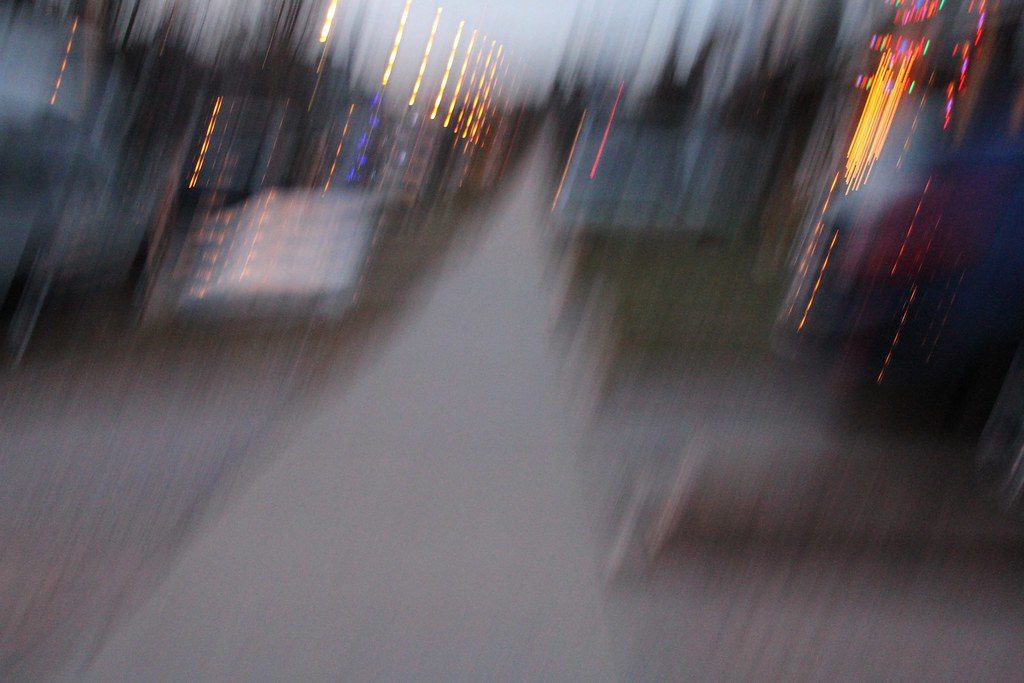 But videographers have always needed some method of stabilization for moving shots. Camera shake can render an otherwise well-shot video unwatchable. Built-in electronic image stabilization (EIS), and in some cases more sophisticated optical image stabilization (OIS), is improving, but they're simply not good enough for creating publishable content.
The DJI Osmo Mobile 3 is a 3-axis gimbal stabilizer designed to eliminate camera shake. So whether you're abroad and filming a walking tour of a new city, or on the back of a bumpy safari truck ride, you can be sure that footage will come out looking silky smooth.
How Does It Work?
The way in which a gimbal like the Osmo Mobile 3 works is quite technical, but the short answer is that it uses three motors readjust the orientation of your mounted phone in three axes—pan, tilt and roll. Sensors detect the shake and a computer chip then calculates the necessary adjustments to keep the camera stable.
If you're interested in learning about the tech behind gimbals, make sure to check out this post which explains exactly what a gimbal is and how it works.
Pricing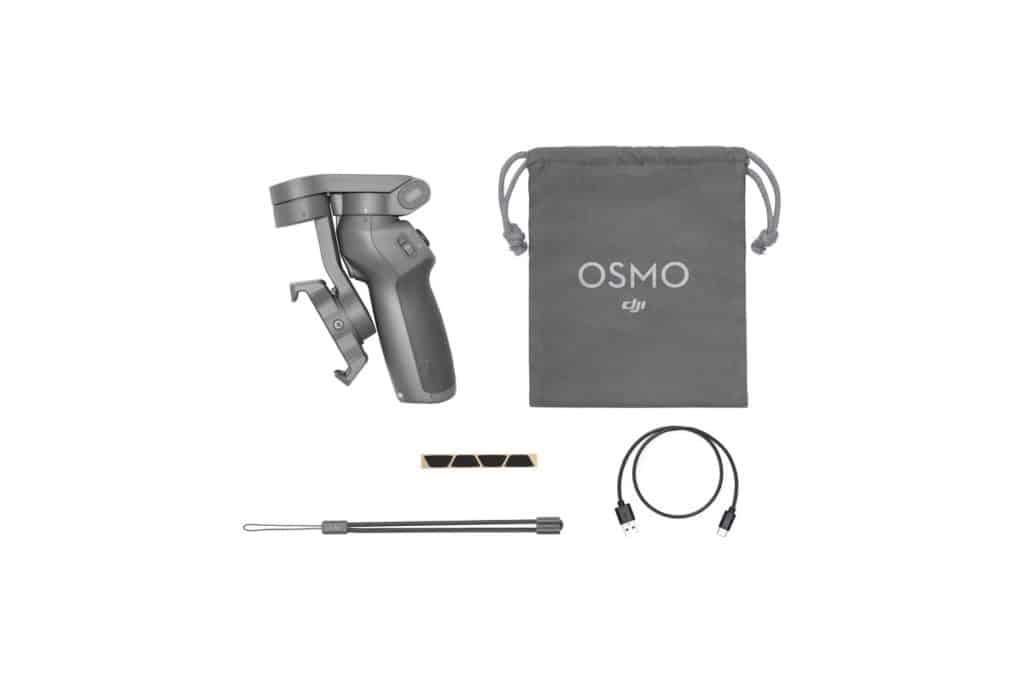 At just $119 MSRP, the DJI Osmo Mobile 3 is more price-competitive than ever. Sure, it's not the drastic $150 discount we saw going from the original Osmo Mobile to the Osmo Mobile 2, but at $119 the Osmo Mobile 3 manages to compete with budget gimbals, despite bringing in a whole raft of new and exclusive features.
DJI also offer the Combo Pack for $139, which includes an official DJI tripod and carry case.
Finally, A Foldable Gimbal
Despite all the new offerings hitting the market, it's difficult to differentiate all the gimbals from one another.
They pretty much all look the same and function the same, save for a few different buttons and differences in stabilization performance and reliability.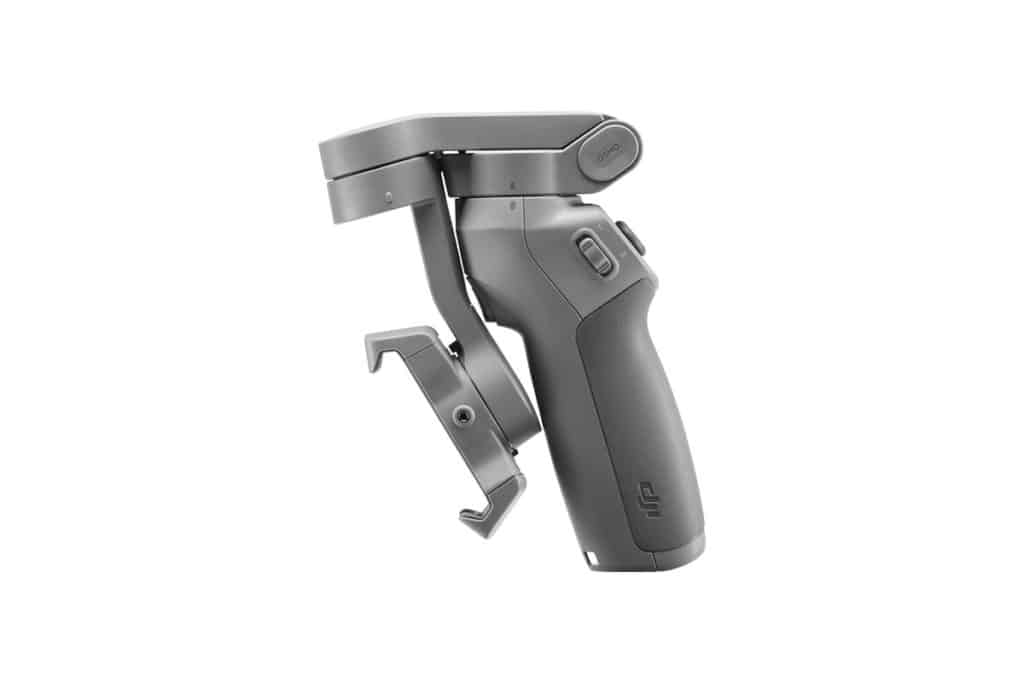 The Osmo Mobile 3, however, finally breathes some life into the stale market by being able to fold inwards and effectively half its length.
The first of its kind, the foldable design is very much a welcome change. Say what you want, but there's no denying that the iPhone and Android gimbals we've seen so far have been far too unwieldy. Not only are they too long, but their awkward form makes it impossible to pack them in a space-efficient way.
This might seem like an insignificant change, but let me assure you it is anything but. The Osmo Mobile 3 takes something that used to be so beastly you'd only carry it if you knew you'd be shooting video, to something that you can chuck in the bag on the off chance you might want to spontaneously record some video.
What Else Is New For The Osmo Mobile 3?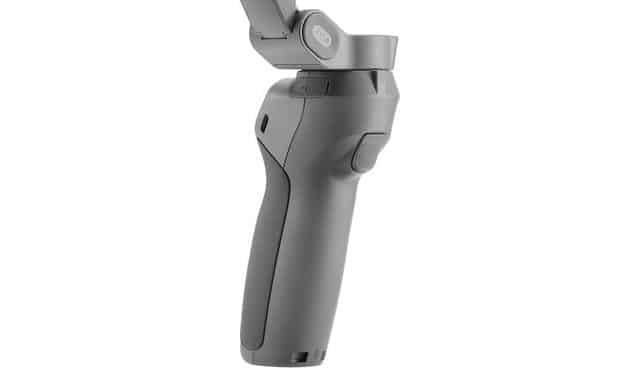 DJI have thankfully brought back the trigger at the back of the handgrip which mysteriously went missing on the Osmo Mobile 2. This trigger can be held down to keep your camera lens pointing at the same target, or alternatively boost motor speed to make the camera snap to wherever you're pointing out without any lag.
They've also updated the micro-USB port to the newer USB Type-C standard, which reduces the charging time and also means you don't need to carry around an old Micro-USB cable around with you. There's also a USB 3.0 port at the side of the gimbal, which means you can also use it as a powerbank to charge your phone.
While the shorter rubberized grip is arguably less ergonomic than its predecessor's, it's now tilted forward slightly meaning you don't have to constantly have your wrist slightly snapped back to keep the gimbal upright. Overall, it feels more comfortable to use.
Compatibility
The Osmo Mobile 3 is compatible with almost all iPhones and Android smartphones, including bigger, phablet sized ones. However, those hoping to use it with the Moment wide-angle lens attached to their phone will want to make sure the total weight of their phone and Moment lens remains below 230g.
| | | |
| --- | --- | --- |
| | Osmo Mobile 3 | Osmo Mobile 2 |
| Max Payload | 230g | 240g |
| Max Phone Thickness | 9.5 mm | 8.9mm |
| Supported Phone Widths | 62-88 mm | 58.6 – 85 mm |
For full software compatibility with the DJI Mimo app, you can refer to this list.
Mounting Your Phone
The DJI Osmo Mobile 3 makes use of an adjustable spring-loaded clamp to secure your phone. You simply pull apart the clamp, slide the phone in and the clamp will securely grip your phone.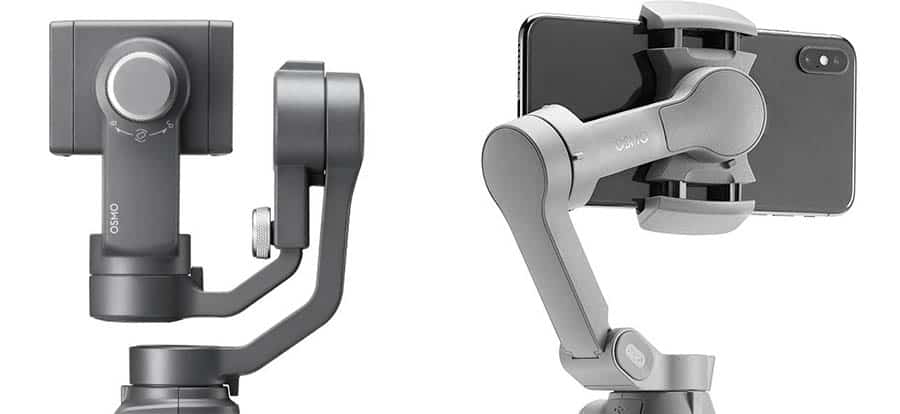 DJI has ditched the set-it-and-forget-it balance adjustment knobs that were present on the Osmo Mobile 3's predecessors. Instead, to perfectly balance the phone, you'll have to play around with the position of your phone within the clamp each time you mount it. It's a bit more fidgety, but nothing more than a minor inconvenience.
Controlling The Osmo Mobile 3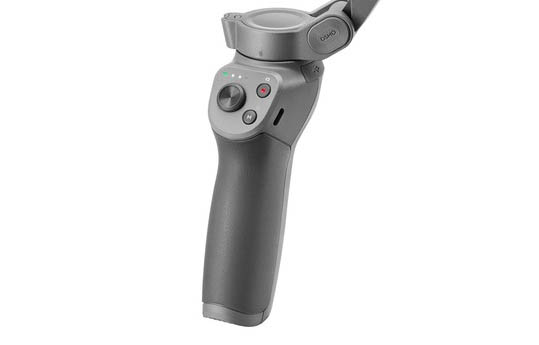 Unlike some gimbals which are lined with various buttons and dials, the Osmo Mobile 3 has a very minimalist control scheme.
A mode/power button, shutter button, zoom slider, configurable trigger and a joystick to electronically adjust pan and tilt is all there is to it.
Although I like the clean layout, it does have a learning curve as you'll have to remember exactly how to access all the functions. For example, to switch between portrait and landscape mode requires you to press the M button twice, to switch between rear and selfie cameras requires you to press the trigger 3 times. Remembering all the correct combinations can be quite difficult.
The other quibble is DJI's decision to go with a zoom slider over a zoom wheel that some other gimbals feature. The slider makes zooming in and out slightly less smooth, unless you have a rock steady thumb.
Shooting Modes
The DJI Osmo Mobile 3 features 3 gimbal modes: Follow, Tilt Locked and FPV:
Follow: The most frequently used mode, your gimbal will follow movements in the pan (side to side) and tilt (up and down) axes but lock the roll axis so that the image is perfectly straight and parallel to the horizon.
Tilt Locked: Rather confusingly named, this is essentially what other gimbals call pan-following. It locks the tilt and roll axes so that only pan movements are followed. Good when you're filming while running and don't want to negate unwanted up and down movements.
FPV: This keeps all 3-axes unlocked, albeit smoothes everything out. This could be useful when filming on a rollercoaster or on a mountain bike, where you want to create more immersive footage.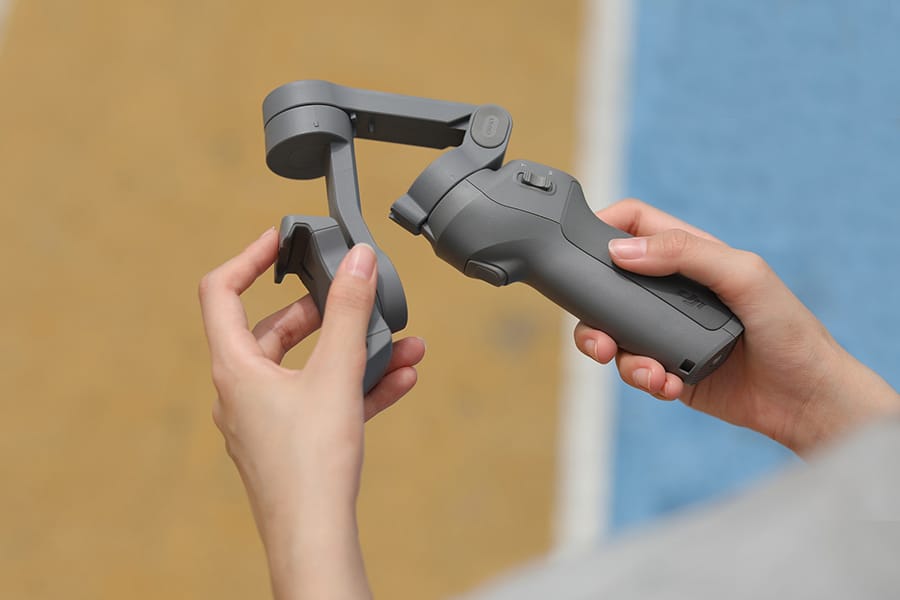 Stabilization Performance
Despite being one of the smallest iPhone/Android gimbals around, the Osmo Mobile 3 still offers great video stabilization.
Comparing footage with the Zhiyun Smooth 4 and Hohem iSteady Mobile, the Osmo Mobile delivered smoother footage than the iSteady Mobile but was slightly less stable than the Smooth 4.
The difference between all three tested gimbals was almost completely unnoticeable, though. It only became apparent when the camera was fully zoomed in and capturing things in the distance, at which point the Smooth 4 footage was slightly more smooth.
Range Of Movement
If there's one compromise which has been made for the sake of its foldable design, it's the gimbal's range of movement. Let's compare its range of movement with its predecessor's.
| | | |
| --- | --- | --- |
| | Osmo Mobile 3 | Osmo Mobile 2 |
| Pan | -162.5° to 170.3° | ±170° |
| Tilt | -104.5° to 235.7° | ±170° |
| Roll | -85.1° to 252.2° | -90° to +70° |
As you can see, the limits of the gimbal's mechanical movements are a little more arbitrary than before.
In practice, this isn't really a problem at all, but feels a little odd knowing that the limits in pan and tilt are not equal in each direction.
Battery Life
Most of the latest smartphone gimbals have a battery life that far exceeds the realistic needs of anyone, and the Osmo Mobile 3 is no exception.
Like its predecessor, the Osmo Mobile 3 has a 2450mAh battery that can last for 15 hours under ideal conditions. This means you can spend the day recording video and still be left with enough juice to charge your phone via the USB 3.0 port.
DJI Mimo App
Software is one of the areas where a DJI gimbal really beats the competition. The new DJI Mimo app which was born with the release of the DJI Osmo Pocket, replaces the older DJI Go app.
With the iOS/Android app, you can take photos, record video and do some fancier things like timelapses, hyperlapses and slow motion shots.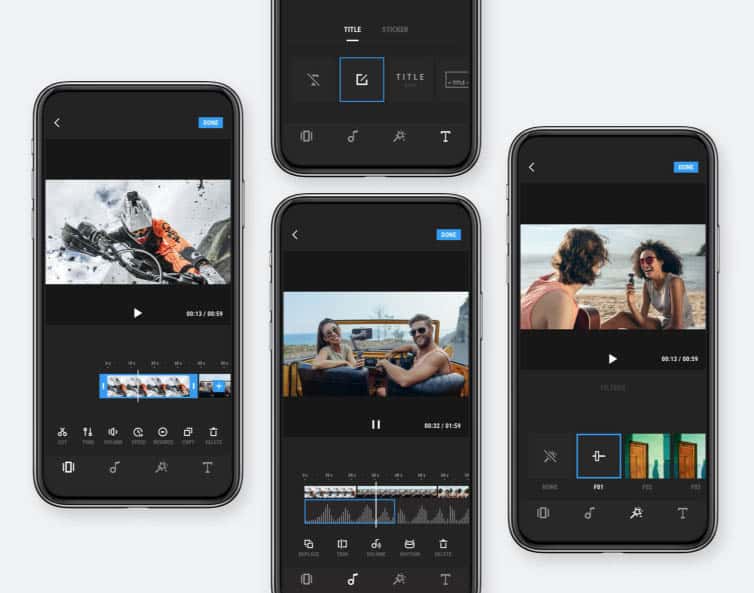 There's also the new ActiveTrack 3.0 technology, which uses AI to track a person's movements. It's one of the most sophisticated algorithms around, although it admittedly does still lose track under some very specific parameters.
DJI Mimo also features some things which simply aren't found on the software of other gimbals. For example, Story Mode combines clips and stills into a new video complete with its own soundtrack, while Gesture Control means you can wave at the camera for it to automatically snap a photo.
More serious filmmakers might want to use the third-party FiLMiC Pro app, which has some more advanced filmmaking modes missing from DJI's own app.
Conclusion
Pros:
Foldable design is revolutionary
Great stabilization performance
Industry-leading software
Cons:
Zoom slider instead of zoom wheel
No balance adjustment knob
The DJI Osmo Mobile 3 isn't perfect. It has a zoom slider instead of a zoom wheel, doesn't have a balance adjustment knob and its range of mechanical movement isn't as large as some of the competition.
However, I'd choose this gimbal over all the other iPhone/Android gimbals any day of the week. Its folding design is revolutionary, and it's almost inevitable that other gimbal manufacturers will follow suit and start making their own foldable gimbals. But beyond portability, it performs fantastically as a stabilizer, doesn't have any major issues and its software is simply the best in the business.
Overall, DJI have seriously impressed me with the Osmo Mobile 3 and it's difficult to see how the competition will react given that the gimbal even manages to be competitive on price.
Rating: 4.5/5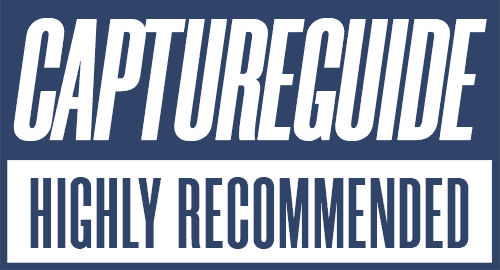 Still looking for the right gimbal for your iPhone? Check out my iPhone gimbal buying guide to find the best available gimbals on the market right now.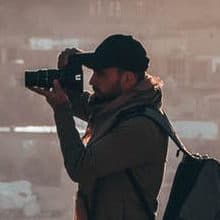 I'm a photographer and the chief editor of Capture Guide. After spending several years in parts of South America with my trusty old Nikon D7100, I'm now back home patiently waiting for borders to re-open.