Feiyu Tech are one of the pioneering brands in gimbals and their new gimbals come highly anticipated. The Feiyu G5 was their previous flagship action camera gimbal. In my review of the G5, I found myself disappointed by leveling issues during stabilization tests and its fiddly mounting procedure. Feiyu went back to the drawing board and came back with the Feiyu G6 which is the gimbal I'll be reviewing today.
Feiyu G6 Gimbal For GoPro
【CAUTION】 Please set the Gopro Hero 5 / 6 to lower the noise when taking video. Set "Raw Audio Track" into "High". Set "Manual Audio Control" into "Wind Only". Also, try to mount Hero 5 in reverse position, leave mic input far away from the motor helps.
【Compatibility】G6 works with Sony RX0 / GoPro Hero 6/Hero 5 / HERO4 / HERO3+ / HERO3 / Yi 4K / AEE and other action cameras that have similar dimensions. However, the function in the app may not be comprehensive if used with other action cameras except Gopro Hero 6 / 5 and Sony RX0.
【Wifi + Blue Tooth ( Dual Working Mode)】While connecting Gopro Hero 6 / Hero 5 / RX0's wifi, G6 can connect smartphone via Bule Tooth at the same time. Lateral positioning with 1/4 Hole + Dowel Pin allows a smartphone setting up in the G6 by mobile device support which turns the phone into a viewfinder. Allows all the specifications be set in Feiyu On App
【Feiyu On App】With connecting Gopro Hero 6 / Hero 5 wifi, G6 can control the camera to take video / photo and set up frame rate, resolution, view width. When connecting RX0's wifi, G6 can control the camera to take video / photo and set up white balance, ISO.
【TimeLapse】Shooting nodes can be set at random, creating a special trail time-lapse photography. Manually set up the start, the finish and the rotation route in auto-rotation mode to fulfill time-lapse or automatic shooting.
Pricing

Retailing for $180, the Feiyu G6 is neither cheap or expensive. In any case, it's a big step down from the G5 which cost $240 at release. This makes the G6 much less of a direct competitor to the acclaimed GoPro Karma Grip which costs $300.

Handheld gimbal stabilizer prices have fallen a lot over the past couple of years. Back in 2016 the lackluster G5 felt only slightly overpriced at $240. But in today's market I would expect far better than the G5 for the G6's retail price of $180. So let's see how the Feiyu G6 fares in this highly competitive gimbal market.

First Impressions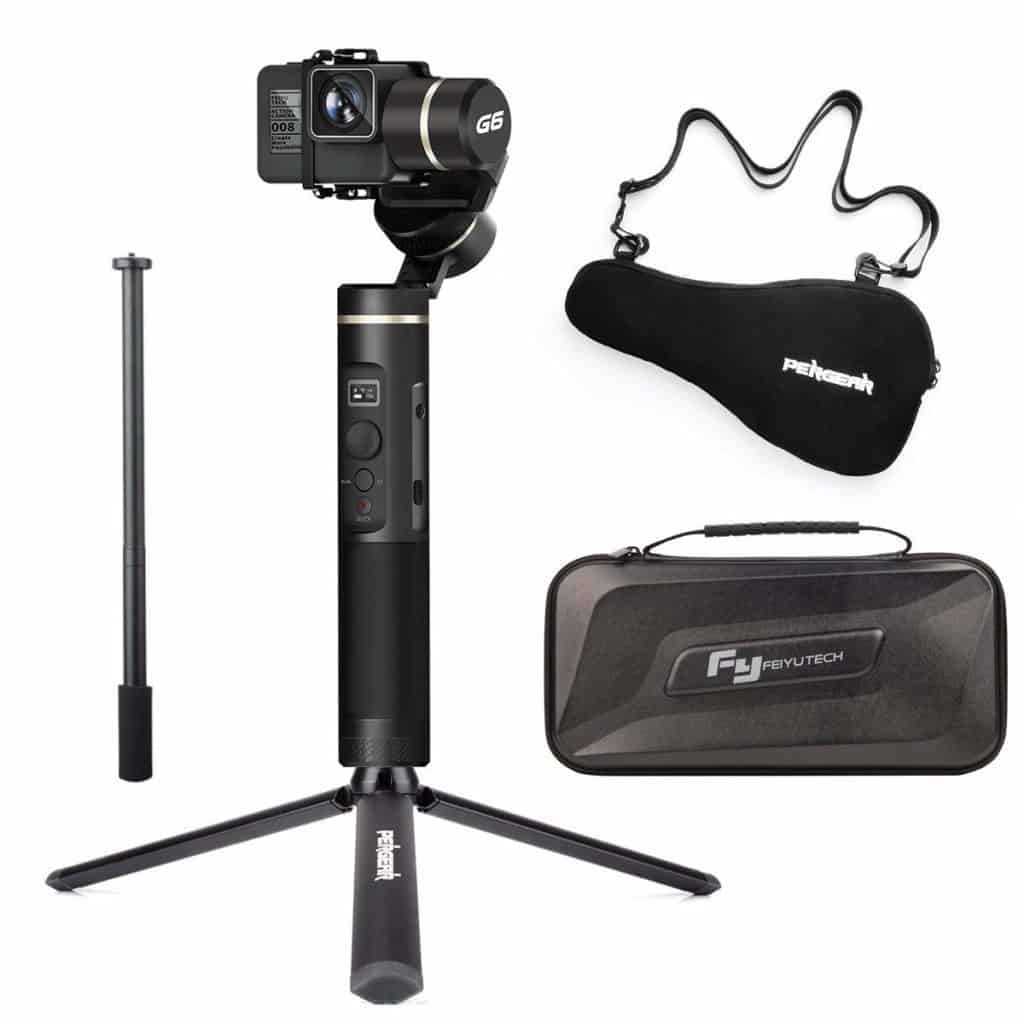 The G6 is almost identical to the G5 in appearance. That's definitely not a bad thing as the design was not something I disliked about the G5.

The gimbal is noticeably more compact than other popular gimbals like the GoPro Karma Grip and Removu S1. The rubberized grip is a nice bonus that makes it comfortable to hold during longer shoots. It's also IP67 splash proof meaning it won't have problems under the rain.

Unfortunately, the fiddly mounting procedure which was one of my biggest gripes about the G5 hasn't changed. Needing to play with two hand screws to attach your GoPro might not seem like that big of a deal in the grand scheme of things. But when so many other gimbals let you simply slide your GoPro on, it really feels unnecessary.

Compatibility

The G6 is compatible with a large range of devices. It's officially compatible with the GoPro Hero 3/3+/4/5/6/7 along with the Yi 4K/4K+, AEE and other similarly sized non-GoPro action cameras. It can support a load of up to 130g.

The box also includes a separate frame for the Sony RX0 action camera. This is obviously a big factor for RX0 owners who are slightly more limited when it comes to compatible gimbals.

New Features

The G6 doesn't innovate much on the G5 but has a few noteworthy new features.

Firstly, the handgrip features a small LCD display which indicates the battery level as well as shooting mode. This is actually more helpful than you'd as being unaware of your shooting mode is a common gimbal problem. Especially when switching between modes is done through tapping the mode button a specific number of times.

Secondly, the side of the handgrip now features a new mount thread and external mic port. The external mic port is a highly sought after feature for many and Feiyu have been smart to include it.

Finally the back of the handgrip features a slider to control the camera's roll. That means you can tilt your camera left to right. Most gimbals don't have this feature and I didn't find encounter many situations where I found myself needing it, but I am sure some people would find it useful.

Shooting Modes

Much like its predecessor, the Feiyu G6 has three shooting modes:

Pan-follow: Keeps the tilt axis locked but follows pan (left or right) movements.

All-follow: Follows movements in the pan and tilt axis while keeping minimizing camera shake.

Locked: The G6 locks pan, tilt and roll. Used when you want to keep your GoPro's orientation locked in position.

Modes are changed by pressing the mode button a specific number of times. Pressing the mode button three times in quick succession will flip the camera around for selfies. Note that the G6 has gone away with the dedicated selfie button that was featured on the G5.

Performance

The 3-axis Feiyu G6 performed very well and didn't suffer from the stabilization issues found in the G5. It isn't quite as smooth as the expensive GoPro Karma but the difference was miniscule. The motors also felt snappier than the G5 which was a nice change.

The G6 has very quiet motors which comes as a big deal for the audiophiles. I couldn't make out any noise over the ambient sounds of my surroundings in recorded footage.

Battery Life

The Feiyu G6 features a removable 5000mAh that provides up to 12 hours of usage on a single charge.

Compare that with the GoPro Karma Grip's 2.5 hour battery life. The difference is pretty remarkable.

However, I would note that I've never found myself needing more than 2 hours of battery life at most, especially with all the charging options available.

Conclusion

Back in late 2016, I found myself disappointed by the Feiyu G5 which didn't perform well and cost too much. With the Feiyu G6, that isn't the case. It's a very solid performer and I really can't fault its stabilization performance.

Costing $180, it's definitely one of the best GoPro and action camera gimbal options within the sub $200 budget. The only thing I can fault is the fiddly screw-based mounting design that makes the experience a bit more troublesome.

Rating: 4/5
The Feiyu G6 is tied as our favorite handheld GoPro gimbal in our shortlist of the best gimbals for GoPros.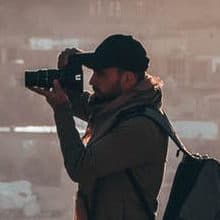 I'm a photographer and the chief editor of Capture Guide. After spending several years in parts of South America with my trusty old Nikon D7100, I'm now back home patiently waiting for borders to re-open.