Very few things come close to the feeling of riding a motorcycle. Consequently, it's no surprise that many of us who do so want to capture that experience. One of the easiest ways to do it is with a GoPro action camera and GoPro motorcycle mount. While it may seem relatively straightforward, recording footage that's worth sharing, or even rewatching on your own, is greatly affected by where you mount your camera.
So, how do you determine the best location for your GoPro camera? The answer depends entirely on what you want to get out of it.
Do you want to capture what's in front of you, or get footage of yourself so you can work on things like body positioning? Every rider has their idea of what they'd like to capture – be it the view of the ride or their bike gauges – and this is what ultimately determines the best mounting point for you.
Some of the most common mounting location points are the helmet, handlebar, side fairing, and motorcycle tail. When it comes to a helmet mount, there's also the question of whether you want to mount it on the top, side, or chin. In this article, we've looked at these popular mounting options, the benefits of each, and the best mount you can buy.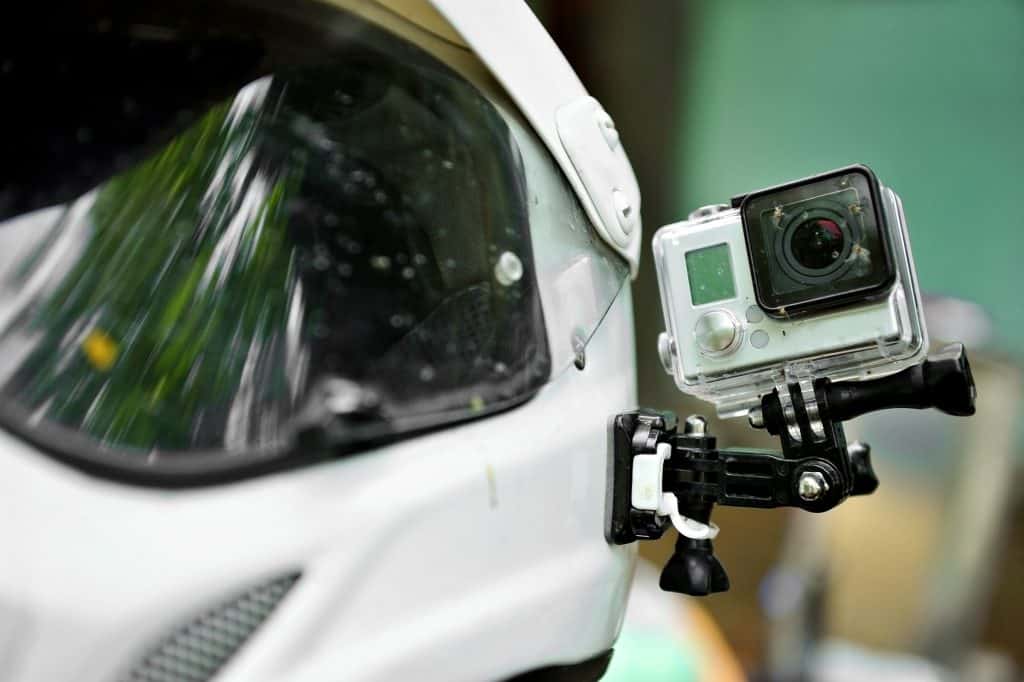 Helmet Mounts
A GoPro motorcycle helmet mount is arguably the most popular type of mount amongst riders. As already mentioned, you can mount a GoPro on the top, side, or chin bar of your helmet:
Top mount
Mounting your GoPro to the top of your helmet gives you the freedom to point your GoPro in either direction – facing forward or backward. On the flip side, it places the camera at the highest point possible while on a motorcycle, so you'll need to adjust it to ensure that viewers feel like they're watching footage that you recorded while riding.
Pros:
POV-like feel, with a higher perspective
Isolated camera means vibrations from motorcycle are reduced
Cons:
Extra wind drag at higher speeds
Too much movement from the rider can annoy the viewer
Side mount
If you mount your GoPro on the side of your helmet, it will give viewers a more connected feel of what's happening. Since it's an offset angle, a part of your helmet will also likely be captured by the wide-angle lens on the GoPro. That said, many viewers tend to enjoy this as it portrays the feeling of sitting behind the rider on a motorcycle. You'll also have to get used to the feeling of having the extra weight on one side of your helmet, but since GoPros are relatively light, this shouldn't be too big of an issue.
Pros:
Offset perspective can give the viewer the feeling of sitting pillion
Vibrations from motorcycles don't affect video
Cons:
Helmet weight is unbalanced
Chin mount
The last option you have is the chin mount. The chin mount is a top choice while mounting a GoPro on a helmet as it delivers the most immersive experience for a viewer.
Pros:
The best location for POV footage
Minimal vibrations are translated from the motorcycle
Least wind resistance for a helmet mount
Cons:
Can be cumbersome to mount on some helmets
GoPro may have to be used upside down
Best GoPro Helmet Mounts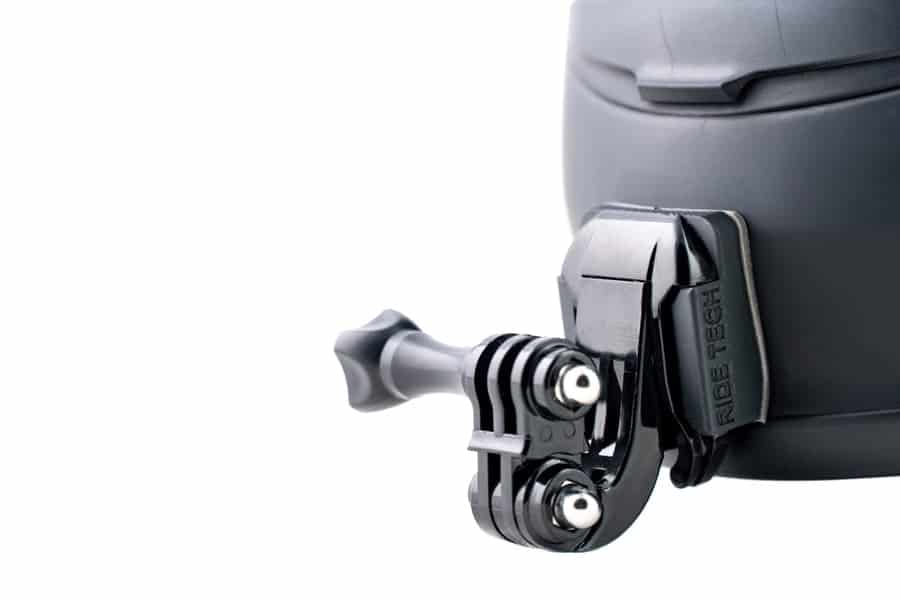 Ride-Tech Moto GoPro Mounts
Quality mounts tailored for your specific helmet
We tested several helmet mounts and found that the Ride-Tech Moto GoPro Mounts are some of the best options out there. What makes mounting a GoPro on a helmet tricky is the fact that nearly all helmets have no flat surfaces.
Ride-Tech Moto has adhesive GoPro helmet mounts that are both aerodynamic and specifically designed for different helmets to ensure the perfect fit. You can purchase a standalone GoPro helmet mount, or get the complete package which also includes an extension arm, among other things.
They are compatible with most GoPro cameras, including the GoPro HERO series and GoPro Session, as well as some other popular action cameras like the Xiaomi Yi 4K and DJI Osmo Action.
Whereas the Ride-Tech moto offers a more tailored fit, if you want a more versatile option, the official GoPro helmet mount is unsurprisingly the best option. It comes with an adhesive mounting buckle that allows for maximum adjustability so you can find the perfect camera angle before you start shooting. Unlike the Ride-Tech mounts, this official GoPro accessory can also be mounted to bicycle and ski helmets, among others.
Handlebar Mounts
Following helmet mounts, handlebar mounts are the next most popular spot to put your GoPro on a motorcycle. When you mount your camera on your handlebar, you get a stable shot with a fixed angle – with a helmet, you can look around and change what the camera is capturing. It also has no additional weight to the rider and is the most convenient because you can easily access it to change settings or even hit record.
Pros:
No added weight for the rider
Lower profile will attract less attention
Easy to operate
Perfect for shots of the instrument cluster
Cons:
Noticable vibrations when riding at high speeds can sometimes result in shaky recordings
In some Superportsthe windscreen will block the shot
Best GoPro Handlebar Mounts
The official GoPro mount for handlebars is our top pick for this application. Like most official accessories, it has excellent build quality and comes with non-slip pads that ensure a secure fit. It also offers outstanding adjustability with a 360-degree rotatable head.
While GoPro states it is designed to be used on motorcycles, it may not fit thicker handlebars, so check first.
The Skyjffj handlebar mount employs a CNC aluminum metal body that is lightweight and more durable than plastic alternatives. Like the official GoPro accessory for handlebars, this bike mount also features a fully articulating head. However, on the downside, the swivel head does have a tendency to come loose, which can be somewhat frustrating.
Chest Mounts
Chest mounts deliver unique video angles and the slightest vibration interference. If you don't mind the added fashion statement of chest straps, you might just find that the chest mount works well to produce an excellent quality video. They're also easy to use and adjust and don't require to be "permanently" fixed, like on a helmet or handlebar.
Pros:
POV-like footage with the addition of the handlebar in the frame
Easy to operate and adjust
Low vibrations since the camera isn't mounted on the motorcycle
Cons:
Typically more expensive than other mounting options
Camera may sit too low on certain motorcycles and riding styles
Your camera lens won't follow where you're looking
Can be uncomfortable at first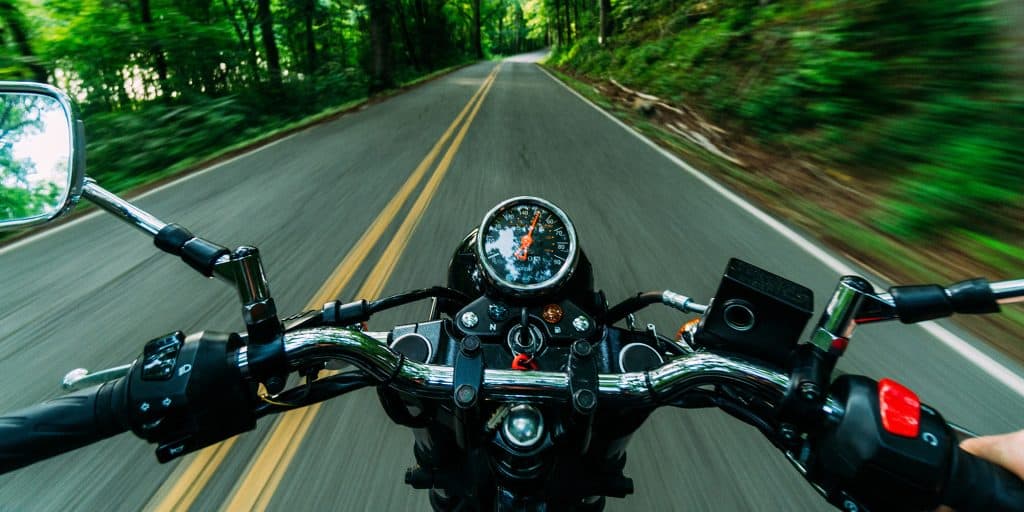 Best GoPro Chest Mounts
The trust GoPro Chesty mount is undoubtedly the best choice for a GoPro chest mount. It's perfect for when you're riding a dirt bike or going off-road and fits snug without being too uncomfortable.
Designed for use with all GoPro cameras, the official chest mount strikes the perfect balance between comfort and performance. Its fully adjustable straps make it easy to wear over a bike jacket with several layers underneath. The biggest upgrade over the original GoPro Chesty is the quick-release buckle that makes taking it off a breeze.
If you're happy to sacrifice some quality for something considerably cheaper, this Amazon Basics chest mount is a decent alternative. The overall design and functionality is similar to the official accessory, but it lacks the padding of the GoPro Performance Chest Mount and the attachment clip feels a bit cheap.
Now, in all honesty, this chest mount harness should be fine. But with at least one unfortunate user claiming their GoPro flew off while riding, we'd recommend paying extra for peace of mind. Unless you're okay with risking your expensive GoPro equipment, of course.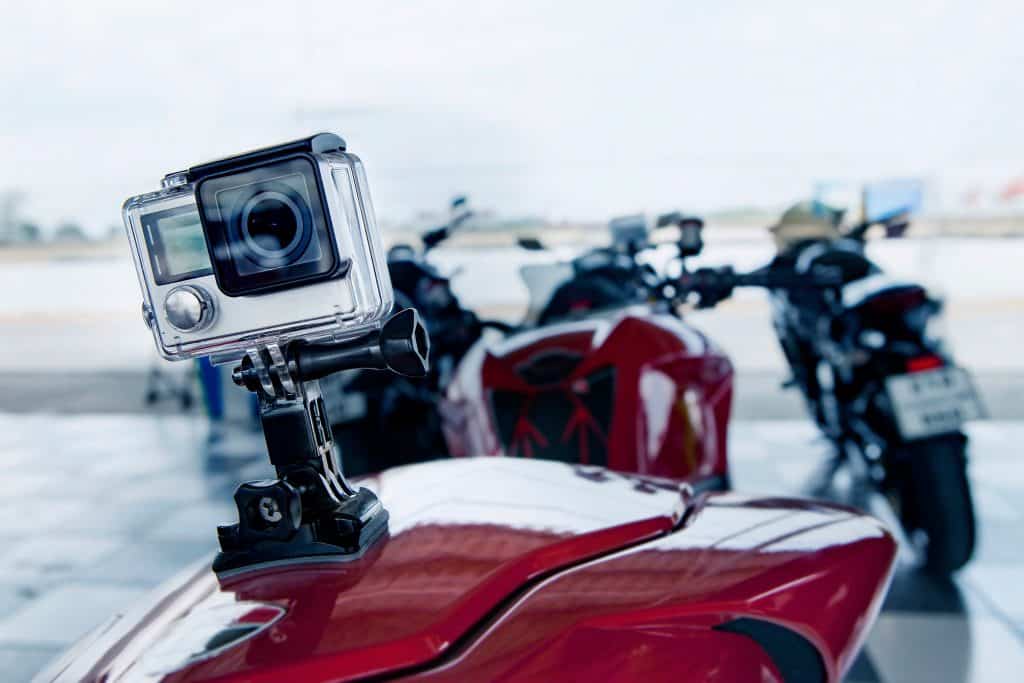 Motorcycle Fairing/Tail Mount
The last option is to mount the GoPro camera on the motorcycle. This allows for various placements, including the tank, windscreen, and other places on the bike; we find that the most common areas to get some fantastic footage are the side fairing or the tail.
Fairing Mount
The fairing is an excellent place to mount your GoPro if you want some incredible low-angle shots. Point it away from you, and you'll get footage of the tarmac, and this can be quite an exciting angle. If you point it towards you, you can angle it to get your legs, and this is perfect for those knee-down shots if you're on a supersport.
Pros:
Semi-permanent mounting position
Great low-angle footage when cornering
Can get exciting footage while filming wither direction
Cons:
Motorcycle vibration can spoil footage
Can only capture one side of the motorcycle
Tail Mount
Mounting the GoPro on the tail can be a great option if you want to work on your body position or see how you're seated on a motorcycle. Since it's close to the exhaust, it also picks up on the sound of your bike really well.
Pros:
Semi-permanent mounting position
Great for seeing how your body positioning is on a motorcycle
Will pick up exhaust sound well
Cons:
Vibration can affect footage
Rider will cover up most of the frame
Best GoPro Motorcycle Frame and Tail Mounts
The stock GoPro mounts are available in curved and flat options, making them a good choice for sticking on various parts of your motorcycle. The downside to the mounts is that they're permanently on your bike.
If you don't want to spoil the aesthetic of your motorcycle with a mount, you can use the suction cup that's easy to put on and take off. It's also entirely secure, but we recommend that you tether it to some part of your bike, so you don't lose it, even if it comes off.
FAQ's on GoPro Motorcycle Mounts
Is it safe to mount a GoPro on my motorcycle?
Yes, for the most part, it's safe to mount a GoPro on your motorcycle. However, keep in mind that mounting the GoPro on your body or tank may be dangerous in the event of a crash. If it's mounted on the side of the motorcycle, it will very likely come off when it makes contact with the tarmac.
Is it illegal to ride a motorcycle with a GoPro?
No, it isn't illegal to ride a motorcycle with a GoPro. That said, a GoPro can sometimes draw unwanted attention. On the flip side, it's also a great tool to have in the case of a crash when you need to claim insurance or when you want to review what went wrong.
How do you record a video while riding a motorcycle?
GoPro has simplified this by offering a variety of motorcycle settings that you can tailor to suit your needs. The GoPro App lets you check the framing once you've mounted your camera, so you don't have to look at the GoPro every time. If you want stunning footage, you can take the time to plan your shots. Remember that the higher speeds demand that you record on a higher frame rate – 60fps, at least.
Which GoPro Is Best For Recording Videos On My Bike?
The latest GoPro HERO 10 Black series offers the best recording performance, but previous versions also deliver ample video quality.
The most important thing is that it features Hypersmooth Electronic Image Stabilization, which was first introduced on the GoPro HERO 7 Black, and has improved with each GoPro generation since. This EIS technology ensures shake and jitter are eliminated from your videos, which will dramatically improve the results, especially when mounting the camera to your bike's handlebars.
The second most important thing is that your GoPro camera is waterproof. Most mounts are just bits of plastic or metal that will survive the rain, but they won't magically give your GoPro any protection against the rain. Starting with the GoPro Hero 5, all models have waterproof housing, so most GoPro owners should be ok.
What Other GoPro Motorcycle Accessories should I get?
Besides the mount, there aren't any motorcycle riding-specific accessories you should get, but there are accessories that will definitely help. The first is a spare battery and portable charger, which are great for those long motorcycle trips where low battery life issues are possible. The other recommendation would be to carry spare memory cards for your GoPro. Since you will normally hit the record button and just let it record continuously while you're riding, you will eat through memory quickly.
Conclusion
Your mount positioning is not set in stone, and the best advice would be to make sure that you've assessed your need before deciding on which mount to get. Remember that you'll probably end up wanting more than one angle, so consider getting more than one mount. The best footage will include multiple angles and views. If you're just getting started, we recommend getting a mount for the helmet as it gives you the most versatility.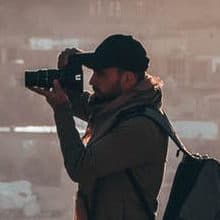 I'm a photographer and the chief editor of Capture Guide. After spending several years in parts of South America with my trusty old Nikon D7100, I'm now back home patiently waiting for borders to re-open.