Zhiyun have cemented themselves as a major player in the gimbal market, coming in just behind DJI when specifically looking at smartphone gimbals. The Zhiyun Smooth 4 (read my review here) has been the second best-selling smartphone gimbal for a while now, and given how good it was, I'd been eagerly anticipating Zhiyun's next release.
And here we have it, the Zhiyun Smooth Q2.
The first thing to realize is that this is actually the successor to the older Zhiyun Smooth Q, and not the aforementioned Zhiyun Smooth 4. The Smooth Q was a lightweight, casual-friendly smartphone gimbal whereas the Smooth 4 targets mobile filmmakers.
Given its tiny body, it's clear that Zhiyun are hoping the Smooth Q2 can compete with DJI's new folding Osmo Mobile 3, the first gimbal to be truly portable.
So have Zhiyun finally created a gimbal that can beat DJI at what they do best? Let's find out.
Zhiyun Smooth Q2 Gimbal Stabilizer for iPhone and Android Phones
🏆[Smaller & Stronger]: The SMOOTH-Q2's motor durability has improved...
🏆[Easy to Use: 1 Sec Quick Release Clip]: Utilizing the quick release...
🏆[Smart Control Panel]: Smooth Q2 simplified all the controls to one LED...
🏆[360 Degree Rotation to Reach More Creativity]: Smooth Q2 supports 360...
What Is It For?
While gimbals seem to have replaced selfie-sticks to become the new must-have phone accessory, some of you will still be unfamiliar with them.
In case you fit that minority, here's a quick explanation: Gimbals are small devices that you mount your phone to, and they essentially make use of three motors to make micro-adjustments to your phone's orientation and keep the camera steady. The result? Buttery smooth video footage that even your new iPhone's optical image stabilization can't compete with.
You can learn more about gimbals and how they work in this post I wrote.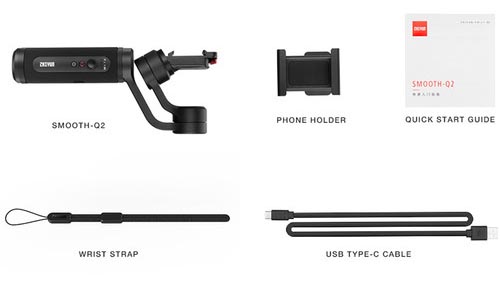 First Impressions
Out of the box, the first thing that strikes you is just how small the Smooth Q2 really is.
When I first unboxed the DJI Osmo Mobile 3, I was blown away by how small it was compared to other smartphone gimbals. Well, the Smooth Q2 somehow manages to make the Osmo Mobile 3 appear too big, so full credit to Zhiyun for making it to compact.
The other thing that immediately struck me was its heavily stripped down design. For controls, there is just a joystick, power button and record button. Apart from that, you get the usual quarter-inch screw thread for tripods and a USB Type-C charging port. You don't get things like a zoom wheel/slider, rear trigger or balance adjustment knobs.
The build quality is also very nice, with a nice use of aluminium alloy and plastic being used in its construction. All this actually makes the gimbal slightly heavier than its competition (when the removable battery is inside the grip).
Compatibility
The Zhiyun Smooth Q2 supports a maximum payload of 260g, which makes it (despite its size) one of the most powerful smartphone gimbals out there. It makes use of a spring-loaded adjustable clamp to hold your phone, which can accommodate even phablet sized phones.
As a result, it's compatible with almost every smartphone you throw at it. However, there is a caveat. On some phones (especially those where the phone's camera is closer to the center, and not the corner, like the Oppo Reno 10x) the back of the gimbal arm gets into the camera's view when recording. This problem isn't exclusive to the Smooth Q2, but it sure is more common.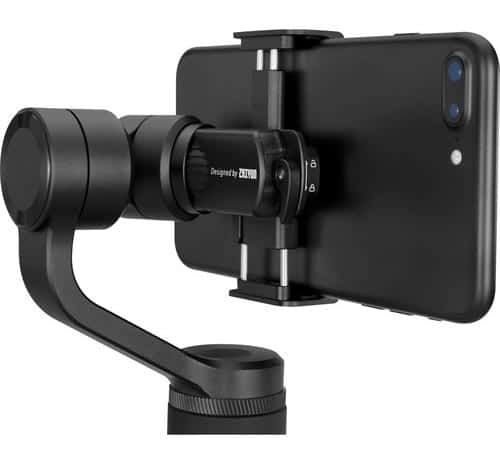 Filming With The Zhiyun Smooth Q2
I've tested a lot of gimbals in the past – Smartphone, DSLR, wearable, you name it. Among all of them, this gimbal is by far the simplest to use. A couple of minutes is all you need to get acquainted with its controls.
After powering it on and hitting the record button, you can use the joystick to electronically pan and tilt the camera. Press the joystick button and you can now cycle through the various shooting modes:
Pan-following: Follows movements in the pan axis, but keeps the horizon locked and level.
Locked: Your phone's orientation is locked, meaning the camera keeps pointing in the same direction.
Following: Follows movements in pan (left/right) and tilt (up/down) axes, but keeps the horizon level by locking the roll axis.
POV: Follows all movements, albeit steadying things out for jitter-free footage.
Vortex: A slightly gimmicky mode that lets you shoot am inception-style camera shot.
The gimbal has a LED indicator which makes it easy to check what mode you're currently using.
Of course, pairing the gimbal with the ZY Play companion app over Bluetooth lets you do other fancy things like motion timelapses, object tracking and dolly zooms. It's also where you can configure various settings.
Performance
Over the last couple of years portable gimbals have come a long way in stabilization performance. In fact, we've almost seemingly hit a wall in which all the gimbals are relatively similar when it comes to how much they stabilize video.
Despite being 'pocket-sized', the Zhiyun Smooth Q2 offers some of the best stabilization performance yet. Its motors are incredibly powerful and pretty darn quiet too.
However, the biggest problem is that the motor speed is fixed. This can be an issue when you're filming fast action like a formula 1 car zooming past you on the track. Most gimbals let you increase responsiveness by letting you change the motor speed.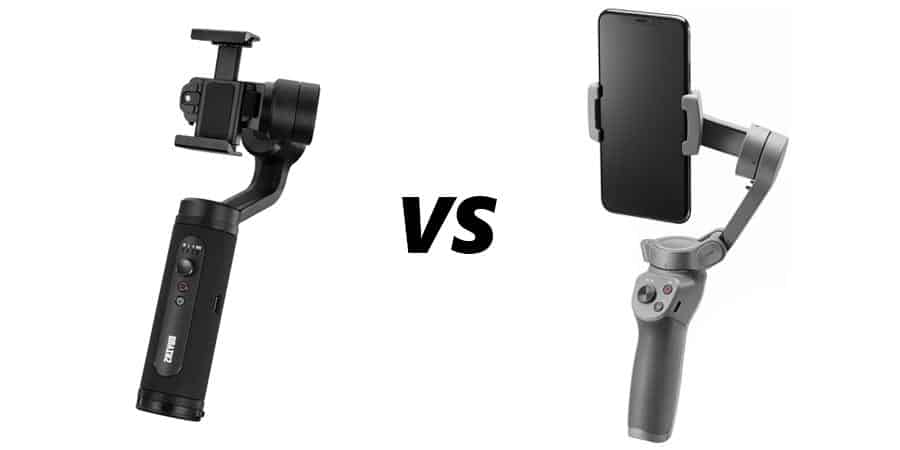 Zhiyun Smooth Q2 vs DJI Osmo Mobile 3
There's no doubt that these are the two hottest accessories for your iPhone or Android right now. They also both share a unique selling point of being highly portable, so it's natural for people to draw comparisons between them.
In the Zhiyun Smooth Q2's favor, it has a removable battery which also lasts longer (17 hours vs 15 hours under optimal conditions). It's also the smaller of the two, and can be stand by itself on a flat surface without needing a tripod.
However, I've got to say the DJI Osmo Mobile 3 has more going for it. You can shoot in portrait without running into as many problems, the grip's ergonomics are superior and you get a zoom slider as well as a rear trigger that's immensely helpful during filming (e.g. to re-center the gimbal or temporarily boost motor speed).
There's also an issue with the range of motion of the Smooth Q2. While the figures on the spec sheet are good, in practice you often find the edges of your phone knocking into the gimbal because the short gimbal arms don't offer enough clearance from the base grip.
Pricing
The Zhiyun Smooth Q2 has a suggested retail price of $139, making it more expensive than its competition, but not by enough to make you disregard it altogether.
Verdict
Overall, the Smooth Q2 is a good gimbal that succeeds in being truly pocket sized. For 90% of your filming needs, it does everything you expect it to do.
However, it's the other 10% of times where it lacks the features you might want from a gimbal.
Sometimes I want to zoom in while filming, and I don't want to have to resort to pinching my phone's screen or doing it in post production. Sometimes I want to film fast-paced action and I need to increase the follow speed, but the Smooth Q2 offers no such flexibility.
The DJI Osmo Mobile 3 can do all that, and while it is the bigger gimbal, when it's folded up it's not that much bigger.
And while Zhiyun call it pocket sized, we're talking about the large ones you find on cargo pants here, so nine times out of ten you'll chuck it in the bag anyway.
Rating: 4/5
Looking for the best gimbal for your iPhone or Android? Check out my updated buyer's guide.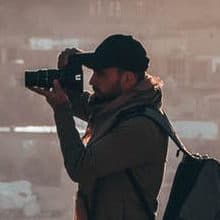 I'm a photographer and the chief editor of Capture Guide. After spending several years in parts of South America with my trusty old Nikon D7100, I'm now back home patiently waiting for borders to re-open.