Following my review of the DJI Osmo Mobile 3, a couple of readers notified me that I was wrong to call it the first foldable gimbal. And indeed, I realized the foldable Moza Mini S and Snoppa Atom had somehow slipped under my radar. 
I've had experience using Gudson Moza camera equipment before, including the Moza Air 2 DSLR gimbal and Moza Mini-MI smartphone gimbal. They do a perfectly good job of stabilizing video, but tend to lack the finesse and build quality found in DJI and Zhiyun gimbals. So does the Moza Mini S buckle the trend or is it another gimbal that falls short of the competition?
MOZA Mini-S Essential Foldable Phone Gimbal
✈【Foldable & Lightweight】Advanced phone gimbal with a perfect slim body, easily to be folded for carrying outside. Folded size-5.1"*2.7"*7.7" as a short folding umbrella, 1.1 oz lighter and half smaller than Zhiyun Smooth 4. Great choice for travel, holiday, party or fashional gift!
✈【Anti-shake Technique】A built-in sensor and a rare-earth permanent magnet brushless motor effectively mitigates the shake caused in motion shooting. Maximum payload 9.1 oz, phone's size from 2.3"-3.5". Fits for iPhone Xs/Max/Xr/X/8/7/6 Plus 11 Pro Samsung Note 9/S9 Huawei, etc.
✈【Quick Object Tracking】With built-in artificial intelligence recognition technology, MOZA Mini-S Essential can be automatically detect multiple subjects for fast tracking, producing smooth continuous frames for you. ♥♥Please Remove Phone Case Before Use♥♥
✈【Creative Filming with Official Support】Via MOZA Genie APP (iOS & Android), advanced features and different shooting modes like hyperlapse, slow-motion, vertigo can be achieved, just enjoy more excellent filming time!
✈【Convenient Control】360° rotation from 3 axes based on customized setting. One button zoom&focus control sets your hands free. Lower price yet high-end hardware, especially for shooting beginners! 【As a official MOZA Distributor, we offer 24H friendly customer service at any issue】
Price
Moza typically price their gimbals aggressively, and in the case of the Mini-S they've really taken things to the next level. At $79.99, it's one of the cheapest gimbals I've ever reviewed.
It's no secret that gimbal prices have been coming down (just 3 years ago and you'd be paying in excess of $300), but $79.99 for a gimbal with an impressive set of features came as a real surprise.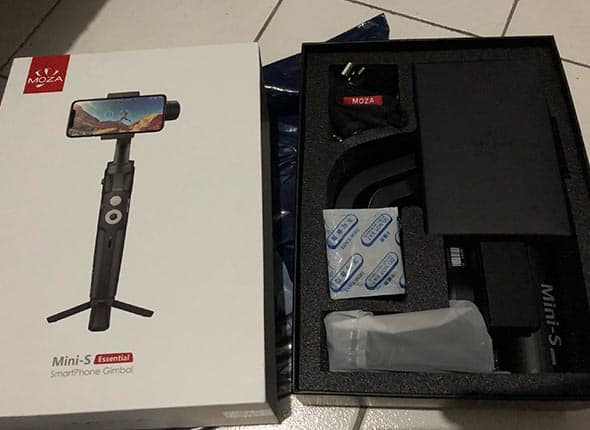 First Impressions
Out of the rather unremarkable box, the Moza Mini-S failed to impress me with its plasticky build. 
Phone gimbals are almost always made from plastic, but the Mini-S felt extra cheap, partly because of the hollow hand grip which looked ready to split open at any moment. (I have a feeling the hollow hand grip is a result of the protoype's built-in selfie stick which mysteriously went missing). 
The absence of a rubber grip and the fairly large and ugly "Mini-S" branding down the side of the grip means Moza yet again lack the class that DJI and Zhiyun gimbals have.
Features
The standout feature of the Mini-S is obviously its ability to fold up. Folded up, it is only 5.12 inches wide, 2.68 inches deep and 7.68 inches high.
To put things into perspective, your average non-foldable smartphone gimbal are over twice as long as an iPhone XS Max. By comparison, the folded Mini S is only an inch and a half longer than the XS Max. The gimbal arm also packs in nicely and isn't left flailing around. This makes it much easier to fit into a small bag or backpack.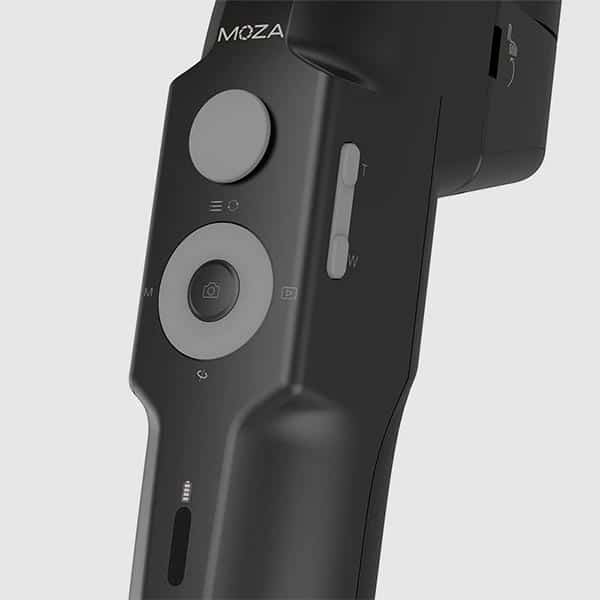 Other than that its features are fairly standard. A joystick to electronically pan and tilt the camera, various other controls (including focus control and a multi-function rear trigger) and a quarter-inch mounting hole. Moza also went with the latest USB-C standard for the Mini-S.
Although at CES the Mini-S prototype featured a selfie-stick built-in (much like the Feiyu Vimble), the release version of the Mini-S does not have one. It would have definitely been a nice touch and something to differentiate itself from the competition, but my guess is that it compromised the resilience of the gimbal too much (the last thing you want is your phone dropping into the ocean because of a snapping selfie stick).
Gimbal Modes 
The Moza Mini-S has 6 recording modes:
Pan Following
Tilt Following
FPV Mode
All-Locked
Sport Gear mode
Inception mode
The first 4 are all standard gimbal modes, but some of you are probably wondering what the 'Sport Gear' and 'Inception' modes are. 
The sport gear mode simply maxes out the speed of the motors, meaning it follows panning movements much faster. If you want pan and follow fast moving objects, like a car blazing past you on the track, this is the mode you'll want to use.
Moving on, the inception mode allows the camera to rotate 360° on the roll axis as it's moving forward or backwards. It's a pretty cool type of shot, although you'll very rarely find yourself using it.
Compatibility
The Mini-S has good compatibility with iPhone and Android devices, which can be mounted by simply pulling apart the spring loaded clamps and sliding them in. 
Its max supported payload of 260g is impressive, beating out the likes of the DJI Osmo Mobile 3 and Zhiyun Smooth 4. The clamp can accommodate any phone with a width ranging from 55-88m, so it can handle larger phones like the iPhone 8 Plus and Huawei P10 Plus.
Moza Genie App
The Moza Genie companion app lets you pair the gimbal to your phone over Bluetooth and perform things like advanced calibration as well as take panoramas, hyperlapses and more.
Despite Moza being one of the bigger players in the gimbal market, the Genie app feels unpolished. While the iOS app is mostly free from issues, the Android version has various issues with zooming, object tracking and occasionally crashes unexpectedly. 
There's always the option of simply using the default camera apps or a good third-party photo/video app like Filmic Pro, but it would be nice if Moza released a decent companion app to begin with.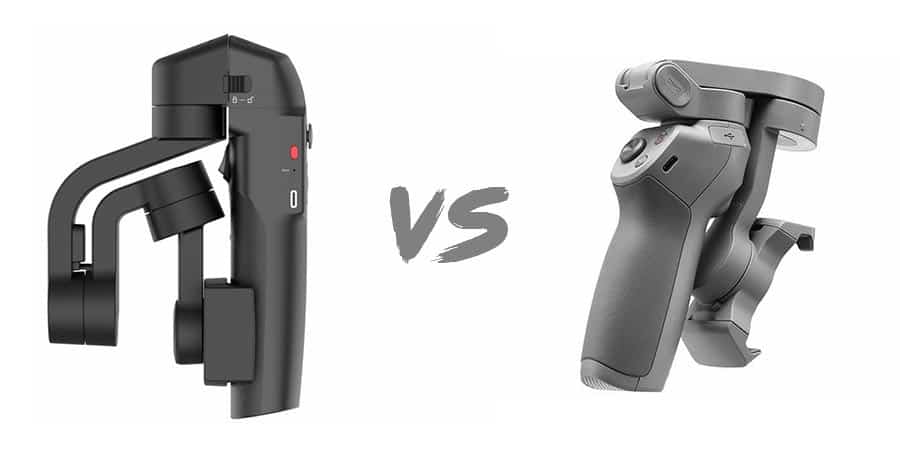 Moza Mini-S VS DJI Osmo Mobile 3
It makes perfect sense to compare these two iPhone/Android gimbals because they are the two best-selling folding gimbals on the market right now. 
Although the Moza Mini-S is cheaper, after using the Mini-S I noticed there were a number of things the Osmo Mobile 3 simply did better.
First, the L-shaped arm on the Osmo Mobile 3 is purposefully angled so that the rear motor won't get in the frame when shooting. On the Moza Mini-S, the motor came into the frame when I used my Xiaomi Mi 9.
Second, switching between portrait and landscape mode requires you to physically flip the mount, whereas on the Osmo Mobile 3 it is a simple case of double tapping the M button.
There's also a big difference in battery life, with the 2450mAh battery in the Osmo Mobile 3 lasting up to 15 hours, compared to the 5 hours you get with the battery in the Mini-S.
Although stabilization performance is almost equal, there's nothing the Moza Mini-S really does better than the Osmo Mobile 3, so it's a simple question of cost versus better quality and more features.
Verdict
Pros
Folding design
Good stabilization performance
Price
Cons
Cheap build quality
Buggy Android app
Short battery life
My review might seem somewhat harsh towards the Moza Mini-S. And to be honest, I've been a little unfair because there is no doubt that this is a great gimbal. It is objectively better than the likes of the older DJI Osmo Mobile 2 which I was full of praise of back at its release. 
However, the latest DJI Osmo Mobile 3 really spoiled me, and compared to that the Mini-S simply isn't as good.
For $79.99 the Mini-S is no doubt a terrific bargain, and worthy of a spot in my list of the best gimbals for smartphones. However its poor build quality, buggy app and short battery life make it difficult to depend on for more serious mobile filmmakers.
Rating: 4/5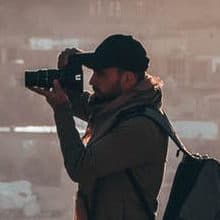 I'm a photographer and the chief editor of Capture Guide. After spending several years in parts of South America with my trusty old Nikon D7100, I'm now back home patiently waiting for borders to re-open.